Green Chile Cheeseburgers
This post may include affiliate links. As an Amazon Associate I earn from qualifying purchases.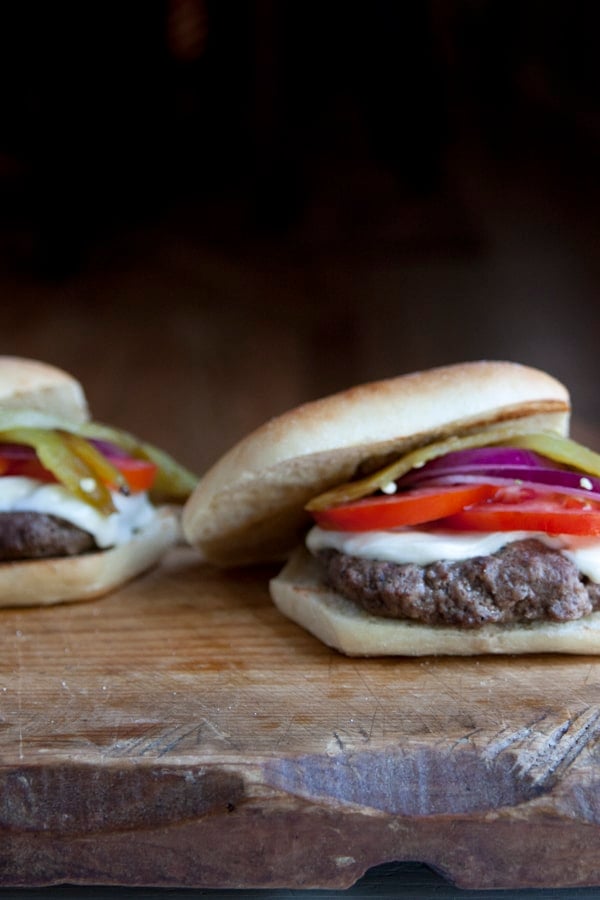 Just because summer is over doesn't mean grilling has to be. Actually, you don't even need a grill to make these burgers. We made these on the stove top in a cast-iron skillet. These green chile cheeseburgers are made with juicy grass-fed ground beef, queso Oaxaca, and rajas (roasted chile strips).
In El Paso some restaurants offer an "Indian Burger" served on thick slices of fresh clay oven baked bread. Unfortunately, I do not have a recipe for Tigua bread, so we made these burgers on artisan rolls, which are readily available. This bread gave these burgers a fancy bistro feel and the smoky, spicy, green chile adds a taste of home to the burger.
Green Chile Cheeseburgers
A Tex-Mex combination where the flavor of the beef is front and center, and the condiments compliment the juiciness and freshness of the ingredients.
Ingredients
Instructions
In a bowl, combine ground beef salt and pepper; form 4 patties.

Heat oil in a cast-iron skillet over medium heat; cook patties, turning once, until a thick crust develops on both sides, about 10 minutes for medium-rare. Top each with roasted chiles and 1 slice of cheese; cover with lid to melt cheese.

Place burgers on buns and top with tomato and onions, if desired.
Notes
Feel free to substitute Oaxaca cheese with Buffalo mozzarella. 
Calories: 967kcal, Carbohydrates: 37g, Protein: 57g, Fat: 65g, Saturated Fat: 29g, Cholesterol: 179mg, Sodium: 830mg, Potassium: 1395mg, Fiber: 5g, Sugar: 12g, Vitamin A: 2478IU, Vitamin C: 99mg, Calcium: 173mg, Iron: 7mg
Huge thanks to Ty and Rachel for sharing some of their products with my family. Their products include 100% Grass-Fed and 100% Grass-Finished Beef, and Free-Range Pork.
I was not compensated for this post; I just wanted to share 5280beef.com with Muy Bueno fans. I look forward to learning more about their mission and hope to visit their ranch and see some free-roaming animals.