Homemade Carne Asada Taco Pizza
This post may include affiliate links. As an Amazon Associate I earn from qualifying purchases.
This homemade Carne Asada Taco Pizza is sure to become a family favorite. Loaded up with thinly sliced marinated steak, roasted corn, black beans, and all the best taco fixins, there will be no more debating the "tacos vs pizza" dinner question – thanks to this mashup recipe, you can have them both at the same time!!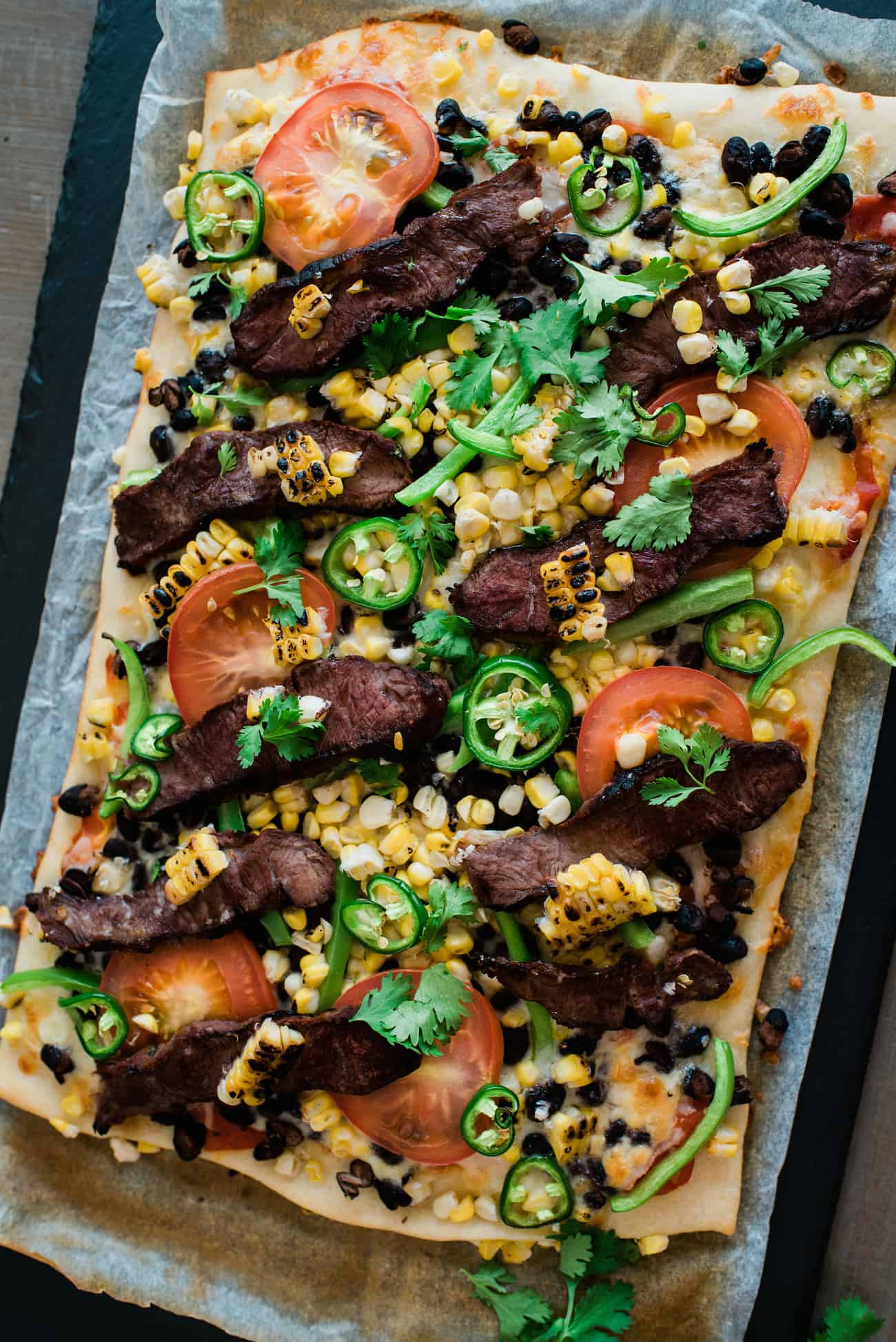 Bold Tex-Mex flavors are an excellent way to bring on the summer feels when the weather is dark and gloomy; this carne asada pizza is full of zesty tastes and sunshiny demeanor to bring a little levity to your midweek slump.
About This Recipe
I'm not sure how or when it started, but the trend of having a weekly meal template is something that I find incredibly soothing. Meatless Monday and Taco Tuesday are a lifesaver as a busy working parent. Even as a food blogger, my inspiration well sometimes runs dry; these meal templates are an excellent way to get my creative juices flowing.
As I'm sure just about any parent can attest to, one of my kiddos' favorite mealtimes has been (and probably always will be) family pizza night. What's better than a cozy night at home eating melty slices of pizza while watching movies??
But ordering pizza out can get incredibly expensive (especially considering it's basically just bread with some toppings), making it difficult to keep as part of a weekly rotation. My tasty solution? Making your own pizza at home!
Store Bought Pizza Dough
Now, you could easily opt to make your own pizza dough if you so desire, but my particular recipe calls for one of my favorite store-bought shortcuts: pizza dough. Keeping a bag or tube of this incredible (and inexpensive!) ingredient in the fridge or freezer at all times means that tasty dinner is never far from reach.
You can use it to make breadsticks or garlic knots for soup night, give leftovers a happy refresh by turning them into a calzone, or host your very own family pizza night where everyone gets to choose their own toppings (preferably using the odds and ends that are lurking in your fridge from the week).
This delightful interpretation of taco pizza came from one such fridge raid, when we had some leftover carne asada and taco toppings, but no tortillas on hand (and no will to make them from scratch, because I just survived the holidays). With the help of my trusty pizza dough stash, I was able to turn out one of our favorite new meals with very little effort!
Carne Asada
Carne Asada is one of my favorite ways to eat beef. I love it in tacos, enchiladas, nachos, even with french fries. This Carne Asada Taco Pizza is yet another delicious way to enjoy it. I like to marinate mine with a special blend of orange, lime, garlic, and my secret ingredient, tequila!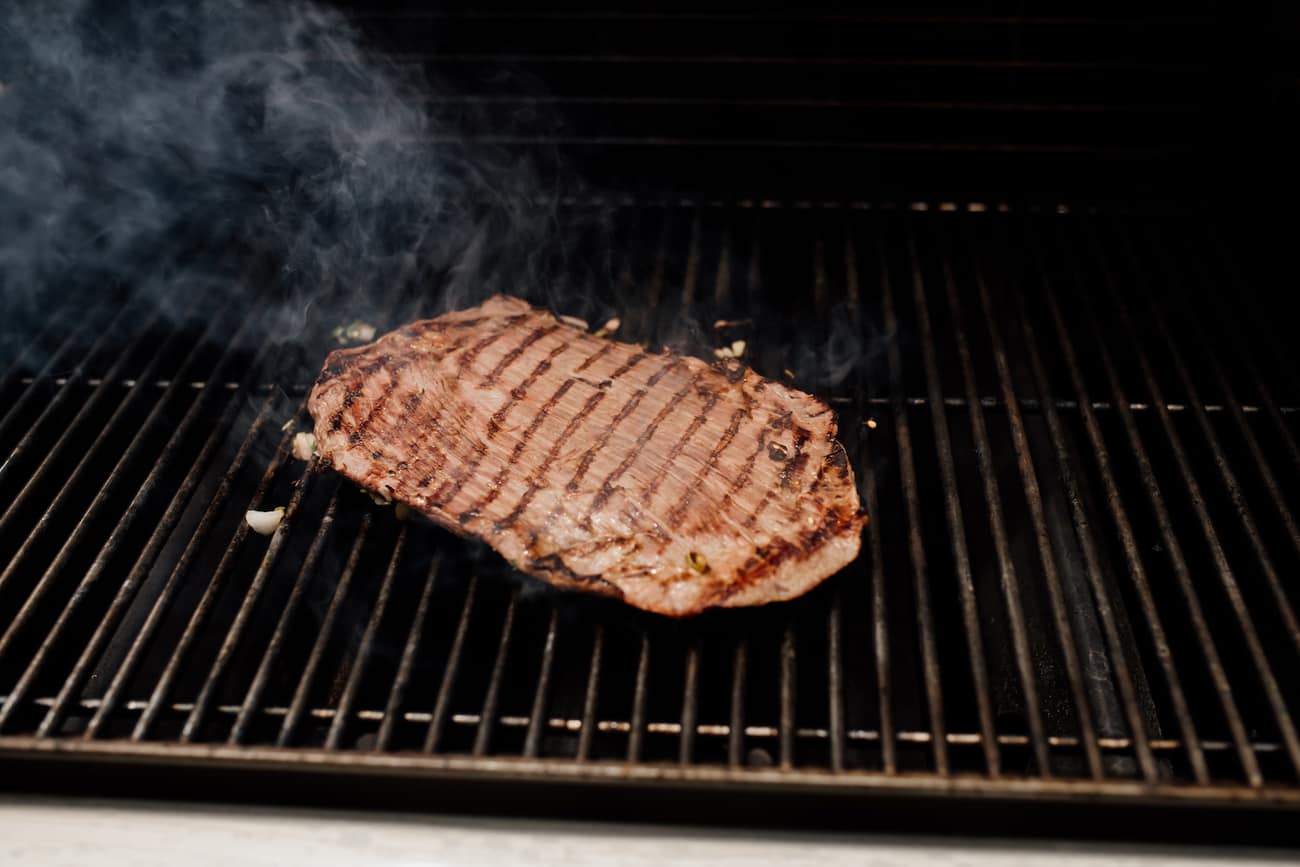 One of my favorite working Mom tips is to double up on easy recipes like this carne asada because the extra output requires no extra time. Simply pop an extra steak with marinade into a zip top bag and store it in the freezer for a lazy night, or make a double batch and turn your weekly menu into variations on a theme.
The trick to making the most scrumptious carne asada is to marinate the beef for at least two hours to impart maximum flavor. And, if you have access to a grill, that's the best way to cook it. There is something so delicious about seared marks on beef. Yum! Also, bonus points for no dishes to clean up – amirite??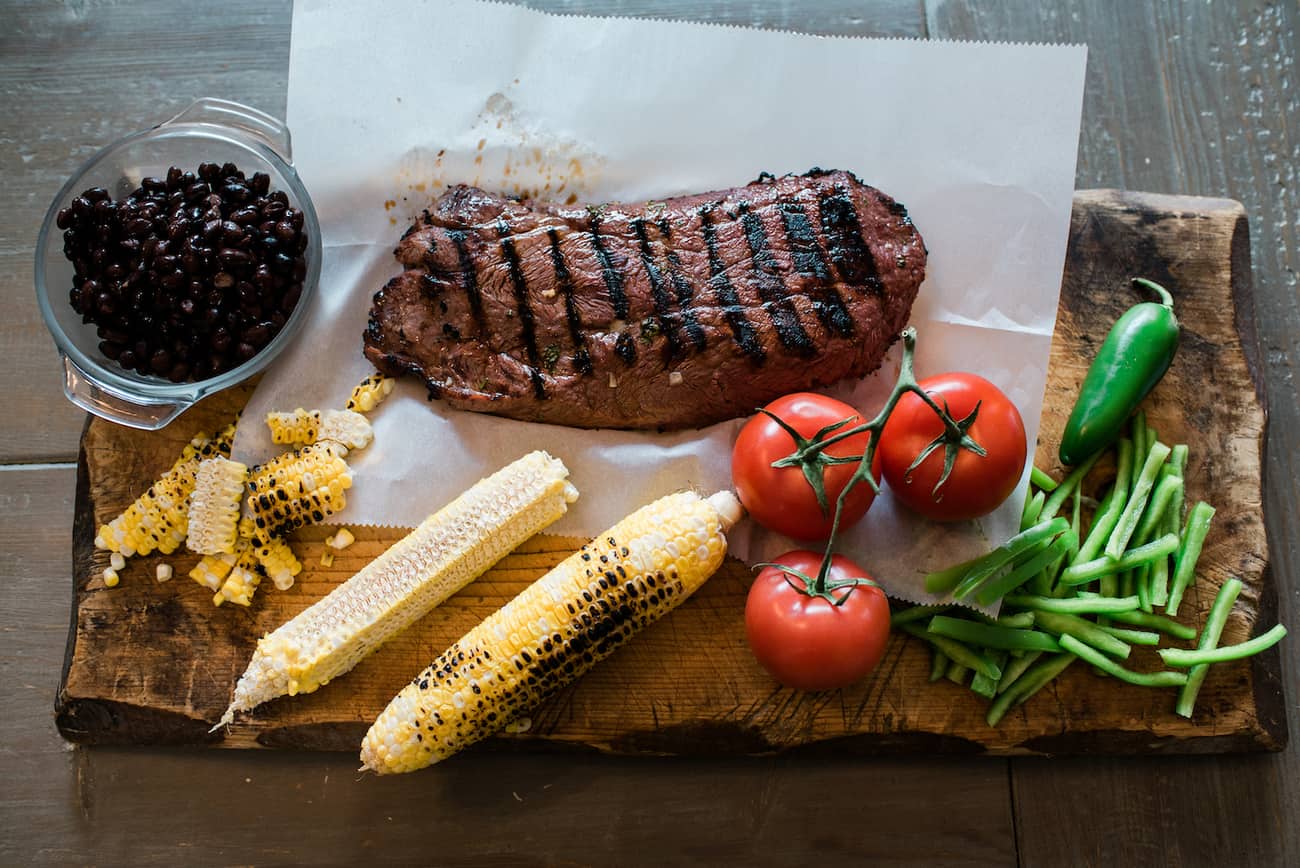 Charred Corn
Roasting corn until it is blackened or charred adds so much depth of flavor; the naturally occurring sugars caramelize and the corn ends up tasting more corn-y, even if it isn't super in season! You can do it on your grill outside when you cook your carne asada, or if you're working from leftovers, try using your gas range to do it inside. (There's no dishes to do either way!)
Simply put your shucked corn on the cob on your cooktop grate, turn on the flame and watch the magic happen. As soon as one side becomes dark, use your tongs to flip the cob. You want that lovely flavor on as many kernels as possible. Feel free to make extra and add the roasted kernels to everything from grain bowls and salads to tacos and, of course, this pizza!
If you don't have access to either a grill or a gas stove, you can achieve a similar effect by using your oven's broiling function. Just lay the corn on a baking sheet and put your oven rack as high as it will go. Turn your oven to broil and wait for the corn to get charred on top, flipping it as often as necessary to get all sides of the corn nicely colored.
NOTE: Once charred, you can remove corn from the cob and store it in an airtight bag in the freezer for up to 3 months.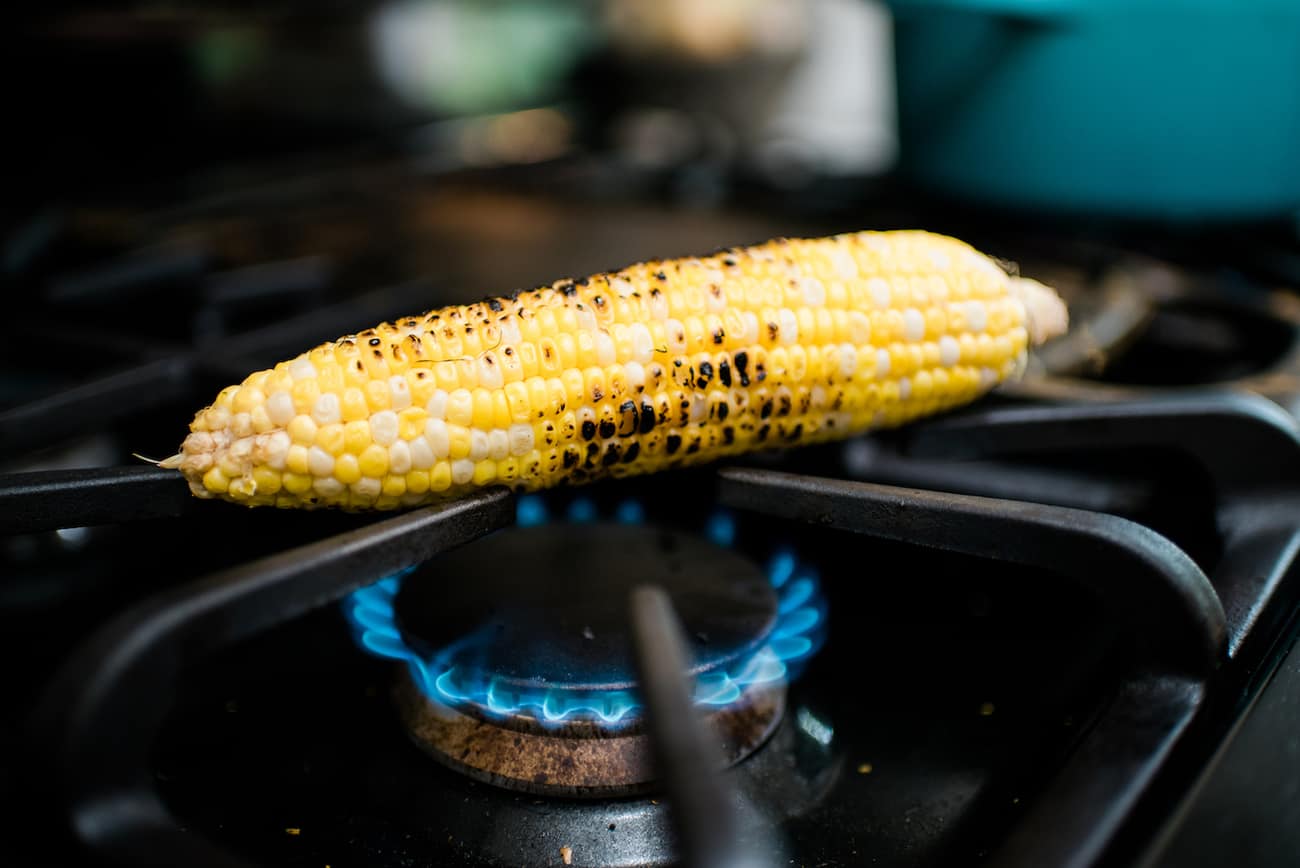 How to Make Pizza
Once you've roasted the corn and cooked your carne asada to a perfect medium rare, you're basically done. I love using Wewalka's pre-made pizza dough, canned black beans, pre-shredded mozzarella, and store bought pizza sauce for convenience.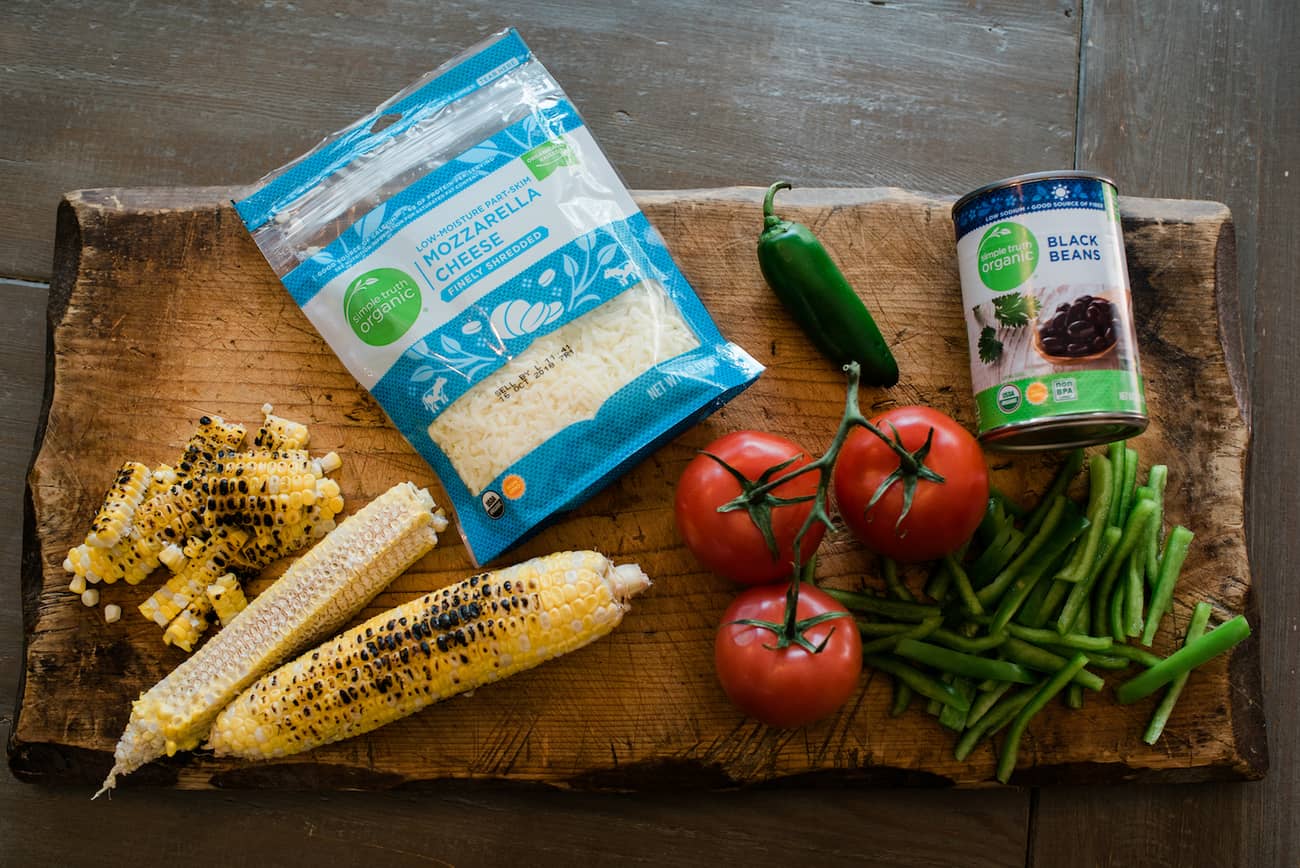 Assembling and baking the taco pizza is so simple. Preheat your oven to 425F. Line a baking sheet with parchment paper and unroll the pizza dough. Spread the pizza sauce evenly over the top. Drain the black beans and scatter them. Then pile on all the yummy toppings except your cilantro.
Bake for 15 or so minutes, until the crust is golden brown and the cheese is bubbly delicious. Top with fresh cilantro and enjoy!
Frequently Asked Questions
Can I use frozen corn?
Absolutely! Frozen veggies are an economical way to get more plants on your plate, and are often better quality than their fresh counterparts if you purchase them in an off season because they are picked at peak ripeness. As an added bonus, the prep work is already done! Simply roast the frozen veggies on a parchment lined baking sheet (for easy clean up) or in a skillet on the stovetop.
What if I don't have any carne asada on hand?
Not to worry! I find that taco pizza can be manifested out of almost any leftover proteins, including but not limited to chicken tinga, pulled pork, or beef brisket. Feel free to swap out any of the other ingredients as well – sub shredded cheddar for the mozzarella, or use leftover salsa instead of fresh tomatoes. The sky is the limit!
Can I make taco pizza ahead of time?
While I'm a big fan of eating cold pizza for breakfast, my kids would argue that this pizza is best straight out of the oven. That said, feel free to get a jump on making your toppings so all that is left to do is assemble and bake. Any leftovers can be wrapped and refrigerated for up to 3 days; I suggest using the oven or toaster oven to reheat for best results.

More Tasty Weeknight Recipes
If you love this recipe for my roasted corn and carne asada Taco Pizza, please be sure to rate and review it below. If you want more yummy ideas, be sure to follow me on Pinterest and Instagram!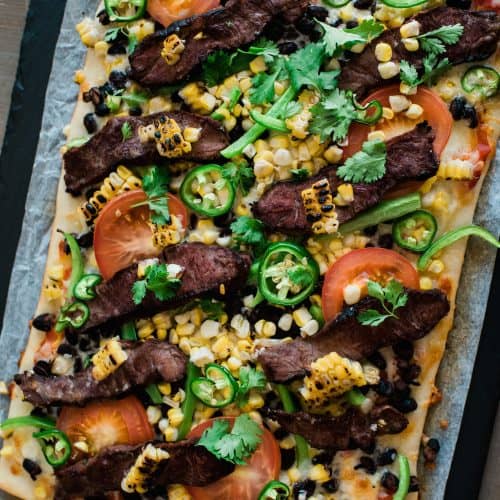 Carne Asada and Roasted Corn Taco Pizza
This pizza is sure to satisfy your taco and pizza cravings all in one. I use bold Tex-Mex flavors like roasted corn, char-grilled beef, mozzarella cheese, black beans, tomatoes, and bell peppers. Add cilantro for an extra pop of flavor and jalapeño slices for spice.
Ingredients
Pizza:
1 package pizza dough, recommend Wewalka Classic Pizza Dough
3/4 cup pizza sauce
1 6 ounce package mozzarella cheese, shredded
1 15 ounce can black beans
1/2 pound Carne Asada, grilled and sliced
2 roasted corn on the cob, sliced from the cob
1 green bell pepper, thinly sliced
1 tomato, sliced
1 jalapeño, sliced (optional)
Instructions
Pizza:
Preheat oven to 425°F.

Unroll refrigerated pizza dough and place with parchment paper onto baking sheet. Spread pizza sauce evenly over top of crust and top with cheese, black beans, sliced carne asada, roasted corn, bell peppers, tomatoes, and jalapeño, if using.

Bake for 15 to 18 minutes until crust is golden and cheese is bubbly. Top with fresh cilantro. Slice and serve.
Notes
Charring the corn adds a lot of flavor, so be sure not to skip this step! If you don't have access to a grill or a gas cooktop, you can roast your corn in the oven using the broiling function.
If you do have a grill, you can also use it to bake your pizza so you don't heat up the house!
Calories: 254kcal, Carbohydrates: 40g, Protein: 15g, Fat: 4g, Saturated Fat: 1g, Polyunsaturated Fat: 1g, Monounsaturated Fat: 1g, Trans Fat: 1g, Cholesterol: 23mg, Sodium: 659mg, Potassium: 401mg, Fiber: 3g, Sugar: 8g, Vitamin A: 459IU, Vitamin C: 26mg, Calcium: 18mg, Iron: 3mg
Photography by Jenna Sparks
Originally published: June 2018.