About Me
Hola, my name is Yvette
Hola, I'm Yvette Marquez-Sharpnack, an on-camera host, a home chef, an Emmy-winning producer and writer, award-winning food blogger, and author of Muy Bueno co-written with my mother Vangie and sister Veronica, published in 2012, Latin Twist co-written with Vianney from Sweet Life, published in 2015, and my latest cookbook Muy Bueno Fiestas.

I was born and raised in El Paso, Texas
I'm a native Texan, born and raised in El Paso. I currently live in the beautiful state of Colorado with my husband and two children. I keep my heart in two places, because I'm completely in love with our home in Colorado and also a proud Tejana!
Here on Muy Bueno, I share delicious home-style Mexican recipes served with a heaping spoonful of heartwarming family stories. For me, food has become a way to share my cultural heritage and childhood memories with my family.
Mexican food and culture have always been a big part of my life. As a young girl, I remember learning to cook with my mom, Vangie, and my grandma, Jesusita. But it wasn't until my grandmother passed away in 2004, at the age of 98, that I realized just how passionate I really was about keeping my culture alive in my own family.
It was then that I realized, if I didn't cook, our family recipes would disappear. Instead, I decided to celebrate traditional Mexican foods and holidays with my children so they could appreciate the rich and unique heritage of Mexico.
Now, my children help me in the kitchen when I cook, and they love hearing stories of my childhood. One day as we were eating dinner, my daughter, Maya asked me if I plan to have all our recipes written down for her so that she can make them after she leaves for college. She was just 8 years old at the time, but it really made me think about how we could preserve these recipes for my children's future. I turned to my mother and said, "Mom, let's write a cookbook!" and that's how it all started.
When people ask why I named the blog and cookbook Muy Bueno, my response is that my grandma would always invite family and friends to her table with the same words: "Siéntate a comer, esta muy bueno" (Sit down and eat, it's very good). She lingered on the "muuuuy bueno" with a smile, raised eyebrows, and a twinkle in her eyes as if to let her guests know they were in for a treat. Those two words—and the memory of grandma and her legendary meals—never fail to bring a smile to my face.
Here on Muy Bueno, I share a collection of traditional Mexican recipes. These are my precious family's recipes that have been passed down through generations. I also share modern Latin-fusion recipes that I have developed. Thanks to my grandma, who I know is watching over me, I feel that maybe, just maybe, she whispers a few words of encouragement into my ears to help me find my way around the kitchen and turn out a recipe worthy of her praise.
I hope you'll enjoy discovering my grandma's secrets to great Mexican food and following my own journey as an evolving home chef who shares delicious recipes each week.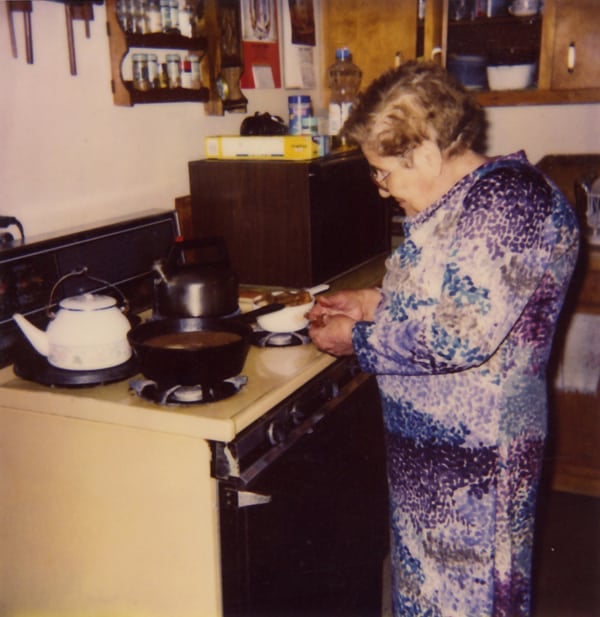 On the Muy Bueno blog
I created the Muy Bueno blog as an online journal to document the journey of writing a cookbook. Over time, it evolved into a place where I could celebrate my culture, my grandma, and my mother, by preserving the generations of traditions en la cocina.
Here on Muy Bueno, you will find the blog section, where I regularly share Mexican comfort foods as well as healthy Latin inspired recipes, travel adventures, and DIY projects. You will also find a video section, where you can preview all of my videos from the Muy Bueno YouTube channel.
Work with Muy Bueno
As my blog has expanded, it has allowed me to pursue my passion in more ways than one. I now work as a recipe developer, spokesperson, and on-camera host for some amazing food brands that you might see featured here on Muy Bueno from time to time. If you'd like to work together please see Work with Muy Bueno for details.
My passion…
Did you know millions of children in the U.S. struggle with hunger? As a mother, I'm especially concerned with making sure all children have access to healthy food and know where their food comes from. Did you know that 13 million kids in the U.S. struggle with hunger? In 2012, I was honored to participate in a live round-table discussion with First Lady Michelle Obama, to discuss some of the issues impacting Hispanic families across the nation, including the health and future of our children. You can see that video here.
I have also been an active supporter of Share Our Strength's No Kid Hungry campaign. You can find how to help on NoKidHungry.org. See some of my past campaigns like Friendsgiving and #BakeItForward.
Where I've been featured!
Muy Bueno has been featured in print and web publications, radio shows, TV, plus recipe mentions on several blogs and websites, such as TODAY, NBC, Food Network, Cosmopolitan, Good Housekeeping, Taste of Home, BuzzFeed, The Huffington Post, The Kitchn, Food Network, and more.
Honors
"Top 100 Latina Powerhouse 2022" by Hola.com
"Bloggers We (Heart)" by Taste of Home magazine
"Latina Blogger You Must Know" by Latina magazine
"Chica You Should Follow on Instagram" by PeopleenEspañol.com
"Best of the Blogs: Mexican Recipes" by BHG.com
"20 Food Bloggers to Whet Your Appetite" by Trip Advisor
Saveur Blog Awards finalist for:
Shop my kitchen and home
To view products I recommend, click here.
Follow Muy Bueno
Mi casa es su casa ~ Welcome to my online home. I hope you take pleasure in making my recipes as much as I delight in sharing them. As my grandma used to say, "Panza llena, corazón contento" (Full stomach, happy heart).
If you love my recipes and want to stay connected with me, you can subscribe to my newsletter to receive new recipes in your inbox.
You can also follow me on YouTube, Instagram, Pinterest, Facebook, and Twitter.
Contact me
Be sure to say hola, yvette@muybuenocookbook.com or visit my contact page.