Mom's Best Tuna Salad
This post may include affiliate links. As an Amazon Associate I earn from qualifying purchases.
Nostalgic, comforting and packed with protein, my Mom's simple and delicious Tuna Salad made with egg and dill pickles is a family favorite. Not only is it healthy, it's also versatile! Perfect for filling sandwiches, adding protein to a mixed green salad, or for scooping up with crackers, this is a recipe you're sure to play on repeat.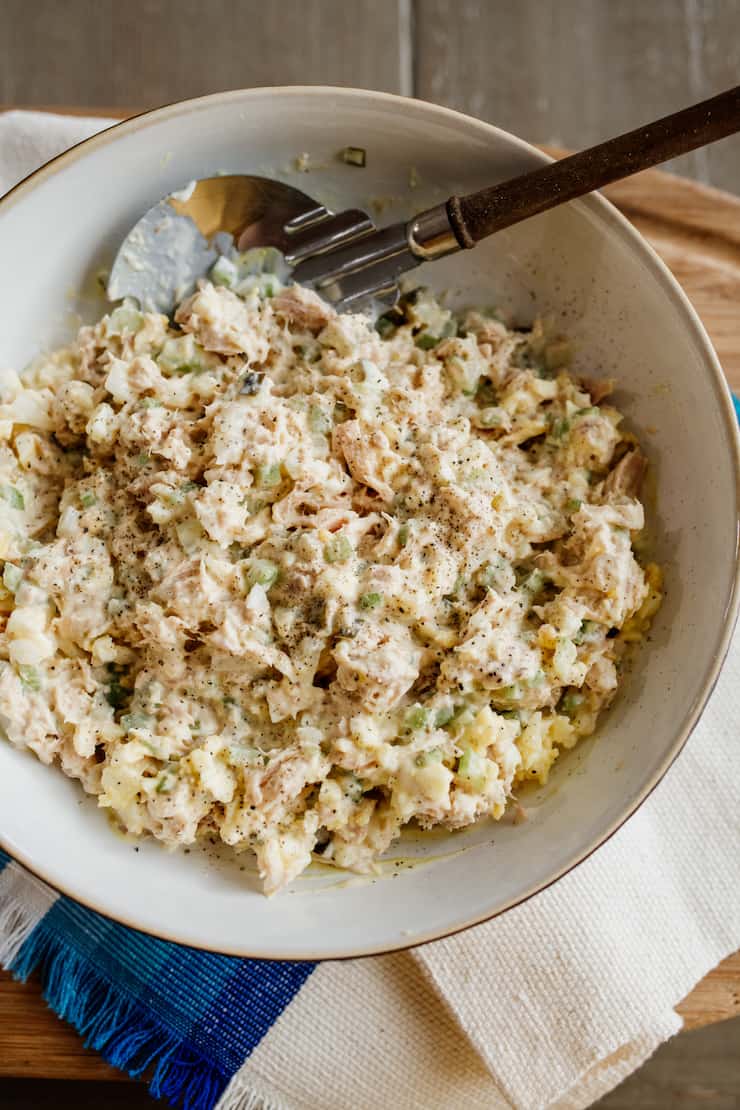 Growing up, we didn't eat seafood very often, but my Mom's tuna egg salad was the exception to that rule. It was her go-to quick meal, especially during the Lenten season and in the summer months when turning on the oven was unbearable. Now that I'm a mom myself, this easy recipe has become a staple for packed lunches and road trips.
Why I Love This Recipe
You know those recipes that take you back to a simpler time? This classic tuna salad recipe is definitely one of those. As soon as I take a bite, I'm immediately transported back to my Mom's kitchen table. It's creamy, crunchy, filling, and healthy, so I feel good about feeding it to my kids, too.
This classic tuna salad is also lightening quick to throw together! It's ready in minutes and always handy to have when hunger strikes. This recipe is one where you probably already have everything on hand. Simple ingredients come together to create a delicious meal that is much more than the sum of its parts. The fact that it is something that both kids and adults like just adds to the magic, if you ask me!
Throughout the years my Mom has made her tuna egg salad a bit healthier by swapping in some yogurt for mayonnaise. This recipe still has a *bit* of mayo – because who doesn't love that creamy and nostalgic flavor – but the tangy yogurt, mustard, and lemon pepper also really shine through. Celery adds crunch, dill pickles add a briny, herby kick and chopped onions give a nice bite.
And if you've never tried adding eggs to your tuna salad, I'm here to convince you that it's simply the best. Not only do you get an extra hit of protein, but the boiled egg yolks add an extra layer of creamy goodness that is to die for. Seriously folks. Tuna egg salad = the BEST tuna salad in town. Mama knows best.
I also happen to love how easy it is to customize this recipe to your preferences. If you're making this recipe for the adults, I also like to add in some chopped jalapeños for a bit of heat. They are not necessary (and I don't recommend them for tiny kiddos), but chile peppers are always a favorite in my kitchen.
How to Make the BEST Tuna Salad
This recipe is super quick and easy to throw together. First, prepare your ingredients. Hard boil your eggs, then peel and chop them. Small dice your onion, pickles, and celery. Drain your tuna.
To drain tuna, cut the can lid with the can opener then turn upside down and press down on the tuna with the lid to remove excess liquid. If all you have is oil-packed tuna, you can always add it to a fine-mesh sieve, rinse with cold water, and press with a spatula to extract all of the liquid out of the fish.
Next, add your tuna to a mixing bowl and flake with a fork. Add the remaining ingredients and stir to combine. Season to taste with lemon pepper and salt. It tastes even better if you refrigerate it for a couple hours, but I usually just eat it immediately, straight out of the bowl. I can't help it, it's so good.
Check out this full-length video to learn how to make this special tuna salad. Enjoy!
Frequently Asked Questions
What kind of tuna do I use for tuna salad?
I recommend chunk tuna in water for this recipe – make sure it is dolphin-safe. If you only have tuna packed in olive oil, you can drain and rinse it using a mesh strainer. In a pinch, this salad would also taste pretty dang good with canned salmon.
Is canned tuna healthy?
While I always recommend that you consult with your medical practitioner or registered dietician for any longterm diet advice, the short answer is YES!

Canned tuna is an excellent source of high-quality protein, vitamins, and minerals and is low in saturated fat. Ounce for ounce, tuna is lower in calories, fat, saturated fat, and cholesterol than even the leanest cuts of beef and chicken.

All in all, I believe that canned tuna deserves a spot in a healthy, balanced diet. Just be sure to moderate your intake as large sport fish like tuna are known to have some mercury in their meat.
How to serve?
Serve my Mom's tuna salad with egg on a romaine leaf or bed of greens for a light lunch, or slathered between slices of your favorite bread for a lunchtime comfort food. I especially love a tuna sandwich served with a couple pickled jalapeños.
How do you make tuna salad healthy?
To make tuna salad healthy (but still delicious) cut back on the mayo, or use plain yogurt in place of mayo. Then load up on fresh crunchy veggies. I also highly recommend swapping out the bread for crispy spears of romaine. It's so crunchy and delicious, and the leaves are a perfect vehicle for getting all the tuna egg salad goodness right into your mouth!
How long does tuna salad last?
Tuna salad tastes the best when it's eaten fresh, but it can be stored in the fridge for up to five days. Because this dish has fish and mayonnaise in it, don't let it set outside or at room temperature for too long.
Need more tuna ideas?
Check out these other tasty recipes:
Did you make my Mom's recipe for the BEST Tuna Salad with Eggs? Please leave a comment below and tag @muybuenocooking on social media!
Tuna Salad with Chopped Eggs
This is my mom's simple and delicious tuna egg salad recipe! This tuna salad is healthy and makes an excellent sandwich filling for a comforting meal or a protein-packed topping on mixed greens or lettuce leaves for a light lunch. It packs up great for school and road trip lunches.
Ingredients
8 ounces chunk light tuna in water, (2 4-ounce cans), drained
1/3 cup dill pickles, chopped
1/4 cup onion
1 to 2 celery, diced
2 eggs, hardboiled and chopped
1/4 cup mayonnaise
1/2 cup yogurt
1 tablespoon mustard
1 jalapeño (optional), diced
Lemon pepper
Instructions
In a mixing bowl break up the tuna with a fork.

Toss with the pickles, onion, celery, and eggs. Add the mayonnaise, yogurt, and mustard. Add jalapeño, if using. Stir to combine.

Season with lemon pepper, to taste. 
Notes
To drain tuna, cut the can lid with the can opener then turn upside down and press down on the tuna with the lid to remove excess liquid.
If all you have is oil-packed tuna, you can always add it to a fine-mesh sieve, rinse with cold water, and press with a spatula to extract all of the liquid out of the fish.
Add diced jalapeño for a hint of spice.
Use immediately or store in a covered container in the refrigerator for up to 5 days.
Never leave tuna salad with hard boiled eggs out for longer than two hours at room temperature.
Nutrition information was calculated for the tuna salad only and does not include lemon pepper, bread, or optional toppings.
Not a fan of eggs with tuna? Try this Mexican Tuna Salad recipe. 
Calories: 138kcal, Carbohydrates: 2g, Protein: 10g, Fat: 10g, Saturated Fat: 2g, Polyunsaturated Fat: 5g, Monounsaturated Fat: 2g, Trans Fat: 0.02g, Cholesterol: 75mg, Sodium: 270mg, Potassium: 166mg, Fiber: 0.5g, Sugar: 2g, Vitamin A: 199IU, Vitamin C: 4mg, Calcium: 51mg, Iron: 1mg
Photography by Jenna Sparks
Originally published: August 2020.