Agua de Pepino (Cucumber Agua Fresca)
This post may include affiliate links. As an Amazon Associate I earn from qualifying purchases.
Bright, clean and refreshing as can be, my simple recipe for Agua de Pepino is a perfect summertime treat. This cucumber lime cooler is one of my favorite drinks on a hot day, and I have a feeling it will be one of yours, too!
What is Agua Fresca?
A traditional Mexican beverage, agua fresca translates to "fresh water," but is oh so much more. These thirst quenching drinks are lighter than juice and can be made with many different ingredients including fruits and flowers like hibiscus.
To make aguas frescas, fruits – like the cucumbers in this recipe – are blended into fresh drinking water and lightly sweetened, resulting in a delicious concoction that hits the spot on a sunny day.
Homemade aguas frescas are much healthier and more natural than the majority of bottled beverages for sale. These tasty beverages are made with fresh produce and are mostly water. While many do include sugar, remember that they are only lightly sweetened and use real, natural cane sugar.
Why I Love This Recipe
Have you ever looked at cucumbers and thought, mmm these look like they would be an awesome drink? I never did, but then I tried agua de pepino (literally "cucumber water") and it was soooo refreshing! There's a reason all those fancy spas serve cucumber slices in their water – just sayin'.
We didn't grow up drinking it, but the first time I tasted agua de pepino I was hooked. With the combination of lime and sugar it tastes like limeade and spa water made a tasty baby. Super yummy, super refreshing. Oh, and did I mention SUPER easy?
Simply blend up your fresh ingredients with water (you don't even have to peel the cukes), strain the resulting liquid into a pitcher, and season with sugar and lime juice. It's a snap! In literally just 5 minutes you can have this homemade fruit water to enjoy all day long.
At just about 100 calories per serving, I also love that I don't have to feel guilty reaching for seconds. And it is so tasty that even the kiddos love it! Seriously, friends. Once you try making my agua fresca de pepino, you'll never look back.
How to Make Cucumber Agua Fresca
This recipe is so easy, even your 10 year old could do it.
In a blender add cucumbers and water and blend until smooth. As a bonus, you don't even have to peel the cucumbers. That skin will make your agua fresca a beautiful green hue!
Strain the liquid into a pitcher and discard the pulp. Add the lime juice and sugar. Mix well. Serve chilled over ice. Drink and repeat. Perfect, right?
Now do yourself a favor and make yourself a big batch of this agua de pepino. Your thirsty body will thank you for it.
Frequently Asked Questions
Is agua fresca the same as juice?
Not really, no. Juice is made just from pressing fresh fruit. For aguas frescas, juice and water combine for more of a fruit flavored water. Not only does it stretch your fruit further and serve more thirsty mouths, but it also means that there is less sugar per glass than you would find in a glass of fruit juice.
Do I have to use sugar?
Traditional aguas frescas use cane sugar, but you don't have to. In fact, liquid sweeteners like agave or honey might actually be easier to stir into the drink. You can also swap in your favorite cup-for-cup sweetener if you're avoiding sugar altogether.
Can I make agua de pepino ahead of time?
While I prefer it served fresh – it's called agua fresca for a reason! – this cucumber agua fresca will last for up to three days in the fridge.
If you like agua de pepino, try these cucumber cocktails:
If you tried this recipe for my Agua Fresca de Pepino (Cucumber Lime Cooler), please rate and review it below. Five stars means you LOVED it!
For more delicious recipe ideas delivered straight to your inbox, be sure to sign up for my email newsletter. You can also follow my kitchen adventures on Pinterest, Facebook and Instagram!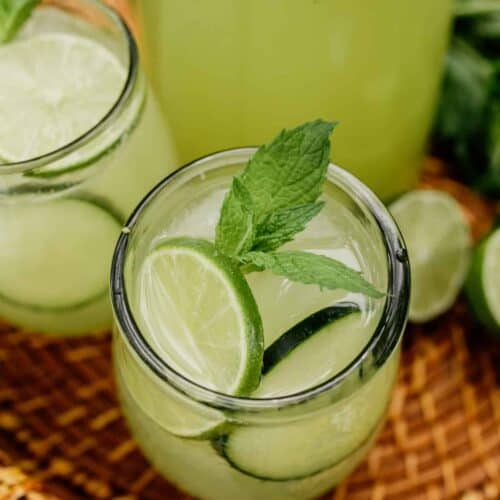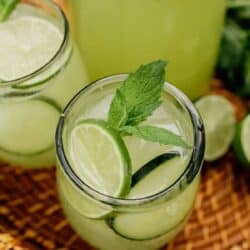 Agua Fresca de Pepino (Cucumber Lime Cooler)
A common agua fresca from Mexico. Refreshing, healthy, and delicious! Serve over ice.
Ingredients
2 organic cucumbers, peeled and chopped
6 cups water
1/3 cup fresh lime juice
2/3 cup sugar
Instructions
In a blender add cucumbers and water and blend until smooth.

Strain the liquid into a pitcher and discard the pulp.

Add the lime juice and sugar. Mix well.

Serve chilled over ice.
Notes
Note: For a vibrant green agua de pepino do NOT peel cucumbers before blending.
Calories: 101.36kcal, Carbohydrates: 25.51g, Protein: 0.65g, Fat: 0.17g, Saturated Fat: 0.01g, Sodium: 14.99mg, Potassium: 151.73mg, Fiber: 0.75g, Sugar: 23.78g, Vitamin A: 72IU, Vitamin C: 7.23mg, Calcium: 23.38mg, Iron: 0.22mg