Mi Cocina with Artisan Treasures from Oaxaca
This post may include affiliate links. As an Amazon Associate I earn from qualifying purchases.
Grab a cup of coffee, put your feet up, and be prepared to see lots of photos.
Summer has been very inspirational. First, was my road trip to El Paso where I ate all the food I had been craving, then a beautiful and unforgettable trip to Oaxaca, Mexico with my mom and some foodie friends.
After El Paso, as always I am reminded why I started this blog and food journey. Visiting my mom, reuniting with family, and seeing my late grandmas' home fills me with joy and love, and I always return inspired.
Oaxaca was more than I could have dreamed of. It was magical and a foodie's dreams come true. It was rustic and elegant all at the same time. I plan to share lots more about my trip to Oaxaca, but in this blog post I want to share how I brought home a bit of Oaxaca with me with Mexican folk art pieces.
After experiencing so many delicious restaurants, cooking, and dining in Oaxaca, I couldn't wait to bring a little bit of it all to mi cocina. Not only in recipes, but also in how I decorate, host, and entertain. I have sprinkled a few of my Oaxaca treasures en mi cocina and hope to inspire you to travel, buy artisanal, and share the culture from your travels with your family and friends.
While in Oaxaca we visited various mercados, met with several artisans, and shopped our little hearts out. The word "artesanía" was heard many times, but what does artesanía (artisan) really mean. Artesanía can be defined as those items created by common people, made my hand, using traditional methods, which are well founded in the past. In this blog post I want to introduce you to some of the women I met in Oaxaca and share their stories.
The photo above was taken in the kitchen of Reyna Mendoza. Reyna is a Zapotec woman who lives in Teotitlán del Valle, a small town about 45 minutes from Oaxaca City. She's been making Mexican food by hand since she was a little girl. She was recently featured in National Geographic — 100 places that will change your life. Chefs like Rick Bayless among others come and learn from her. Look at the inviting décor of her dining table.
The people of Oaxaca are proud of their artisan items — mezcal, beautiful dishware, and stunning textiles — they celebrate life daily and share it with those around them.
My mom and grandma pulled out their fancy serving dishes or expensive liquor only for special occasions – usually Thanksgiving. C'mon, I know your parents or grandparents are the same. After Oaxaca, I came back wanting to show off all my treasures and sharing them as often as possible with everyone I know.
I am ready to book another fabulous trip for inspiration and buy more artisanal treasures and not only help those who sell these products, but have a special gift in my home that will always remind me of my adventures.
When I host a fiesta I usually serve a drink to welcome guests. I either serve a signature cocktail, beer, or wine. I purchased this bottle of mezcal in Oaxaca. Isn't it beautiful? If you go to Oaxaca you have to buy mezcal. And look at these tiny bowls – rather than shot glasses, mezcal is served in these gourd bowls/cups — truly one-of-a-kind.
In Oaxaca they always accompany mezcal with orange and lime wedges and sal de gusano (worm salt). I purchased worm salt and it's been fun to serve to my guests and tell them afterwards what it is (naughty, I know). The worm salt tastes like Tajin – just a salty and spicy ground spice that really soothes the smoky flavor of mezcal.
I fell in love with the outdoor kitchen spaces in Oaxaca and the clay griddles they use. This is Reyna toasting chiles on her outdoor clay comal (griddle).
Even though I don't have an outdoor kitchen I wanted a clay comal, but instead I found these small clay plates that can go on a stovetop, but I actually use them as serving dishes. Red clay is common in Mexico, and next time I visit Oaxaca I need to buy barro negro (black clay) pottery, which is a style of pottery from Oaxaca.
Did you notice the beautiful bowls? Can you guess what they are? They are actually hand painted gourds. These colorful bowls are commonly used to make and serve tejate. Tejate is a non-alcoholic maize and cacao beverage originating from pre-Hispanic times.
This is Teresa preparing refreshing Tejate – she sells tejate and homemade chocolate in her community.
Here is another gorgeous hand painted gourd – I have used this one as a chip bowl for parties.
This is Epifania – she lives in San Miguel del Valle and makes beautifully embroidered aprons for the women in her community. Isn't the embroidery incredible?
She learned to sew aprons from her mother at the age of 13 but taught herself how to embroider. I purchased this stunning apron and look forward to wearing it at cooking demos and sharing her story.
The textiles of Mexico are breathtaking – I purchased this beautiful runner for my kitchen table, but it can also be used as a wall hanging or shawl.
I hope this blog post inspires you to spread some good and buy handmade and support a true artist. You can be sure that human rights are respected in the making of your product. Artisans are superb recyclers, and of course something handmade is always extra special.
Purchase artisanal products and give them as gifts and sprinkle them in your kitchen and home. The opportunity to have a handmade, one-of-a-kind item is pretty remarkable. True artisanal goods can't be mass-produced: they are in short supply, and they come with a story behind them.
If you want to learn more about the women I met in Oaxaca, visit the En Via website to gain a closer look at their organization.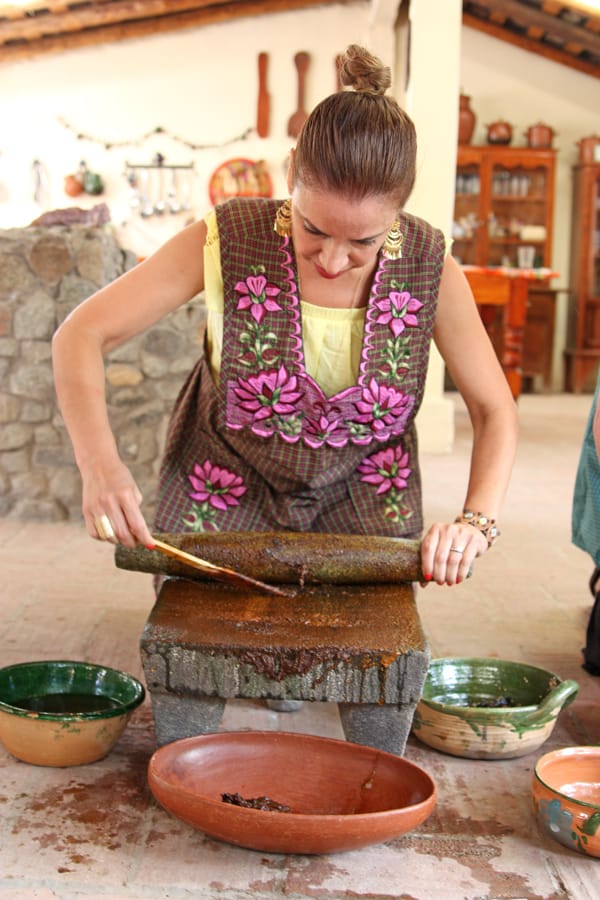 For those of you wondering — I was not sponsored for this trip. My mom and I purchased our trip via Eat.Drink.Cook.Mexico and I encourage you to book your trip with Elexia if you want to visit Oaxaca.
To learn more about Oaxaca:
Stay tuned for what to do, where to shop, and where to eat in Oaxaca.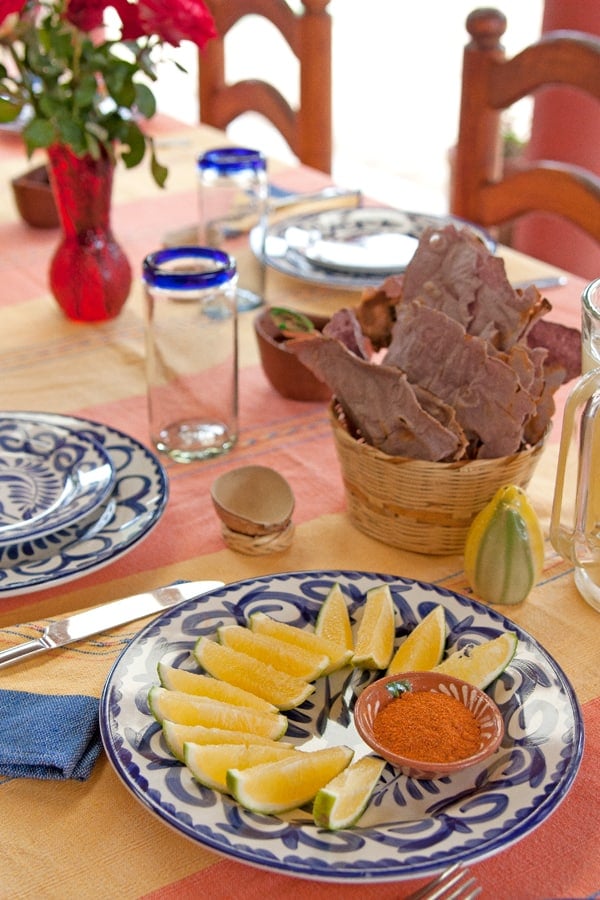 Please keep in touch and subscribe to Muy Bueno and follow me on Twitter, Facebook, Instagram, Pinterest and subscribe to Muy Bueno on YouTube.