Marigold Blood Orange Margarita
This post may include affiliate links. As an Amazon Associate I earn from qualifying purchases.
Sweet, tart, boozy, and bright, these Marigold Blood Orange Margaritas are Ideal for celebrating Dia de los Muertos in style. Tart, ruby-red citrus juice, marigold-infused tequila, orange liqueur, and fresh lime juice combine forces for an uplifting cocktail.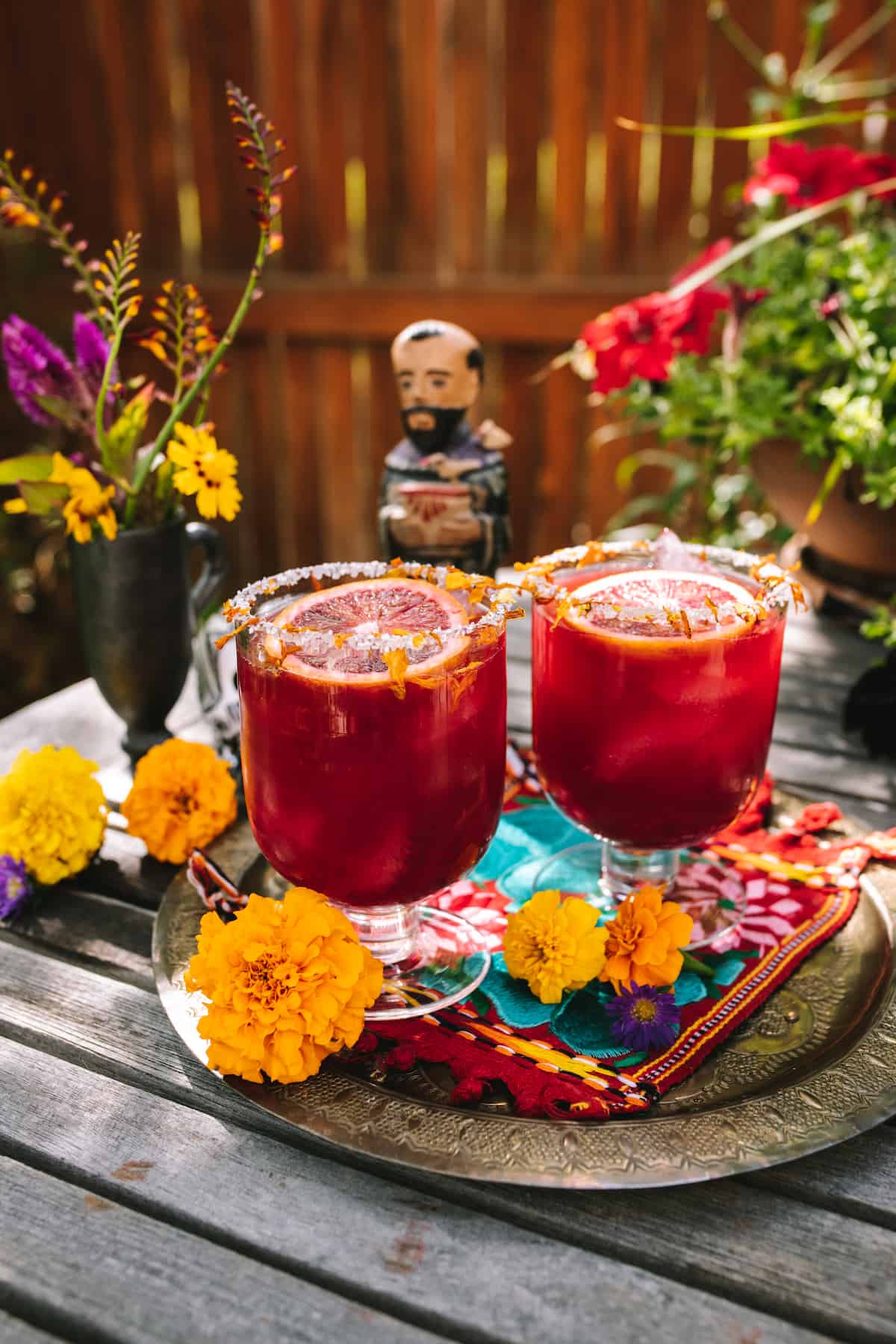 'Tis the season for festive Halloween movies and rounds of Midnight Margaritas with your amigas. This colorful and refreshing blood orange margarita recipe brings just the right amount of magic to your happy hour celebrations!
Why You'll Love This Cocktail Recipe
As much as I love a night out on the town, going out for drinks is typically a very expensive affair. Since when did the "normal" cost of a drink jump to $15?!? I know restaurants need to make money from their beverage programs, but SHEESH.
Luckily, hosting your own happy hour at home is far less expensive. For the cost of a single round of drinks with your crew, you can get all the ingredients you need to make dozens of these gorgeous craft cocktails at home.
In fact, you only need 4 simple ingredients to make a batch of this blood orange margaritas recipe. Oh, and each batch only takes a few minutes to mix up. You'd spend more time just trying to get the bartender's attention if you went out.
Even better? When you're the host, you can choose the music, food, and guest list, plus you get the option of wearing your jammies and slippers. I don't know about you, but comfy clothes, cozy couches, good company, and plenty of tasty adult beverages and snacks are all I want from girl's night!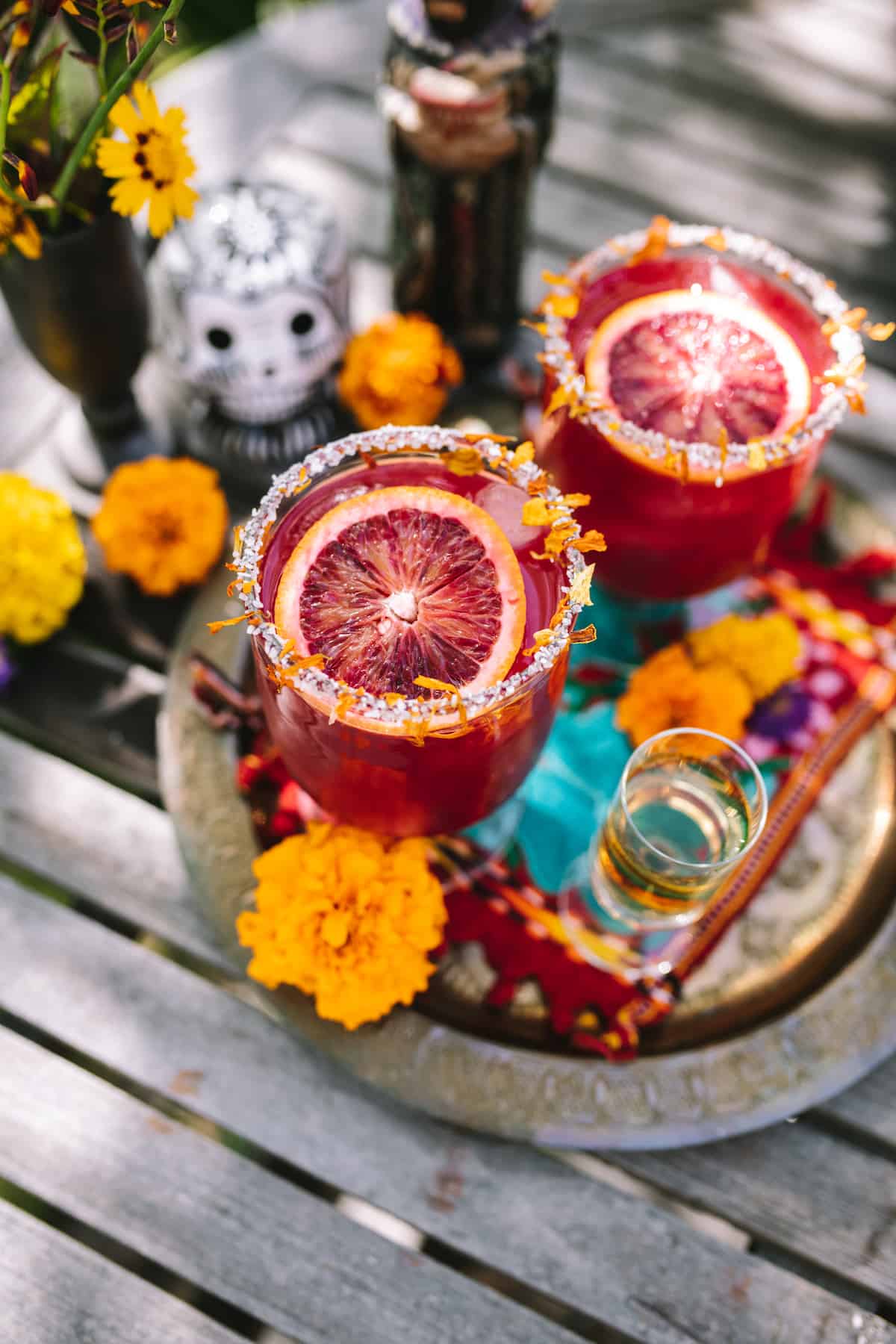 Ingredients & Substitutions
As promised, you don't need much to make these blood orange juice margaritas. Here's what to grab:
Blood Oranges – While I'm deeply obsessed with the crimson hue of these wintry beauties, you can easily swap in regular naval oranges instead. Another tasty option are Cara Cara oranges if you can find them!
Limes – Whenever you make cocktails at home, do yourself a favor and reach for fresh citrus juice. It'll taste so much better than the bottled kind!
Tequila Blanco – You're free to use plain white tequila if you like, but if you have a few extra minutes, go the extra mile and infuse it with marigold petals and cinnamon for a fun seasonal twist.
Orange-Flavored Liqueur – This is the only sweetener needed for these tequila blood orange cocktails. If you can swing it, opt for a premium brand like Cointreau or Grand Marnier for the best flavor.
Ice – Since these are shaken margaritas, I'm considering ice an ingredient. Do yourself a favor and reach for ice made with filtered water for the brightest taste.
Coarse Salt – I'm a sucker for a salted rim. You are free to omit it, mix it with sugar and/or citrus zest, or trade in a seasoning blend like Tajin instead.
Marigold Flowers – Optional, but beautiful. And, in case you didn't already know it, marigolds are totally edible.
What are blood oranges & what do they taste like?
Citrus season is finally upon us and I was so excited when I spotted blood oranges at the store. Just look at this gorgeous color! If you're able to get your hands on some, I highly recommend them.
Blood oranges are part of the same family and taste similar to navel oranges but with a hint of raspberry fruit-punch sweetness and a to-die-for shade of garnet flesh. They also happen to have fewer seeds than normal oranges and are typically easier to peel. Give them a try — they're delicious!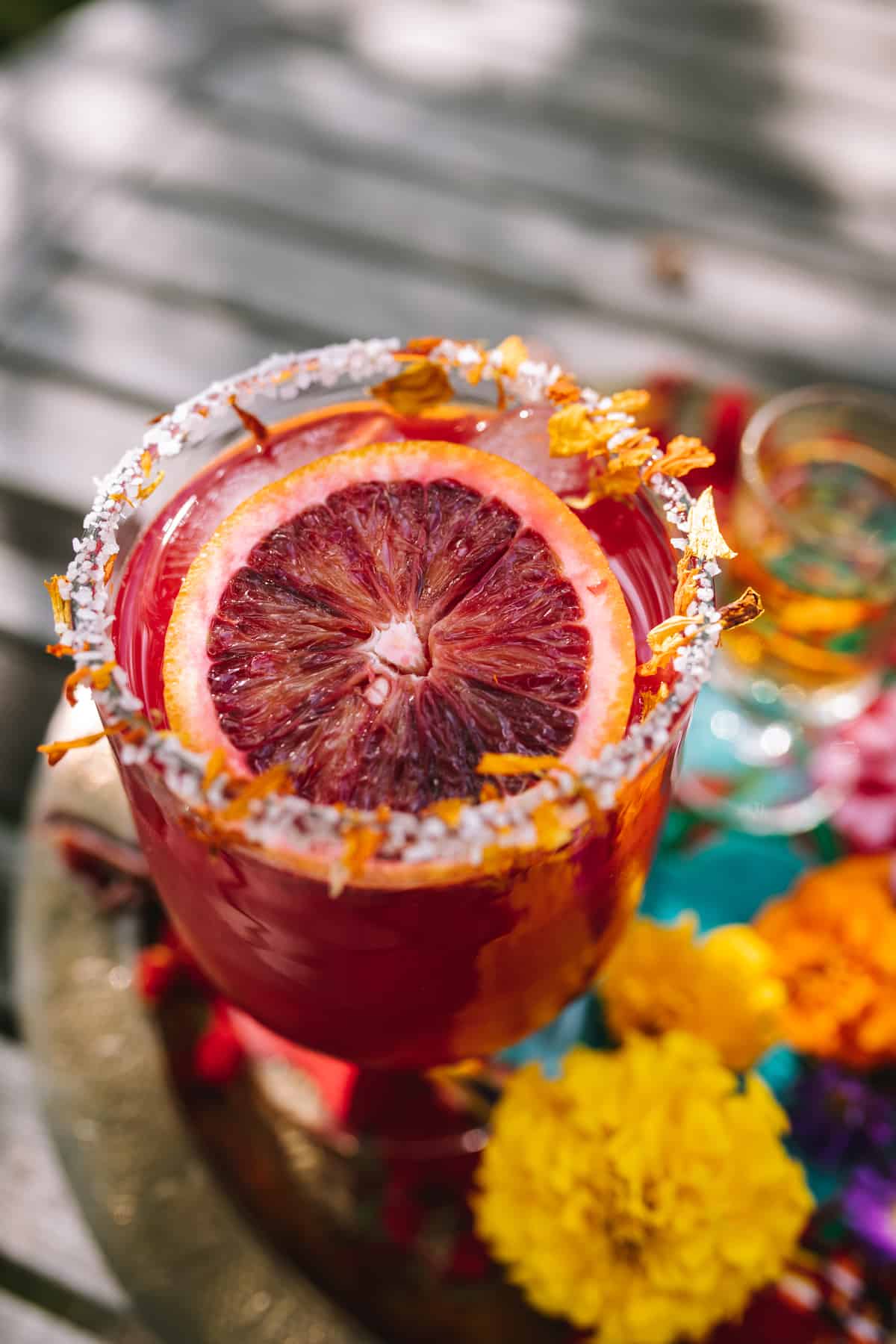 How To Make Marigold Blood Orange Margaritas
Watch this video to learn how to make these *spirited* (teehee!) margaritas. Here's how to make a round:
Step 1: Shake. In a cocktail shaker, add the freshly squeezed juices, tequila, orange liqueur, and ice. Shake vigorously for 10-15 seconds.
Step 2: Strain, dividing the mix equally between two salt and marigold-rimmed glasses. Garnish with a blood orange slice. Salud!
Optional Variations
While I think these blood orange and marigold margaritas are spook-tacular, there is always room for you to make adjustments based on your needs and preferences. Here are a few variations to consider:
Mocktail margarita: Omit the tequila and liqueur and top the strained drinks with blood orange soda or sparkling water for some fizz.
Batch margaritas: Mix up a big pitcher of margaritas and set it up on a serve-yourself bar next to a bucket of ice and a cocktail shaker or two. Whenever it's time to refresh your glasses, simply shake up the next round!
Bubble, bubble, toil, and trouble. Add some fizz to your margs with a splash of soda water or citrus soda.
Expert Tips
Shake it like you mean it. If you've ever seen a bartender shaking a beverage, you might think they're just putting on a show for their patrons. However, the process of shaking a drink isn't just to get it cold! The act of shaking your margarita does chill the beverage, but should also help to aerate it by breaking small shards of ice as it rattles around the tin. This results in a frothy drink with a light mouthfeel. For the best results, shake your drinks hard for 30-45 seconds.
Buy only 100% agave tequila. There are plenty of bottles available at almost any price point, and as long as you're reaching for one that has a label that lists agave as the only ingredient, you should be good to go. (Infused tequila can have agave plus whatever is being used to flavor it!)
Frequently Asked Questions
What kind of tequila is used in these blood orange margaritas?
This margarita tastes great with blanco tequila. For an enhanced potion, infuse tequila with marigold petals and cinnamon sticks for warm, spicy, and sweet notes that is perfect to enjoy as you honor your departed loved ones for Dia de los Muertos.
Why are Marigolds the official flower of the dead? 
The marigold, and flowers in general, represent the fragility of life. It is believed that departed souls are attracted to the marigold's vibrant color and strong fragrance.

Did you know the name "Marigold" originates from the Virgin Mary and the beautiful golden color known as "Mary's Gold" by the Aztecs in Mexico? Marigolds were commonly used in religious ceremonies. They also utilized the marigold as a medicinal plant, and considered the brilliant flower to contain magical properties.
Do you have to serve Margaritas in Margarita glasses?
Nope! Perfect example are these margaritas served in glass goblets.
More Cool-Weather Margarita Recipes
Marigold Blood Orange Margarita
Tart blood orange juice makes a brilliantly colored cocktail and not to mention very uplifting. For a touch of Dia de los Muertos spirit, spike with marigold infused tequila for an additional layer of flavor.
Ingredients
3 blood oranges, juiced
2 limes, juiced
4 ounces tequila blanco
2 ounces orange liqueur
ice
salt for glass rims
Marigold flowers, optional
Instructions
In a martini shaker add the freshly squeezed juice. Include the tequila, triple sec, and ice. Shake and divide equally between two salt and marigold rimmed margarita glasses.

Garnish with a blood orange slice.
Notes
You can find dried marigold flowers here.
If you can't find blood oranges substitute with naval oranges.
Mocktail margarita: Omit tequila and triple sec and top drinks with blood orange soda or sparkling water for some fizz.
Serving: 1margarita, Calories: 248kcal, Carbohydrates: 18g, Protein: 1g, Fat: 1g, Saturated Fat: 1g, Sodium: 4mg, Potassium: 104mg, Fiber: 2g, Sugar: 12g, Vitamin A: 77IU, Vitamin C: 30mg, Calcium: 30mg, Iron: 1mg
Photography by Jenna Sparks
Originally published: October 2019