Canned Salmon Salad, Ceviche-Style
This post may include affiliate links. As an Amazon Associate I earn from qualifying purchases.
Say goodbye to mayonnaise-laden canned fish salads. Transform affordable canned Bumble Bee® Red Salmon into an exotic, zesty, flavorful salmon ceviche salad by adding fresh lime juice and diced cucumber, tomato, jalapeño, and cilantro. This recipe is so delicious and healthy!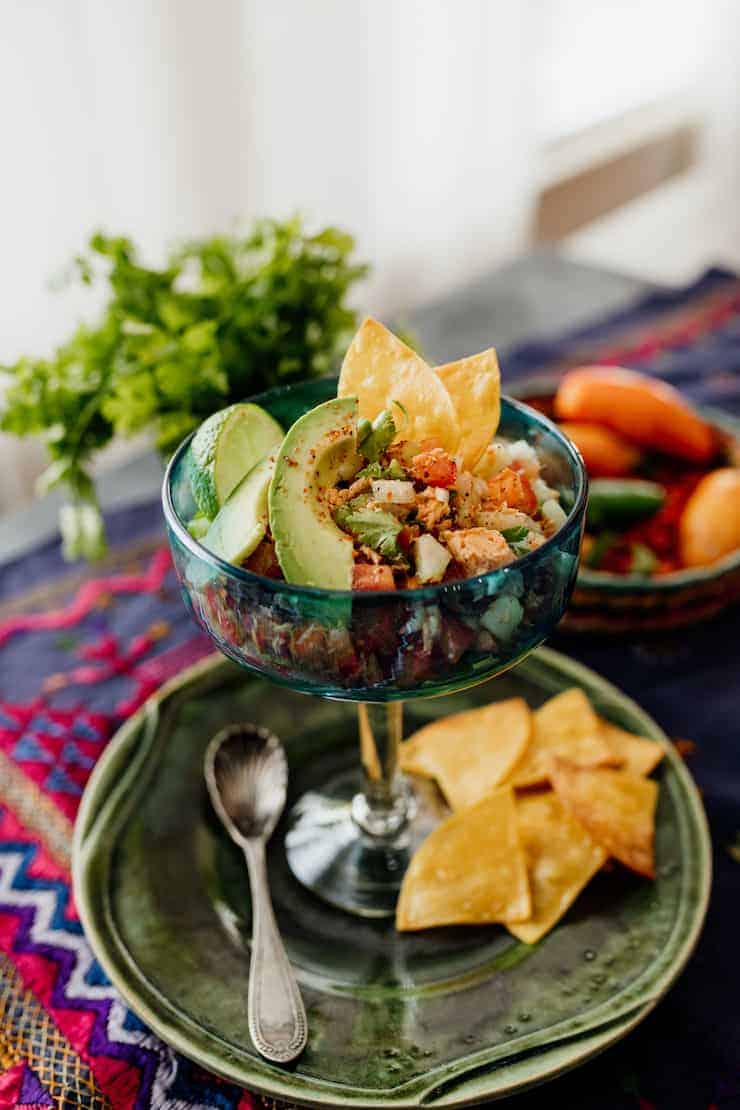 Ceviche (pronounced "seh-vee-chay") is one of my favorite dishes. I love to order it when I travel to Mexico. I often make shrimp ceviche at home in the summer months when it's too hot to turn on the stove.
I'm not gonna lie, I'm comfortable making shrimp ceviche, but am intimidated "cooking" raw fish in citrus juices at home. You have to be sure you invest in fish that has been frozen according to FDA standards to make homemade ceviche.
My bestie, Rachel, is the one who gave me the idea of canned salmon salad using the flavors of ceviche. She said her grandma used to make it for her family when she was a kid. I was intrigued, and after testing it I am pleasantly surprised by the flavor. This canned salmon recipe is a lifesaver.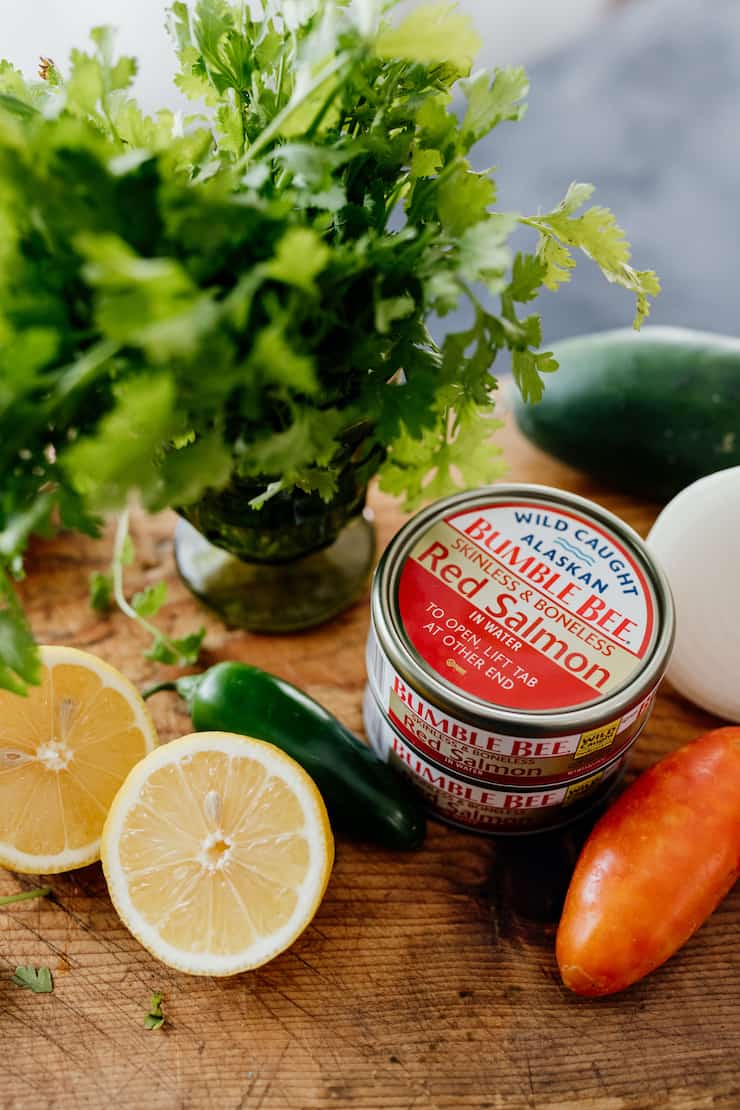 What is ceviche
Ceviche (sometimes spelled as seviche or cebiche) is a seafood dish where diced cubes of raw fish marinate in a lemon or lime juice mixture, and the acids of the citrus juices cure and "cooks" the fish. After curing for a couple of hours, the fish is then tossed with fresh diced ingredients such as onions, cilantro, and peppers.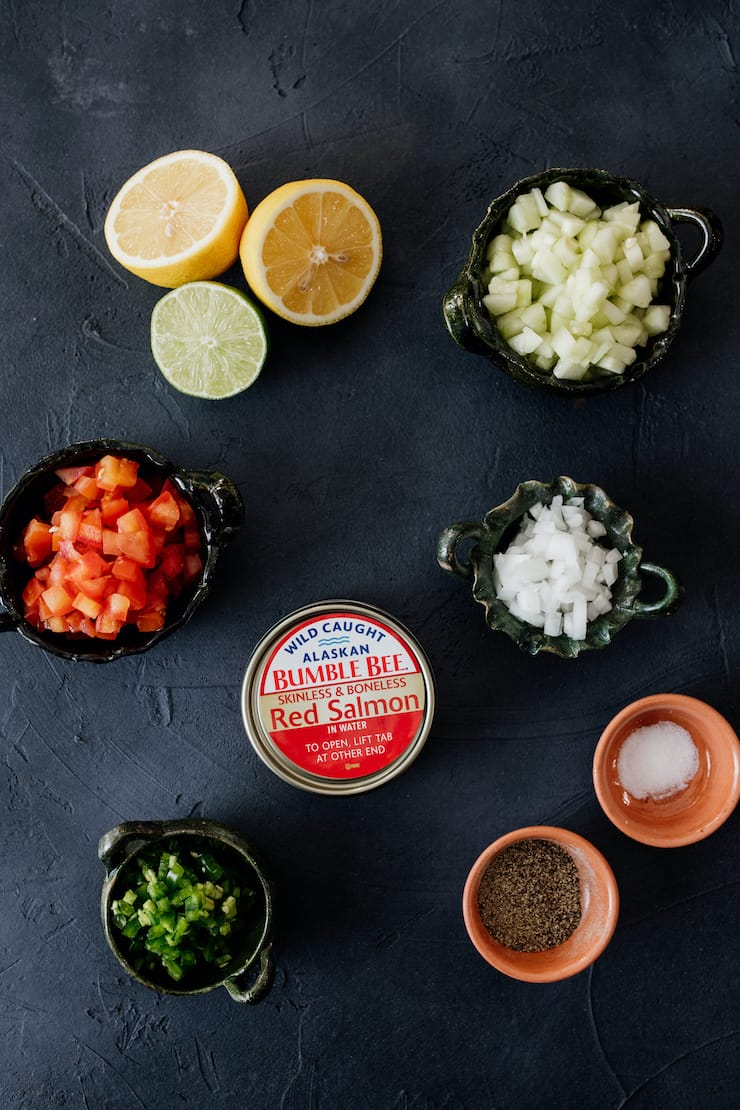 How to make this Canned Salmon "Ceviche"
Unlike other canned salmon salad recipes that rely on mayonnaise, this ceviche-style salad gets all of its flavor from tart lime juice, earthy cilantro, spicy peppers and crunchy veggies. I can almost guarantee it is so much lighter and healthier than any other salmon salad you've tried!
This easy salmon ceviche salad is made with canned Bumble Bee® Red Salmon in Water and does not need any time to cook or cure. Dice your ingredients, combine with flaked canned salmon, and serve. It tastes fresh, bright, and flavorful.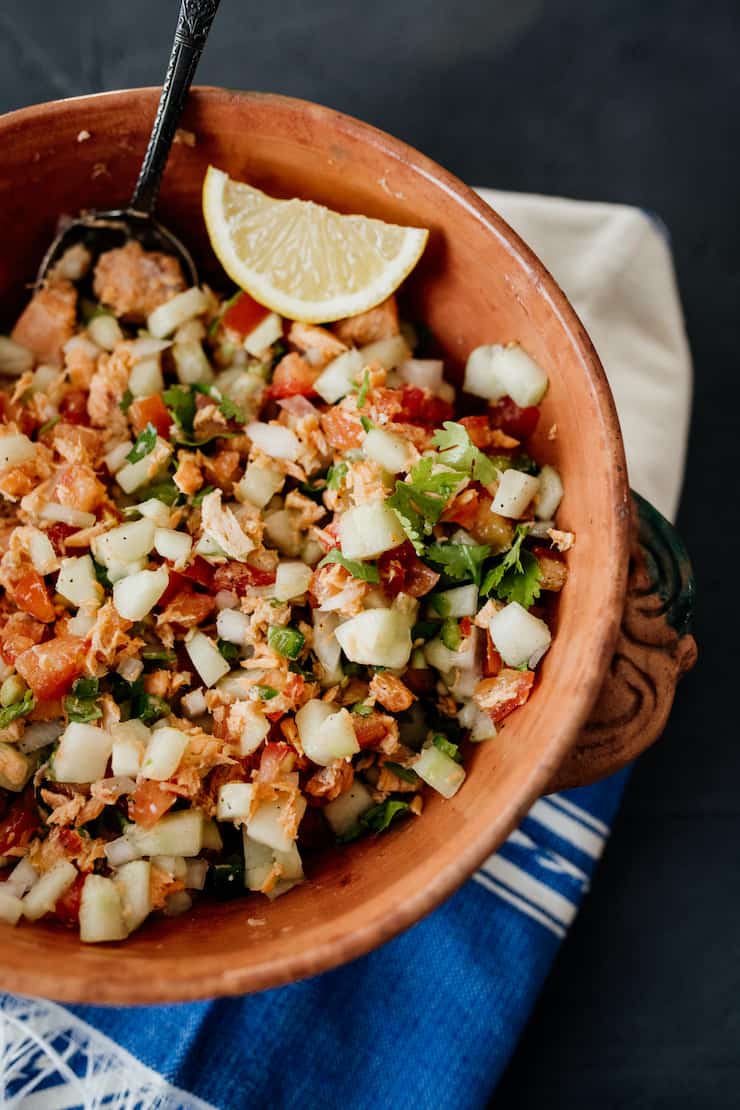 Because this "ceviche" is made from canned salmon, you don't have to worry about dealing with raw fish. You will have all of the flavor of ceviche without any worry. This easy canned salmon salad will save you so much time and money.
What to buy
Bumble Bee Seafoods is committed to sustainability practices that go far beyond their fisheries. Their salmon is wild-caught Alaskan salmon, meaning that it is antibiotic free and sustainable. I highly recommend Bumble Bee® Red or Pink salmon.
The texture of canned salmon resembles canned tuna. It can be used in all the same ways, like in this salad or these patties.
Is canned salmon healthy?
This canned salmon salad, and Bumble Bee® salmon in general, will provide you with omega-3's, a healthy dose of protein, and good fat. It is rich in calcium, extremely flavorful, and is gluten-free. It makes a great complement to any healthy diet. It's also Keto, Whole30, and Paleo friendly.
How to serve
This 10-minute ceviche-style canned salmon salad is easy and can be your new quick dish. Wrap it up in lettuce leaves, serve over greens, eat it on a piece of toast, serve it on a mini crispy tostada, or in a glass with a side of tortilla chips.
No matter how I serve it, I love adding avocado slices and a drizzle of hot sauce for additional spice.
How long does ceviche last?
It is best to eat this canned salmon ceviche within 24 hours. Any leftovers can be refrigerated for up to 2 days.
More easy seafood recipes you'll love:
If you loved this recipe and are eager for more delicious Mexican recipes, be sure to follow me on Pinterest, Facebook and Instagram!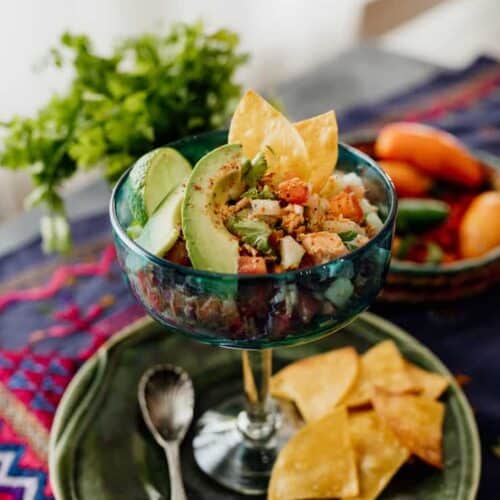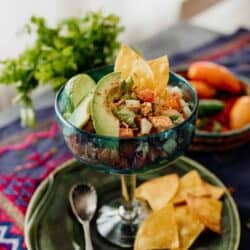 Ceviche Style Canned Salmon Salad
Say goodbye to mayonnaise-laden canned fish salads. Transform affordable canned salmon into an exotic, zesty, flavorful salad by adding fresh lime juice and diced cucumber, tomato, jalapeño, and cilantro. This recipe is so delicious and healthy!
Ingredients
2 (5-ounce) cans Bumble Bee® Skinless Boneless Red Salmon in Water, drained
1/4 cup onion, chopped
2 tomatoes, seeded and chopped
1 serrano or jalapeno pepper, finely diced
1 cucumber, peeled, seeded, and chopped
Handful cilantro, chopped, plus several sprigs for garnish
1 lemon or lime, juiced
1 teaspoon salt
1/4 teaspoon ground black pepper
Mini tostada shells
Avocado slices (optional)
Tajin, for serving (optional)
Hot sauce, for serving (optional)
Instructions
Place salmon in a bowl. Add onion, tomato, cucumber, cilantro, and drizzle with lemon or lime juice and combine.

Season with salt and pepper.

Refrigerate or serve immediately. 

To serve, top with fresh sliced of avocado and serve on tostada shells or in a glass. 

Sprinkled with Tajin and drizzle with hot sauce.
Notes
To drain salmon, open the can lid then turn upside down and press down on the salmon with the lid to remove excess liquid.
Cover and marinate in the refrigerator for at least 20 minutes to let the flavors blend.
Leftovers can be refrigerated for up to 2 days.
Nutrition does not include tostadas, tortilla chips, toppings, or garnishes.
Calories: 23kcal, Carbohydrates: 5g, Protein: 1g, Fat: 1g, Saturated Fat: 1g, Cholesterol: 1mg, Sodium: 393mg, Potassium: 200mg, Fiber: 2g, Sugar: 3g, Vitamin A: 403IU, Vitamin C: 20mg, Calcium: 16mg, Iron: 1mg
Photography by Jenna Sparks
This post is in partnership with Bumble Bee Seafoods. As always, thank you for reading and for supporting companies I partner with, which allows me to create more unique content and recipes for you. All opinions are always my own.