Basic Sopaipilla Recipe
This post may include affiliate links. As an Amazon Associate I earn from qualifying purchases.
If you love carb-y fried things, you need this Basic Sopaipilla Recipe in your life. New Mexican Sopaipillas (sometimes spelled sopapillas) are easy to make with simple pantry ingredients, and can be either sweet or savory. Serve them drizzled with honey, or stuff them with your choice of savory filling for a complete meal.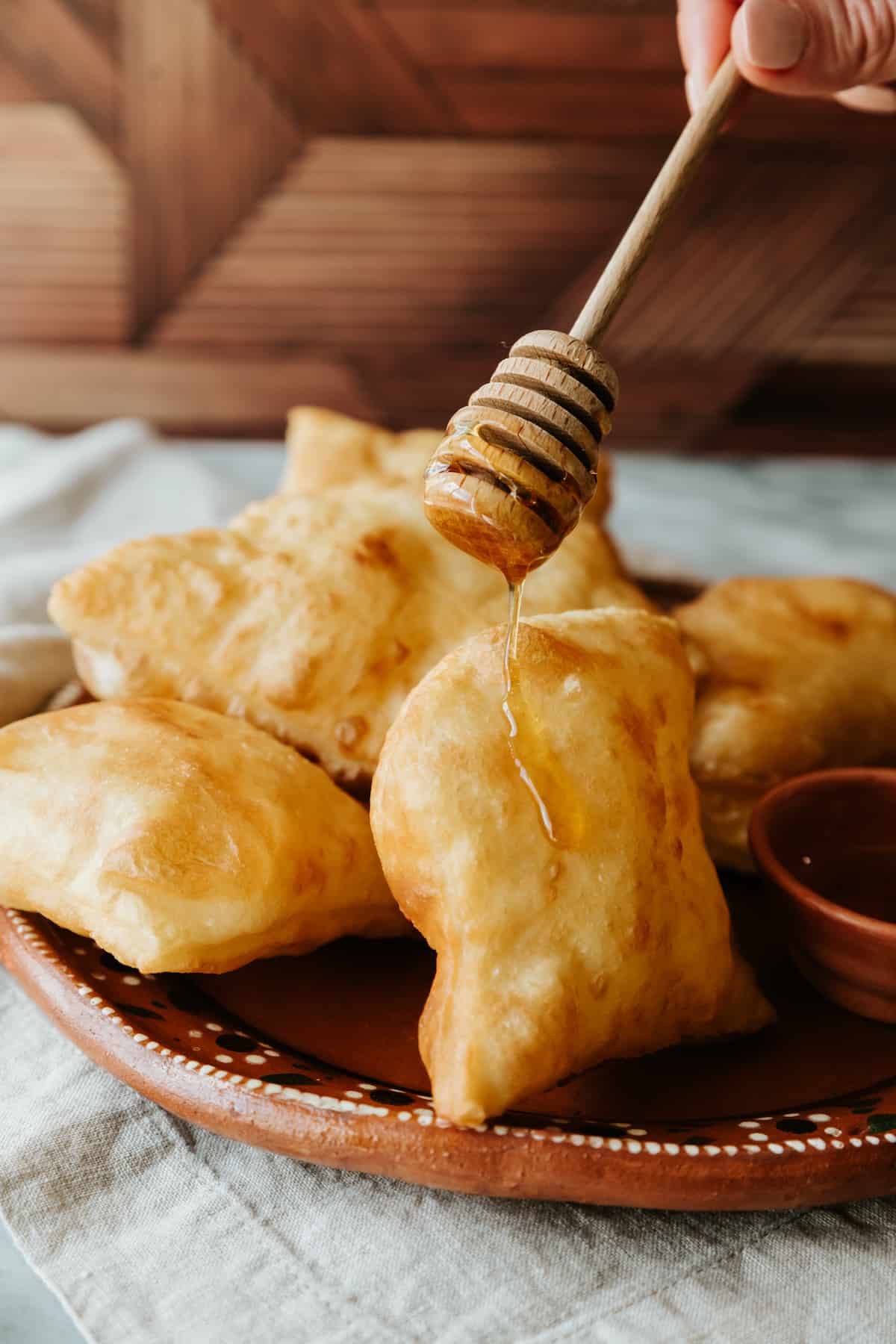 What Are Sopaipillas?
Sopaipillas are fried pieces of pastry dough that seem to have originated in Albuquerque, New Mexico over 300 years ago. Depending on where you are and who you are eating with, they can be either sweet or savory.
Interestingly enough, they have become such a beloved dish across the southwest that some parts of Northern Mexico will serve them, though they are not recognized across the entire country. From what I have seen and heard, true Mexican cuisine does not include sopaipillas, but rather has buñuelos.
Please note that there is another Latin American dish called sopaipillas that exist in Argentina, Chile, Peru, and Uruguay. However, these dishes are separate from the New Mexico version I grew up with, and are generally more like a tortilla than a fry bread.
While the specific history of this delicious dish isn't entirely clear, some speculate that the dish is related to other fried doughs like Mexican churros or buñuelos and Spanish sopaipas. New Mexican sopaipillas are therefore a snapshot of the diversity of the southwestern US in the 1800s.
Sopapillas are popular in New Mexican cuisine and are served in almost every New Mexican-style and Tex-Mex restaurant across the country. In fact, they are so popular that my home state of Texas named sopapillas the official state pastry in the early 2000s.
About This Recipe
Growing up as a Mexican-American in Texas, sopaipillas have always been near and dear to my heart. My dear departed Abuela Jesusita used to make them relatively often, though she generally preferred to serve them as dessert.
You can read on below for more serving suggestions for this beloved and versatile dish!
All you need to make sopapilla dough are 6 ingredients, one of which is water. That should give you an idea of how simple they are!
And don't get too worried about frying them, either. You don't need any special equipment like a deep-fryer to make these gorgeous fry breads; all you need is a rolling pin, a sauté pan, and about 30 minutes of time.
How To Make Sopaipillas
In a large bowl, sift together flour, baking powder, and salt. Cut in shortening until mixture resembles coarse crumbs. Gradually stir in water just until dough pulls together.
Divide dough into 5 pieces.
Roll out each piece of dough on lightly floured board into an 8-inch diameter circle.
Cut each circle into 4 wedges.
Heat oil in a deep frying pan. Add a few of the tortilla wedges at a time. The wedges will puff up. Turn once so they will puff evenly on both sides; then turn back to brown on both sides.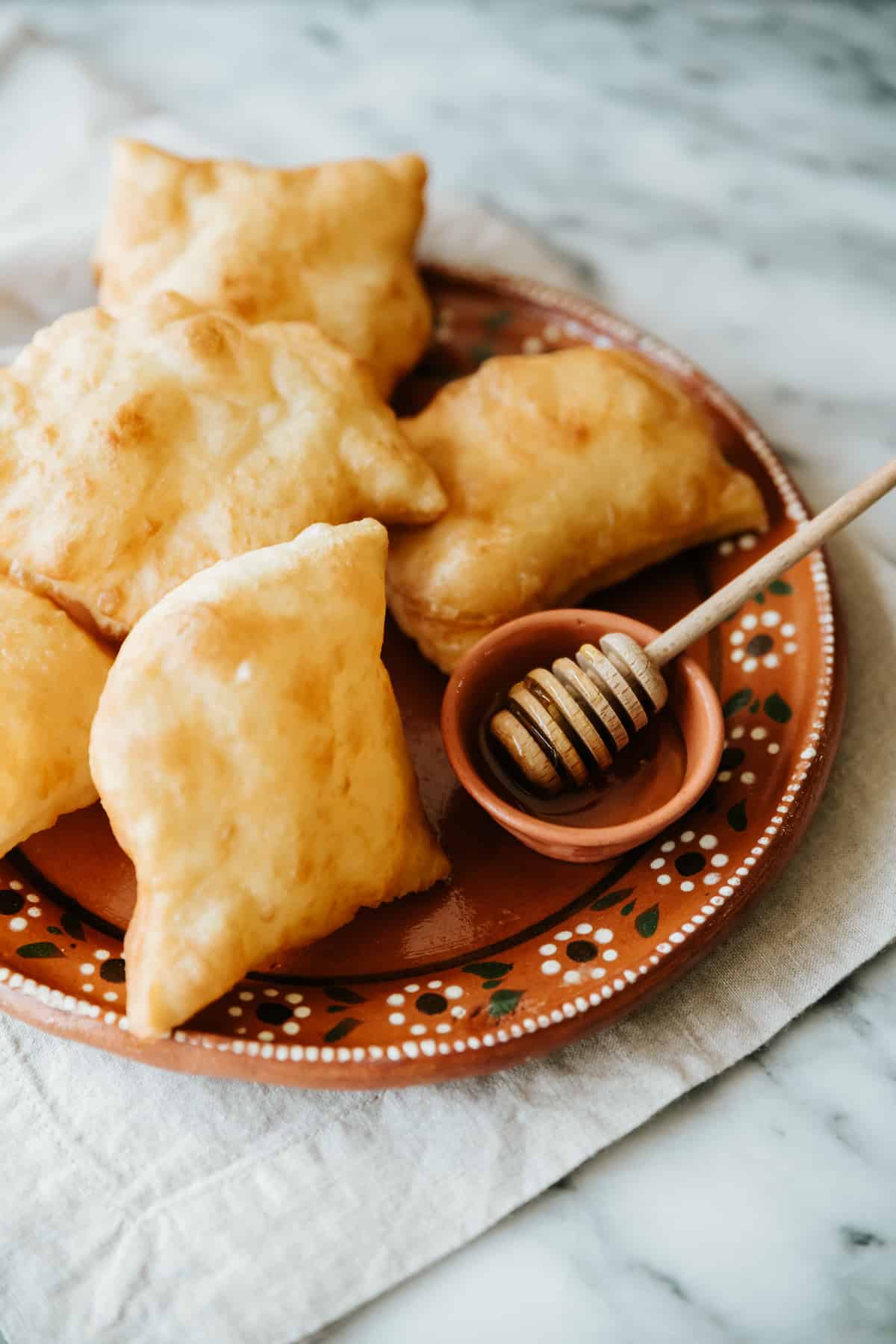 Serving Suggestions
Sopaipillas are amazingly versatile, working in either sweet or savory applications. Once fried, either toss with the seasoning mixture of your choice, stuff them like a pita pocket, or drizzle with sauce. YUM!
Do you like sopaipillas sweet or savory? What is your favorite way to use these fried pockets of deliciousness? Let me know in the comments below!
Savory Sopaipillas
I find that they also pair quite well with savory dips like Tex Mex Chili con Queso, Choriqueso (Queso Fundido with Chorizo), and Classic Guacamole.
Sweet Sopaipillas
They are also delicious when dipped in coffee or Mexican hot chocolate! Watch this video to learn how to make sweet sopaipillas sprinkled with cinnamon sugar and a drizzle of honey.
Expert Tips
If you plan on dusting your sopaipillas in cinnamon sugar (or any seasoning mix, really), make sure to do it while they are still warm from the fryer! They'll be able to adhere to the mixture better when they are hot.
Serve them hot! If you let them cool too much, sopapillas can begin to feel dense, heavy, and even greasy. If you've made them ahead of time, simply warm them in a 200F oven or toaster oven until warmed through. They also refrigerate well and can be reheated in a 350 degree F. oven for 10 to 15 minutes before serving.
Don't skip draining them on paper towels. This is an essential step for basically everything that is fried. If you skip it, they'll end up greasy.
Frequently Asked Questions
Did you try my Basic Sopapilla Recipe? If so, let me know how yours turned out by rating and reviewing it below. If you came up with a brilliant way to use these delectable fried pastries, be sure to tag me in your social posts so I can cheer you on!