Chicken Mole Nachos
This post may include affiliate links. As an Amazon Associate I earn from qualifying purchases.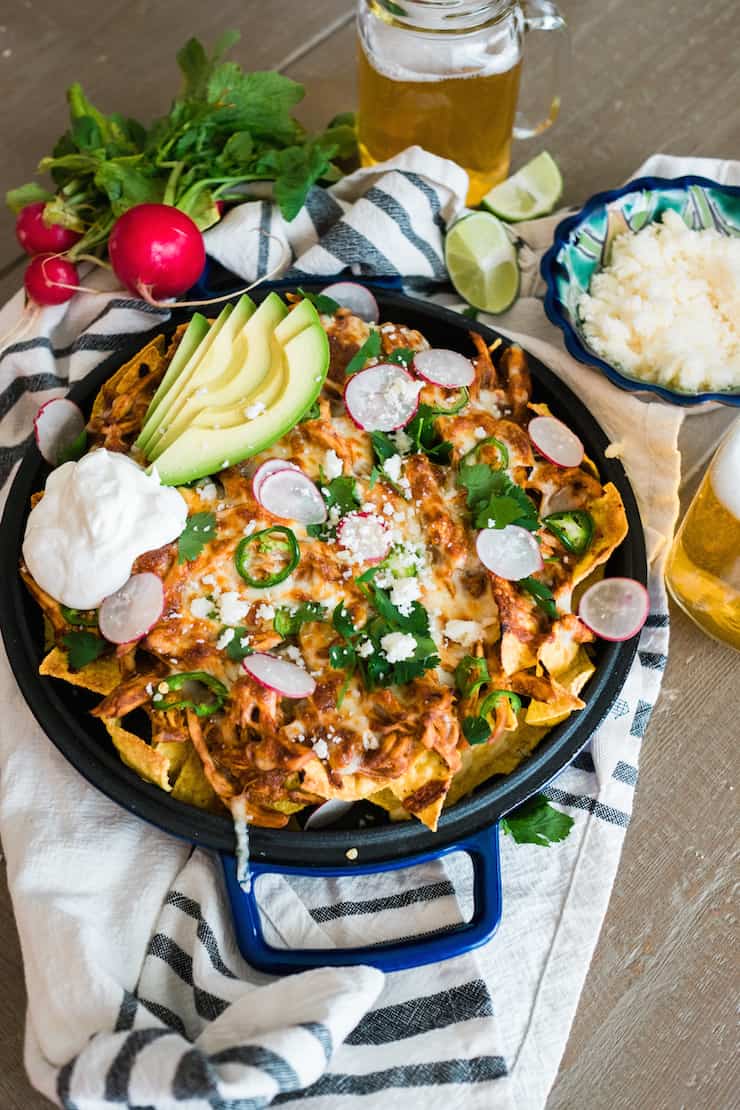 Chicken mole + nachos? Yes, please! As I was flipping through The Tex-Mex Slow Cooker cookbook I knew I had to make this dish as soon as I saw it. I may or may not have drooled on the page as I stared at the photo in the cookbook. But then again, I can never resist nachos.
In the cookbook, the chicken and mole are made separately, in a slow cooker, and then combined and assembled to make nachos. I made a few minor tweaks to the original recipe and made both the chicken and mole sauce on my stovetop.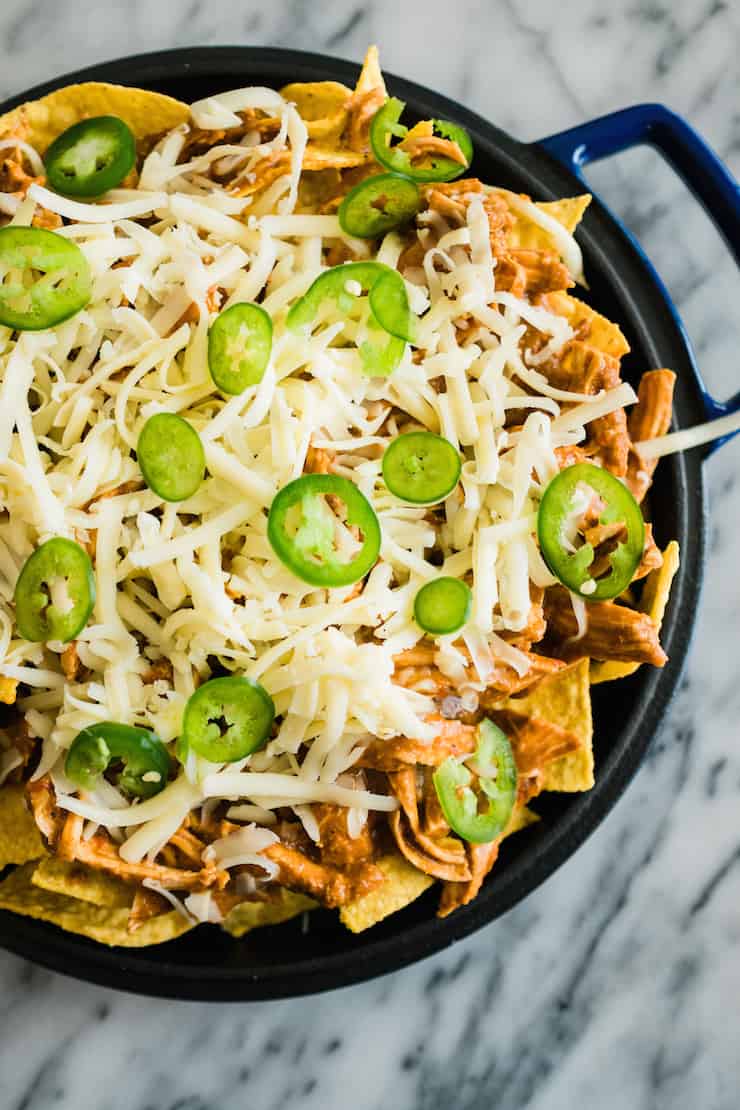 I included directions to making shredded chicken in the slow cooker because shredded chicken is always great to have on hand for other dishes like these Stuffed Bell Peppers or Chicken and Salsa Verde Tamales.
This mole sauce recipe is very simple to make and does not require any exotic or complicated ingredients and is very doable for a weeknight meal when a nacho craving hits.
In this recipe you will have plenty of chicken and mole leftovers perfect to make Chicken Mole Enchiladas.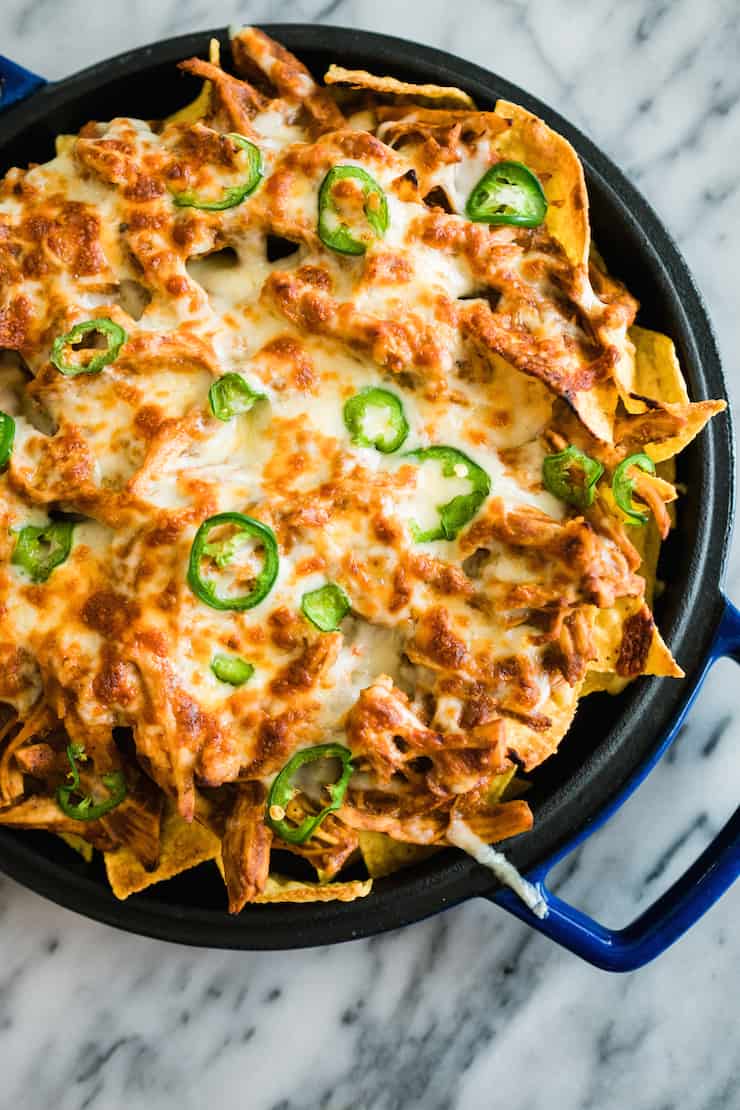 This spicy and slightly sweet mole sauce makes a great topping on nachos. Once the nachos are baked the melted cheese and toppings really makes this dish unforgettable. It has become a new family favorite for family movie nights.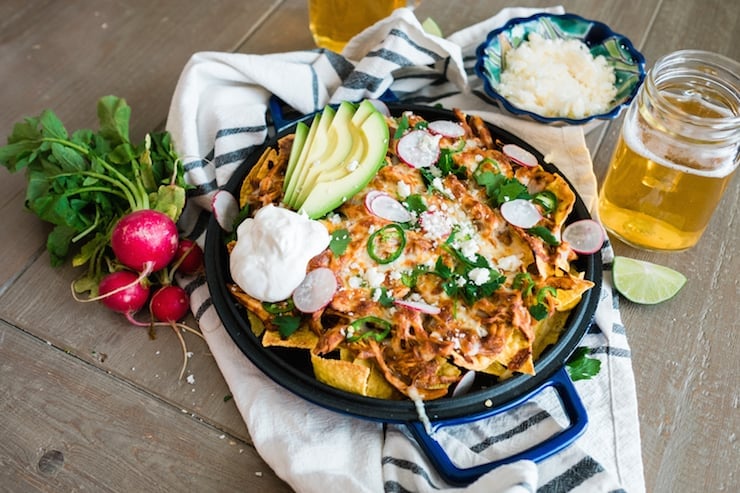 Have you ordered The Tex-Mex Slow Cooker? I'm not just saying it's a must have because my sweet amiga wrote it, but because it is full of delicious Tex-Mex and Mexican recipes that can be made in a slow cooker or adapted to be made without one. It's a cookbook that I know your taste buds will love.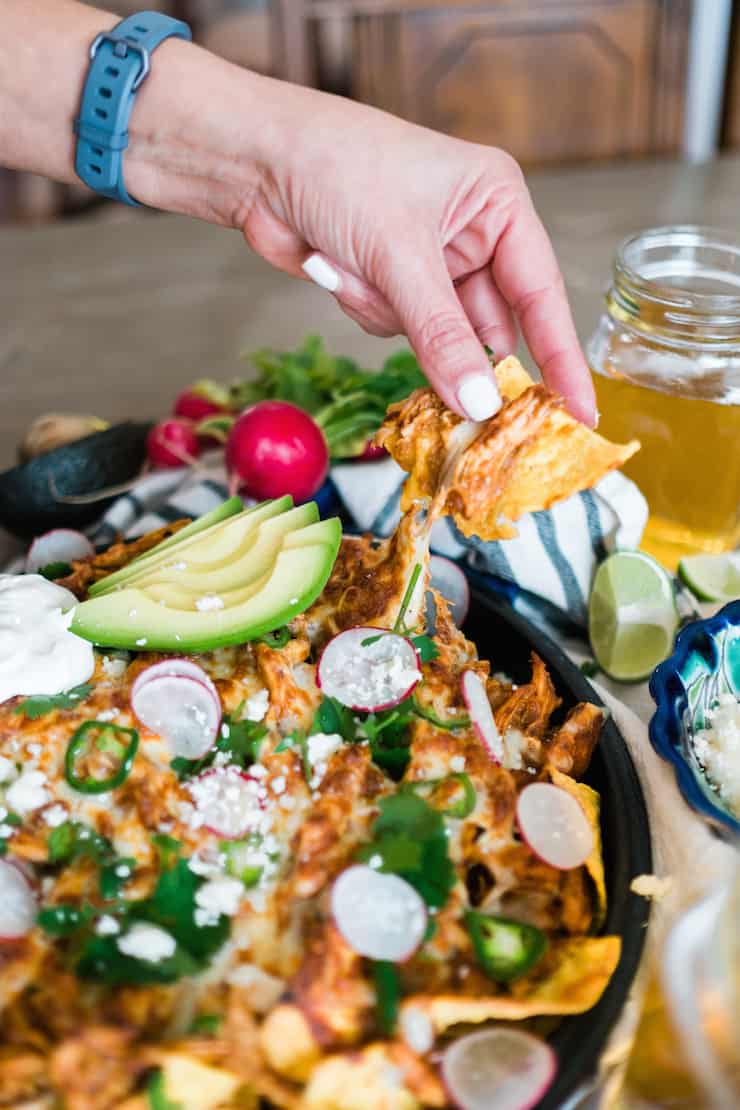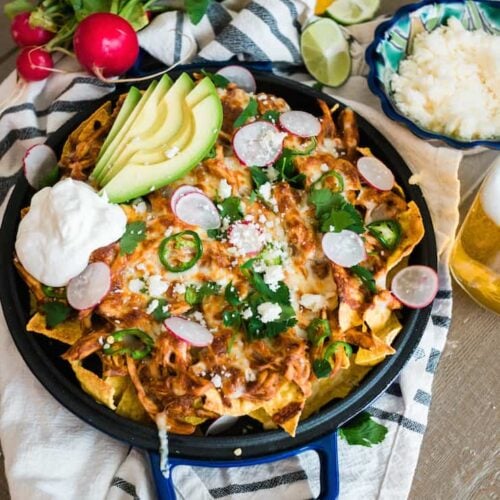 Chicken Mole Nachos
This spicy and slightly sweet mole sauce makes a great topping on nachos. Once the nachos are baked the melted cheese and toppings really makes this dish unforgettable.
Ingredients
Mole Sauce:
4 dried ancho chiles or California red chile pods, stems and seeds removed
water to cover
1 onion, sliced
3 garlic cloves, minced
2 Roma tomatoes, chopped
4 cups reserved chicken broth
3 corn tostada shells, broken into large pieces
¼ cup peanut butter, plus 3 tablespoons
1 tablet Mexican chocolate, recommend Nestle-Abuelita
1 teaspoon dried oregano
1 teaspoon salt
1 teaspoon freshly ground black pepper
Nachos:
2 cups shredded chicken
1 cup mole sauce
10 cups tortilla chips
2 cups Monterey jack cheese, shredded
Garnishes:
jalapeño slices
sliced radishes
sliced avocados
crema Mexicana or sour cream
cilantro leaves
Instructions
Shredded Chicken:
In a large pot, heat water, salt, onion, and chicken. Once it starts to boil, lower the heat and simmer for about 20 minutes. Transfer chicken to plate to cool off, and then shred. Reserve broth and onion.
Slow Cooker Option:
Place the chicken in a slow cooker and sprinkle it with salt and pepper. Add onion, garlic, and cover, and cook on low for 6 hours, or until the chicken is tender. Shred the chicken with forks.
Mole Sauce:
Place the chiles in a microwave-safe bowl, cover with water, and microwave on high 5 minutes. Remove from the microwave, cover, and set aside to steep for 5 minutes.

Heat oil in a large skillet or

stockpot

over medium heat. Add onion, garlic, tomatoes, and sauté for 8 minutes, until soft.

Pour 4 cups reserved broth and boiled onion into a blender and add sautéed ingredients. Add tostada pieces, peanut butter, chocolate, oregano, salt, and pepper and blend until very smooth. Transfer the sauce to a large skillet.

Bring to a boil, reduce heat, and simmer for 10 minutes stirring continuously to keep it from sticking to the skillet.
Nachos:
Preheat the broiler.

Mix together the shredded chicken and the mole sauce in a large bowl.

Spread the tortilla chips evenly on a baking sheet and top them with the chicken mixture, cheese, and jalapeño slices, if using. Broil for 8 to 10 minutes, or until the cheese is melted and the chicken is warmed through. Remove from the oven.

Top with garnishes of your choice. Serve warm.
Notes
Store mole sauce in the refrigerator for up to 1 week. Mole sauce can also be frozen for up to 3 months.
Calories: 1524.04kcal, Carbohydrates: 109.74g, Protein: 73.38g, Fat: 90.25g, Saturated Fat: 22.55g, Cholesterol: 221.49mg, Sodium: 2326.71mg, Potassium: 1249.51mg, Fiber: 11.71g, Sugar: 6.04g, Vitamin A: 790.07IU, Vitamin C: 19.72mg, Calcium: 524.25mg, Iron: 6.99mg
Photography by Jenna Sparks