Authentic Red Sauce for Enchiladas + Video
This post may include affiliate links. As an Amazon Associate I earn from qualifying purchases.
This delicious, bright and mildly spicy red sauce is the quintessential enchilada sauce recipe. This authentic enchilada sauce is made from dried chiles and garlic — it is a very simple yet flavorful sauce. This sauce comes together in under 30 minutes. What's even better is that red chile sauce is the basis for a whole host of other authentic Mexican recipes!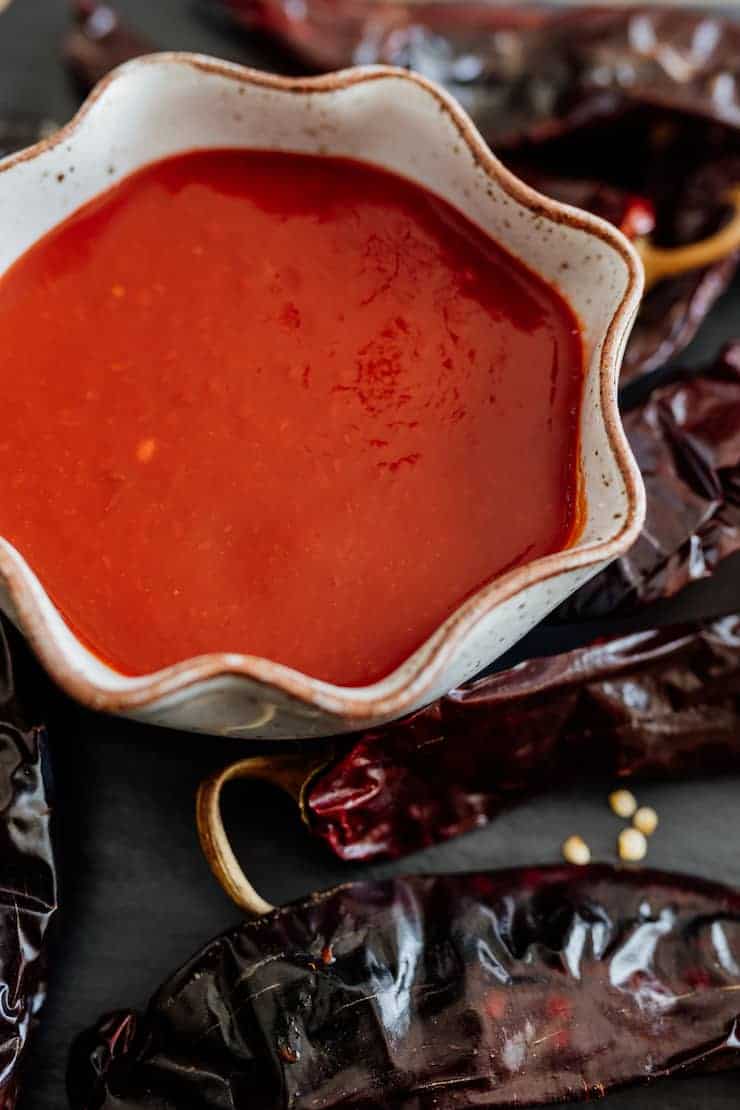 I am so excited to share this classic enchilada sauce recipe with you. This recipe is from our published Muy Bueno cookbook and it is near and dear to my heart. There are so many ways to use this delicious red sauce, so I highly suggest you make a big batch and freeze it for easy Mexican meals on the fly.
Once you make this homemade red sauce for enchiladas, you won't ever go back to the canned stuff. Luckily for us, we live in the age of blenders so we don't have to use our bare hands to purée them like my grandma did!
Our history with red sauce
My mom remembers my grandma standing at her kitchen table squeezing the boiled red chile pods with her bare hands; this was before she owned a blender. She never quite figured out how she did this because the chiles were extremely spicy, but her hands never seemed to feel the burn.
Afterwards, she would strain the red chiles by turning a wooden pestle around and around in a conical strainer and pressing down on the chile pods. This would result in the velvety rich chile that she used for so many recipes.
How to make homemade enchilada sauce
First up, you'll need to prepare your chiles. Simply tear off the stem and shake out the seeds. Then reach inside the chile pod to remove additional seeds off and pull off dried veins.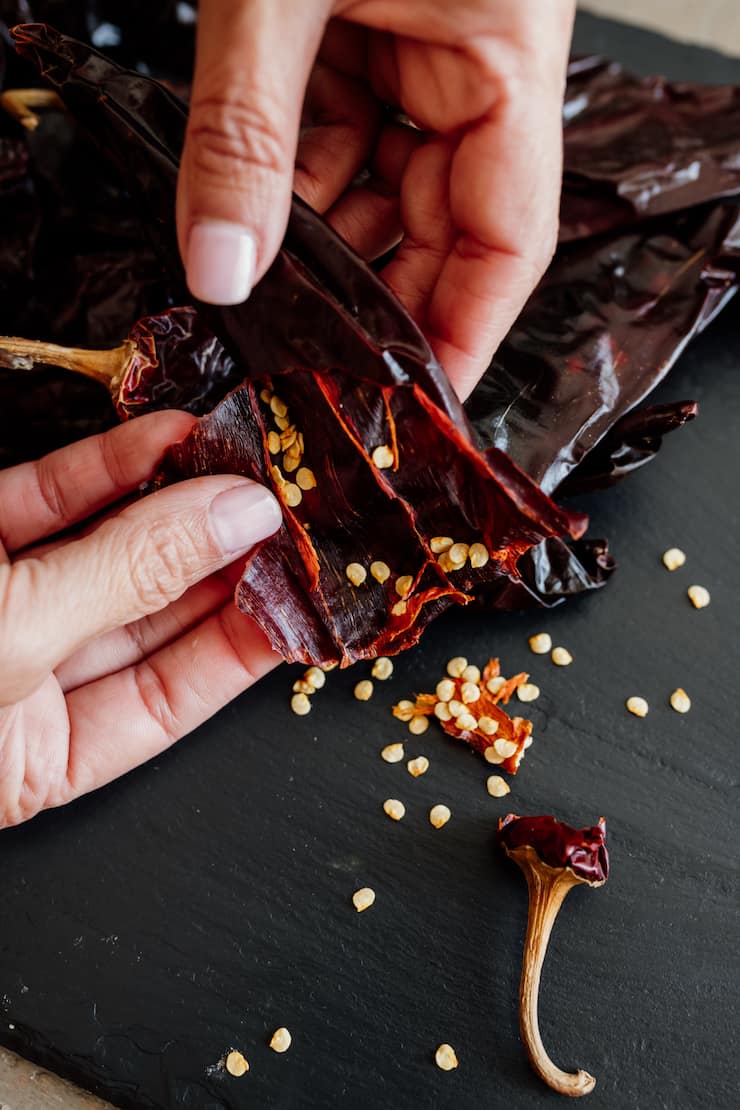 Now you'll need to soften the dried chiles. Place your chiles in a pot and barely cover with water. Bring the water to a boil, then drop the heat to a simmer. Simmer the chiles until soft, about 20 minutes, turning halfway.
Drain your chiles and allow them to cool. If you don't, the steam can build up in your blender and be dangerous!
TIP: Work in batches so as not to overwhelm your blender.
Add about half of your chiles to the blender with half the water, garlic, flour and salt. Blend until smooth. Tip into a conical strainer and use a pestle, spoon or spatula to push it through. Continue blending and straining until complete.
TIP: If you don't have a conical strainer a mesh strainer will work too.

TIP: Have a high-powered blender? Straining the sauce might not be necessary, but I still do.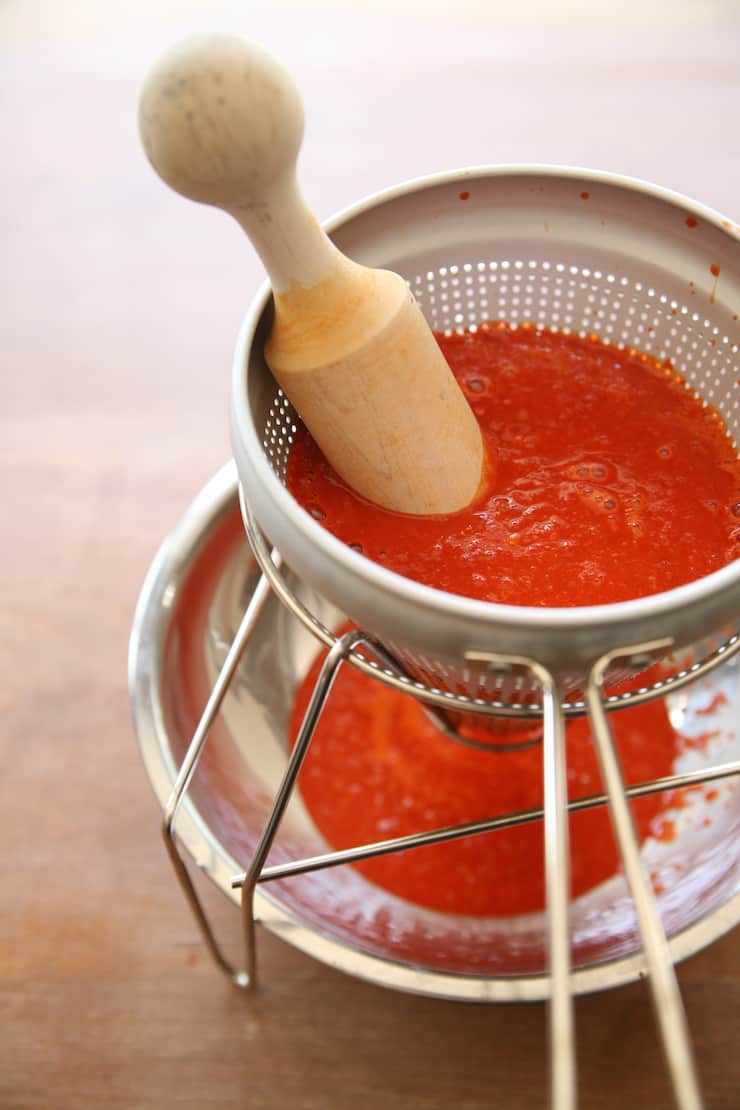 Frequently Asked Questions
Why not use the leftover liquid?
My family does not use the leftover liquid after simmering the dried peppers. I don't recommend it. The liquid can sometimes become bitter and can ruin your chile sauce.
Why do you add flour?
My grandma used to toast the flour in a pot/pan similar to making a roux and then add the sauce to thicken and cook. My mom on the other hand blends the flour in the blender to prevent clumping. Feel free to omit the flour if you'd like, but the flour does thicken the sauce.
TIP: Are you gluten free? No problem! Just sub in a 1-to-1 gluten free flour substitute.
How do I use enchilada sauce?
Think of it this way: the French have béchamel, and in Mexico we have this red sauce. It is that ubiquitous. While many people are most familiar with this red sauce for enchiladas, there are so many other uses for it.
From stews and tamales, to soups and braised meats, the options for this homemade red sauce are nearly endless. Making the sauce from scratch takes a while, but once it's made, it refrigerates and freezes well for other recipes in this blog.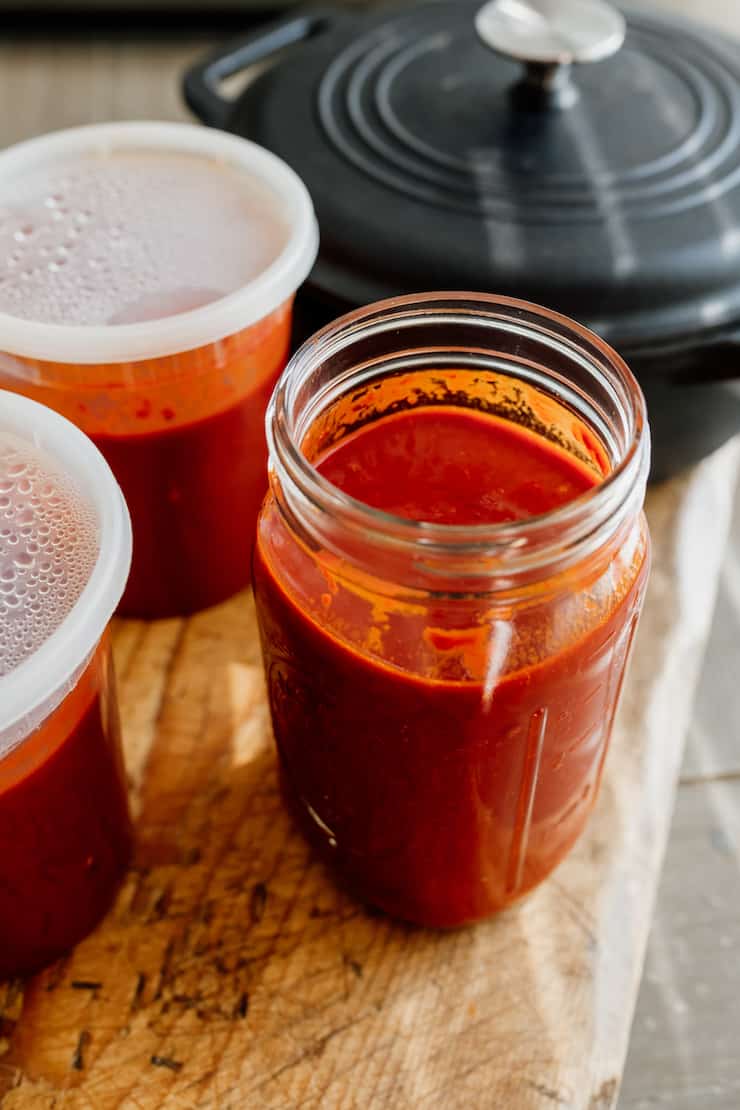 Will this red sauce keep?
YES! I love making a big batch of this homemade enchilada sauce and storing it in the fridge in a glass bowl or glass mason jars or freezing it in these freezer-safe plastic containers. It'll keep up to a week in the refrigerator and up to 6 months in the freezer. Trust me, this stuff is magical for whipping up a hearty, authentic Mexican meal at the drop of a hat.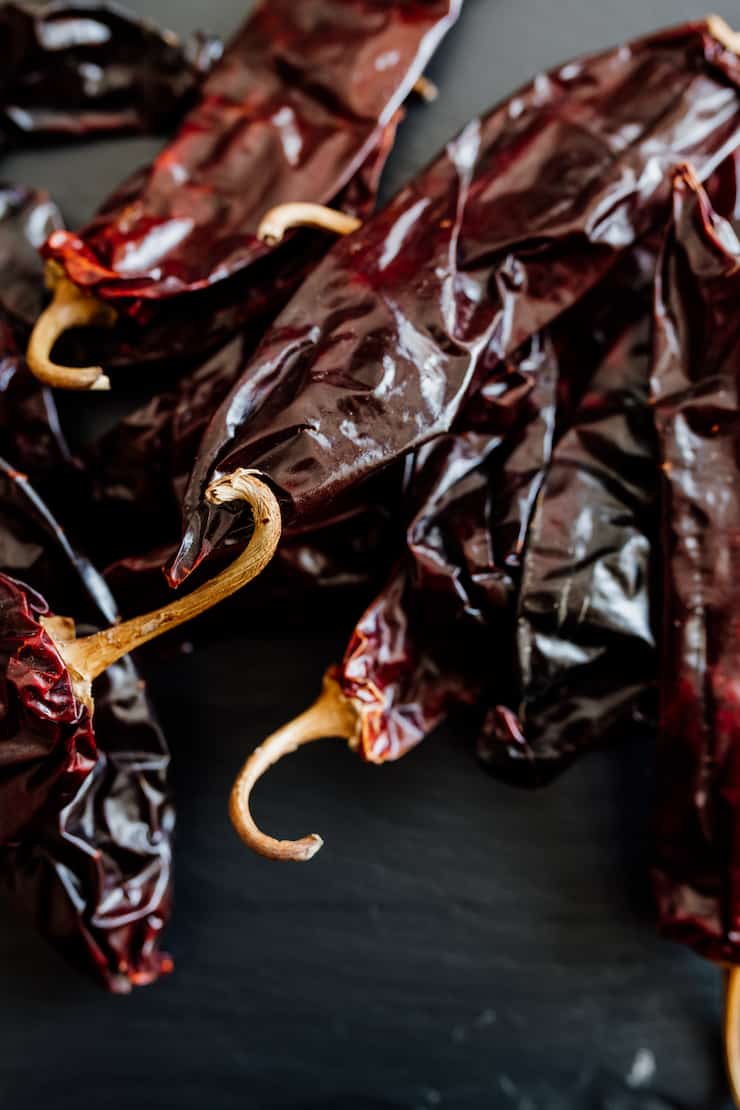 What kind of chile should I use for this sauce?
Chile Colorado, also known as New Mexico chile, or California chile, has a thin flesh with an earthy chile flavor and undertones of wild cherries. This is the chile we use to make our red chile sauce.
TIP: Make sure the dried chile pods aren't hard and brittle.
If you want more information on other chiles you could use in place of New Mexico chile, you can use Visit my post on Mexican Chiles for more ideas.
Watch the video below to see step by step how to make homemade enchilada sauce. Then try all these recipes that aren't enchiladas to see just how versatile this sauce truly is.
Looking for recipes to use this homemade red chile sauce? Try these:
If you loved this recipe for authentic homemade enchilada sauce and want more Mexican cooking inspiration, be sure to follow me on Facebook and Pinterest!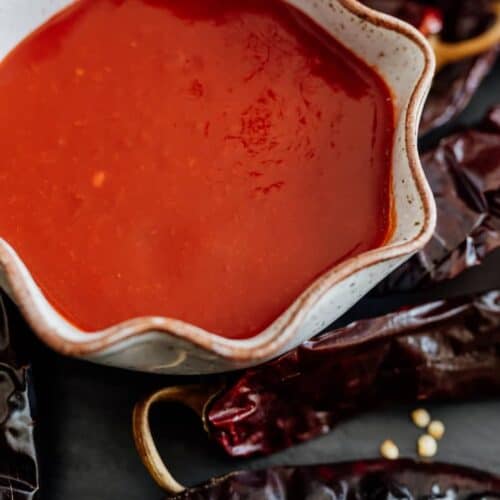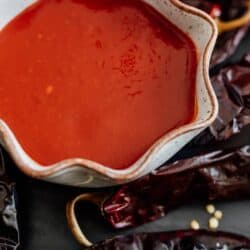 Homemade Red Chile Sauce (Chile Colorado)
Making homemade chile sauce from scratch takes a while, but once it's made, it refrigerates and freezes well for other recipes in this blog.
Instructions
Remove stems, seeds, and veins from the chile pods. Place in a colander and rinse well with cool water.

Add the chiles to a large pot and add enough water so they are just covered. Bring water to a boil. Lower the heat, cover, and simmer for about 20 minutes. After 10 minutes turn the chiles over with tongs to make sure the chiles soften evenly. Drain cooked pods and allow time to cool down before blending. Discard water.

Fill blender with 3 cups of water, half of the cooled chile pods, 3 tablespoons flour, 2 cloves garlic, and half of the salt. Blend until smooth. Strain sauce through a fine sieve to remove skins and seeds; discard skins and seeds. Repeat blending and straining process with remaining water, pods, flour, garlic, and salt. If necessary, season with more salt.
Notes
Make sure the dried chile pods aren't hard and brittle.
Always wash your hands after working with chiles. You can wear gloves if you wish.
Are you gluten free? No problem! Just sub in a 1-to-1 gluten free flour substitute.
This sauce is un-cooked. This sauce can be stored uncooked or cooked.
This sauce can be made in advance and kept in airtight containers in the refrigerator or freezer.
Red chile sauce can be stored in the refrigerator for up to one week or frozen for up to six months.
LOOKING FOR RECIPES TO USE THIS HOMEMADE RED CHILE SAUCE? TRY THESE:
Serving: 1cup, Calories: 45kcal, Carbohydrates: 10g, Protein: 2g, Fat: 1g, Saturated Fat: 1g, Sodium: 1178mg, Potassium: 138mg, Fiber: 1g, Sugar: 2g, Vitamin A: 360IU, Vitamin C: 55mg, Calcium: 16mg, Iron: 1mg
Photography by Jeanine Thurston & Jenna Sparks
Originally published: March 2017. This recipe is also published in the Muy Bueno cookbook.