Beef Brisket Tacos (Tex-Mex Tacos de Suadero) + Video
This post may include affiliate links. As an Amazon Associate I earn from qualifying purchases.
This crowd-pleasing recipe for Tex-Mex Beef Brisket Tacos (a.k.a. tacos de carne deshebrada ~or~ tacos de suadero) is made extra easy with the help of a slow cooker. Simply set it and forget it in the morning, prep a few toppings for your family or guests to gussy up their tacos and your work is done.
With just about 15 minutes of active work, you'll have a tantalizing taco bar to feed a crowd or have plenty of leftovers.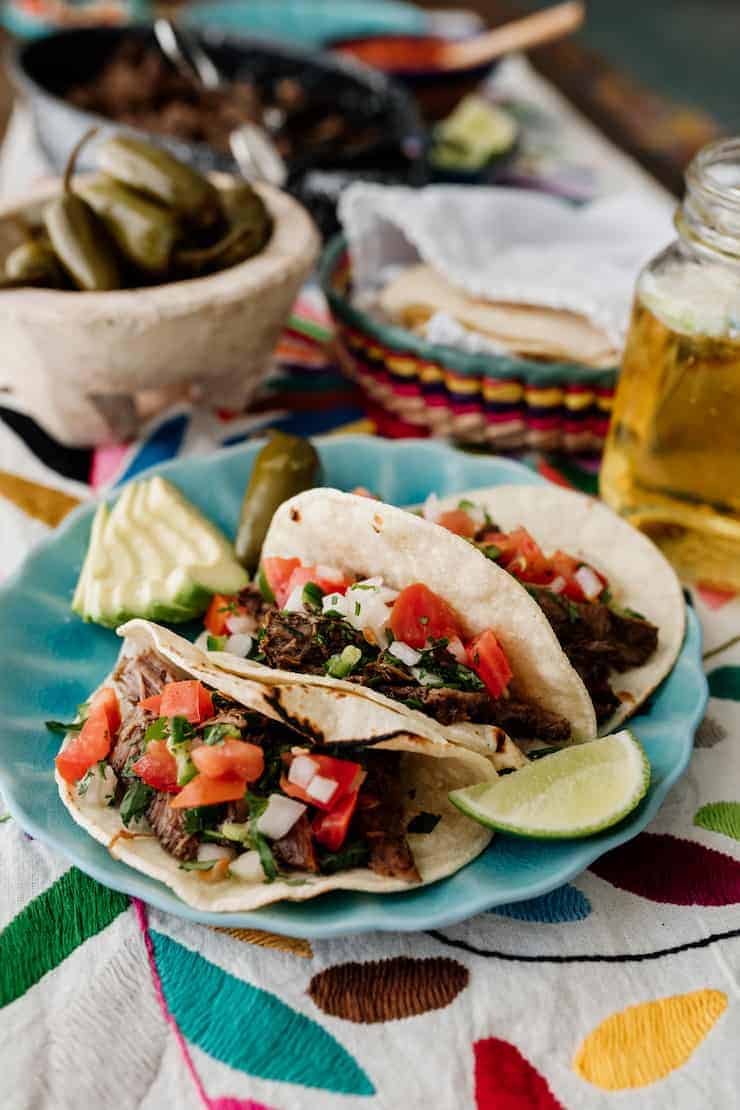 I don't know about you, but I love entertaining. I love the energy of having people I know and love in my house, and I love being able to take care of them in my home. That said, sometimes I just want a super simple, fuss free meal that I don't have to worry about so that I can actually enjoy my guests.
These slow cooker beef brisket tacos are what I make when I want a completely stress-free gathering. I love to set up a self-serve taco bar to make it extra easy on myself, letting everyone graze whenever they're ready.
Why This Brisket Taco Recipe is Awesome
If you have seen Taco Chronicles or traveled to Mexico City, you might have heard of tacos de suadero (suadero street tacos). Suadero has a North American simile in brisket. Let's just say brisket is suadero's cousin that moved to the United States.
These shredded beef tacos melt in your mouth — all the flavors from Mexico transform into Texas style for one seriously delicious Tex-Mex taco.
Slow cooker meals are a godsend for anyone with a to-do list that seems never ending. This particular recipe is extra special because you literally just toss all the ingredients in, pop the lid on, and let the crockpot do the work.
Set up your suadero in the morning and a delicious, hot dinner will be ready in the evening. It's like a gift to yourself!
Make things extra easy on yourself and serve dinner taco bar style, where everyone can assemble their own plates. One less thing for you to do, and everyone gets exactly the tacos they like.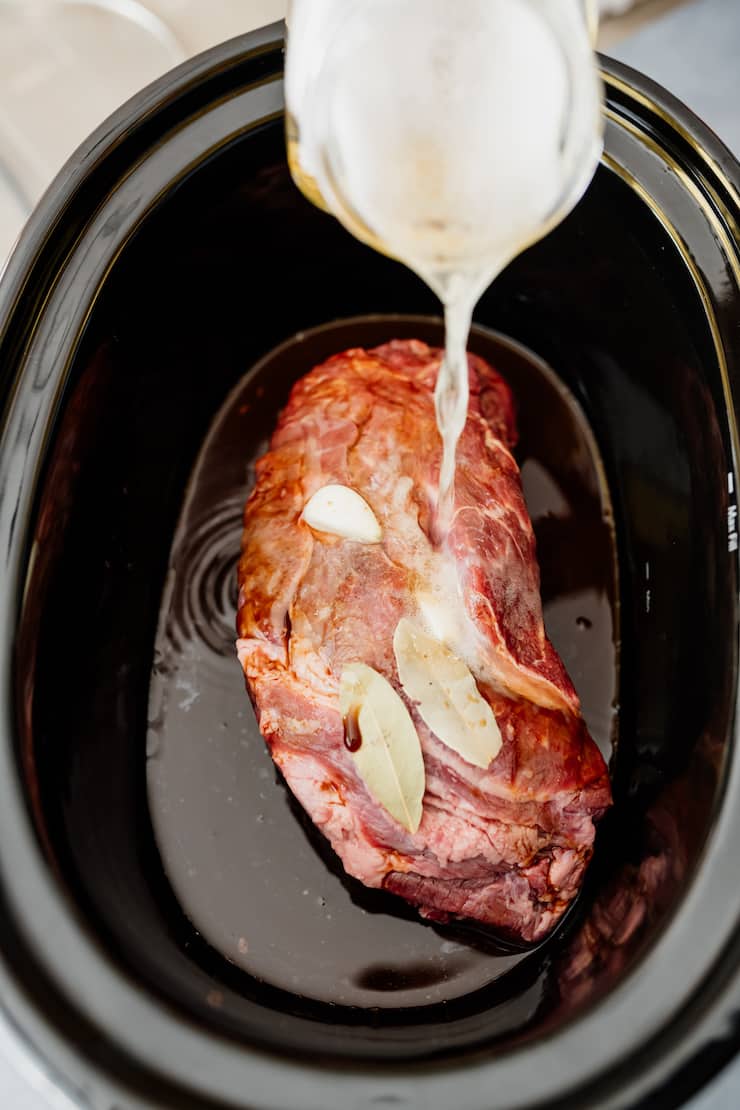 Brisket vs Chuck Roast
If you're on the fence about which cut of meat to buy, here's my quick assessment. Brisket is tender and so succulent and delicious that even the pickiest of eaters will love it. As an extra bonus, this meal is quite economical to feed a crowd. That said, brisket is certainly not as inexpensive as it used to be.
If you are on a budget, purchase chuck roast instead. Chuck roast is also tender, but tends to be a bit fattier and richer than brisket. Brisket and chuck roast both are super flavorful and shred the longer they are cooked, so don't be afraid to overcook either. I can attest that it is impossible in a slow cooker.
For the full brisket turned carne deshebrada recipe, look in your copy of the Muy Bueno cookbook or click here.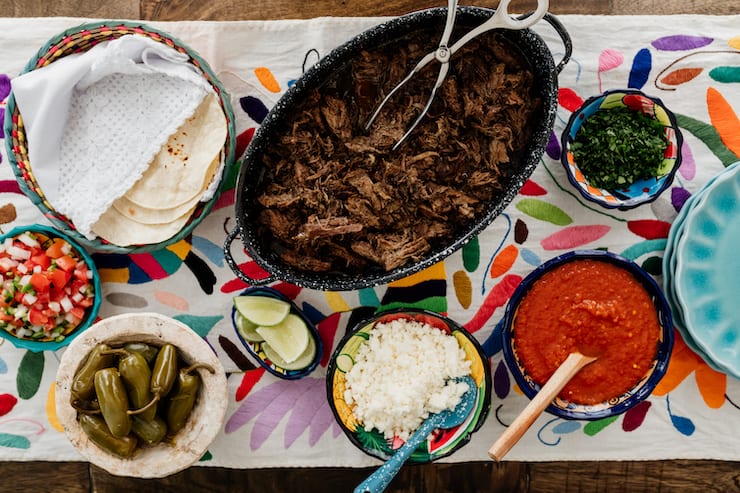 How to Set Up Your Taco Bar
If you want to set up a taco bar for a larger gathering, I have a few tips for you. First, if possible, set your buffet table near an outlet or set all your ingredients on your kitchen counter. This means you can leave the suadero style brisket in the slow cooker on the "warm" setting.
Not only is that one less dish to worry about, it will also mean that people can eat all evening long at their leisure!
Warm the tortillas on a comal and keep them warm wrapped in a linen in a basket or in a tortilla warmer.
The taco bar should make it easy for everyone to be completely self sufficient. This means you should have napkins, silverware, and plates at the start of the line. Make sure there are serving utensils in each of the toppings and a pair of tongs for the brisket.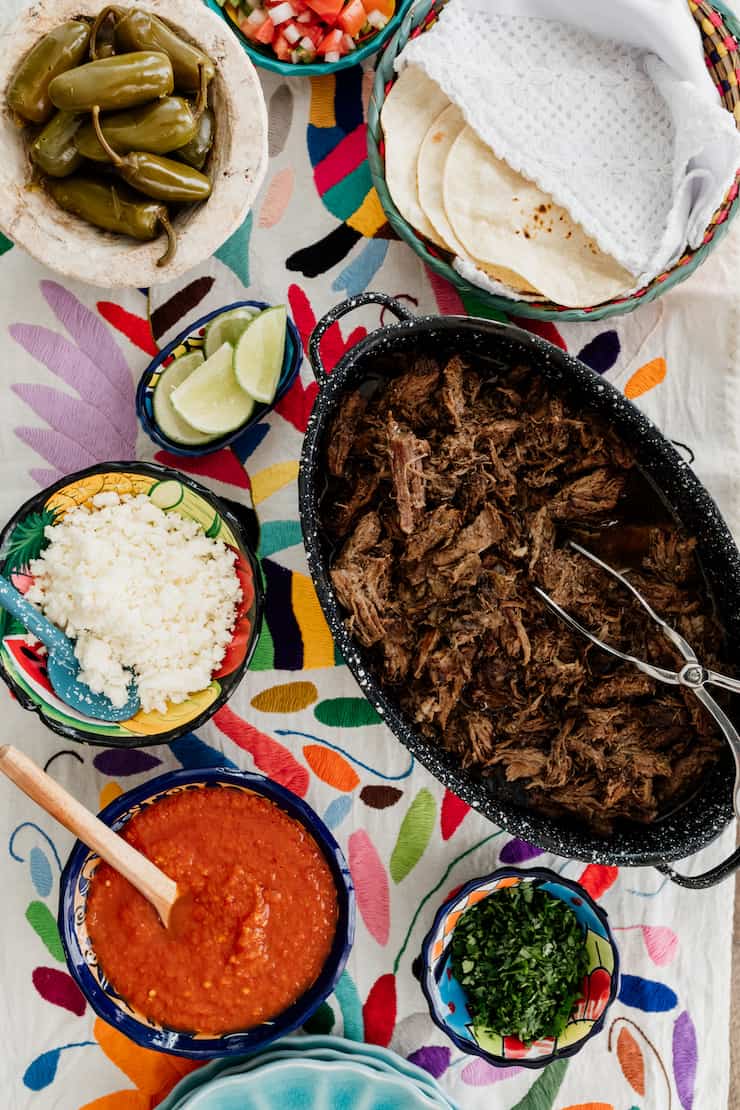 Toppings for Brisket Tacos
To make life even easier on yourself, purchase pre-shredded cheese or simply crumble queso fresco. Pop open a can of pickled jalapeños or, if its garden season, make your own Escabeche (Pickled Jalapeños). Then all you'll need to do is chop some cilantro and slice avocados and limes. It really doesn't get any easier!
Some of my favorite salsas with brisket tacos are either mild pico de gallo or spicy homemade chile de arbol salsa. Serve everything family style on the kitchen counter (mini taco bar style!) so everyone can help themselves.
Frequently Asked Questions
Can I make the suadero style brisket ahead of time?
Absolutely! Cooked brisket can keep for up to a week in the refrigerator or up to three months in the freezer. That said, if any leftovers make it that long I'll be quite impressed. There are just so many ways to use this easy carne deshebrada aside from in tacos that I'd honestly be shocked if leftovers make it through the week.
What else should I serve with these yummy brisket tacos?
Tacos aren't just for Taco Tuesday, folks. If you're looking for a super simple recipe to feed to a crowd, make these easy Beef Brisket Tacos Suadero for a serve-yourself taco bar and offer a few simple sides like:
For any fiesta, be sure to include some delicious drinks as well.
Traditional recipes for Mexican fruit water:
Feeling boozy? Try an adult cocktail with a Latin twist.
Have leftover brisket? Check out these other yummy recipes:
If you tried these easy Slow Cooker Brisket Tacos, please be sure to rate and review it below! I'd love to know how they turned out for you.
Please keep in touch and subscribe to Muy Bueno and follow me on Facebook, Instagram, Pinterest and subscribe to Muy Bueno on YouTube.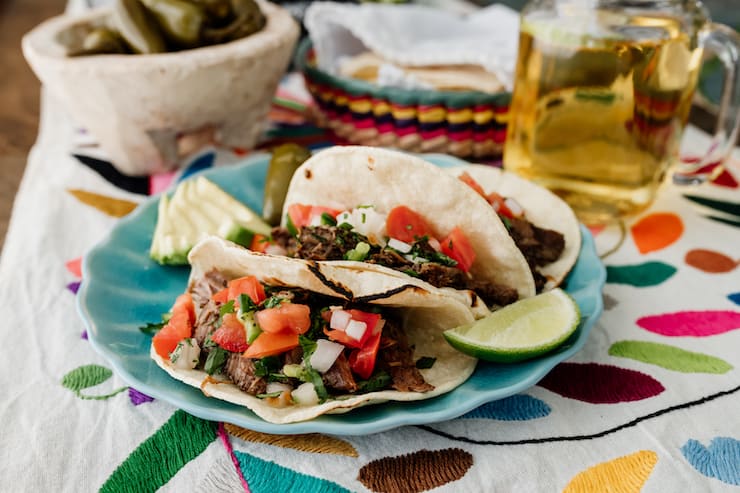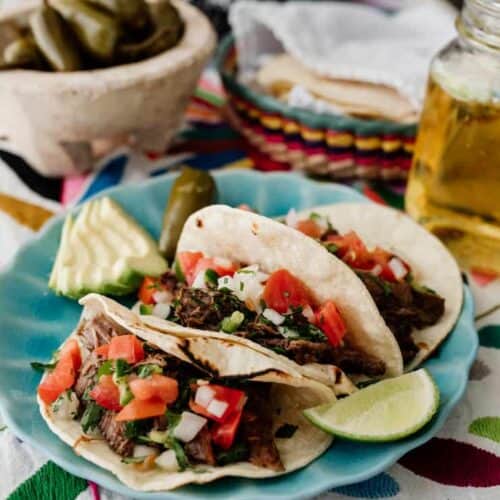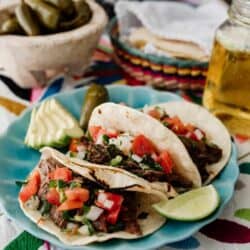 Beef Brisket Tacos
Here is our favorite recipe for beef brisket tacos. My kids love tacos with a variety of toppings especially crema Mexicana. I prefer my tacos topped with homemade salsa. Add a side dish and you have a meal your mother would be proud of.
Ingredients
2 to 4 pounds beef brisket
2 ounces liquid smoke per pound of meat, (recommend Claude's Brisket Marinade Sauce)
2 bay leaves
12 ounces beer
12 to 24 corn tortillas, depending on how much you fill each taco
Topping Options:
Shredded cheese
Crema Mexicana or sour cream
Chopped cilantro
Chopped white onions
Avocados, pitted, peeled, and sliced
Salsa of choice
Instructions
Place the brisket, liquid smoke, bay leaves, and beer in a slow cooker. Cook on low for 8 to 10 hours.

Remove the brisket and shred the meat and discard fat pieces. Warm the corn tortillas. Place shredded brisket in tortillas and add your favorite toppings.
Notes
Nutrition facts do not include any toppings. 
Cooked brisket will keep for up to a week in the refrigerator. You can also freeze cooked brisket for up to three months.
Feel free to swap chuck roast for brisket as a more economical piece of meat.
No Claude's Brisket Marinade Sauce? Substitute with beef broth plus a splash of liquid smoke. 
Serving: 1taco, Calories: 194kcal, Carbohydrates: 14g, Protein: 18g, Fat: 6g, Saturated Fat: 2g, Cholesterol: 47mg, Sodium: 162mg, Potassium: 305mg, Fiber: 2g, Sugar: 2g, Calcium: 26mg, Iron: 2mg
Originally published: January 2015. This recipe is also published in the Muy Bueno cookbook and Taste of Home.