Coctel de Camarones (Mexican Shrimp Cocktail)
This post may include affiliate links. As an Amazon Associate I earn from qualifying purchases.
Coctel de Camarones (also known as Mexican Shrimp Cocktail) is a delightful dish all year round. Cooked shrimp, punchy bites of red onion, jalapeño, and chunks of creamy avocado are added to a zingy shrimp cocktail sauce made with V8. Serve cold with some saltine crackers for a classically delicious Mexican shrimp appetizer.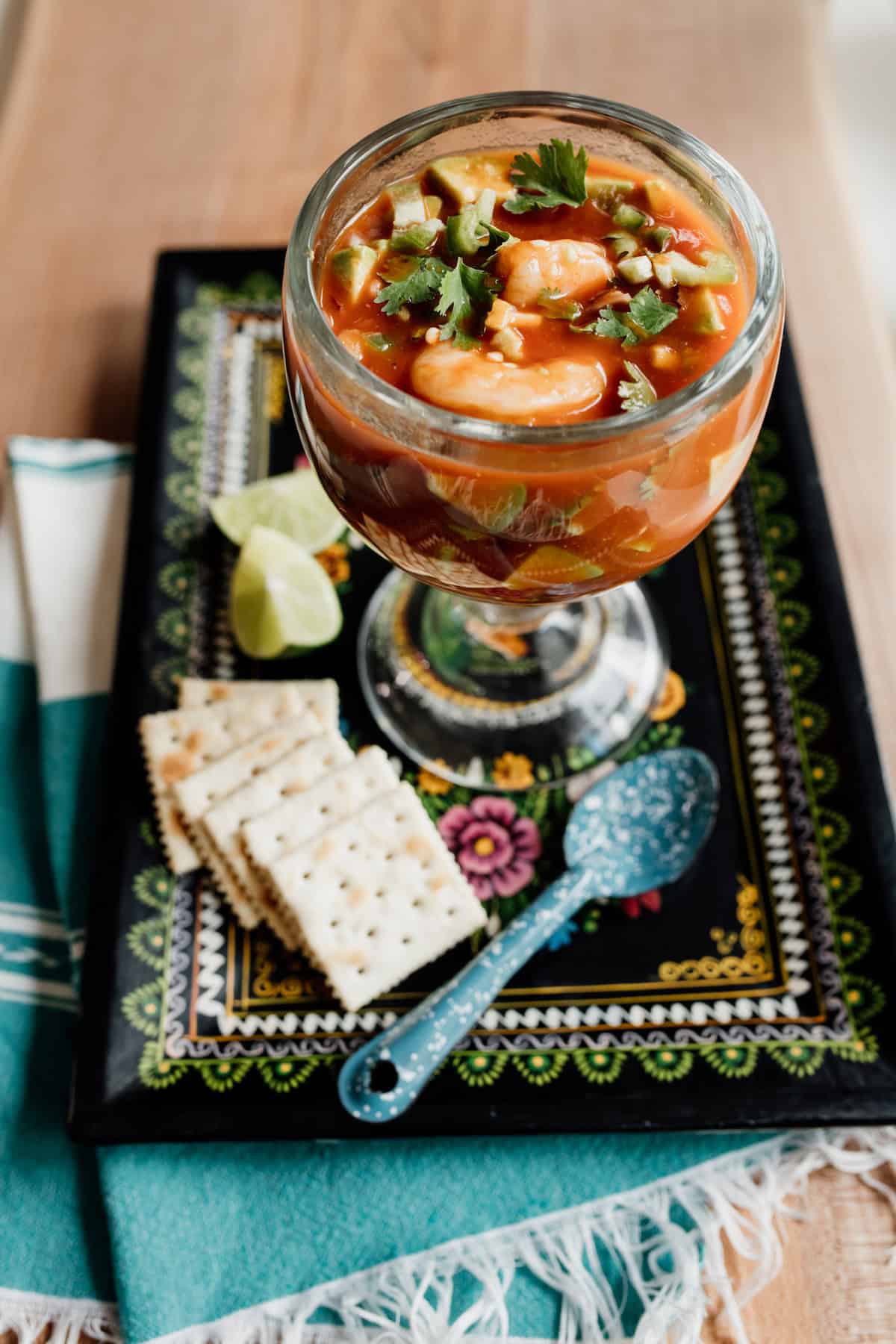 Whether you make this Mexican cocktail shrimp recipe for football parties, the holidays, or even as a refreshing summer meal, you're sure to love it! Serve as an easy appetizer or a light brunch or lunch, or anytime you have a craving for some Mexican-inspired salty, spicy, tomato-y seafood goodness.
Why You'll Love This Recipe
My mom used to sell her Mexican shrimp cocktails at our family grocery store, Soza's Grocery. She would make it daily and sell it in clear plastic cups with a side of saltine crackers, with a bottle of Tabasco on the counter for customers to spice up their own cups. It was a barrio (neighborhood) favorite!
The homemade shrimp cocktail sauce is made with freshly chopped red onions, cilantro, and avocados, making it feel almost like a salsa — perfect for dipping chips or saltines into. It's brightly acidic, a little bit spicy, and oh-so-tasty.
Aside from being lick-the-bowl delicious, this camaron cocktail recipe is also:
Versatile. This recipe is always on the menu for our Super Bowl, New Year's Eve, and Christmas parties, but is also perfect for the dog days of summer. It is bright, refreshing, and — perhaps most importantly — no-cook and served cold. It is everything I want out of a summer meal!
Quick & Easy. I also love how simple this coctel de camarones recipe is to prepare. Purchase pre-cooked shrimp and the rest of the recipe only takes about 15 minutes to throw together! Even though it is easy enough to make for a WFH (work from home) lunch, it is also tasty enough to serve to company.
Easily Scalable. If you want to serve this Mexican-style shrimp cocktail for a fiesta, you can double, triple, or quadruple the recipe. Scroll down to the recipe card below, change the "yield," and it will calculate servings for you.
The end result is a festive, fresh, colorful, and elegant dish that you're going to want to make all year long. Now let's get (not) cooking!
Ingredients & Substitutions
You don't need many ingredients for shrimp cocktail — just 11 to be exact. Here's what to grab:
Ketchup – For a nice, thick cocktail sauce consistency and some built-in sweetness.
V8 – Any tomato-vegetable juice blend will work, but my mom always made her Mexican shrimp cocktail with V8. To make it even spicier, use Spicy V8 instead.
Prepared Horseradish – Please note that prepared horseradish is different from creamy horseradish sauce, so be sure to check the label!
Lime Juice – Fresh is always best, especially when it comes to lemon and lime juice. To get the most juice from your fruit, give it a firm roll on the countertop for 10-15 seconds before slicing it open.
Tabasco – Feel free to swap in any vinegar-based hot sauce you prefer. My mom always used Tabasco, so it's my go-to.
Garlic Powder – For a hint of garlicky sweetness.
Red Onion – For some piquancy and crunch. In a pinch, you can swap in yellow onions, white onions, sweet onions, shallots, or green onions.
Jalapeño – Optional, but delicious if you like a little kick.
Cilantro – For bright, herby freshness and a pop of color. If cilantro isn't your favorite, feel free to swap in fresh parsley instead.
Cooked Shrimp – Feel free to cook your own in any manner you please, or purchase pre-cooked shrimp to make this a super speedy recipe. Make sure to reach for medium or larger shrimp for the best results.
Avocado – For a touch of rich creaminess that is super dreamy.
How To Make Mexican Shrimp Cocktail
This Mexican shrimp cocktail recipe couldn't be easier to pull off. Here's how it's done:
Step 1: Make Shrimp Cocktail Sauce. Stir together the ketchup, vegetable juice, horseradish, fresh lime juice, hot sauce, and garlic powder until well combined. Taste and add more spice if you prefer.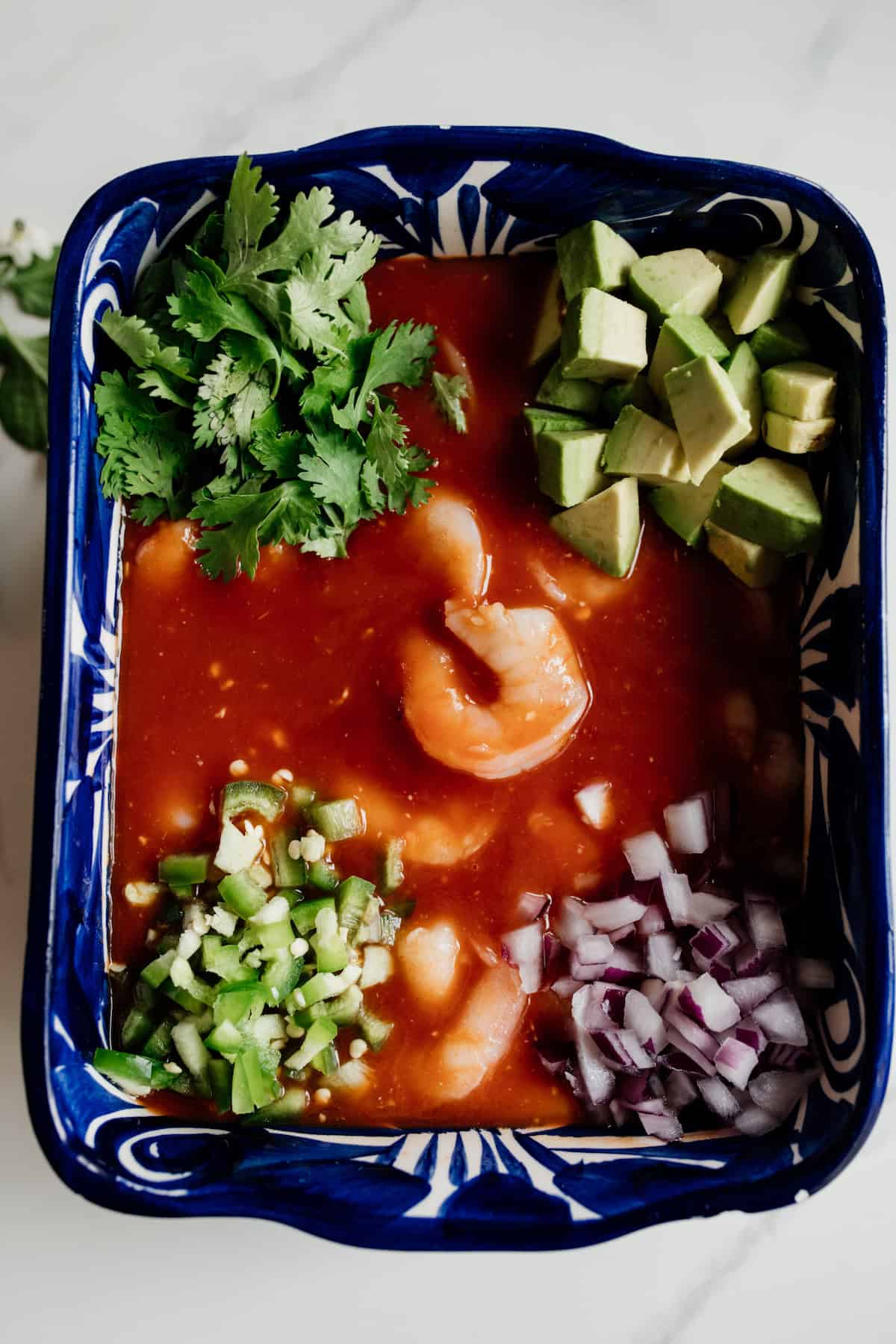 Step 2: Add Texture. Add the onion, jalapeño (if using), cilantro, and shrimp and mix well. Gently stir in the avocado.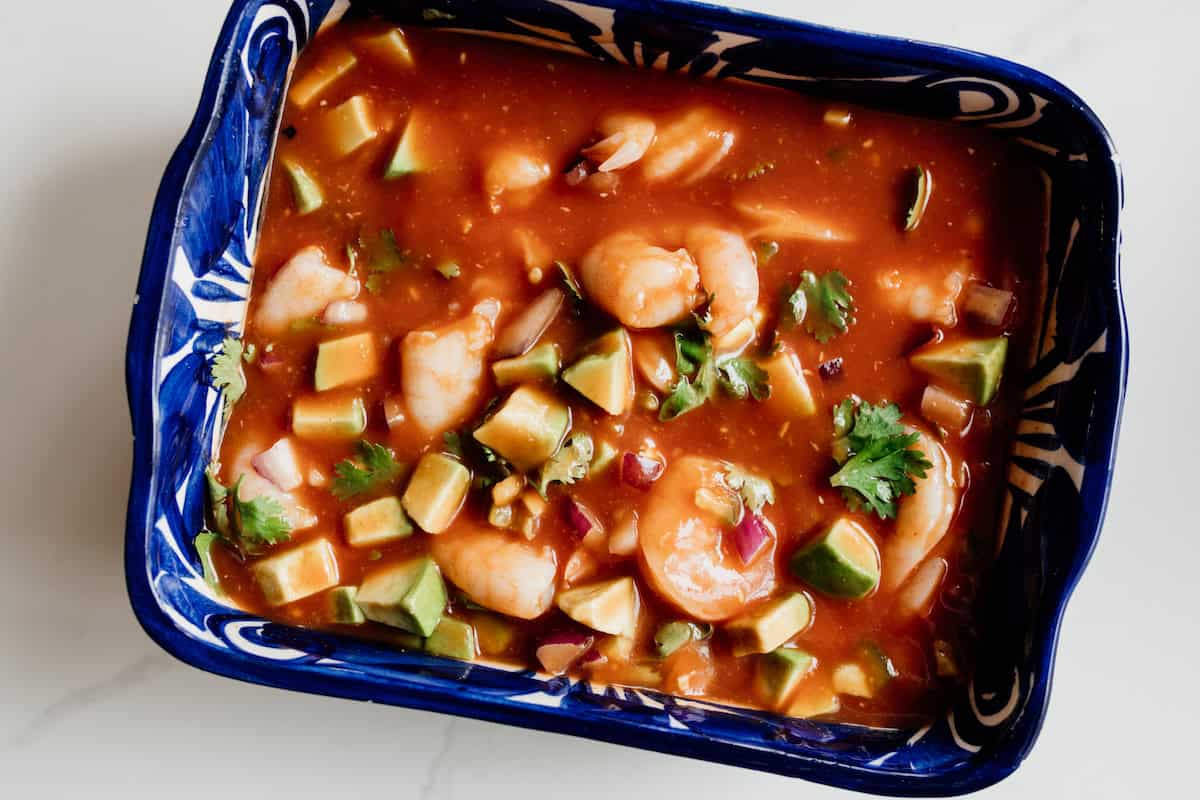 Step 3: Chill. Cover and refrigerate for 2 to 3 hours, then serve.
More of a visual learner? Watch this video to see how easy my coctel de camarones recipe is to make.
Optional Variations
I love these Mexican cocktail shrimp just the way they're written, but feel free to take some liberties — this is a very flexible recipe. Here are some other fun variations to try:
Extra Crunchy – Feel free to add more chopped veggies, such as cucumber, celery, jicama, sweet bell peppers, or tomatoes.
Sweet & Tropical – Add some chunks of mango or peaches.
More or Less Spicy – Just adjust the amount of horseradish, jalapeño, and hot sauce to dial the heat up or down. You can also use spicy V8 for a little extra kick.
Mexican Seafood Cocktail – Feel free to get creative here and add lump crab meat, langostinos, and/or cooked bay scallops for a variety of yummy seafood.
Serving Suggestions
I usually serve Mexican shrimp cocktails in a large serving bowl or punch bowl and let everyone serve themselves. Serve them in a large goblet as an entrée or in a margarita glass or dessert bowls as an appetizer. I like to pair them with saltine crackers or corn tortilla chips for a bit of crunch.
Wondering what goes with shrimp cocktail? I find that it pairs nicely with any number of sides and appetizers like cornbread, fresh salads, or potato salad. It's also a great option for a seafood-themed meal. Pair it with fish tacos, fish soup, crab and lobster legs, or even sushi.
Expert Tips
Frozen shrimp are usually cheaper and, strangely enough, fresher than "fresh" shrimp. Unless you live in a shrimping community, I suggest cruising the frozen aisle for the best deals.
Opt for peeled and deveined shrimp to cut back on how much you have to prep. You can also go for pre-cooked shrimp to make life even easier!
To quickly defrost shrimp, place them in a colander in the sink and run cool water over them, tossing every few minutes. They should be ready to use in 10 minutes or less.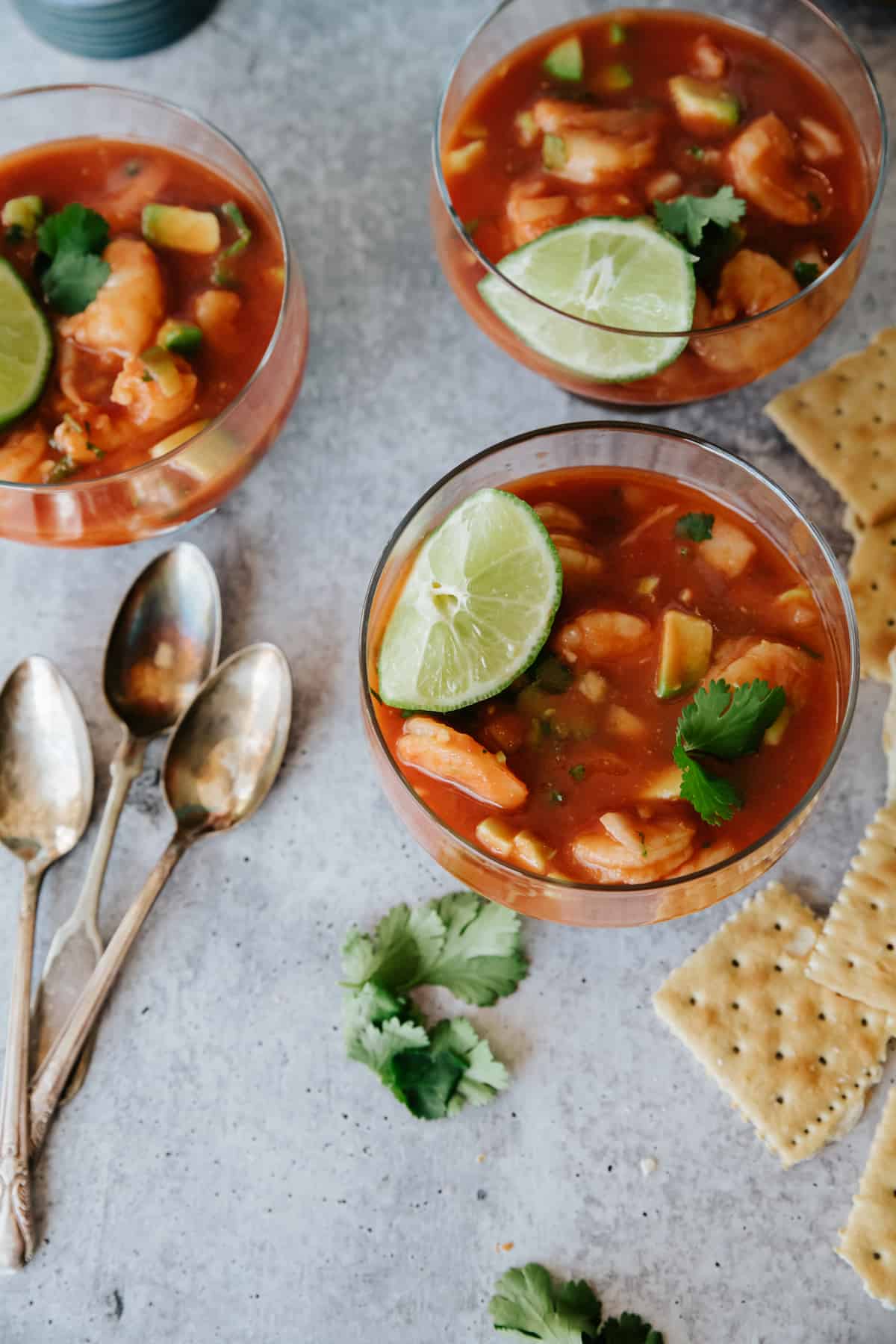 Frequently Asked Questions
Can I make this ahead of time?
Absolutely! It will last, assembled, for up to a day in the refrigerator. If you omit adding the avocado, it will last for up to 3 days! Just stir in those creamy green chunks of goodness right before serving.
What is the difference between coctel de camarones and ceviche?
While many of the ingredients are the same — shrimp, onion, cilantro, and chiles, there are a few differences between these two classic Mexican dishes. First, ceviche requires that the shrimp be cured (or "cooked") in lime juice and salt, whereas the coctel can be made with any kind of cooked shrimp.

Secondly, ceviche is more like a salad whereas the coctel is more like a salsa. In this recipe, the cooked shrimp are tossed in a sweet and spicy tomato-based sauce that is almost brothy in consistency, whereas with ceviche the shrimp are only lightly dressed in citrus juice.
What are the best shrimp to use?
I recommend that you avoid cocktail shrimp, as they are simply too small to stand up to the chunks of avocado and onion in this recipe. Stick to medium to large-sized shrimp that have been peeled, deveined, and cooked until just pink.
How should the shrimp be prepared?
Traditionally, medium to large-sized shrimp would be poached (slowly cooked in liquid), but I find that this recipe works equally well with grilled, baked, sautéed or steamed shrimp. My suggestion is to use whichever method you prefer.
Is shrimp cocktail raw?
Nope! You are welcome to use any medium to large-sized cooked shrimp in this recipe for Mexican shrimp cocktail, whether they are poached, grilled, steamed, or sautéed.
Other Yummy Shrimp Recipes
If you tried my recipe for Coctel de Camarones (Mexican Shrimp Cocktail), please be sure to let me know how it turned out by rating and reviewing it below!
For more yummy recipes delivered straight to your inbox, sign up for my email newsletter. You can also see what else I've been cooking lately by following me on Instagram and Pinterest for more delicious Mexican dishes!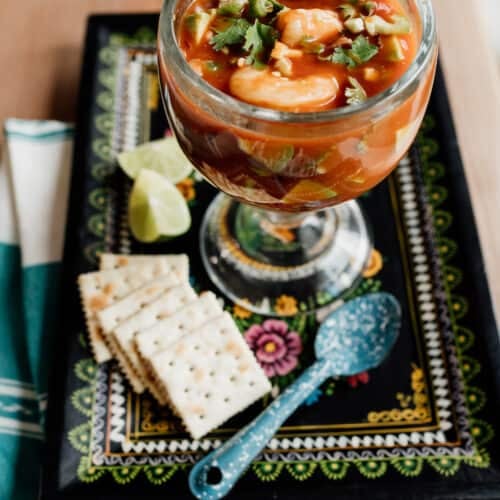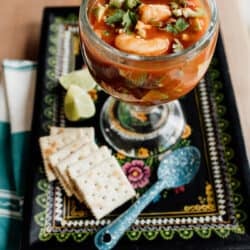 Coctel de Camarones (Mexican Shrimp Cocktail)
This shrimp cocktail with a spicy cocktail sauce made with freshly chopped red onions, cilantro, and avocados is the perfect light and easy appetizer or healthy lunch, especially during hot months.

Ingredients
Mexican Shrimp Cocktail:
1/2 cup ketchup
1 1/2 cups vegetable juice, recommend V8
1 to 2 tablespoons horseradish, (add more or less according to spicy tolerance)
Juice of 2 limes
1/2 teaspoon bottled hot sauce, recommend Tabasco
1/8 teaspoon garlic powder
1/4 cup diced red onion
1 jalapeno, diced (optional)
1/4 cup chopped cilantro
1 pound medium to large shrimp, shelled, deveined, and cooked
1 avocado, pitted, peeled, and chopped
Saltine crackers or tortilla chips, for serving
Instructions
Mexican Shrimp Cocktail:
Stir together the ketchup, vegetable juice, horseradish, lime juice, hot sauce, and garlic powder until well combined. Taste and add more chile or hot sauce if you would like it spicier.

Add the onion, jalapeno (if using), cilantro, and shrimp and mix well. Gently stir in the avocado.

Cover and refrigerate 2 to 3 hours.

Serve in 4-ounce glasses with saltine crackers or corn tortilla chips.
Notes
If cooking shrimp, simply salt 5 cups water (like the sea) and bring to a boil and add the shrimp. Poach the shrimp in boiling water for 2 minutes or until they turn pink. Drain and transfer shrimp to a bowl of ice water and set aside.
Traditionally this shrimp cocktail is served with saltine crackers.
Refrigerate this shrimp cocktail for up to 3 days. If it starts to smell overly fishy, discard it immediately.
Nutrition facts only include Shrimp Cocktail, no crackers/chips.
Calories: 252kcal, Carbohydrates: 17g, Protein: 25g, Fat: 9g, Saturated Fat: 1g, Cholesterol: 286mg, Sodium: 1328mg, Potassium: 630mg, Fiber: 4g, Sugar: 10g, Vitamin A: 1076IU, Vitamin C: 41mg, Calcium: 190mg, Iron: 3mg
Photography by Jenna Sparks
Originally published: December 2014. This recipe is also published in the Muy Bueno cookbook.