Family Room Renovation
This post may include affiliate links. As an Amazon Associate I earn from qualifying purchases.
Sectional, Recliners, Coffee Table, Curtains, Pillows (Light Blue and Navy) from Pottery Barn,
Rug and End Table from Wayfair, Table Lamp and Floor Lamp from Target, Ceiling Fan from Home Depot, Candle from Anthropologie
Today I am sharing a non-food related post – it's a peek of the inside of my home. If you follow me on Instagram you might have seen the transformation of our family room, but if you don't I hope you don't mind me sharing it here on the blog. I'm just so excited about the way it turned out.
I'd love to share more before and after's of my home and would love to hear from you. Would you like to see more of mi casa?
We have been living in the same house for almost 14 years. I honestly can't believe how fast the years have gone. And as you can guess my taste and style has changed, but our outdated family room did not.
Check out what our family room looked like before. I was ready to part with this oversized sectional that we had owned for years, and was looking to add more space and color in the room.
When it comes to redecorating a room in my home I get overwhelmed. I wish I could say that I know what I'm doing, but unfortunately, I do not. Thankfully, I found an expert (Kim Jarrett) and she came over, measured our room, and gave me suggestions for furniture, art, and accessories.
I wanted a neural color palette, but a comfortable space with textures and fabric that are kid friendly and compliment my existing Mexican touches throughout.
We focused on purchasing a smaller sectional so that we could also fit a sitting area in the room too.
Sitting areas make the room conversational and help increase the amount of seating when entertaining. Plus, these chairs also recline so they are also comfy for TV watching!
The beautiful rug is from Wayfair and the pillows really make this room pop, and give the room character.
We kept the curtains white so that they were not the focal point but added warmth and texture to the room.
We also reframed an art print by Pablo Picasso that I have had for years and could not part with. And how beautiful is this coffee table?
Another look at the before…
I'd love to hear from you. Do you have a project you have been longing to tackle? I would love to hear more about it – leave me a comment below!
Below are resources for most of the items in the room.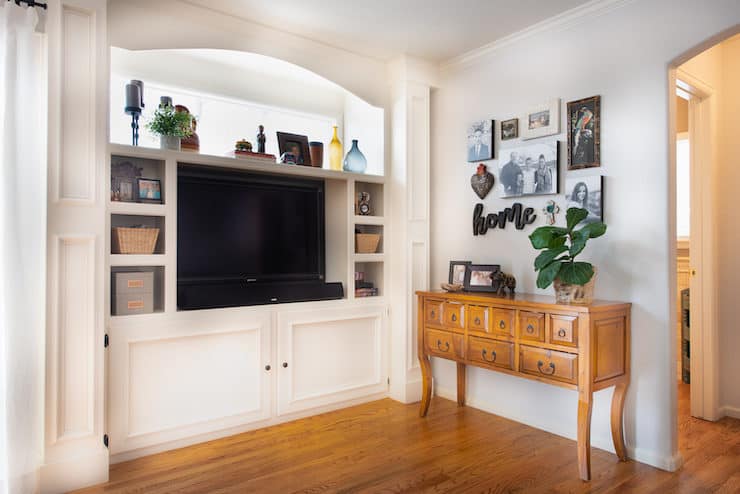 *Affiliate links used.
Photography by Justin Doty