Faux Succulent Wreath
This post may include affiliate links. As an Amazon Associate I earn from qualifying purchases.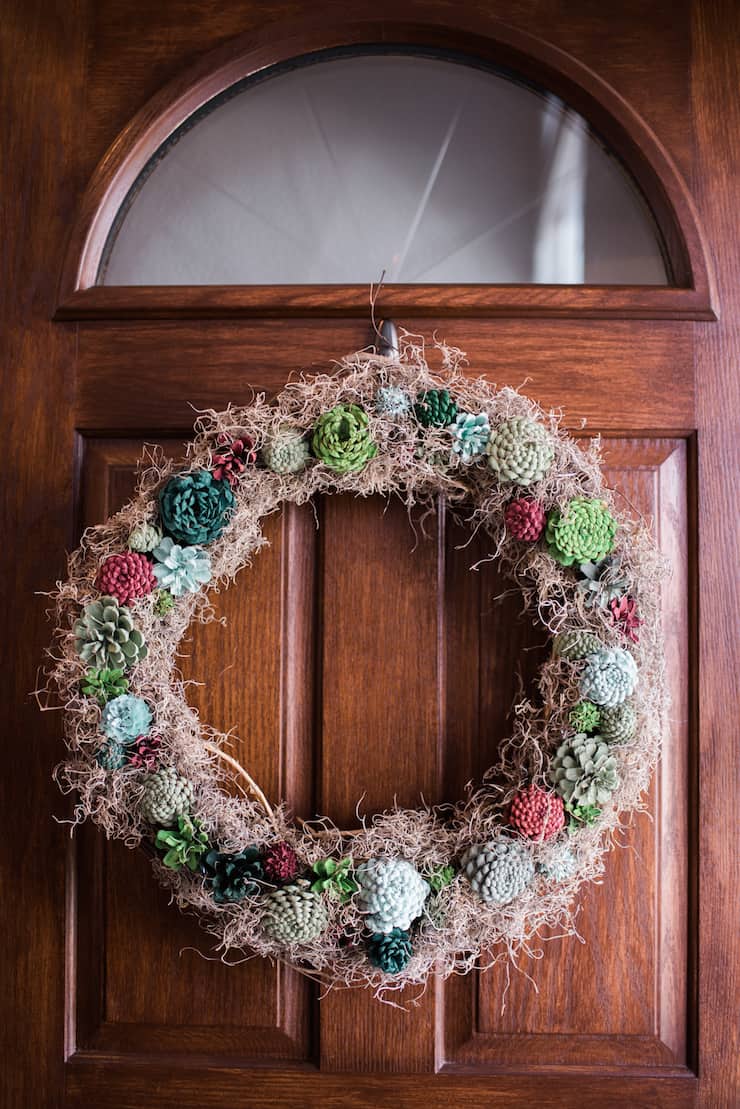 Last week I was in New York for a few days with ViveMejor.com cooking up several delicious recipes. If you follow me on Instagram you might have seen my photos and instastories sharing my New York adventures. Stay tuned; I have more to share about my partnership in some upcoming yummy posts.
The week just flew by, but I was so happy to be home in time to celebrate Mother's Day with my family. And then I realized – oh oh, I forgot to share this awesome DIY wreath with you before Mother's Day.
Well its not too late to have a succulent wreath hanging on your door – its beautiful all year round.
When we saw Running With Sisters' Faux Succulent Wreath made with pine cones we wanted to make it! We took our kids out to gather pine cones in a big park in the foothills. This craft was a great excuse to get outdoors and enjoy the lovely spring weather and check out the new foliage. It was also interesting to see so many variations of pine cones and seeds including spiky, round balls that turned out to be sweet gum balls from a sweet gum tree. If you don't have pine cones locally, they can be found at most hobby stores.
Supplies:
10" jute rope
18" grapevine wreath
Spanish moss
Pinecones (at least 50 of all shapes and sizes)
Paint brushes
Acrylic paint (we used FolkArt)
Cutting sheers or bypass loppers
Rubber gloves
Glasses or goggles
Newspaper
Hot glue and glue gun
Similar to the potted faux succulent plants, cut each cone with sheers or bypass loopers. Remember to wear gloves to protect your hands and glasses or goggles to protect your eyes.
Next, paint each pine cone with your choice of colors and allow to dry.
Arrange and hot glue each pine cone to a grapevine wreath.
Next, hot glue Spanish moss between each pine cone filling up the spaces.
Finally, tie a loop and secure the jute rope on the inside for hanging. Isn't it gorgeous? Please let us know if you make this craft and any variations that you incorporate and most importantly, I hope you had a very Happy Mother's Day!
Photography: Jenna Sparks & Thrifty Rehab / DIY: Thrifty Rehab