Fry Bread Tacos
This post may include affiliate links. As an Amazon Associate I earn from qualifying purchases.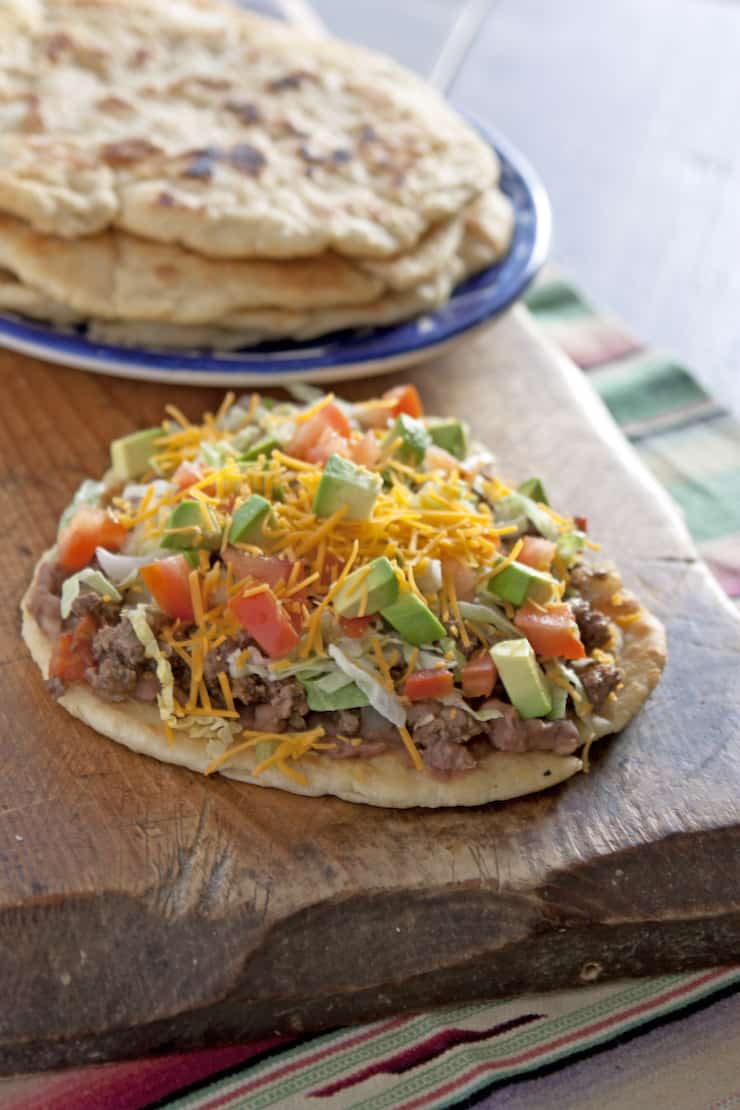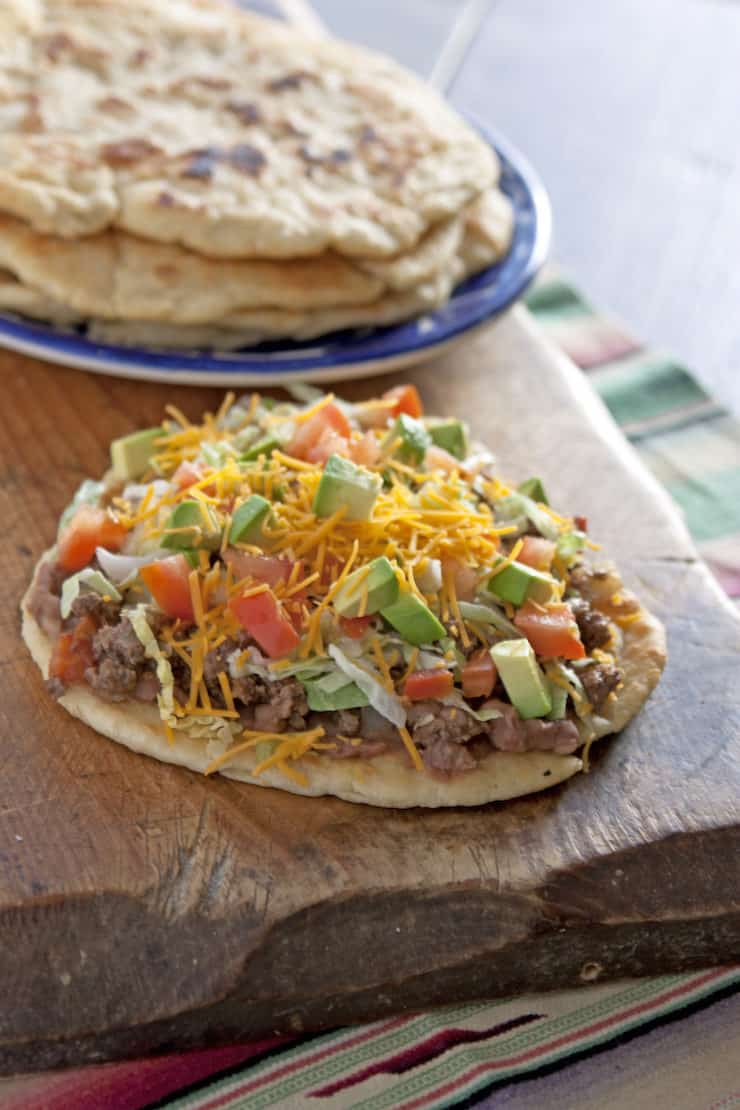 I'm so excited…I'm headed to El Paso soon! My mom and I have been invited to be the keynote speakers at the SISD Mother-Daughter conference at Eastlake High School. We are hoping to see some of you there.
When I know I'm headed home I begin to crave all the dishes that remind me of El Paso. Growing up near the Tigua Indian Reservation one of the dishes I remember are "Pueblo Tacos". They used to sell these tacos at Wyngs, which is no longer in business and at church bazaars. I believe these tacos are sometimes served at the Ysleta del Sur Pueblo Museum on Saturday mornings when they bake their famous Tigua bread in Pueblo hornos.
These fry bread tacos are similar to Tacos de Picadillo, but instead of fried corn tortillas, these tacos are made with fry bread. Fry bread is a Native American staple.
After the dough is fried the flat taco shells are smothered with homemade refried beans and topped with picadillo, lettuce, cheese, and tomatoes.
Being that I had never made fry bread I was excited when I found this Native American fry bread recipe by David Ruiz who is the owner of Pueblo Harvest Café in Albuquerque.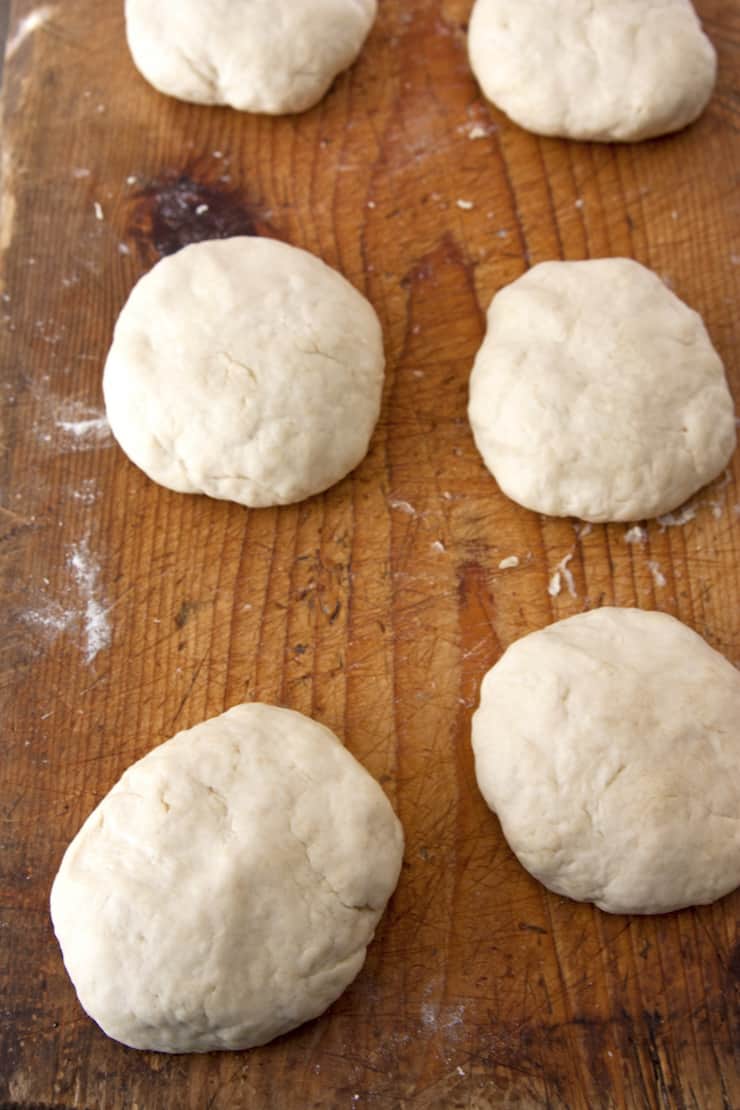 To be completely honest, my technique can use some practicing. I have a feeling I didn't add enough lard in my skillet to deep-fry the bread and I plan to use cooking oil next time instead of lard to deep fry.
On the recipe it says to fry the dough four seconds on each side, and keep turning, but my dough would tear every time I tried to flip it. I will be skipping this step next time.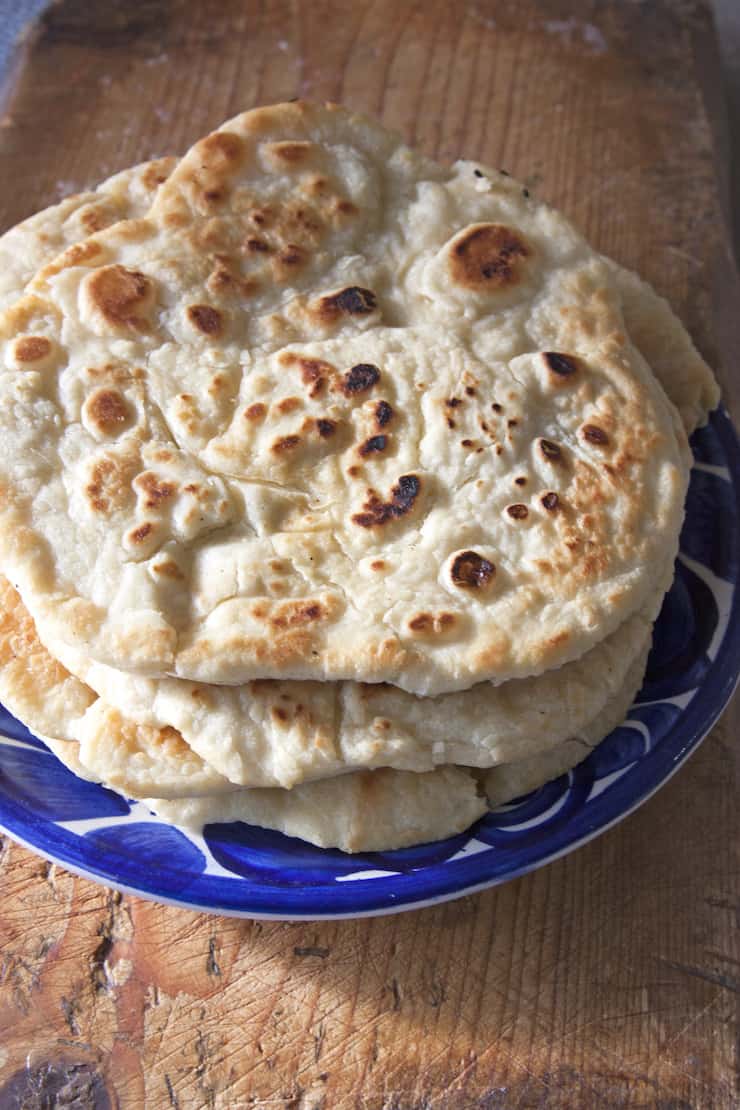 These tacos once done were very tasty, but when I make them again I will fry in cooking oil and not flip the dough so often. I would recommend watching some YouTube videos to learn some great techniques and shortcuts before you begin.
My recommendation would be to fry them on one side until golden brown, about a minute or so making sure your grease is hot enough, and then carefully turn them over with tongs and continue frying them for a minute or two.
I'd love to hear from you. Have you made fry bread?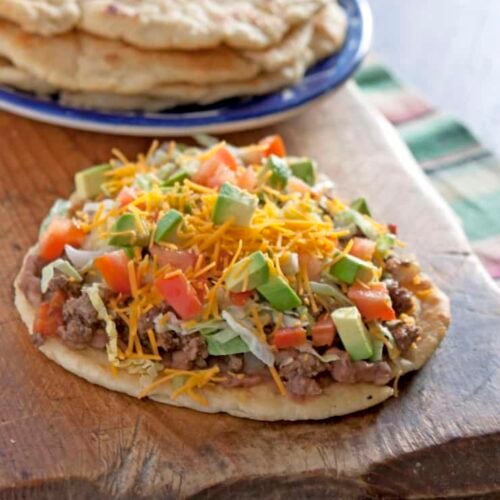 Fry Bread Tacos
Similar to homemade flour tortillas, but fry bread is fried, light, fluffy, and delicious. You can eat it on its own or smothered with beans, picadillo, lettuce, cheese, and tomatoes. Feel free to garnish with avocado, pico de gallo, and a dollop of sour cream.
Ingredients
Fry bread:
4 cups fine-milled flour
1 tablespoon kosher salt
1 tablespoon baking powder
1/4 cup lard
2 cups water
Additional lard for deep-frying
Instructions
Fry Bread:
To make the fry bread, combine the flour, salt, and baking powder in a stand mixer with a dough hook. Add the lard and mix for 2 minutes on medium. Add the water and continue mixing until the dough is combined.

Form the dough into 6 separate balls, then let them sit in a warm place for an hour.

While the dough is sitting, make the picadillo.

Roll or hand-form each dough ball into a flat circle about 10 inches in diameter. To deep-fry the dough, heat a pot of lard to its smoking point. Drop each piece of dough into the lard, one at a time, and fry for about 4 seconds on each side, turning the dough at least 4 times in total, until the bread is fried a golden brown.
PICADILLO:
In a large skillet heat olive oil over medium heat. Add onion and cook for about 2 minutes, until translucent.

Add ground beef and brown. Using a potato masher, mash meat so you have small pieces of meat with no big chunks. Drain off excess grease.

Add garlic salt, pepper, tomatoes, and potatoes and cook over low heat for about 15 minutes, until potatoes are done. Salt to taste.
Serve:
Layer toppings on fry bread to taste: beans, ground beef, lettuce, tomato, cheese, and if using avocado, sour cream, and salsa.
Notes
Nutrition facts do not include any toppings other than picadillo.
Calories: 812.7kcal, Carbohydrates: 73.78g, Protein: 36.45g, Fat: 40.63g, Saturated Fat: 17.81g, Cholesterol: 107.35mg, Sodium: 2443mg, Potassium: 1066.47mg, Fiber: 4.58g, Sugar: 2.96g, Vitamin A: 758.34IU, Vitamin C: 16.8mg, Calcium: 156.47mg, Iron: 8.38mg