Mexican Chocolate Guinness Cake
This post may include affiliate links. As an Amazon Associate I earn from qualifying purchases.
We are often asked, "How do you come up with a recipe?" This recipe is the perfect example of how this particular recipe was inspired. St. Patrick's Day has come and gone and with that my daughter experienced lots of Irish dancing on TV and at her school. She was kicking her little legs in the air like an Irish dancer the entire St. Patrick's Day weekend. While in the kitchen planning an Irish themed dinner she asked me if she could take Irish dance lessons. I said, "Are you sure you'd rather not learn folklórico (Mexican folkloric dance)? Remember those really pretty dresses?" She confidently replied in an Irish accent, "Nope, I want to learn Irish dance, because I think I'm a wee bit Irish." I think my heart broke a little bit that day. I had always hoped that my daughter would want to embrace Mexican music and dance and that she would jump at the chance to learn folklórico. The conversation ended with her happily dancing away, and my heart broken.
I decided not to make a big deal out of it and continued planning our St. Patrick's Day dinner menu. As I was looking up corn beef brisket recipes online I decided to look for a dessert. My daughter's favorite dessert is chocolate cake so I googled some chocolate cake recipes. It was then I remembered a Guinness chocolate cake I fell in love with when I first start blogging. It was perfect for St. Patrick's Day! I wanted to make this beautiful cake, but with a hint of Mexican. So that is exactly what I did — I adapted that chocolate cake with a wee bit of Guinness beer and added poquito Mexican chocolate and cinnamon and voila an Irish/Mexican dessert!
So here I am in the kitchen all excited about this new recipe idea when I find out I don't have any baking soda in the house. No problem I used baking powder instead since they are both leavening agents. Did you know you can substitute one for the other, but you have to triple the amount of baking powder for baking soda?
Then I over baked my cake a wee bit. The directions on the recipe said one hour. Luckily I checked it at 45 minutes and my toothpick was very clean. When I make it again (and I will), I will only bake it for 40 minutes. Must be my oven or the elevation, nonetheless I will make the necessary modification next time.
Secondly, I didn't add enough non-stick spray to the pan because when I flipped the bundt over to get the cake out it got stuck to the bottom of the pan. I either didn't let it cool long enough or I didn't add enough spray. The next time I make this delicate chocolate cake I will also try to make it in round pans versus an intricate bundt pan and let it cool longer before I flip it over.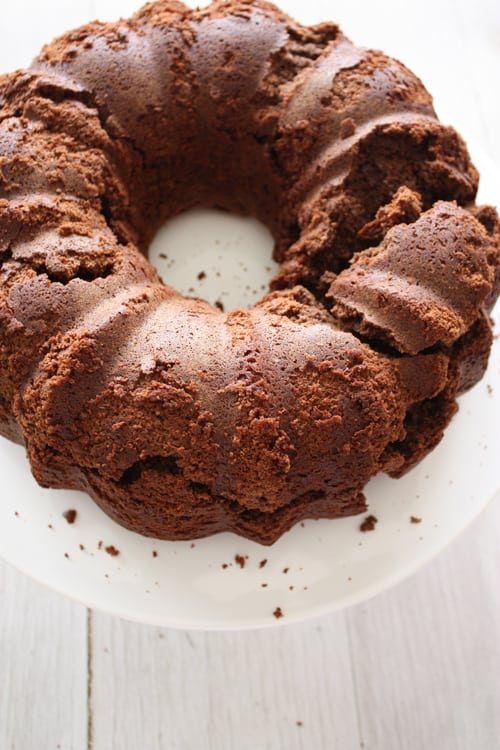 I couldn't help but laugh at my broken cake a little reminder of my broken heart. All I could hope for was that the icing would hold all the imperfections together. The outcome was beautiful — not as pretty as the inspiration recipe but appetizing enough to eat.
Then it was time to taste — This cake was amazing! It was not as moist as I had hoped, but I think it's because I baked it too long. The consistency was more like a thick rich brownie which I was perfectly happy with. The flavors were that of a dense coffee cake with undertones of cinnamon from the Mexican chocolate and the stout gave it a rich coffee flavor. And the icing, oh the dear cream cheese icing reminded me of my mom's carrot cake. This icing really pulled it all together, literally.
So there you have it. A little fusion of Irish and Mexican.
Mexican Chocolate Guinness Cake
The consistency is thick and rich like a brownie. Think of this as a chocolatey coffee cake with undertones of cinnamon from the Mexican chocolate. The stout gave it a rich coffee flavor. And the icing, oh the dear cream cheese icing reminded me of my mom's carrot cake. This icing really pulled it all together, literally.
Ingredients
1 cup unsalted butter, and 2 tablespoons
1 cup Guinness
3/4 cup cocoa powder
1 tablet Mexican chocolate, 3.3 ounces
2 1/4 cups all-purpose flour, sifted
2 teaspoons baking soda, or 2 tablespoons baking powder
2 cups sugar
1 teaspoon ground cinnamon
1 tablespoon vanilla extract
2 eggs
2/3 cup sour cream
Icing Ingredients
1 8 ounce cream cheese, room temperature
2 cups powdered sugar, sifted
2/3 cup whipping cream
Instructions
Preheat oven to 350 degrees F.

Add butter, Guinness, cocoa, Mexican chocolate to a saucepan. Warm over medium heat and stir until melted. Set aside for 5 to 10 minutes to cool slightly.

Add flour, baking soda, sugar, and cinnamon to a large mixing bowl and mix together well.

Pour in the melted chocolate mixture, lightly combine, add the vanilla, eggs, and sour cream and beat everything together until well combined. The batter should be thick and dark chocolate in color.

Pour into a greased bundt pan and cook in the oven for 40 to 45 minutes, or until a toothpick comes out clean from the center of the cake. Do not leave in the oven until the cake has totally dried out — cook long enough so there is no uncooked cake on the toothpick but there may be a few moist crumbs sticking to it.

Leave to cool for 15 minutes before removing from the cake pan and placing on a wire rack to cool completely.

Icing

Place the cream cheese into the bowl of a mixer and beat on a low-medium speed using a whisk attachment. Whisk until the cream cheese is smooth and there are no big lumps remaining.

Gradually, using a large spoon, add in the sifted powdered sugar and beat gently to combine.

Then add whipping cream and mix on low to fully combine.

Place cooled cake on a cake stand and add the icing, spreading out just to the edge without going over the side to resemble a pint of creamy Guinness.
Notes
You can make it in round pans versus an intricate bundt pan.
Make sure to let it cool  before flipping it over.
Calories: 567kcal, Carbohydrates: 80g, Protein: 5g, Fat: 27g, Saturated Fat: 16g, Cholesterol: 93mg, Sodium: 214mg, Potassium: 170mg, Fiber: 3g, Sugar: 57g, Vitamin A: 786IU, Vitamin C: 1mg, Calcium: 45mg, Iron: 2mg
Written by Yvette / Photos by Yvette