Mexican Jambalaya
This post may include affiliate links. As an Amazon Associate I earn from qualifying purchases.
This Mexican jambalaya can be made in 30 minutes and is loaded with veggies and sausage, and is served over rice making it the perfect dish to serve a crowd and delicious any time of the year.
Hot jambalaya! Every time my hubby makes jambalaya my kids always rejoice saying, "Hot jambalaya!" It's a quote from one of our favorite family movies, Mrs. Doubtfire.
Every winter my hubby makes a huge pot of jambalaya from a recipe his mother used to make. It is actually super simple to make. It's a one-pot meal served over rice.
I have his mother's original typed recipe with handwritten notes my husband has added to it throughout the years. And now this is my version giving this Cajun classic a Mexican twist with the addition of frijoles and chile.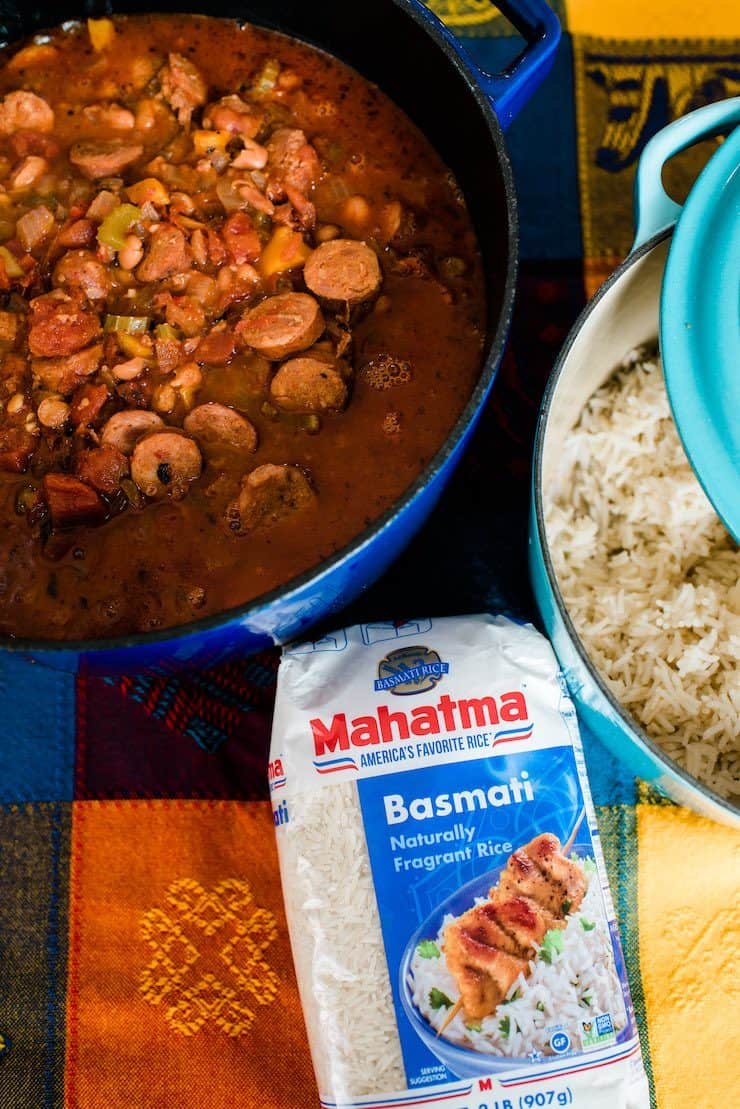 This jambalaya has the perfect amount of spice with a combo of Andouille sausage, Mexican chorizo, Basque chorizo, paprika, cayenne powder, ancho chili powder, and fire roasted green chile.
We like to serve jambalaya over cooked Mahatma Basmati Rice rather than cooking the rice with the jambalaya.
This premium quality basmati rice is grown in the foothills of the Himalayas, where it is washed by the snow-capped mountains.
This simple rice recipe makes light, tender and fluffy rice every time and makes any leftovers very easy to freeze.
Photography by Jenna Sparks
This post is in partnership with Mahatma. As always, thank you for reading and for supporting companies I partner with, which allows me to create more unique content and recipes for you. All opinions are always my own.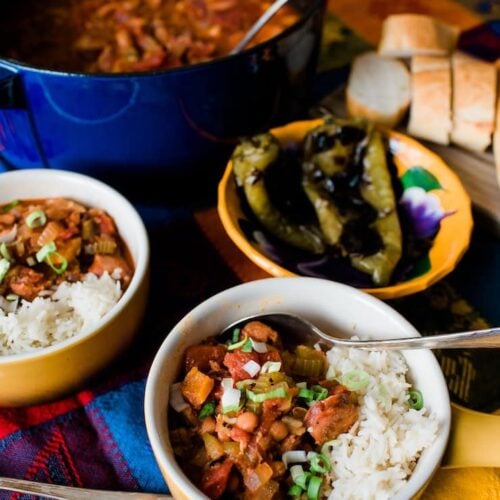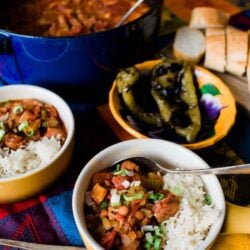 Mexican Jambalaya
This Mexican jambalaya can be made in about 30 minutes and is loaded with veggies, sausage, fire-roasted green chile, and served over basmati rice, making it the perfect dish to serve a crowd and delicious any time of the year.
Ingredients
24 ounces smoked Basque chorizo
12 ounces smoked pork sausage, Cajun style Andouille
9 ounces Mexican chorizo, pork or beef
2 small white onions, chopped
1 bell pepper, chopped
2 stalks of celery, chopped
4 (14.5 -ounce ) cans fire-roasted diced tomatoes
1 teaspoon paprika
1 teaspoon ancho chili powder
½ teaspoon cayenne powder
½ teaspoon garlic powder
1 teaspoon dried oregano
2 teaspoons kosher salt
32 ounces low sodium chicken broth
2 to 3 Anaheim or Hatch chiles, roasted, peeled, and chopped
1 (30-ounce) can pinto beans , drained and rinsed
Garnishes:
Sliced green onions, optional
Creole seasoning, optional
Basmati Rice:
3 cups chicken broth
1 1/2 cups Mahatma® Basmati Rice
1 1/2 tablespoons  unsalted butter
Instructions
Slice Basque and Cajun style smoked sausages and set aside.

Cook the Mexican chorizo in a large stock pot, crumbling it until cooked thoroughly for 8 minutes.

Add the chopped onions and cook for 3 more minutes.

Stir in the bell pepper and celery and cook for another 4 minutes, stirring occasionally.

Add the remainder of ingredients and let come to a boil. Lower heat to simmer and cook for 25 minutes.
Basmati Rice:
In a medium pot, bring broth, butter, and rice to a boil. Cover the pot with a tight-fitting lid, then turn the heat down to a simmer and cook for 20 minutes, until all of the liquid is absorbed and the rice is tender. If the rice is still too firm, add a few tablespoons of water and continue cooking for a few minutes more. Remove the pan from the heat and allow it to sit covered for 5 minutes. Fluff the rice with a fork and serve.

This rice can be frozen in an airtight container for up to 3 months.
Serve:
Serve Mexican jambalaya over cooked basmati rice, topped with slices of green onion, and sprinkle with Creole seasoning, if using.
Notes
I purchased all my ingredients at my local King Soopers (Kroger store).  Recommendations for sausage:  -24 ounces smoked Basque chorizo (recommend Falls Brand Basque Chorizo)
-12 ounces smoked pork sausage, Cajun style Andouille (recommend Aidells Cajun Style Andouille Smoked Sausage)
– 9 ounces Mexican chorizo (recommend Cacique)
Calories: 854kcal, Carbohydrates: 72g, Protein: 42g, Fat: 43g, Saturated Fat: 16g, Cholesterol: 110mg, Sodium: 2980mg, Potassium: 859mg, Fiber: 13g, Sugar: 8g, Vitamin A: 2056IU, Vitamin C: 34mg, Calcium: 144mg, Iron: 7mg