Milagro Wine Glass Charms
This post may include affiliate links. As an Amazon Associate I earn from qualifying purchases.
Planning for Valentine's Day is always fun for us women; after all, what is more endearing and meaningful than gifts from the heart! Speaking of hearts — my crafting partner and I were brainstorming ideas and came up with something that incorporates hearts. We came up with these wine glass charms including the sacred heart and stay tuned for another crafty DIY coming soon.
What is the first drink that comes to mind when celebrating the day made for luvahs? Wine? Us too! Sure you can have a glass of wine, but how about dressing up your wine glass with some jewels?
Homemade wine glass charms make a perfect gift. These are great to give away for Valentine's Day, Mother's Day, or as a hostess gift.
We found these milagros online and knew they would be the perfect theme. Milagros are small metal religious charms found in many areas of Latin America, especially Mexico. The word "milagro" means "miracle". You might remember my fascination with milagros in this blog post.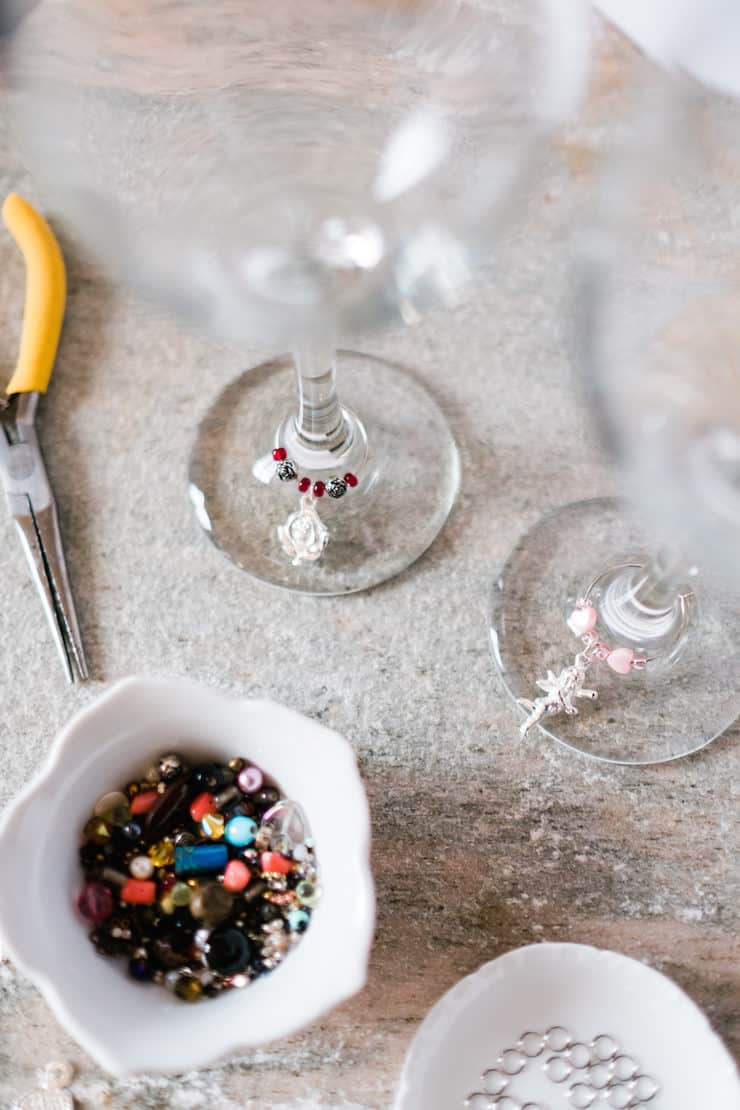 If you enjoy being creative this craft is for you as the possibilities are endless. The accent beads surrounding the milagro can be any shape: round, chipped, star, teardrop, heart, and so on. The beads can also be made from plastic, wood, metal, pearls, crystals, or gems. Obviously, they can be made inexpensively or expensively. We do, however, recommend colorful beads, so that they are all unique.
Only a few supplies are required to make these personalized wine glass charms. Let's get started!
Supplies:
Directions:
Layout your design with the milagro charm as the centerpiece. In order for the milagro to lie correctly, it requires a jump hoop. Use your needle-nose pliers to gently open the jump hoop, insert it through the hole in the milagro then close the jump hoop with the pliers.
Now, you can start stringing the wine glass hoops. If needed, use the pliers to temporarily straighten the hook end to allow for easy stringing. When all beads and charms are in place, use the pliers to bend the hook back in place. Voila! You have your first personalized wine glass charm.
Photography: Jenna Sparks & Thrifty Rehab  / DIY: Thrifty Rehab