Paleta de Papaya y Coco (Papaya and Coconut Popsicle)
This post may include affiliate links. As an Amazon Associate I earn from qualifying purchases.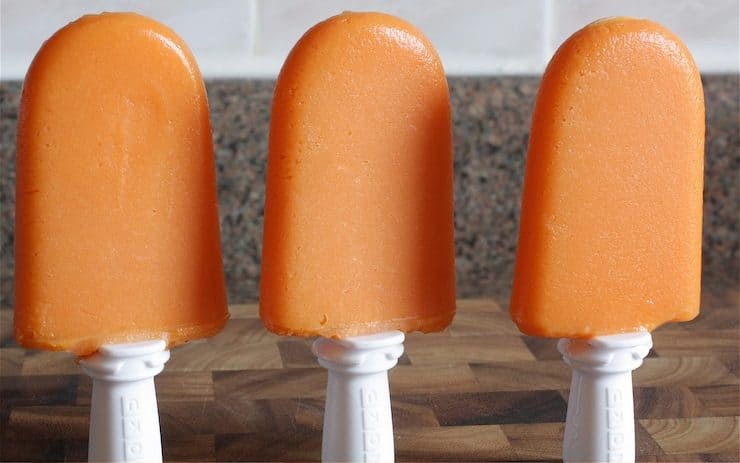 Today we are celebrating Papaya month with a cyber-amiga. Please welcome our writer and photographer today: Eliana, the talented Latina baker from A Chica Bakes.
She is sharing her childhood story about papayas. She is a humble chica with Dominican roots who shares her love of Latin-inspired desserts on her wonderful blog.
Eliana ~ Whether you live in a breezy home by the ocean or pre-war city apartment (like me), just the thought of turning on the oven in the dog days of summer makes you sweat. Thanks to frozen treats, you don't need to crank up the heat to get your fill of sweet goodies during the summer months. I'm a huge fan of them all year-round. But something about the summer time makes them taste extra special, especially when they are made of papaya.
Growing up, I have had my fill of papaya, or lechosa as it's called in the Dominican Republic. Admittedly, I was a little "scared" of the fruit as a child. Once it was mixed into a fruit or shake I was fine but seeing it freshly cut in its raw form scared the bejezus out of me. If you look at it, it's kind of "fugly" on the outside and the little slimy looking black seeds on the inside sent me running. My mami thankfully got around my picky eating. Upon bringing it home from the store she immediately peeled it and cut it up into chunks that she froze to have on-hand for deliciously thick and frosty batidas de lechosa (papaya milkshakes).
These batidas are legendary but can be a little heavy for the summer. (My mami does everything grande and really piles in the fruit in her shakes.) So I was thrilled when the ladies of Muy Bueno Cookbook sent me this recipe for a lighter, more figure friendly way to get my fill of papaya that is just as delicious as my mami's batidas.
These paletas (popsicles) have intense papaya flavor, which is accented with a bit of lime juice and coconut cream. I initially planned on tweaking the recipe to make the paletas taste more like my mami's batidas. But this recipe is perfect. The coconut cream (not to be confused with milk) adds a touch of sweetness and the lime juice (has to be fresh) adds some brightness. Together they form what may easily become the only frozen treat you will need to get you through this caliente summer.
Buen Provecho.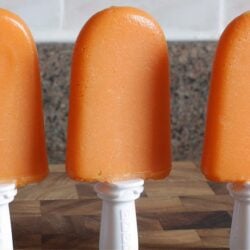 Paleta de Papaya y Coco (Papaya and Coconut Popsicle)
Fresh papaya, lime juice, and cream of coconut make for beautiful, refreshing, and delicious paletas.
Ingredients
1 small papaya, peeled, seeded, and cubed
¼ cup water
1 ounce fresh lime juice
2 ounces cream of coconut
popsicle molds or small plastic cups
popsicle sticks
foil
Instructions
Blend all the ingredients together.

In plastic cups or popsicle molds add 5 ounces of papaya mixture.

If using small plastic cups or popsicle molds freeze for about 2 hours or until the liquid starts to solidify. At this point, you can add a popsicle stick and it will stay upright. If you want to add popsicle sticks immediately then place a piece of foil over each cup, pierce a small slit in the foil and insert a popsicle stick. This will allow the stick to stand upright as it freezes.

Releasing the popsicle from the cup or mold will require that you run hot water briefly on the outside of the cup or mold, about 5 seconds.
Notes
If you cannot find cream of coconut, refrigerate cans of full-fat coconut milk and use  only the solid cream that gathers on top. 
Calories: 64kcal, Carbohydrates: 12g, Protein: 1g, Fat: 2g, Saturated Fat: 1g, Sodium: 9mg, Potassium: 92mg, Fiber: 1g, Sugar: 10g, Vitamin A: 481IU, Vitamin C: 32mg, Calcium: 10mg, Iron: 1mg
Photography by A Chica Bakes, recipe by Muy Bueno