Paletas de Aguacate y Coco (Avocado and Coconut Popsicles)
This post may include affiliate links. As an Amazon Associate I earn from qualifying purchases.
If you've never had an avocado popsicle you are in for a super treat. I know it sounds odd, because really who has ever eaten an avocado popsicle? However, once you try this you are going to fall in love with avocados in a whole different way. This cold treat is incredibly refreshing and tastes so exotic. The added coconut milk adds a tropical dimension, which usually comes from a piña colada or coconut flan or pie.
Our wonderful amigos at Avocados from Mexico asked us to create another recipe for them using avocados and we suggested this recipe, they said it sounded good so off to our test kitchen we went. I have a confession; this recipe is so delicious that I drank some of it before placing it into the popsicle mold so I had one less popsicle, oops. Caution, you may need to make two batches, one for drinking and one for popsicles.
The true taste test was the kid test. My son Hunter loved them and so did Blake, Yvette's son and Jeanine's two boys. To be honest I was on pins and needles waiting for their reaction. Some liked the hint of coconut and some said it tasted like lemonade. If silly hyper boys loved these treats, I know you will too! This recipe is kid tested and approved!
Avocados from Mexico have some great nutritional information on their website, such as the fact that avocados are a good source of lutein, an antioxidant which has been shown to be concentrated in the macula of the eye. Research suggests that it may help maintain healthy eyesight as we age. An ounce of avocado contains 81 micrograms of lutein. Avocados from Mexico are not only good but they're good for you, but don't take our word for it, check out the stats on their site here. They really are a fruit (yes, a fruit) packed with nutritional goodness.
So there you have it – These popsicles are not just pretty on the eyes, but actually good for your eyes.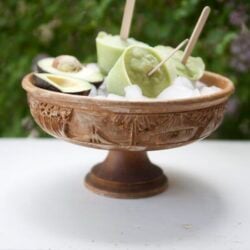 Paletas de Aguacate y Coco (Avocado and Coconut Popsicles)
You will love the hint of coconut and lime - you will never guess these creamy paletas are made with avocado.
Ingredients
1 cup water
½ cup sugar
2 large Hass Avocados from Mexico, halved, pitted and peeled
1/3 cup coconut milk, do not use coconut cream
2 tablespoons fresh lime juice
Dash of salt
Instructions
In a small saucepan add the water and sugar. Heat just long enough for the sugar to melt. Remove from the heat and allow time to cool.

Cut avocado in half and remove the pit. Spoon the avocado into a blender.

Add the sugar water, coconut milk, lime juice, and salt. Blend until smooth and creamy.

Pour mixture into popsicle molds, about 3 ounces per mold.

Place the popsicle sticks into the molds, put into the freezer, and let them set for about 4 hours or overnight.
Notes
Note: If you don't have popsicle molds you can always place into Dixie cups, freeze for about 30 minutes until mixture freezes slightly then add the popsicle sticks. Continue to freeze.
Serving: 1popsicle, Calories: 99kcal, Carbohydrates: 12g, Protein: 1g, Fat: 6g, Saturated Fat: 2g, Sodium: 4mg, Potassium: 176mg, Fiber: 2g, Sugar: 9g, Vitamin A: 49IU, Vitamin C: 4mg, Calcium: 5mg, Iron: 1mg
Photography by Jeanine Thurston
Disclosure: We were sponsored by Avocados from Mexico to attend BlogHer Food 2012. The views and opinions expressed are purely our own and based upon our personal experiences. We are thrilled to partner with brands which are an ideal fit.