Paletas de Piña con Chamoy
This post may include affiliate links. As an Amazon Associate I earn from qualifying purchases.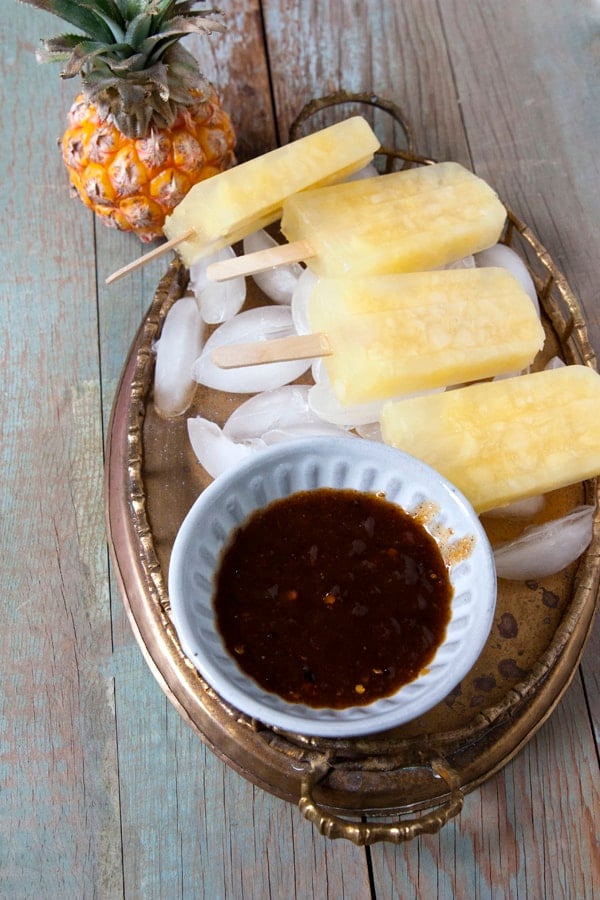 If you were wondering why I haven't posted a new recipe it's because my children and I were in El Paso for 10 days taking care of my mom after a knee surgery replacement. I had big plans developing and shooting new dishes while there, but as you can imagine the days just flew by and my camera never made it out of the camera bag.
As always, it was wonderful to visit my mom, but it was very difficult to see her in pain and uncomfortable. Everyday she improved and thankfully she is now off of her walker and now using a cane. My mom has crazy amounts of energy and is very active, so it has been very challenging for her to learn to take it easy.
Although it was a lot of work, I enjoyed taking care of my mom. She has always helped me so much, and this time it was my turn. One of the best parts about visiting El Paso is the food. If you follow me on Instagram and Facebook you might have seen lots of the yummy food we enjoyed while there.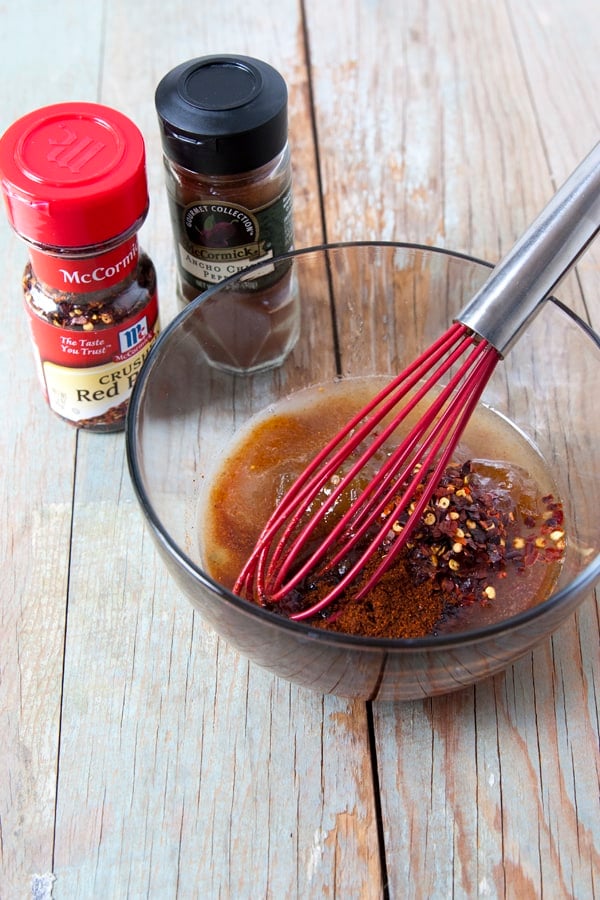 One of my favorite snacks we enjoyed was seasonal fruit sprinkled with spicy seasoning or drizzled with chamoy sauce. Have you ever heard of chamoy sauce? In El Paso or Latin supermarkets they sell this sauce in large bottles — I call it Mexican liquid candy. I have always enjoyed chamoy sauce, but always wondered what it was made of. Thanks to my amigos at McCormick's they sent me the spices as well as the recipe. It's very simple — apricot jam, crushed red pepper flakes, ancho chile pepper, lime juice, and salt. The sauce is sweet, spicy, and tangy. I actually used fig preserves instead of apricot jam because I happen to have it on hand. Rather than drizzling it on fresh fruit like its traditionally served, I decided to dip pineapple paletas into the sauce. Let me just say it was fantastic.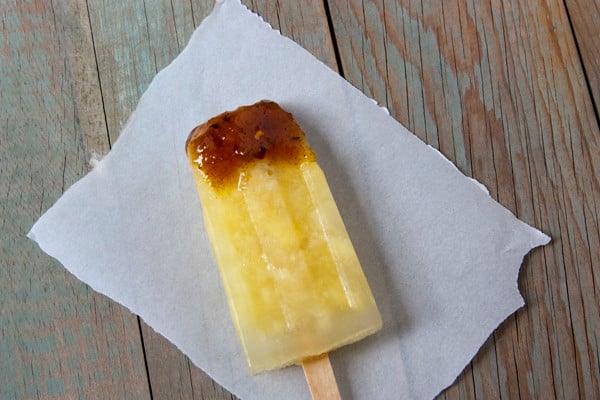 You can also add the chamoy sauce to the Popsicle mixture and freeze, but I decided to keep it separate because I wanted to let my children dip their own since the sauce is a bit spicy.
On a hot day eat these sweet and spicy pineapple chamoy paletas before they melt or you'll be one sticky yummy mess.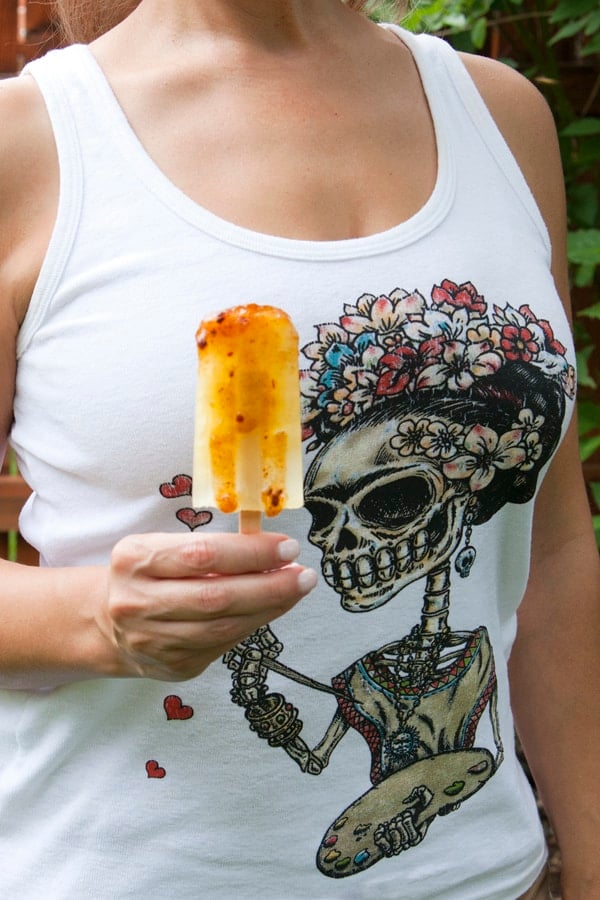 Each of us has a flavor story. Visit FlavorofTogether.com to start a global conversation about food and flavor by sharing your flavor story. This year, McCormick is taking part in a global celebration of flavor. For each flavor story you share, McCormick will make a $1 donation to United Way Worldwide to help feed those in need.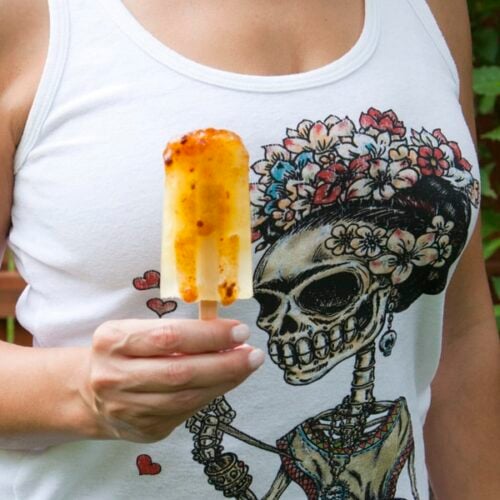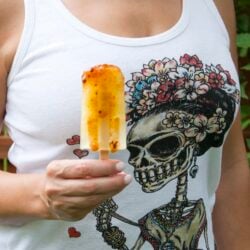 Paletas de Piña con Chamoy
Fresh pineapple popsicles drizzled with sweet, spicy, and tangy chamoy sauce.
Ingredients
Chamoy Sauce:
1/2 cup apricot jam or fig preserves, *
2 tablespoons fresh lime juice
1 tablespoon water
1 teaspoon McCormick Red Pepper, Crushed
1/2 teaspoon McCormick Gourmet Collection Chile Pepper, Ancho
1/2 teaspoon salt
Popsicles:
1 (20-ounce) can crushed pineapple
3 cups pineapple juice
Instructions
Chamoy Sauce:
In a small bowl, whisk the jam, lime juice, water crushed red pepper, ancho chile pepper, and salt.
Popsicles:
Place 2 tablespoons of crushed pineapple inside 10 molds and then fill with pineapple juice. Place in the freezer for about 4 hours or overnight. Dip popsicles into chamoy sauce and enjoy.
Notes
*the original recipe calls for apricot jam. I just happened to have fig jam an it tastes awesome.
Calories: 75kcal, Carbohydrates: 19g, Protein: 1g, Fat: 1g, Saturated Fat: 1g, Sodium: 122mg, Potassium: 166mg, Fiber: 1g, Sugar: 16g, Vitamin A: 88IU, Vitamin C: 13mg, Calcium: 18mg, Iron: 1mg
Disclosure: This post is sponsored by McCormick. The views and opinions expressed are purely my own and based upon my personal experience.