Red Chile Lamb Barbacoa Tamales
This post may include affiliate links. As an Amazon Associate I earn from qualifying purchases.

Oh tamales, I am craving you right about now. My tummy must know that it's that time of year. This Christmas I am sad to report that I will most likely not be eating tamales. We are heading to Idaho and unless I can find a reputable Mexican restaurant in the Boise area I might be waiting until January. December is just flying by too fast and I seriously do not have time to whip up tamales before Christmas. So instead I'm planning to host a tamalada in January and look forward to sharing that little fiesta with all of you.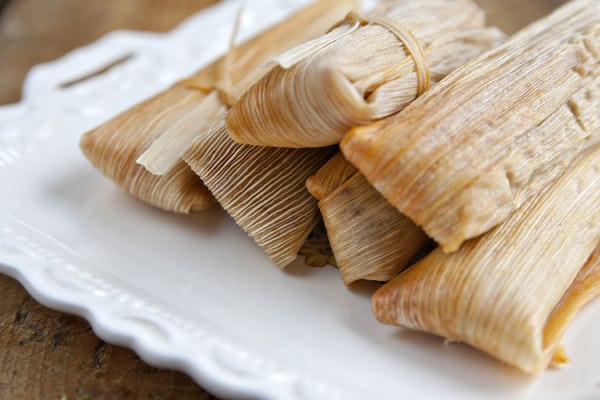 We made these lamb tamales last year and I wanted to share the recipe with you just incase you want to make tamales for Christmas or Dia de los Reyes (King's Day). You will not be disappointed with this filling. The simple slow cooked marinated lamb meat is juicy, spicy, and so tender. The earthy flavor of this meat will melt in your mouth.
The (masa) tamale dough recipe is from our published Muy Bueno cookbook, and I am finally sharing it with you here. The most vital ingredient in making the perfect tamal is the masa and with this masa recipe you can fill with your filling of choice and know your tamales will taste just like grandma used to make.
Red Chile Lamb Barbacoa Tamales
We made these lamb tamales last year and I wanted to share the recipe with you just in case you want to make tamales for Christmas or Dia de los Reyes (King's Day). You will not be disappointed with this filling. The simple slow-cooked marinated lamb meat is juicy, spicy, and so tender. The earthy flavor of this meat will melt in your mouth.
Ingredients
Tamale Masa:
2 pounds lard, if you are using rendered lard you will need to use less broth
2 teaspoons baking powder, divided
2 tablespoons salt, divided
5 pounds fresh ground masa, unprepared for tamales, divided
2 to 3 cups chicken broth, divided
Red Chile Sauce:
1 Spanish onion, quartered
3 to matillos, husked and washed
2 to matoes, quartered
3 garlic cloves, peeled
4 New Mexico chiles, stemmed
4 ancho chiles, stemmed
1 ½ cups water, divided
Salt to taste
Lamb:
2 1/2 pounds de-boned lamb leg
2 tablespoons agave nectar
Instructions
Make Tamale Mesa:
Place 1 pound of lard in a large stand mixer and mix until fluffy, scraping sides so the lard stays in the center of the mixing bowl. (The flat beater is the ideal accessory for mixing.) Add half the baking powder and half the salt to the lard and mix together.

Add half the masa and mix together. Slowly add half the broth to the masa and mix until combined. The mixture should be about the consistency of smooth peanut butter. If not, add more broth as necessary. Test the masa by taking a small piece (1/2 teaspoon) and dropping it into a cup of warm water. If it floats it is ready; if it sinks, add a little more lard, beat for another minute and test it again. Repeat this process until the masa floats. Pour the masa mixture into a bigger bowl. Repeat the process with the remaining ingredients.

Cover the masa and set aside while you prepare your filling.
Red Chile Sauce:
Preheat the broiler.

Put the onions, tomatillos, tomatoes, and garlic on a baking sheet. Put the baking sheet under the broiler and cook without turning until vegetables start to get charred, about 7 minutes. Remove, set aside, and let cool to room temperature.

In a large dry skillet over medium-low heat, toast the chile peppers, turning them over, for about 1 minute. Transfer them to a saucepan with enough water to cover chiles and boil for about 15 minutes until they are soft. Drain the chiles and discard water.

Combine the vegetables and chiles in a blender with ¾ cup of water per blender (you'll have to work in two batches) and puree until the mixture is smooth. Season with salt.

Leftover sauce can be drizzled over tamales.
Lamb:
Preheat oven to 350 degrees F.

Line a roasting pan with foil.

Rub agave nectar on the meat and generously season the lamb with salt. Pour the 2 cups red chile sauce over the meat and rub it on all sides. Put the meat (fat side up) in the roasting pan. Roasting the meat fat side up allows the fat to drip down over the roast as it melts, thereby keeping the exterior nice and moist.

Seal the pan with two layers of foil creating a tight seal, and cook in the oven for 3 hours until meat is very tender.

Take the pan from the oven and let the meat rest for about 30 minutes.

When it's cool enough to handle, coarsely shred the meat with your fingers or forks, discarding any fat.
Prepare Hojas (Corn Husks):
Soak corn husks in water for an hour before using, rinse well with running water to take off any dust or corn husk fibers. To keep corn husks pliable and easy to work with, keep in water while filling tamales. Place a handful of wet corn husks in a colander to drain before using.
Spread Masa:
Place the wide end of the husk on the palm of your hand, narrow end is at the top. Starting at the middle of the husk spread 2 tablespoons of the masa with the back of a spoon in a rectangle or oval shape, using a downward motion towards the wide-bottom edge. Do not spread the masa to the ends; leave about a 2-inch border on the left and right sides of the husk.
Fill Corn Husks:
Spoon 1½ tablespoons of your filling down the center of the masa. Fold both sides to the center; finish off by bringing the pointed end of the husk toward the filled end. Make sure it's a snug closure so the tamal will not open during steaming. Secure by tying a thin strip of corn husk around the tamal. This will keep the tamal from unwrapping during the steaming process, especially if the husk is too thick and will not stay folded.
Steam Tamales:
Use a deep pot or tamale steamer to steam tamales. If using a tamale steamer fill with water up to the fill line. Set the tamale rack over the water. Place tamales upright, with fold against the sides of the other tamales to keep them from unfolding. Cover pot with a tightly fitting lid. Set heat on high and bring to a boil, about 15 minutes. Lower heat and simmer for 2½ to 3 hours. Keep the lid on tightly. To test if done, put one tamal on a plate and take off the corn husk. If it comes off without sticking to the tamal they are done.
Notes
Feel free to fill you tamales with whatever leftovers you have. 
Tamales can be made ahead in big batchen. They can be frozen and steamed for an easy dinner. 
Calories: 250kcal, Carbohydrates: 27g, Protein: 5g, Fat: 14g, Saturated Fat: 3g, Cholesterol: 6mg, Sodium: 229mg, Potassium: 187mg, Fiber: 3g, Sugar: 2g, Vitamin A: 636IU, Vitamin C: 5mg, Calcium: 51mg, Iron: 3mg
Please keep in touch and subscribe to Muy Bueno and follow me on Twitter, Facebook, Instagram, and check out the Muy Bueno cookbook.
Written by Yvette / Photos by Jeanine