Roasted Fall Vegetarian Baked Tostadas
This post may include affiliate links. As an Amazon Associate I earn from qualifying purchases.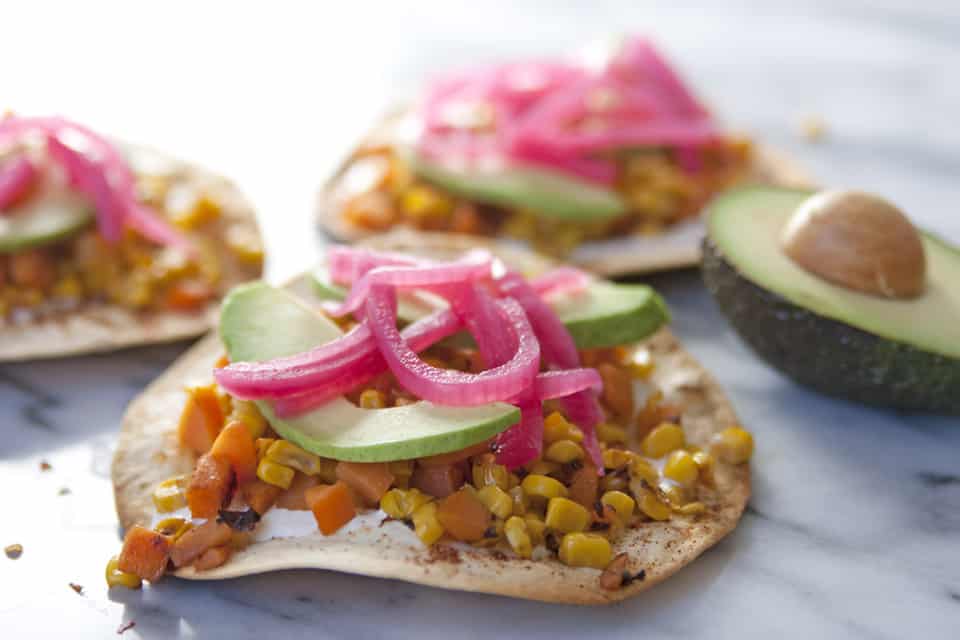 When it comes to dressing for fall weather my motto is always: Layers, layers, layers. These tostadas remind me of my motto with all the delicious layers of flavors. This dish is a nod to the season's flavors and hues. The first layer is a flour tortilla dusted with taco seasoning and baked till crunchy. Once baked the tostadas are drizzled with tangy crema Mexicana and sprinkled with crushed red pepper flakes for a hint of spice. The tostadas are then topped with roasted yams and corn and garnished with velvety avocado slices. As an option adorn with tangy bright pink, crunchy pickled red onions. These tostadas may look fancy, but they are actually very economical, simple, healthy, and above all else — delicioso.
Get the complete recipe on the Target online magazine, abullseyeview.com.
Please keep in touch and subscribe to Muy Bueno and follow me on Twitter, Facebook, Instagram, Pinterest and subscribe to Muy Bueno on YouTube.