Strawberry and Mango Margaritas and Paletas
This post may include affiliate links. As an Amazon Associate I earn from qualifying purchases.
Are limes pricey in your neck of the woods? Don't let the lime shortage stop you from making margaritas! Check out my latest feature on KitchenAid's blog, The Kitchenthusiast, where I share how to build your own tropical margarita bar plus fresh fruit paletas (popsicles).
Instead of squeezing limes, substitute with bottled organic lemonade, a variety of fresh fruits such as mangos, strawberries, and tequila (of course).
A margarita bar for the adults and paletas for the children. Everyone will surely have a great time.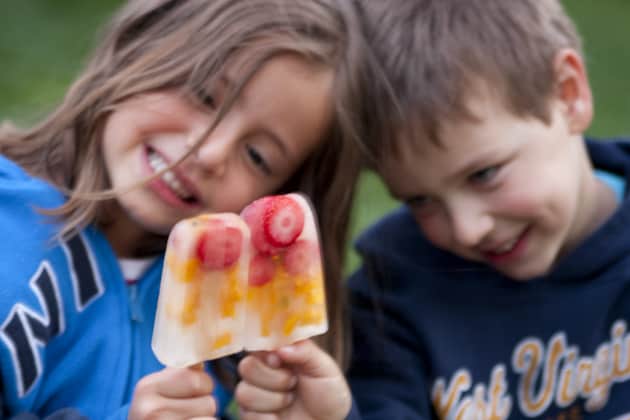 Get the step-by-step instructions on the Kitchenthusiast blog »
Fresh Fruit Paletas & Tropical Margarita Bar
A margarita bar for the adults and paletas for the children. Everyone will surely have a great time.
Ingredients
Organic Lemon Margarita Mix:
2 64-ounce bottles of organic lemonade
12 mint leaves
2 lemons, sliced
1 passion fruit, pulp (optional)
Margarita Bar:
Organic lemon margarita mix
Tequilas of various styles
Agave nectar
2 limes, halved
2 lemons, halved
2 pounds strawberries, hulled
4 mangos, peeled, pitted, and chopped
Course salt for glass rims
Raw sugar for glass rims
Strawberry and Mango Margaritas:
2 cups organic lemon margarita mix
3 ounces tequila of your choice
1 ounce orange liqueur
Squeeze of fresh lemon or lime juice
1 tablespoon agave nectar
1/2 cup fresh fruit, mangos or strawberries or combination of both
Instructions
Organic Lemon Margarita Mix:
Combine all the ingredients in a drink dispenser.
Strawberry and Mango Margaritas:
Add all ingredients to a blender.

Moisten rims of the glasses with a lime and coat with course salt or raw sugar.

Pour the blended margarita mixture in glasses filled with ice. Garnish with fresh fruit slices or mint leaves, if desired. Serve immediately.
Strawberry Mango Paletas (Popsicles):
Add sliced strawberries, chopped mangos, and passion fruit pulp, if using. Fill with organic lemon margarita mix or coconut water.

Place in the freezer for at least 4 hours or overnight.
Notes
Of course you can make adult paletas too by adding a small splash of tequila to the mix. 
Calories: 208kcal, Carbohydrates: 36g, Protein: 1g, Fat: 1g, Saturated Fat: 1g, Sodium: 86mg, Potassium: 26mg, Fiber: 1g, Sugar: 34g, Vitamin A: 89IU, Vitamin C: 1mg, Iron: 1mg
Please keep in touch and subscribe to Muy Bueno and follow me on Twitter, Facebook, Instagram, Pinterest and subscribe to Muy Bueno on YouTube.
These recipes were created in partnership with KitchenAid®. All opinions are my own.