Tomato Avocado Grilled Cheese Sandwich Video
This post may include affiliate links. As an Amazon Associate I earn from qualifying purchases.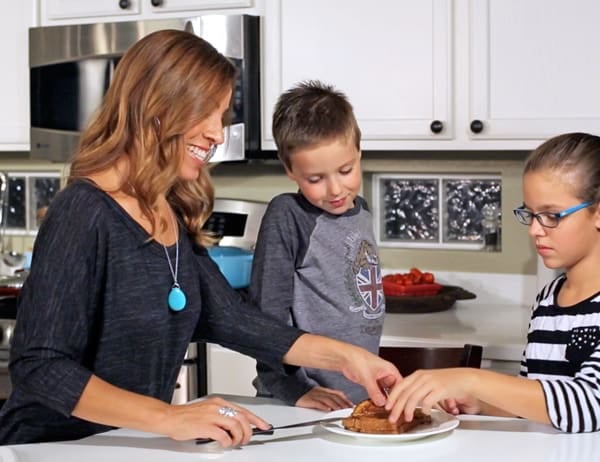 Happy New Year everyone! Hope your holidays were fabulous. I took a much-needed break over the holidays and just enjoyed my family and being home. I have to admit it's been difficult to get back in the swing of things (especially waking up early). But, I'm sure it will get better after this week.
Like many of you I have made a resolution to eat and live healthier. I'll be making small changes that I'm sure will affect my overall health. For example, I will remember to take my vitamins, incorporate a healthy smoothie into my day, and move more. My days fly by when I'm sitting in front of the computer or cooking in the kitchen and I need to make sure to take a break and make time to go for a walk, stretch, or go to a yoga class. Here's hoping we all have a new year feeling healthier and looking our best.
Speaking of healthy, I am constantly teaching my children the difference between healthy and not-so-healthy meals. And I find that the best way to do that is to get them to help out with grocery shopping and meal prep. No matter what age your kids are, get them involved in the kitchen. Read this article I wrote on eHow with some of my tips.
Do your kids show up starving after they get home from school? I know mine do! Rather than letting them raid the pantry and grab an unhealthy snack teach them better choices. Grilled cheese sandwiches are one our go-to afterschool snacks. In this video my children and I make a delicious grilled cheese sandwich made with whole wheat bread, a rich and tangy avocado spread, mozzarella cheese, slices of tomatoes, and fresh basil leaves. What's not to love?
Have you heard? An avocado a day will keep the doctor away.
Please keep in touch and subscribe to Muy Bueno and follow me on Twitter, Facebook, Instagram, Pinterest and subscribe to Muy Bueno on YouTube.
Disclosure: A special thanks to Avocados from Mexico for sponsoring this video.