Tres Leches Pumpkin Flan
This post may include affiliate links. As an Amazon Associate I earn from qualifying purchases.
I have had a lot of fun cooking dishes with fresh pumpkin this season. I steamed my children's leftover jack-o'-lanterns and have made quite the array of pumpkin recipes like Pumpkin Empanadas, Spicy Acorn Squash and Apple Soup, and easy mini-pumpkin pies which I plan to post soon.
This recipe was a complete experiment. I had pumpkin puree leftover and wanted to experiment making a pumpkin flan but then remembered one Thanksgiving my mother ordering a tres leches pumpkin flan that was unbelievable. Every thanksgiving I always wished I had that recipe. Well enough was enough and I figured I'd make my own. To be honest I had never even made a flan before and always left the flan making to my sister. But being that I had some pumpkin puree leftover I figured why not. It's only a few ingredients and what's the worst that can happen.
With any flan the trick is to cook it in a water bath to ensure gentle heat so it won't break or curdle. When I made this recipe I was nervous about the texture. Then the next tricky part was flipping it over on a serving platter. Jeanine (our photographer) left the room because she was so afraid to see it break apart. Finally after a second attempt at running a knife around the edges to loosen it, it finally slipped out and it looked beautiful. But just know I was still leery and afraid to taste it.
It was not the common velvety texture you find in most flans. Jeanine and my friend Michelle were my guinea pigs and after hearing the delight in their moans and groans I finally took a bite. WOW! The texture that I was so afraid of ended up being what I loved the most – the consistency of the real pumpkin. The colors were beautiful and the taste was thankfully amazing.
If you don't have fresh pumpkin puree in your freezer or fridge I'm guessing the flavors would be just as fantastic using an organic pumpkin puree. And did I mention how simple this recipe is? If you want to add this to your Thanksgiving menu you will have to make it the day before because it needs time to chill.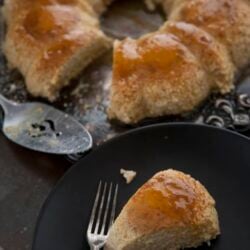 Tres Leches Pumpkin Flan
 A fantastic alternative to pumpkin pie with all our favorite fall flavors! And did I mention how simple this recipe is? If you want to add this to your Thanksgiving menu you will have to make it the day before because it needs time to chill.
Instructions
Preheat oven to 325 degrees F. Spray a bundt pan with cooking spray.

Cook sugar in a saucepan over medium heat, stirring often, 5 to 7 minutes or until melted and medium-brown in color. Drizzle the sugar mixture into the bundt pan and then swizzle the sugar around so as to coat the bottom.

Beat cream cheese at medium speed with an electric mixer in a large bowl for 1 minute.

Reduce speed to low, and add eggs and egg yolks, and beat until well blended.

Add all three milks slowly, beating at low speed for 1 minute.

Add pumpkin puree and spices and continue to mix for 1 to 2 minutes. Mixture may be slightly lumpy. Pour mixture over the sugar into the bundt pan.

Place cake pan in a roasting pan and add hot water halfway up sides of cake pan.

Bake for 1 hour 20 minutes or until edges are set (the center will not be set).

Remove from oven; remove cake pan from water, and place on a wire rack and let cool completely for at least 1 hour.

Then transfer to the refrigerator and chill for 4 hours or overnight.

Run a knife around edges to loosen, and invert onto a serving platter.
Notes
Note: The flan will continue to set as it cools and will set completely when it is chilled.
Calories: 335.48kcal, Carbohydrates: 48.39g, Protein: 10.74g, Fat: 11.5g, Saturated Fat: 6.44g, Cholesterol: 124.12mg, Sodium: 149.06mg, Potassium: 445.51mg, Fiber: 0.73g, Sugar: 47.06g, Vitamin A: 4010.95IU, Vitamin C: 3.09mg, Calcium: 325.71mg, Iron: 0.81mg
Photography by Jeanine Thurston