Winter Pomelo Ginger Margarita
This post may include affiliate links. As an Amazon Associate I earn from qualifying purchases.
This year, the Academy Awards fall on the same day as National Margarita Day. How lucky are we? I've been trying to fight a cold, and I wasn't going to let that stop me from enjoying a virtual cocktail with some blogging friends (see below). My goal was to come up with something that was good for me and that's how I came up with this recipe. I've been dosing up on vitamin C and it occurred to me that I needed to make a citrus margarita.
Pomelos are a winter citrus and very high in vitamin C and an ancient alternative that has been used to calm coughs. Sounds like the perfect fruit, right? I love when they are in season because their flavor is mild, sweet, and not as sour as most grapefruit. Combined with other fresh citrus juices like lemon and limes it's very refreshing.
Ginger has so many natural remedies and has long been used as a natural treatment for colds and the flu. Ginger combined with citrus juice is just what the doctor ordered. Sweetened with honey this drinks ads up to a powerful immune system booster.
I'm not a doctor or anything, but after a couple of glasses I felt a whole lot better.
I read this article a few days ago, 15 Reasons Why Tequila Is Actually Really F*cking Good For You and reason #6 said tequila may be used to help treat colds. Back in the 1930s doctors in Mexico used to promote tequila to fight off the common cold with a little bit of lime juice. Sounds legit to me.
All of these magical potions combined together and topped with fizzy lemon-lime soda is not only good for you but it's really tasty and reminded me of a Paloma. The flavor is sophisticated, smooth, and just lightly spicy from the ginger, sweet from the pomelo, and tart from the lemon and lime.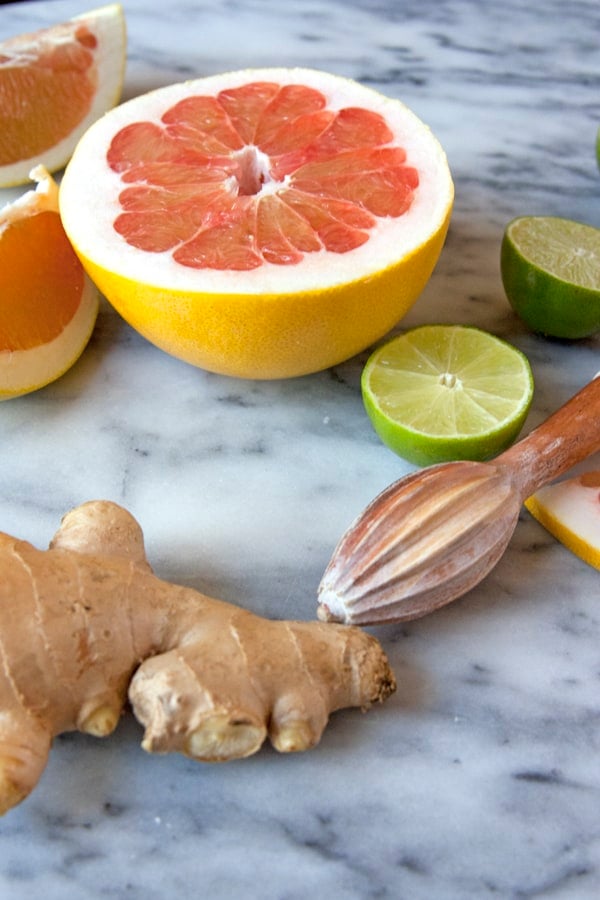 I'm looking forward to making this drink again. Here's to you, hoping you have a healthy season and enjoy this winter pomelo ginger margarita.
For more margarita inspiration be sure to check out all the links below with more delicious cocktails and margarita-inspired food that will have you wanting to celebrate, Salud!
Winter Pomelo Ginger Margarita
The flavor of this citrus-forward margarita is sophisticated, smooth, and just lightly spicy from the ginger, sweet from the pomelo, and tart from the lemon and lime.

Ingredients
Juice of 1 to 2 pomelos
Juice of 1 lemon
Juice of 1 lime
2 ounces tequila anejo
1 tablespoon honey
1- inch piece fresh ginger, peeled and minced
1 12-ounce can lemon-lime soda
grapefruit wedge, for garnish
Instructions
Combine grapefruit juice, lemon juice, lime juice, tequila, honey, and ginger. Divide between two glasses and top off with lemon-lime soda.

Garnish with grapefruit wedge.
Notes
Feel free to use grapefruit instead of pomelo if you cannot find pomelo where you live. 
Calories: 220kcal, Carbohydrates: 41g, Protein: 1g, Fat: 1g, Saturated Fat: 1g, Sodium: 20mg, Potassium: 273mg, Fiber: 2g, Sugar: 27g, Vitamin C: 80mg, Calcium: 6mg, Iron: 1mg
Margaritas:
Margarita-inspired food:
Please keep in touch and subscribe to Muy Bueno and follow me on Twitter, Facebook, Instagram, Pinterest and subscribe to Muy Bueno on YouTube.