Homemade Salsa with Green Chiles and Tomatoes + Video
This post may include affiliate links. As an Amazon Associate I earn from qualifying purchases.
My grandma Jesusita's salsa casera (homemade salsa) is a staple at our house. There is a 100% probability you'll find some on my table, in my refrigerator, or in my freezer at any given time because it is the BEST salsa recipe around! This recipe is made with roasted green chile and easy canned whole tomatoes to save on prep time and clean up.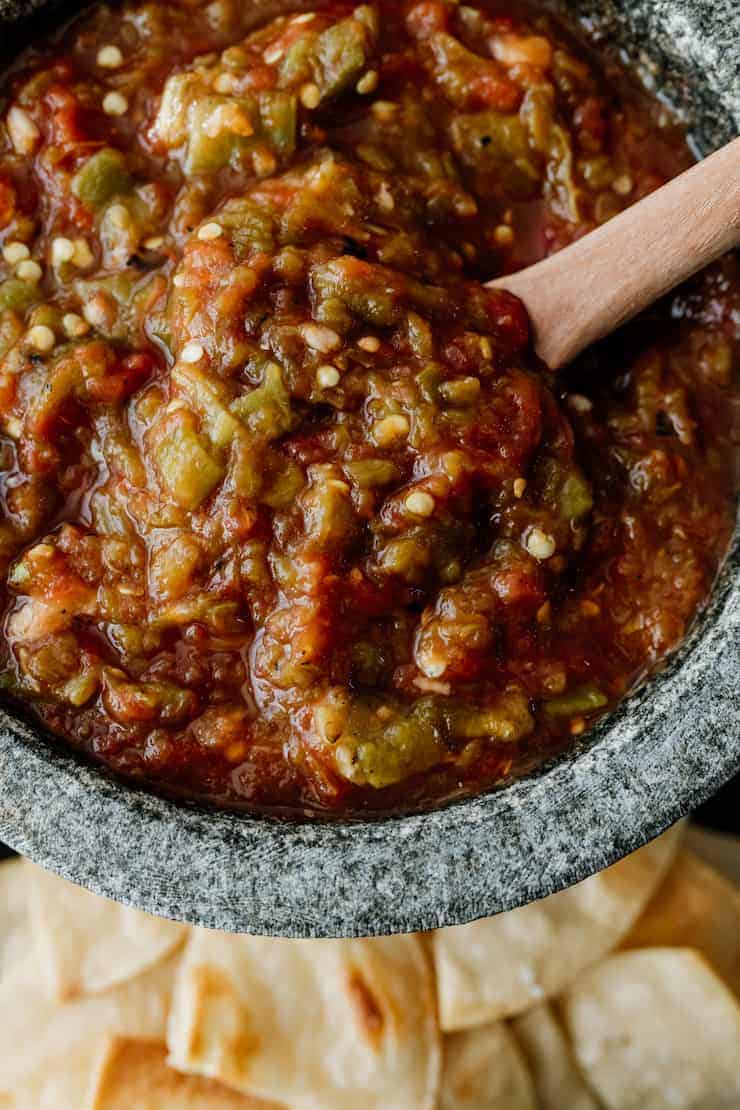 This canned tomato salsa recipe is the stuff of meal prep dreams — it takes just three minutes! It tastes delicious on everything from breakfast to dinner. Do yourself a favor and make this homemade salsa recipe today. I can basically guarantee you'll skip the jar and get creative with easy, homemade salsa.
This is the salsa I grew up eating and I can't live without it. I add this salsa to my avocado toast every morning and top my dinner with it too. I'm like my mother and have to eat chile with every meal. Yes, even if it's not a Mexican meal! I need spice—I crave it. If you own a copy of our cookbook this salsa casera might look familiar to you.
Why use canned tomatoes?
While I'm all for cooking things from scratch, as a busy working mom, I'll take kitchen shortcuts wherever I can find them. Using canned tomatoes to make this salsa recipe reduces the amount of time I spend in the kitchen and cuts down on my cleanup. I call that a win-win!
My mom was the first one to simplify grandma's salsa recipe by using Hunt's whole tomatoes. While she happens to like Hunt's brand for the flavor and consistency, you can opt for whatever canned tomatoes you prefer. If you love smoky flavors, I recommend opting for a fire roasted version of canned tomatoes to give the salsa a little extra pep.
If you opt to use store bought, canned tomatoes, be sure that you don't drain them. All those beautiful tomato juices are not only delicious and packed with vitamins, they're also essential to creating the perfect consistency.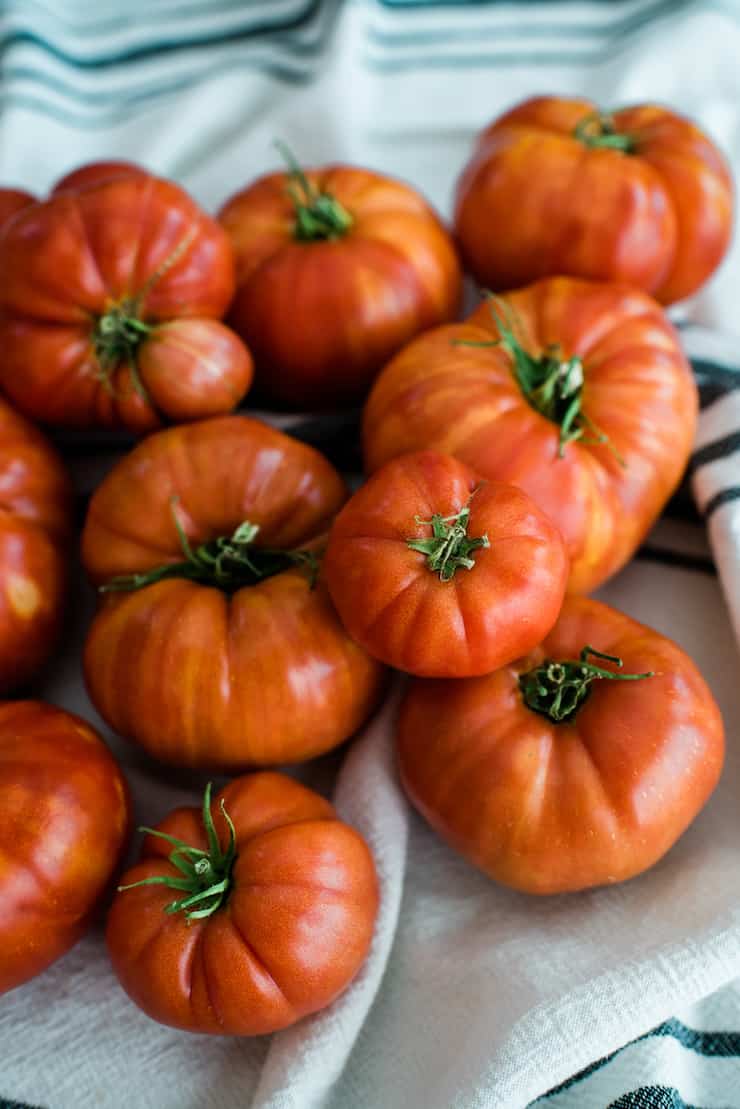 If you want to go old-school (and bless you if you do!), you can absolutely opt to make your own canned tomatoes. My grandma had a garden and would home grow tomatoes and can them herself, too!
And just like with store bought versions, you can opt to fire roast your tomatoes prior to canning them. You can also roast your canned tomatoes in the oven after you've opened the can. Just place them on a parchment lined sheet tray and roast at 450F for about 20 minutes until they're beginning to char!
Regardless of whether you use store bought or homegrown canned tomatoes, be sure you make a big batch of this delicious homemade salsa. I always make sure to make plenty to stock in my freezer because we go through it so quickly.
How to make the best homemade salsa
First up, assemble your ingredients. You are going to need 6 to 7 long green chiles that have been roasted as well as 1 to 2 jalapeños that have been roasted. If you love spicy foods the way I do, I recommend you prep roasted peppers in big batches to keep in the freezer for easy meals. Check out this post to see how it's done.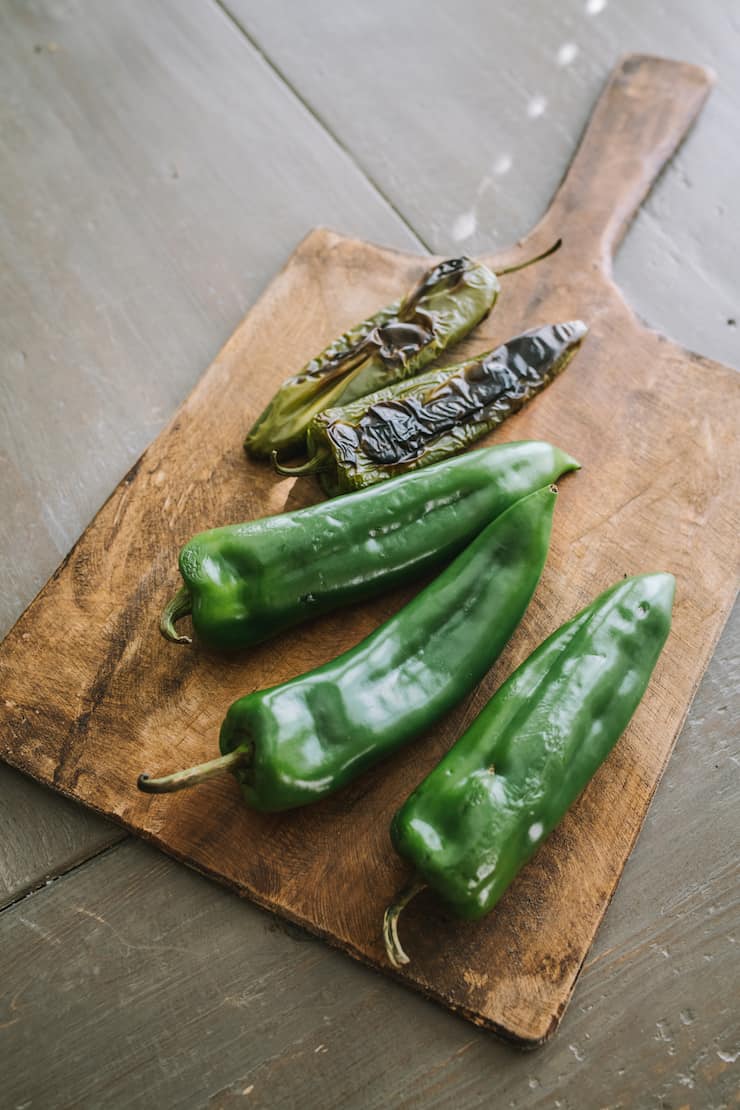 If you already have canned tomatoes and roasted peppers on hand, this salsa recipe is beyond simple. All you have to do is add all the ingredients to the bowl of a food processor equipped with the blade attachment or a blender and pulse until the perfect level of chunky.
While you can opt to purée the salsa in the processor, I'm a firm believer that chunky salsa is superior. For this reason, I prefer to use the pulse function. If you'd like more of a visual representation, you can watch this video to learn how to make my favorite salsa recipe.
How to store salsa
This yummy homemade salsa goes super quickly in our house. Like I said before, I like to put it on everything from breakfast to dinner! That said, it'll easily keep in the refrigerator for up to a week if you have more self restraint than I do.
You can also just as easily double or triple this recipe to make some backups to store in the freezer! Just keep everything labeled and dated in glass mason jars or freezer-safe plastic containers.
Frequently asked questions
What kind of chiles should I use?
Every year we stock our garage freezer with bushels of fire roasted long green chile from Pueblo. It's a tradition now since I've been living in Colorado. In El Paso we always bought Hatch green chile. I honestly can't tell the difference, but I'm not a green chile connoisseur. Both are amazing and of course depending on the season one may be spicier than the other.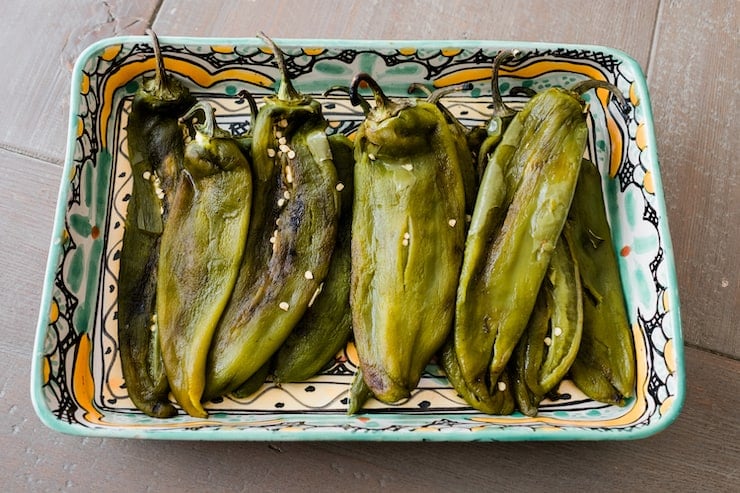 Should I seed chiles?
If you're someone who prefers more of a mild or medium salsa, I recommend that you seed some or all of the chiles before adding them to the salsa. Nearly all of the heat producing compound (capsaicin) lives in the white membranes and seeds of the peppers.
Check out this post on Mexican chiles to see just how hot the variety is to see if you need to seed them first.
Can I make a big batch for gifting?
While I personally just keep containers of this salsa in my freezer (I'm lucky to have an extra freezer in the garage), I recognize that not everyone has the space to give up. I also love the idea of shipping homemade delicious food gifts to friends, and this salsa is such a winner that you should share it with everyone!
If you want a great, detailed explanation of the canning process, you can check out this very informative blog post.
What should I serve with this salsa?
I don't know about you, but I love to put fire roasted green chile salsa on just about everything. It's great over tamales with an egg on top for breakfast, on quesadillas, in tacos, or dolloped on chicken soup, or served with a bowl of tortilla chips.
And, if you weren't aware, salsa isn't just awesome as a topping or a dip. There are actually recipes that call for salsa as an ingredient! One of my favorites recipes using this homemade salsa is my Chile Verde con Carne y Papas.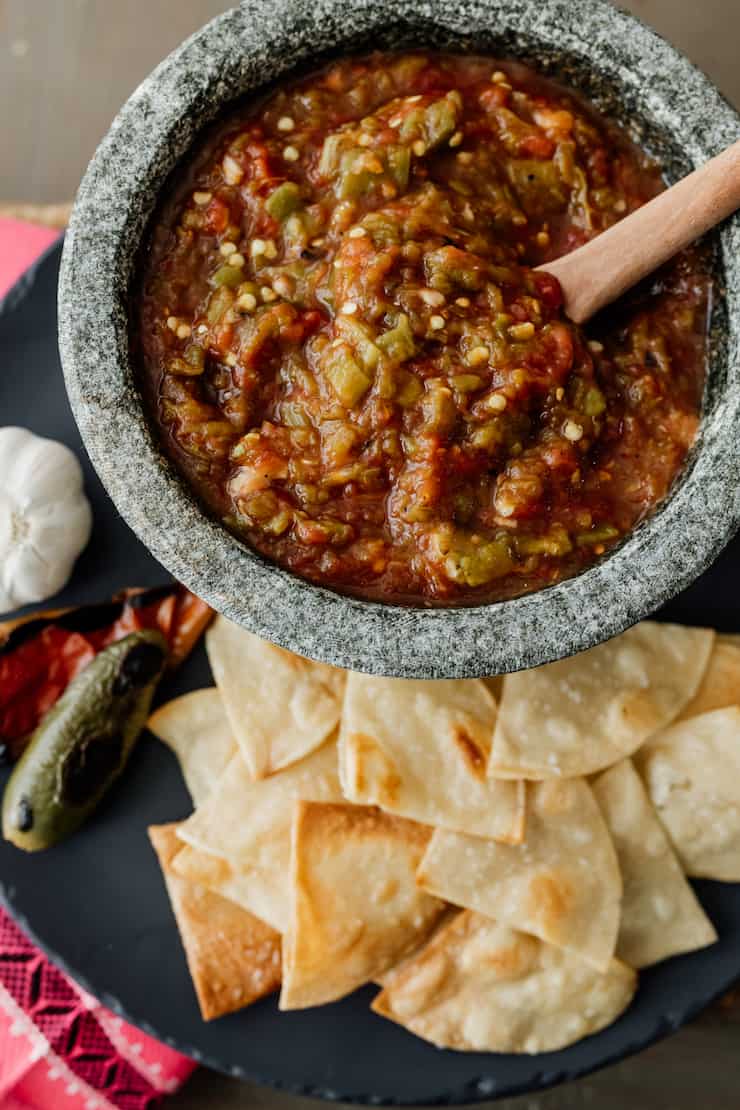 Need more salsa inspiration?
Check out these other delicious homemade salsa recipes:
If you made my grandma's best salsa casera (homemade) recipe, please be sure to comment below so I know how it turned out for you. I have a feeling you're going to be addicted.
Are you looking for more delicious Mexican food inspiration in your inbox? Sign up for my email newsletter to get all my newest recipes. You can also follow me on Instagram, Pinterest or Facebook to see what I've been cooking up!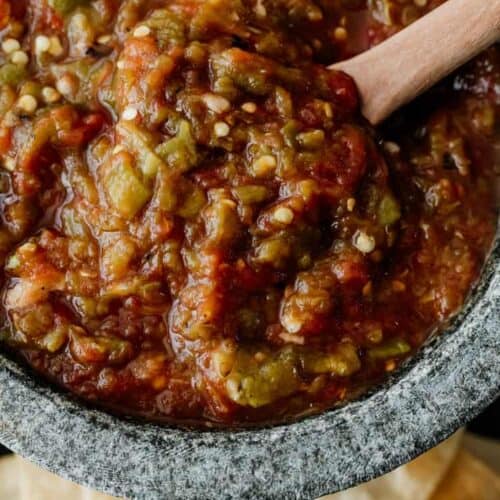 Homemade Salsa with Green Chiles and Tomatoes
This salsa casera also called salsa tatemada (charred) is a perfect appetizer with a basket of your favorite tortilla chips or as the base for several of our recipes.
Ingredients
6 to 7 green chile peppers, Anaheim or Hatch, roasted and peeled
1 jalapeño peppers, roasted (optional), or 2
½ teaspoon salt
3 cloves garlic, finely diced
1 14.5-ounce can Hunt's® Whole Tomatoes
¼ cup Hunt's® Tomato Sauce, (optional)
Instructions
In a food processor or blender, pulse the roasted and peeled chiles, jalapeño peppers (optional), salt, garlic, canned tomatoes, and tomato sauce for a few seconds.

You do not want to puree it—chunky is best with this flavorful salsa.
Notes
Learn how to roast chile peppers.
Refrigerate when not using. Will keep for one week.
Make sure to make plenty to stock in your freezer.
Serving: 1cup, Calories: 58kcal, Carbohydrates: 14g, Protein: 2g, Fat: 1g, Saturated Fat: 1g, Sodium: 991mg, Potassium: 337mg, Fiber: 5g, Sugar: 7g, Vitamin A: 299IU, Vitamin C: 31mg, Calcium: 48mg, Iron: 2mg
Photography by Jenna Sparks
Originally published: February 2013. This recipe is also published in the Muy Bueno cookbook.