Friendsgiving Tamalada
This post may include affiliate links. As an Amazon Associate I earn from qualifying purchases.
I have had many people ask me why I'm so inspired to donate to No Kid Hungry. It all comes down to growing up hearing these words from my mother, "We might not have a lot of money, but I promise there will always be food on the table." My mom sometimes worked two to three jobs to support my brother, sister, and I — we never had to worry about going hungry.
Eventually, when I was a teenager my mom owned the family grocery store, Soza's Grocery and while in high school I worked there after school. I would constantly see children buy junk food and soda with food stamps (now called SNAP), and I always wondered if they ever ate nutritious food.
These cookies with the No Kid Hungry logo were made by Holly (abakershouse.com).
Now, as a mother I wish I could make sure all children have access to healthy food and teach them where their food comes from. Did you know that 13 million kids in the U.S. struggle with hunger?
As you know, I love to host a tamalada every year, but this year I decided to change it up and hosted a Friendsgiving Tamalada for No Kid Hungry.
I can't think of a better way to get in the holiday spirit than getting a group of family and friends together around tamales to support a great cause.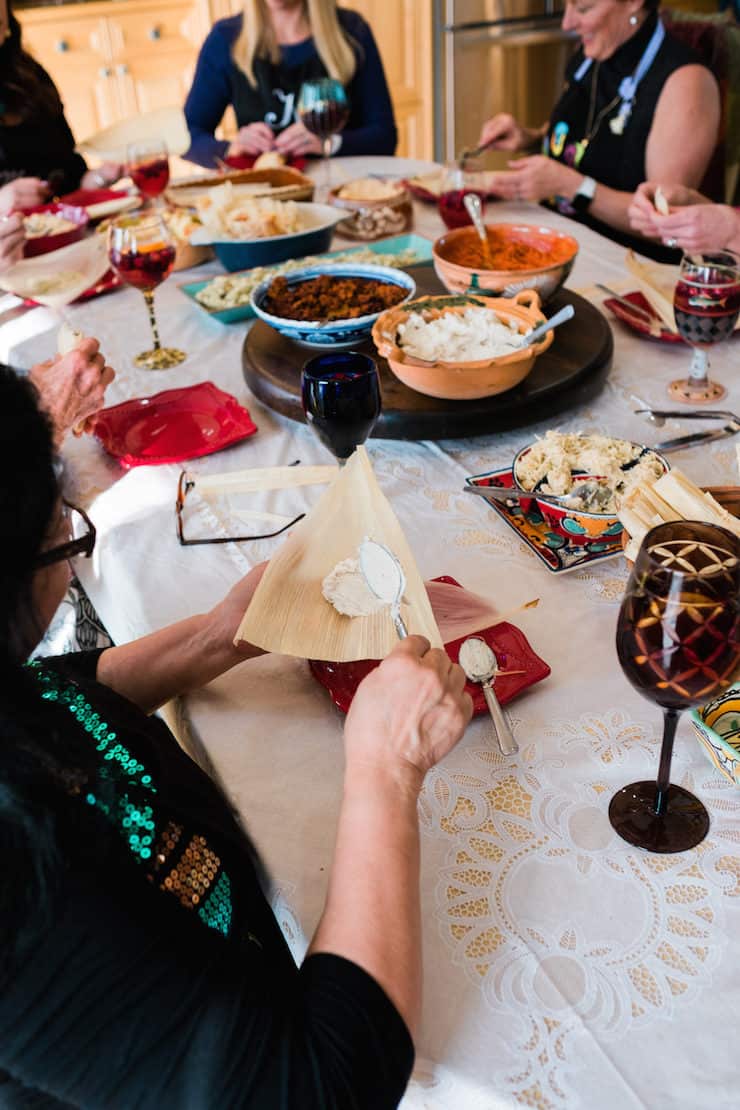 Did you know that 1 in 6 kids in America struggles with hunger? It's shocking to see how many children struggle with hunger everyday, especially in the U.S.
Did you see the Facebook live video?
My mom was in town and helped me out so much. I couldn't have done it all without her.
I also couldn't have done it without my friend Karen who hosted the tamalada in her beautiful home. You might recognize her gorgeous kitchen from the Bake it Forward video for No Kid Hungry.
All my guests who attended made donations to my online fundraiser or placed cash on our money tree. We set up a decorative white tree decorated with photos of children. As my guests donated, they hung a tamal ornament on the tree and at the end of the fiesta took home their ornament as a party favor.
We provided the masa and made lots of red chile and pork tamales, and guests brought homemade fillings or a dish to share.
My crafting partner, Kirsten (Thrifty Rehab) assisted behind the scenes making giveaway prizes like cookie mix in jars and homemade milk bath jars.
Every year I host an apron contest, and this year we also raffled prizes, and gave party favors to every guest. The children had fun picking out random winners.
Here are the lovely top five apron contest finalists.
I'd like to thank sponsors for donating to the event: Farberware, Exotico Tequila, Melissa's Produce, and Knorr.
We made Mexican hot chocolate for the kids and poinsettia punch for the adults.
I feel truly blessed to share this special day with special friends and family.
I'd like to thank my videographer, Chris (Pure Cinematography) who filmed the facebook live video and Jenna (Jenna Sparks Photography) who donated her time and captured all of these photos.
Most importantly, I'd like to thank everyone who donated to my fundraiser. I am honored to have a platform to educate and inspire others to support worthy causes and I hope this inspires you to host a friendsgiving party of your own.
Sign up to host your very own Friendsgiving: friendsgiving.nokidhungry.org