Emmy Award Winner
This post may include affiliate links. As an Amazon Associate I earn from qualifying purchases.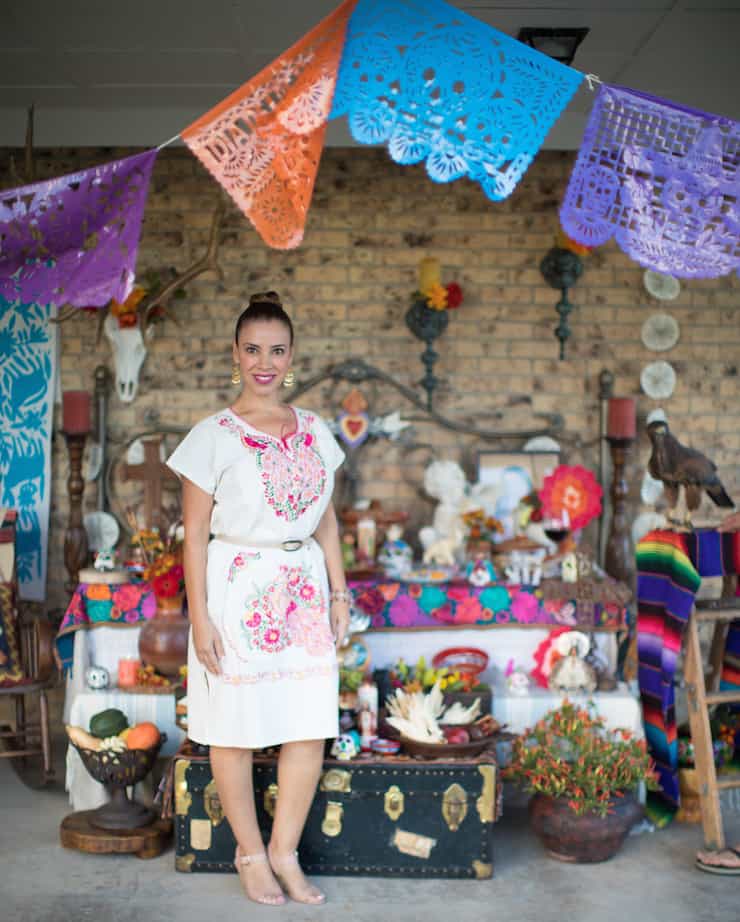 Shut the front door! Did you hear the news? I am happy to announce that this weekend I was awarded an Emmy for the "Day of the Dead Celebration" video I produced and wrote in the category: Short Format Program – Informational.
I heard the exciting news from my videographer Chris who also won an Emmy as the editor and director for the same film. I was unable to attend the gala because I was traveling with my daughter for her softball tournament, but was thrilled that Chris was there to accept our awards. I can't wait to get my hands on it.
I started this blog to honor my grandma Jesusita, and Dia de los Muertos is a holiday where I go all out and celebrate her life.
As the years have passed I have welcomed others who also want to honor their departed love ones in a video. It is truly healing to take the time to gather photos of them, cook their favorite foods, and just talk about them out loud with others.
I know that my grandma watches over me and I know that she is very proud of the recipes, stories, and culture I share.
I never would have imagined in a million years that I would be cooking or writing for a living — let alone win an Emmy. Life is a mystery, but I believe if you go after something with all your heart magic happens.
Watch the Emmy award winning video here.

I couldn't have done it without the help of everyone on the team.
Especially Chris, with Pure Cinematography who is beyond creative and is able to turn my crazy ideas into magical films.
To El Haru Kuroi who allowed us to use their Dia de los Muertos song in the film. The song truly makes the film! If you want a copy of the song you can download it here.
A special big hug to my friend Karen who opened her heart and home to film on her gorgeous property. I took over her home for days and she welcomed my vision with open arms. She helped me decorate, assisted with wardrobe, styled the girl's hair, and so much more.
To my PIC (partner in crafting) Kirsten who tirelessly shopped for props and supplies, made sugar skulls, cut and fluff paper flowers, among other DIY projects. I am thrilled to have her on the Muy Bueno team.
To my son Blake, the star of the film, who worked so hard memorizing his lines, and even adlibbed adding his own. He can't wait to display the Emmy in his bedroom.
To my daughter Maya who is always excited to celebrate the holiday and helps me come up with new ideas. And to the other beautiful children involved – Danica, Zeta, and Alicia.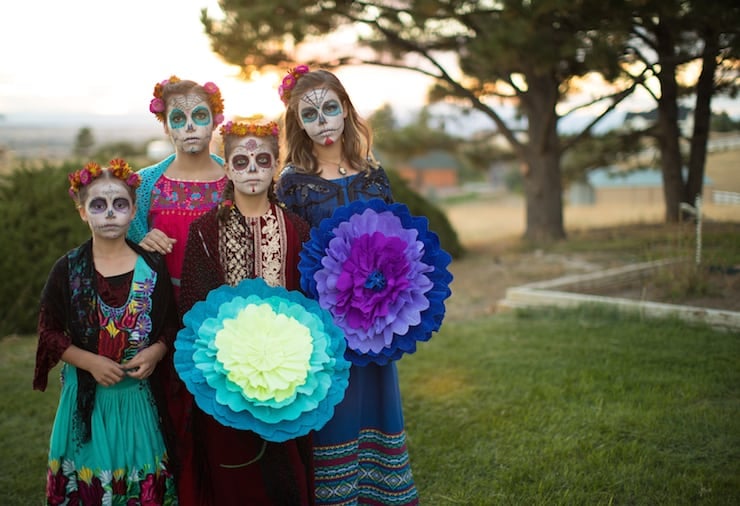 Rylan the falconer who brought over his cool hawk. I have always said that my grandma visits me in the form of a hawk and having a hawk in the film really gives this film chills.
To Jill and Christina the makeup artists who patiently and creatively painted all the children.
To Abby Watkins who was on set and snapped all these gorgeous photos.
As always and most important, my deepest gratitude for the blessing of your support. Gracias!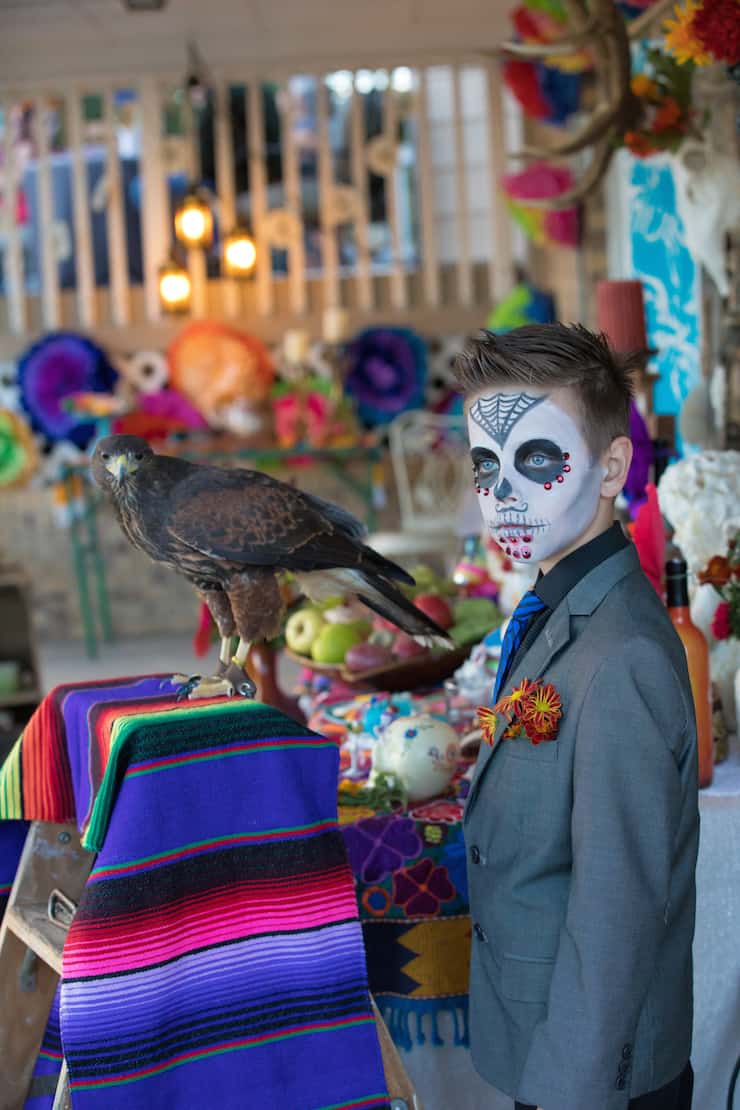 Video: Pure Cinematography / Children: Blake, Maya, Danica, Zeta, Alycia / Song: El Haru Kuroi / MUA: Jill Scott & Christina Acosta-Montoya / Hair Design: Karen & Brenda / Costume Design: Yvette & Karen / Set Design & Decor: Thrifty Rehab, Yvette, Karen / Falconer: Rylan Stone / Production Assistants Bill & George