Bake it Forward with Biscochos + Video
This post may include affiliate links. As an Amazon Associate I earn from qualifying purchases.
Have you ever felt a calling to do something special? Something for others? Something for the community? I have been dealing with these types of inner feelings for months and I finally wanted to do something about it. But what? What can I do to make a difference in someone else's life?
Then Toyota reached out to me and inspired me. They wanted me to test out their new 4Runner and included a gift card to Starbucks and the message on the card said: Season of Giving. Its as-if I was getting a sign. Then, that evening I was watching the Food Network and saw a Bake it Forward commercial. And that's when it hit me – I want to bake it forward.
The steps are simple: bake something delicious, share your creation on social media using the hashtag #BakeItForward, and for every share, Food Network will donate $1 to No Kid Hungry, providing 10 meals to children in need.
Isn't that amazing? I then reached out to Chris, my videographer, and my blogging friends, Erin and Toni asking if they wanted to collaborate and make a video out of it. You might recognize the gals from the Breckenridge Bloggers Retreat. We started brainstorming and decided to combine our homemade gifts and give them to firefighters, who selflessly give all the time.
My mom makes biscochos every Christmas – It doesn't feel like Christmas without them. When I was a little girl I used to help my mom package them for family and friends and this year I was so honored to share these special cookies with firefighters and thank them for their service. And not only that — my simple gesture will also help end childhood hunger this holiday season! We hope this video inspires you to spread holiday cheer and have fun doing it. Make an extra batch of treats for friends, coworkers, charities, or just someone who could use a lift.
Join us today and let's all Bake it Forward, sweetly.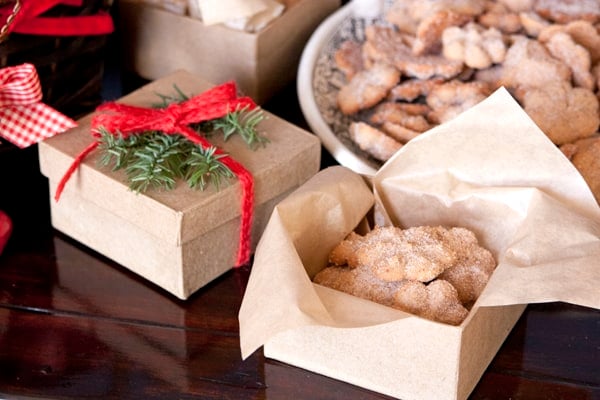 Biscochos (Mexican Wedding Cookies)
My mom makes biscochos every Christmas – It doesn't feel like Christmas without them. Mexican Wedding Cookies are one of the most dreamy holiday cookies out there! Beautifully round, buttery, soft anise-scented cookies that are rolled in cinnamon sugar.
Instructions
Preheat oven to 350 degrees F.

Sift flour with baking powder, salt, cinnamon, and ginger.

In a separate bowl, cream the lard or shortening until smooth. Add egg, sugar, vanilla, and your liquid of choice. Pour wet ingredients into flour mixture.

Add anise seeds at this time and knead cookie dough together. If mixture is too sticky add some more flour.

Roll on floured surface 1/4-inch thick and cut out biscochos using a small-floured cookie cutter; or you can put the dough into a cookie press using your favorite design. When using a cookie cutter, you will have to re-knead and roll out the dough several times until you have used all of the dough.

Place the biscochos on an ungreased cookie sheet and bake for about 8 to 10 minutes on the bottom rack until brown.

While biscochos are baking, in a large mixing bowl, combine the sugar and cinnamon for the coating. Set aside.

After baking, place the warm biscochos in the cinnamon-sugar and coat.
Notes
These cookies can be stored in freezer bags in the refrigerator or freezer.
Calories: 27kcal, Carbohydrates: 3g, Protein: 1g, Fat: 2g, Saturated Fat: 1g, Cholesterol: 1mg, Sodium: 8mg, Potassium: 7mg, Fiber: 1g, Sugar: 1g, Vitamin A: 1IU, Vitamin C: 1mg, Calcium: 2mg, Iron: 1mg
Special thanks to Erin and Toni who trusted me on this project and everyone who assisted to make this day possible.
Video: Pure Cinematography / MUA: Vanessa Blanco / Art Direction and Decor: Barbara Shepherd, Karen, and Nadine / Calligraphy Artist: Rebecca Caridad / Production Assistants: Karen and Erlinda / Transportation: Toyota / Littleton Fire Fighters
 Recipes: Biscochos (Mexican Wedding Cookies) / White Chocolate Fudge / Frosted Sugar Cookies / Chocolate-Peppermint Dipped Meringues