Biscochos + Video
This post may include affiliate links. As an Amazon Associate I earn from qualifying purchases.
Biscochos melt in your mouth – they are popular Christmas cookies in El Paso and New Mexico. Biscochos (or biscochitos) are delicate, anise flavored, dusted in cinnamon sugar, and totally addicting.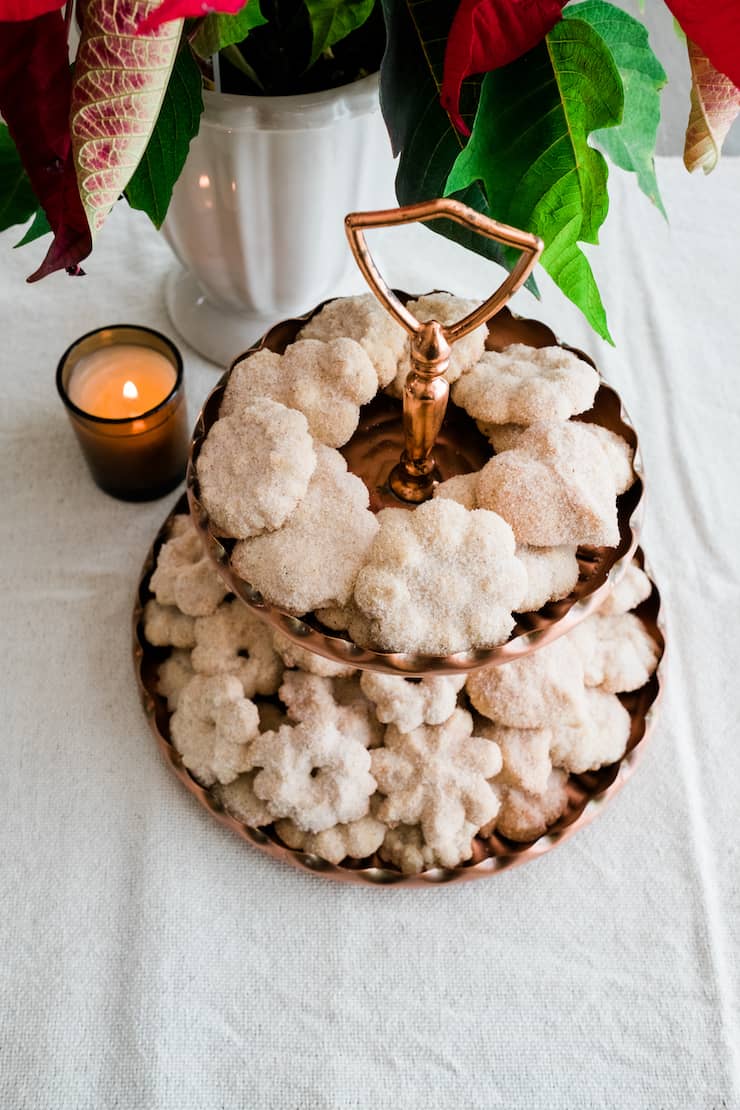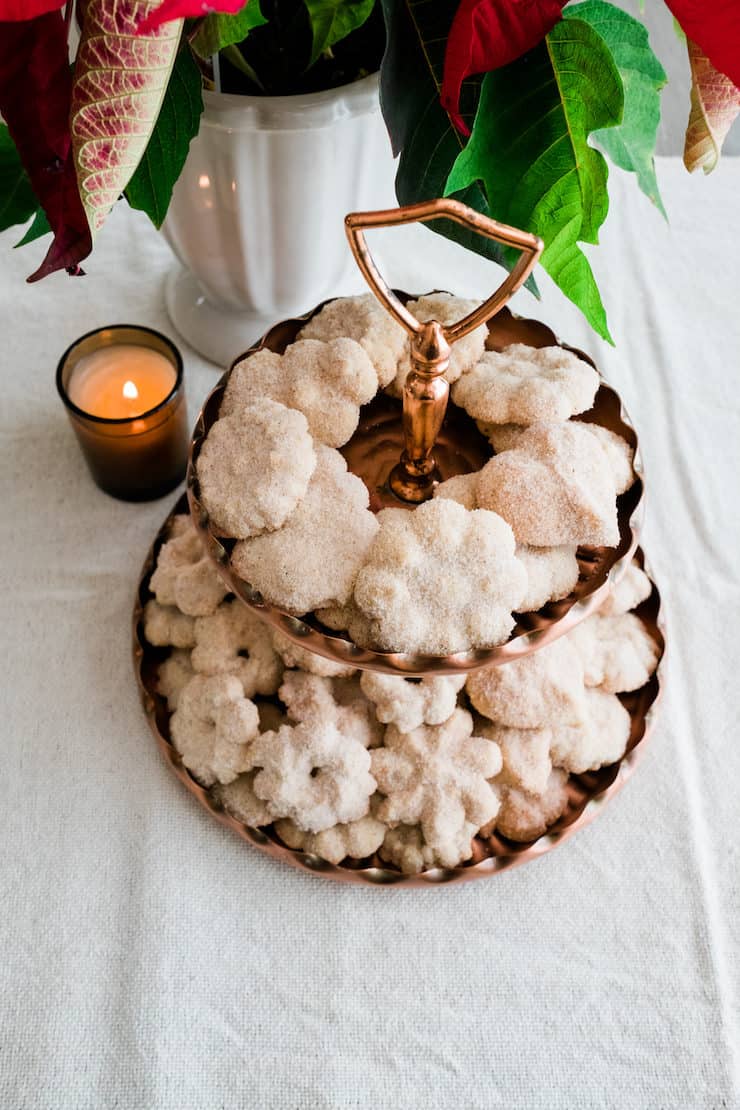 This is one of our family's traditional Christmas cookies. My mom has been making these since she was 15 years old. Every year at Christmas, my grandma would ask my mom to make some because she loved the aroma of cinnamon during the holidays.
These fragile cookies melt in your mouth and contain the exotic addition of anise with a hint of cinnamon.
My mom also made these delicious cookies for many memorable occasions since then. They are a Mexican tradition for weddings, quinceñeras, and Navidad.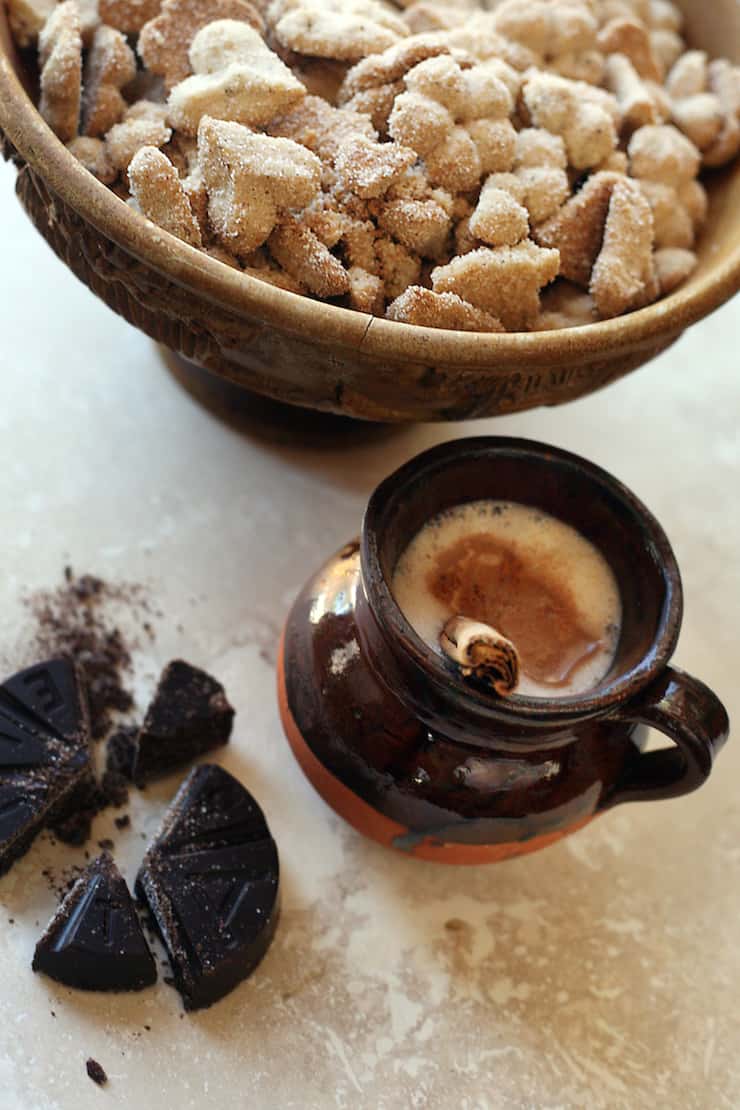 She used to make these cookies with me, my brother, and sister when we were little. She would roll out the dough and then we'd carefully cut the dough into diamond shapes using a paring knife.
Today she uses a cookie press which makes for a lighter cookie. Either way they are delicioso and just as beautiful to display as they are scrumptious.
She still makes them at Christmas for gift giving. It is a very popular cookie at Christmas time with Mexican Hot Chocolate or Champurrado.
The New Mexican state cookie
Did you know in 1989, the state of New Mexico adopted the biscochito (or bizcochito) as its official state cookie?
Lard
Lard is what really gives these anise-flavored Mexican sugar cookies their flaky texture, but you can use vegetable shortening in a pinch.
How to Grind Cinnamon Sticks
I highly recommend using freshly ground cinnamon for this recipe.
Place cinnamon sticks into a coffee grinder. If the sticks are too long, break them into smaller pieces by hand so the lid of the grinder can close. Start the grinder and run until the cinnamon has been completely pulverized.
What type of wine?
I recommend a semi-sweet white wine such as a Riesling, but orange juice can be substituted.
Cookie cutters
If you'll be using cookie cutters, roll out dough in batches about 1/8- to 1/4-inch thick and cut with cookie cutters.
Cookie press
If you'll be using a cookie press, add dough to press and shape cookies on prepared baking sheet.
How to store Biscochos?
These cookies can be stored in an airtight container and refrigerated for two weeks or frozen for up to three months.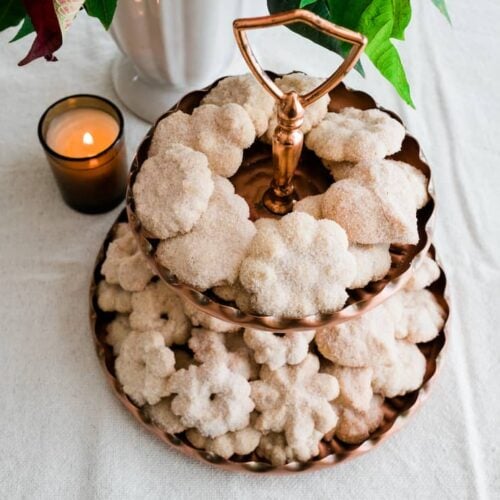 Biscochos
These cookies are just as beautiful to display as they are delicious to eat. Enjoy!
Ingredients
6 cups all-purpose flour
2 teaspoons baking powder
1 teaspoon salt
2 tablespoons ground cinnamon, freshly ground when possible
¼ teaspoon ginger
1 pound lard or shortening
1 egg
1 ½ cup granulated sugar
½ cup white wine, orange juice or water
1 tablespoon vanilla
2 tablespoons anise seed
Sugar and Cinnamon Coating:
Instructions
Preheat oven to 350°F.

Sift flour with the next four (4) dry ingredients.

Cream the lard or shortening until smooth. Add sugar, egg, vanilla, and liquid. Pour wet ingredients into flour mixture. Add anise seeds at this time and knead together. If mixture is too sticky add some flour.

Roll out the dough onto a floured board or counter and cut out biscochos using a small-floured cookie cutter or you can put the dough into a cookie press using your favorite design. You will have to re-knead and roll out the dough several times until you have used all of the dough. Place the biscochos onto an ungreased cookie sheet and bake for about 8-10 minutes.

While biscochos are baking, mix the sugar and cinnamon "coating" ingredients in a wide bowl. Set aside for coating baked biscochos. After baking, coat biscochos with the sugar and cinnamon mixture.
Serving: 1cookie, Calories: 30kcal, Carbohydrates: 4g, Protein: 1g, Fat: 2g, Saturated Fat: 1g, Cholesterol: 1mg, Sodium: 8mg, Potassium: 7mg, Fiber: 1g, Sugar: 2g, Vitamin A: 1IU, Vitamin C: 1mg, Calcium: 2mg, Iron: 1mg
Originally published: December 2010. This recipe is also published in the Muy Bueno cookbook.