Cowboy Cookies Recipe + Video
This post may include affiliate links. As an Amazon Associate I earn from qualifying purchases.
These Cowboy Cookies are packed with chocolate chips, pecans, coconut, oats, and cinnamon. They are crispy on the outside and chewy on the inside, meaning there's a little something for everyone. Make a big batch today to share with all of your loved ones near and far.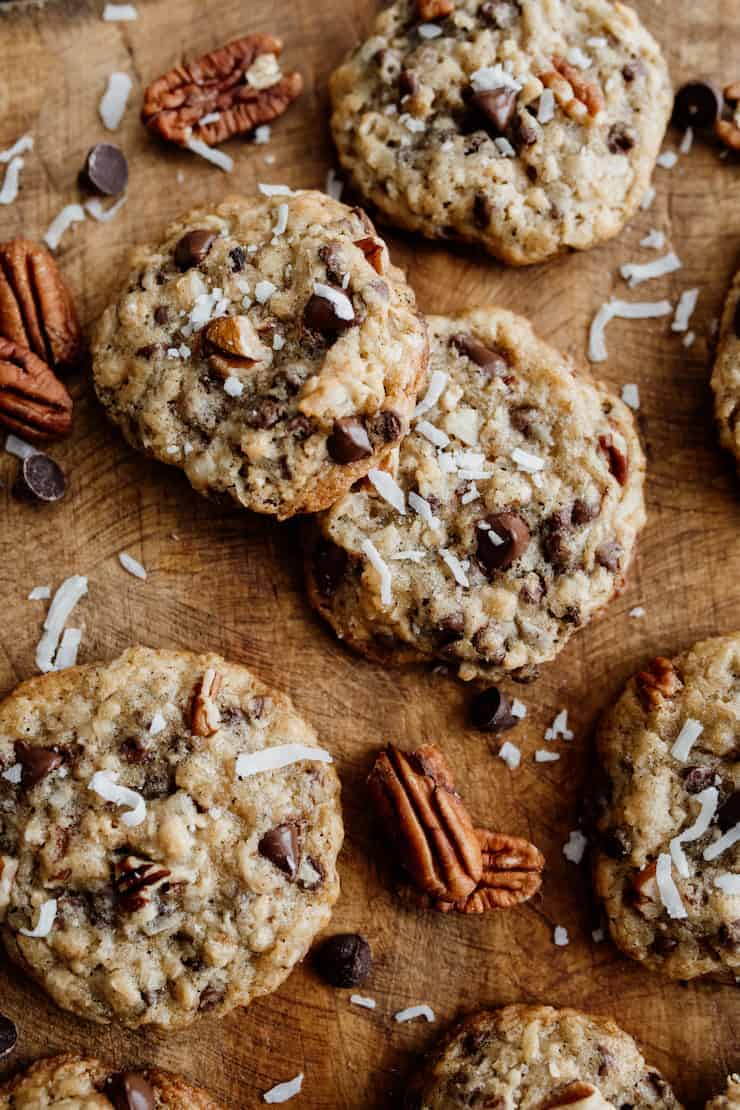 Cowboy cookies are the ultimate cookie! They are a little bit country, and a little bit rock 'n roll. LOL! I couldn't help it. But seriously, they are thick, chewy, and beyond amazing, and one of the few cookies out there that everyone is sure to love.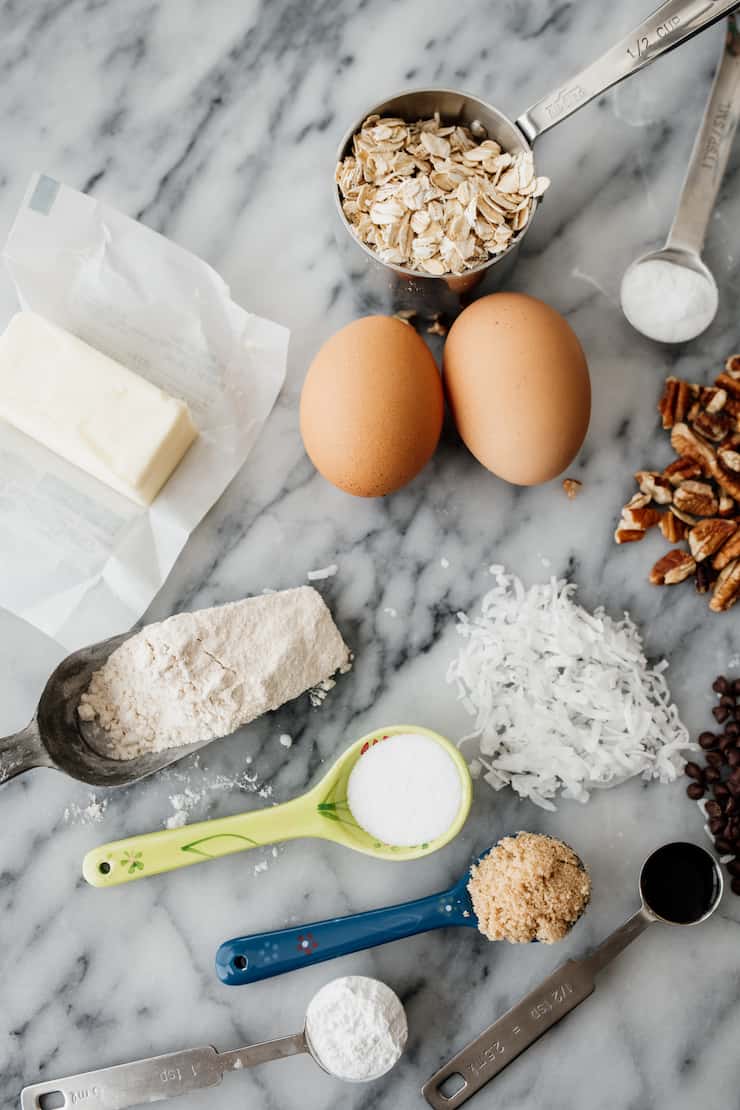 What Are Cowboy Cookies?
As with many recipes and oral histories, the origin story of cowboy cookies is one with many explanations. Some people believe that the name comes from how hearty they are due to the addition of many different items like chocolate chips, coconut, nuts, and oats. Clearly they're built for hardworking cowboys, right?

Other folks believe that the cookies got their name because they were supposedly created in Texas, where there are cowboys aplenty! Yet others think that the size of the cookies are the reason they got their name. I'm personally of the opinion that you can make any cookie large or small depending on your preferences, though, so this story seems the least likely.
While I'm not certain about the origin of the name "cowboy cookies," one thing is certain: they are super delicious.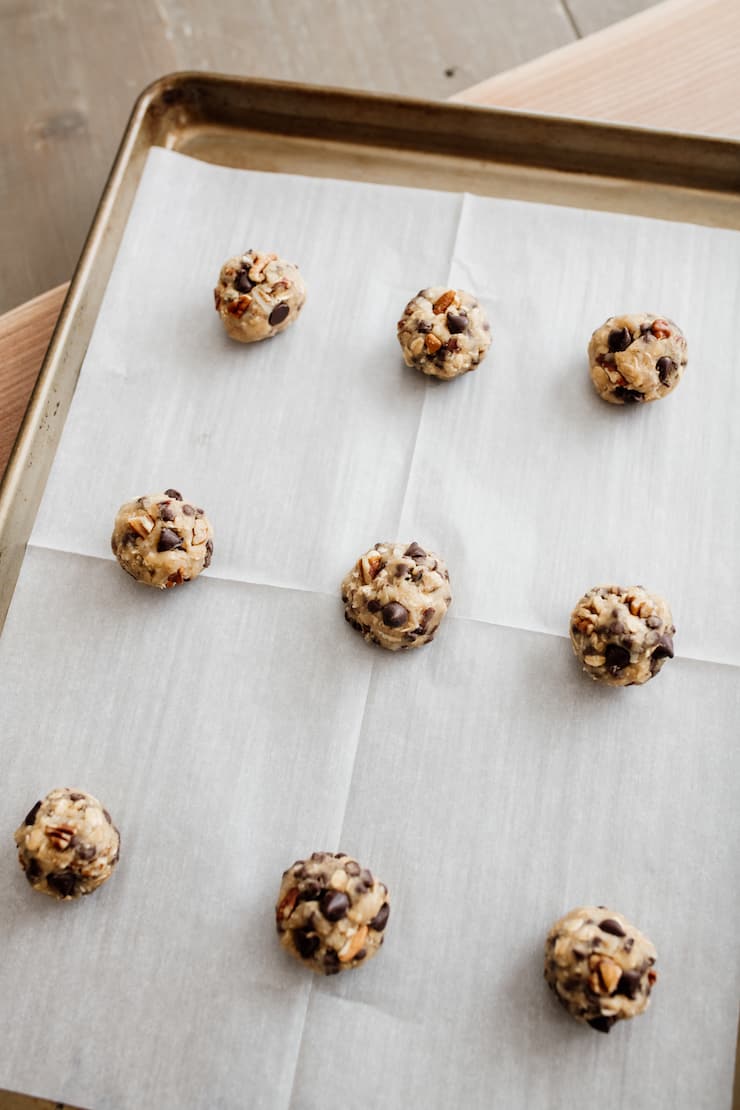 What Makes these Cowboy Cookies Special?
My mom makes cowboy cookies every Christmas because they really are everyone's cookie. Whether you like soft or crispy cookies, chocolate chip or oatmeal cookies, cowboy cookies have it all. This year, I made a few edits to her cowboy cookie recipe, and I'm sure she'd approve of the tweaks.
First off, you know I couldn't help but give cowboy cookies a Mexican twist. The addition of ground cinnamon makes these "ranchero" style! (Ranchero is a Spanish word for "rancher" or "cowboy.")
I also added a bit more coconut flakes and a few less oats, which results in a softer, chewier cookie with some seriously amped up flavors.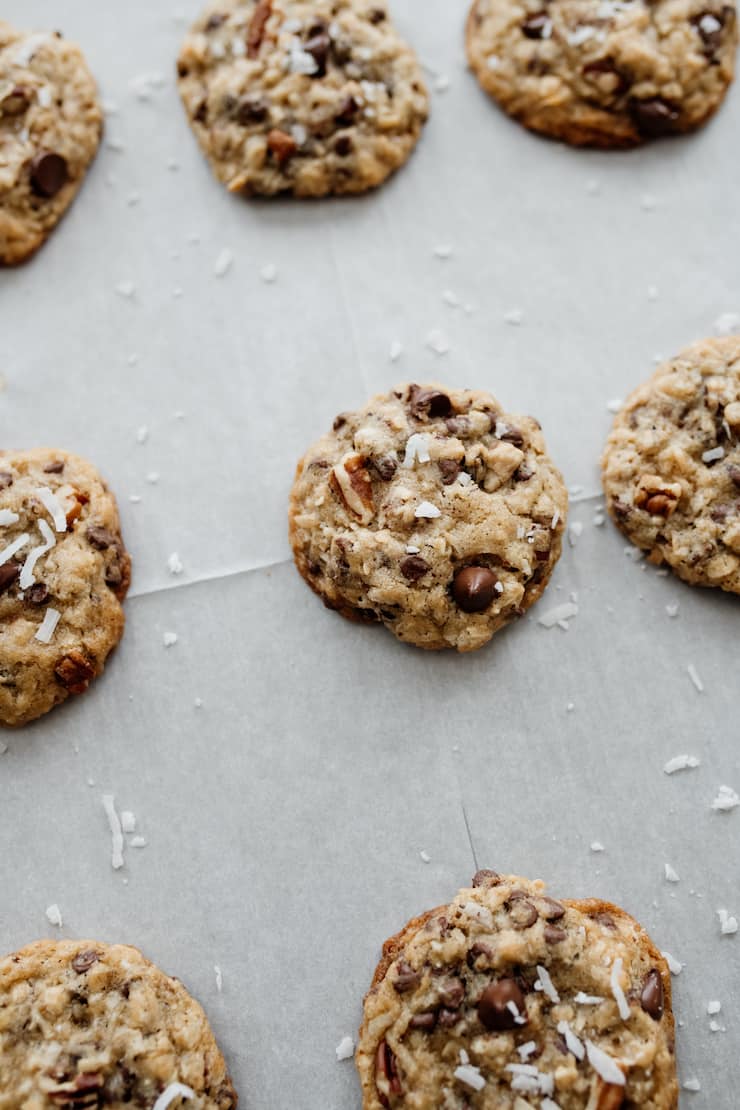 Butter makes everything better
Finally, I opt to make my cookies with Land O Lakes® Unsalted Butter for the most consistent and delicious result every time. I love Land O Lakes® Butter for several reasons. First, I love that as a company they support female run, family-owned farms. Did you know that 30% of farming is done by women? As a female business owner, I love supporting companies that support other women.
I also absolutely adore the Flavor Protect® Wrapper. Have you ever noticed your butter taking on the flavors of other things in your fridge? Raw onions, garlic, and marinating meats can all impart their flavor on fats like butter. The Flavor Protect® Wrapper ensures that my cookies always taste like cookies, not like the other things kicking around in my refrigerator.
How to Make Cowboy Cookies
To make this delicious cookie recipe, you'll first need to cream your Land O Lakes® Butter with sugar. This creaming step is very important in developing the right consistency for your cookies, as the sugar creates air pockets in the butter as it whips. This results in a much softer and chewier crumb, so don't rush it!
TIP: You'll know you have done a good job creaming your butter and sugar together when the mix looks several shades lighter than the butter you started with and is about double the volume. Be sure to scrape down the sides and the bottom of the bowl at least once before moving on to the next step.
Next, add your eggs and vanilla, beating to fully incorporate.
In a separate bowl, whisk together your flour, leavening, salt, and cinnamon. Working in small batches, slowly add the flour mix to the butter, scraping down the sides often. When the flour mix is just fully incorporated, turn off your mixer.
TIP: Ever wonder why your cookies come out tough? It's likely that you are overmixing them. Gluten proteins form while you are "working" the dough. That's why things like bread require long periods of kneading – they need time to form their gluten structure! For cakes and cookies, though, that gluten formation can result in a dry and tough end product, so it's important to only just incorporate the flour into your dough.
Finally, use a wooden spoon or sturdy silicone spatula to fold in the oats, chocolate chips, coconut, pecans, and any other additions you care to incorporate. This is where the workout comes in. Check out my video – your arm might be a bit sore, so you can eat an extra cookie for your hard work.
Drop the dough in rounded tablespoonfuls onto a greased or parchment-lined sheet pan with at least two inches between cookies. For truly cowboy-sized cookies, double the size of your scoops and be sure to give even more space between cookies! Bake at 350°F until beautifully golden brown with just a bit of give in the center.
Enjoy warm from the oven with a big ol' glass of milk for a snack fit for the hungriest ranchero!
Frequently Asked Questions
Can I make these cookies ahead of time?
While I love how these cookies taste warm and soft from the oven, they are certainly hearty enough to make ahead of time. They will become wonderfully crunchy over time, making them great for dipping in your coffee or tea.
I've also found that resting the cookie dough in the refrigerator overnight makes for puffier and softer cookies. Dough will refrigerate for up to three days. You can also freeze individual balls of dough, then store them in a freezer bag for up to three months. What's better than warm cookies on demand?
Finally, fully baked cookies also freeze well and will last up to a month in the freezer.
Do cowboy cookies ship well?
These cookies are universally pleasing; they're also excellent candidates for shipping. For some tips on how to best ship cookies for the holidays, check out this wonderfully informative post from Land O'Lakes.
What else can I add to the dough for even heartier cookies?
If you like peanut butter, my ranchero-style cowboy cookies also taste great with the addition of chopped peanut butter cups. You can also lean further into the salty-sweet paradox by adding chopped pretzel pieces to the mix.
Looking to make more Mexican Christmas cookies? Try these:
If you tried this recipe, please rate and review it below so I know how you liked it! If you'd like more authentic Mexican recipes delivered straight to your inbox, be sure to sign up for my email newsletter. You can also follow me on Pinterest, Instagram, or Facebook for yummy recipe inspiration in your feed.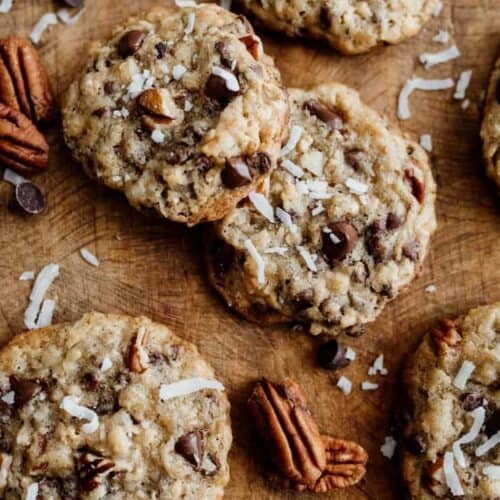 Cowboy Cookies
These Cowboy Cookies are packed with chocolate chips, pecans, coconut, oats, and cinnamon. They are crispy on the outside and chewy on the inside, meaning there's a little something for everyone. Make a big batch today to share with all of your loved ones near and far.
Instructions
In a large bowl, whisk the flour, baking soda, baking powder, cinnamon, and salt and set aside.

In a large bowl, cream butter and sugars until light and fluffy. 

Add eggs and vanilla; beat well. 

Slowly add dry ingredients to creamed mixture and beat.

With a spoon, fold in the oats, chocolate morsels, coconut, and pecans. 

Drop by rounded tablespoonfuls onto greased baking sheets. Bake at 350°F about 12 minutes or until browned. Remove to wire racks to cool.
Notes
For hearty cowboy appetites, double the size of these cookies. Just make sure to increase the oven time, baking these until they're golden brown.
Take care not to overbake, though: You want them to be crunchy on the outside and a bit chewy on the inside.
Mini or regular-sized chocolate chips work, or a combo of the two.
Calories: 143kcal, Carbohydrates: 16g, Protein: 2g, Fat: 8g, Saturated Fat: 4g, Cholesterol: 18mg, Sodium: 89mg, Potassium: 76mg, Fiber: 1g, Sugar: 9g, Vitamin A: 132IU, Calcium: 16mg, Iron: 1mg
Photography by Jenna Sparks
This post is in partnership with Land O Lakes. As always, thank you for reading and for supporting companies I partner with, which allows me to create more unique content and recipes for you. All opinions are always my own.