Bourbon Mint Julep Strawberry Shortcake with Mascarpone Topping + Video
This post may include affiliate links. As an Amazon Associate I earn from qualifying purchases.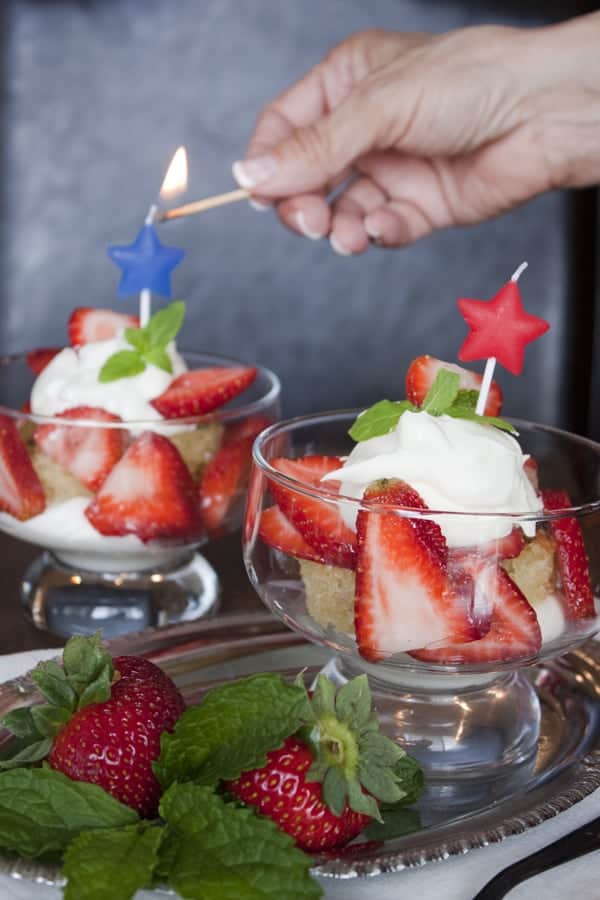 Happy Flag Day! Today is my 41st birthday and I'm feeling so blessed. I woke up this morning thanking God for another year of life and for all of his blessings. My mom is in town and we plan to celebrate our Gemini birthdays together this weekend combined with an early Father's Day fiesta.
I love having my mom visit; I wish she didn't live so far. When she visits we are usually busy in the kitchen recipe testing, shooting photos and/or video, but we are still having fun together. And our kiddos love their abuela and her great cooking too.
This morning when I woke up reflecting on my 41 years of life I regretted complaining and wishing for more success or material things. It's a constant battle and I need to continue to remind myself to be thankful for all the wonderful blessings in my life.
Thank God I'm healthy, I have beautiful and healthy children, I have a super supportive hubby who supports my traveling adventures and late nights on the computer, my kiddos love me to pieces and I adore them, and I have family and friends who are so proud of what I have accomplished with this blog. I need to remind myself of all of these beautiful blessings.
Blogging is hard work, but thankfully I love it and it's my passion. I'm thankful that this excitement has turned into a stunning printed cookbook that I wrote with my sister and mother and that our family will treasure it always, as well as opened many doors for us. And speaking of our cookbook – I'm excited to announce that our cookbook is now available on Kindle and is also available to pre-order as hardcover. Yeehaw!
I wanted to celebrate with you all by sharing this special dessert my mom and I made together to celebrate our birthdays, Father's Day, our blog, our cookbook, and to many more blessings the future has in store for us.
I'm normally a chocolate kinda girl but I do love a moist white cake like our spongy tres leches cake. When I was experimenting with this mint julep cake I wanted something moist but not wet.
Once this pound cake was baked we drizzled it with a boozy bourbon whiskey butter sauce, which contained chopped fresh mint and lemon zest. The end result was a moist, rich, decadent dessert with a light mint flavor to compliment the butter sauce infused in the cake. Check out this video and see how we have given this classic summertime dessert a muy bueno twist.
Written by Yvette / Photos by Yvette / Video by Pure Cinematography
Note: We are pleased to announce that we are blog ambassadors for the California Strawberry Commission. We were compensated for the development of this recipe. Stay tuned for more strawberry recipes this summer!
Bourbon Mint Julep Strawberry Shortcake with Mascarpone Topping
This pound cake is drizzled with a boozy bourbon whiskey butter sauce, with fresh mint and lemon zest. The end result is a moist, rich, decadent dessert with a light mint flavor to compliment the butter sauce infused in the cake.
Ingredients
Cake:
3 cups cake flour
1 1/2 cups white sugar
1 teaspoon salt
1 teaspoon baking powder
1/2 teaspoon baking soda
1 cup buttermilk
1 cup butter
2 teaspoons vanilla extract
4 eggs
Bourbon Butter Sauce:
1/2 cup powder sugar
1/3 cup butter
3 tablespoons water
1 tablespoon fresh mint, finely chopped
1 teaspoon lime or lemon zest
2 teaspoons bourbon whiskey
Mascarpone Topping:
8 ounces Mascarpone cheese
1 tablespoon sugar
3 tablespoons whipping cream
Filling:
32 ounces strawberries, sliced
4 tablespoons sugar
Instructions
Cake:
Preheat oven to 325 degrees F.

Grease and flour a 9 x 13-inch baking pan.

Whisk together flour, sugar, salt, baking powder, and baking soda in a large bowl. In a separate smaller bowl, combine buttermilk, butter, vanilla extract, eggs, and beat at low speed.

Add wet ingredients to flour mixture. Beat at low speed for 1 minute, then increase to medium speed until combined – don't over beat the batter. Pour into prepared pan and smooth evenly around pan. Bake for 35 to 40 minutes. Use a toothpick to test for doneness.
Bourbon Butter Sauce:
In a saucepan over medium heat, combine powder sugar, butter, and water. Stir until melted. Do not boil. Remove from heat, continuing to stir for 2 minutes. Then stir in bourbon.

When cake is done and still warm from the oven, use a skewer to poke holes around the top of the cake. Pour bourbon butter sauce evenly over top of the cake. Let cake cool to room temperature.
Topping:
Combine mascarpone cheese, sugar, and whipping cream. Beat until smooth.
Filling:
Combine strawberries and sugar and refrigerate.
Serve:
Slice cake in the pan or use 3 to 4-inch circles for round servings. In a serving dish add a dollop of mascarpone topping, place cake, top with strawberries and more mascarpone topping. Garnish with a fresh mint leaf.
Notes
If you cannot find mascarpone, use full-fat softened cream cheese instead. 
Calories: 589kcal, Carbohydrates: 65g, Protein: 8g, Fat: 33g, Saturated Fat: 20g, Cholesterol: 135mg, Sodium: 476mg, Potassium: 232mg, Fiber: 2g, Sugar: 40g, Vitamin A: 1089IU, Vitamin C: 45mg, Calcium: 98mg, Iron: 1mg