Conchas (Mexican Sweet Bread)
This post may include affiliate links. As an Amazon Associate I earn from qualifying purchases.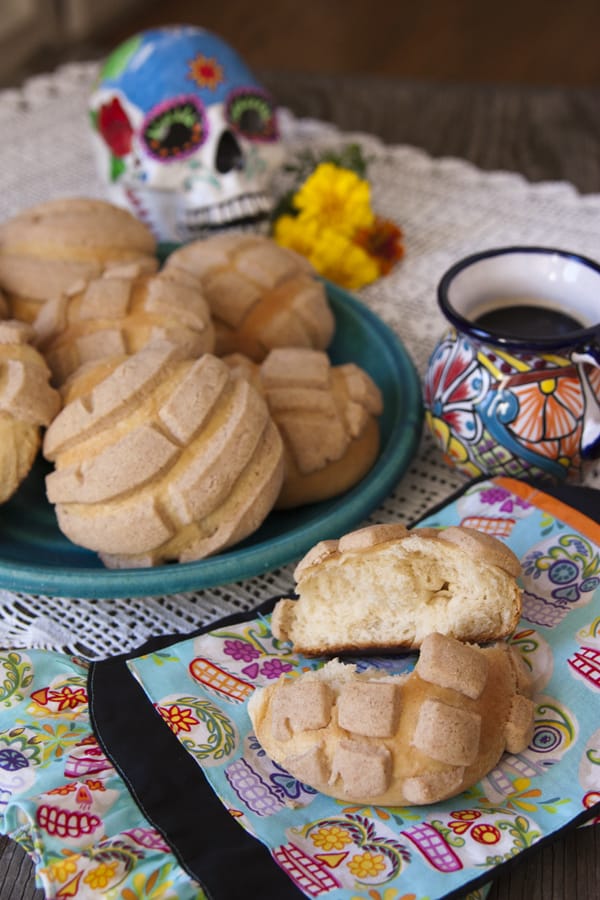 Every year I challenge myself to make a special dish that reminds me of my grandma or a traditional dish to celebrate Día de los Muertos (Day of the Dead). Last year I shared a recipe for marranitos (little pigs), because they were my grandmas favorite sweet bread, and the year before that I made pan de muerto (bread of the dead), which is traditional bread seen at Día de Los Muertos celebrations.
This year I wanted to make conchas or pan dulce (sweet bread). Luckily for me my mom was visiting and she wanted to make them too. The pastry contains a sugar shell pattern on the top. Conchas (shells) also called pan de huevo and are one of the most famous Mexican pastries.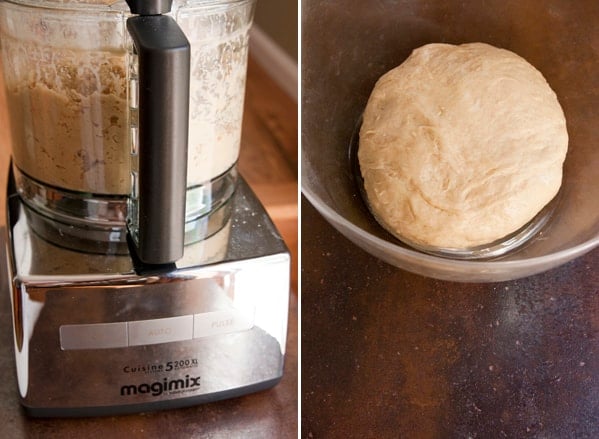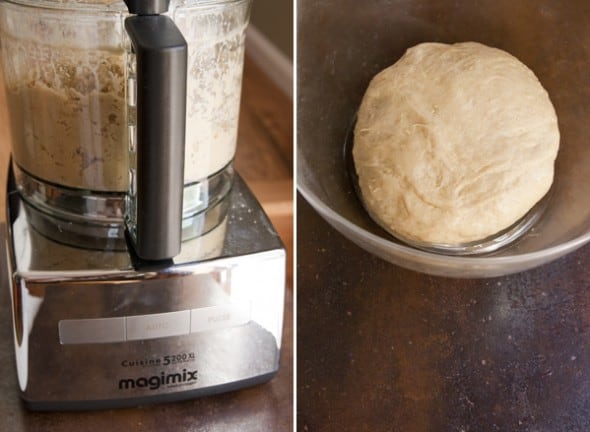 Being from El Paso we are very lucky to have panaderias (Mexican bakeries) nearby when we crave this sweet bread. The best time to buy sweet bread from a panaderia is first thing in the morning when they are freshly made and warm.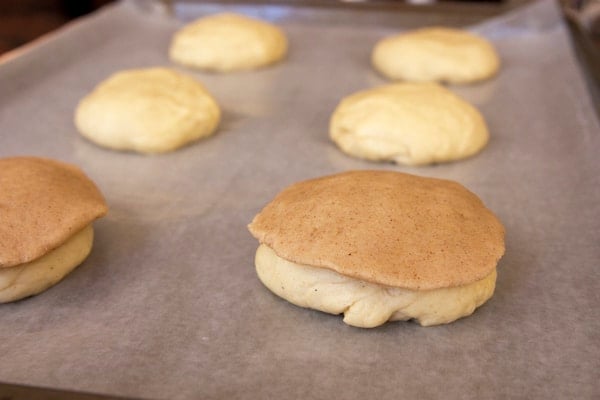 Now that I live in Colorado, panaderias are not conveniently nearby, so I figured this was the perfect opportunity to try and make this sweet bread at home. My mom brought over her 1970's Better Homes and Gardens Mexican cookbook with the pan dulce recipe dog-eared and I had a Better Homes and Gardens Mexican edition magazine with the conchas recipe dog-eared. We figured this was a sign and we needed to make them. The recipes were very different, and we decided to try out the newest magazine recipe.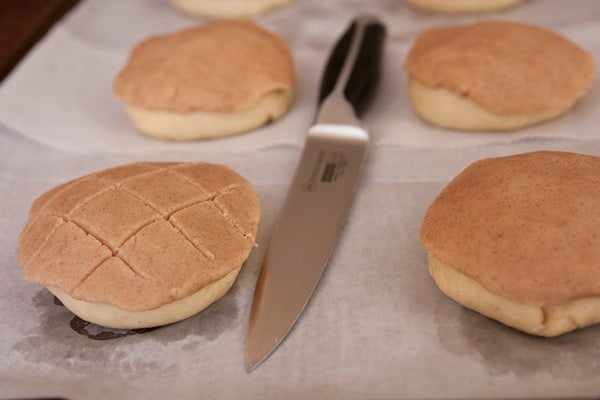 The process of making this sweet bread is not difficult to make, but it is time consuming. You need to be patient and allow the dough to rise. Once they are baking the smell transported me to my childhood.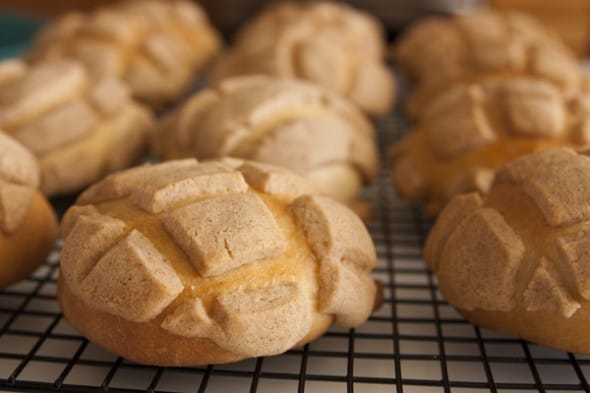 The warm sweet bread out of the oven is well worth the wait. Accompany this Mexican sweet bread with a hot cup of coffee or champurrado and the first warm bite will melt in your mouth.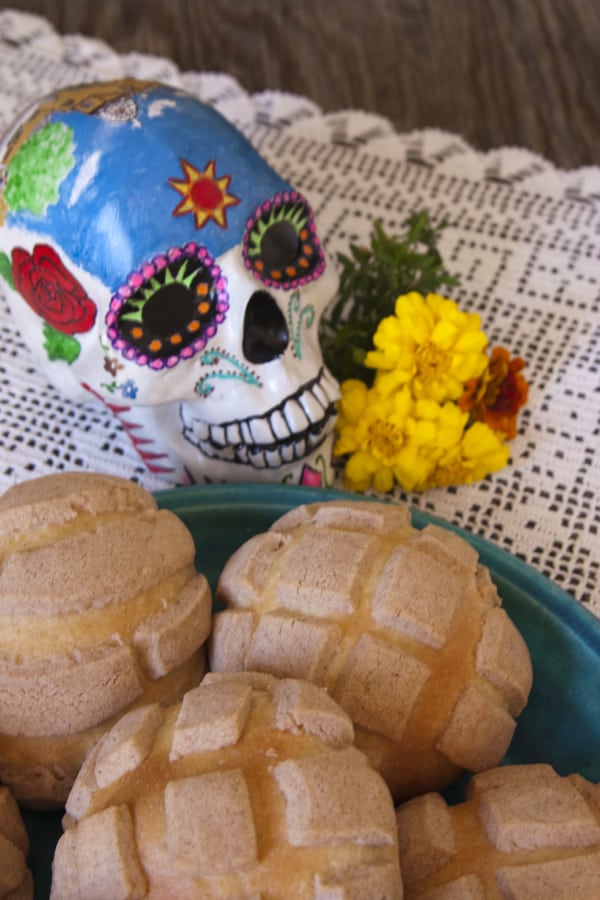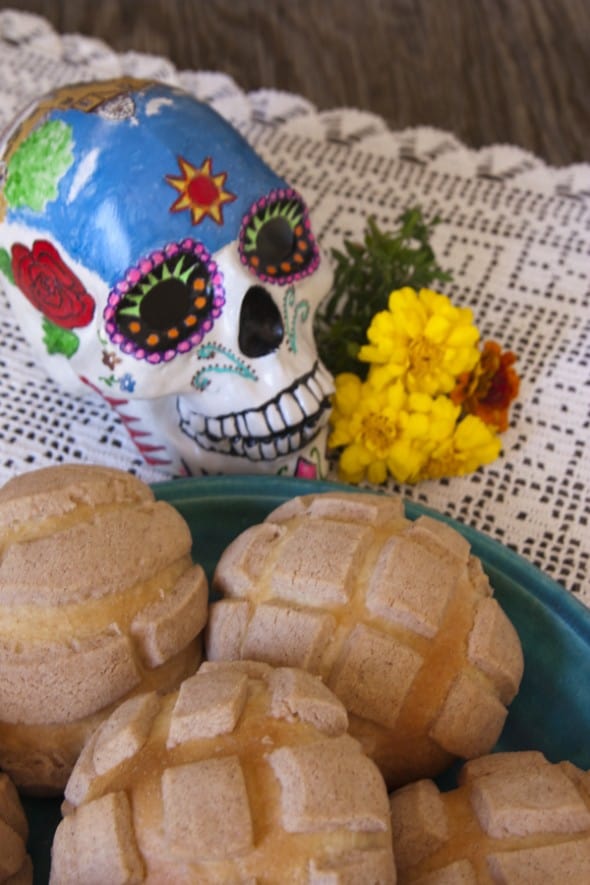 Conchas have a sweet hardened crust, and the inside is thick, soft, and fluffy. With such amazing flavors it is no wonder it is one of Mexico's most favorite sweet breads.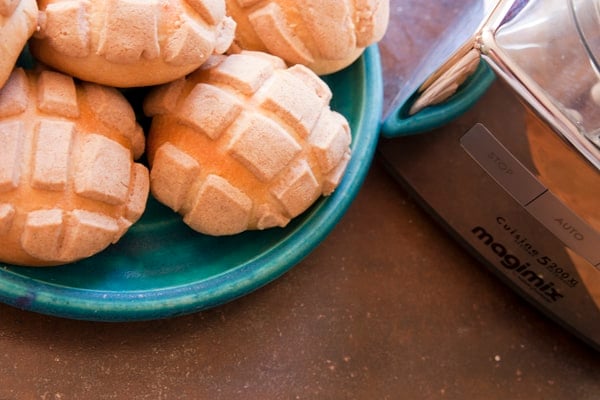 Making the dough for these conchas might have been challenging if made by hand, but we cheated a bit and made it using this dreamy and powerful Magimix food processor. I have made dough in a food processor before and this processor did the job perfectly. The motor is sturdy, powerful, and very quiet.
Rather than me telling you all about this amazing appliance check out this video and see everything you can do with this baby! It kneads dough, it slices, it dices, it chops, it shreds, and it purees and blends in seconds. And cleanup is so simple with all attachments being dishwasher safe. It is no wonder why this processor is the top choice for chefs, cooking schools, and foodies.
What you will need:
Disclosure: Magimix provided the winner with this giveaway. Magimix sent me this food processor to review and keep. I was not compensated for this post. All opinions shared about this product are my own.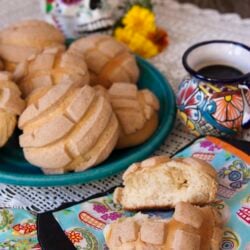 Conchas / Pan Dulce / Pan de Huevo
Conchas (shells) are a Mexican pastry that is famous for its shape of a shell. The pastry contains a sugar shell pattern on the top. This is one of the most famous Mexican pastries recognized in the United States. It is also referred to as "pan de huevo".
Instructions
In a large bowl stir together yeast and the warm water. Let stand for 10 minutes. Stir in evaporated milk, the 1/3 cup sugar, the melted butter, egg, and salt. Stir in 2 cups of the flour. Gradually stir in another 2 cups flour and the ½ teaspoon cinnamon to make a dough.

Turn the dough onto a lightly floured surface. Knead for 3 to 5 minutes or until smooth and elastic. Shape into a ball. Transfer dough to a large greased bowl; turn to coat surface of the dough. Cover and let rise in a warm place until double in size (1 to 1 ¼ hour).

Meanwhile, for topping, in a medium bowl beat the softened butter with an electric mixer on medium speed for 30 seconds. Add the 2/3 cup sugar, beating until well mixed. Stir in the 1 cup flour, the teaspoons cinnamon, and the vanilla.

Punch down the dough. Cover and let stand for 10 minutes. Divide dough into 12 portions. Shape each portion into a smooth ball. Place balls about 3 inches apart on baking sheets lined with parchment paper. Press down on balls slightly. Divide topping into 12 balls; pat each ball flat. Place one round of topping on each dough ball.

Using a sharp paring knife or

concha cutter

, cut grooves on a scallop shell. Cover rolls and let rise in a warm place until nearly double in size (about 45 minutes).

Meanwhile, preheat oven to 375 degrees F. Bake rolls for 18 to 20 minutes or until light golden brown. Remove from baking sheets. Cool on wire racks. Serve warm or cool.
Notes
Accompany this Mexican sweet bread with a hot cup of coffee or champurrado and the first warm bite will melt in your mouth.
Calories: 391kcal, Carbohydrates: 58g, Protein: 7g, Fat: 15g, Saturated Fat: 9g, Cholesterol: 51mg, Sodium: 325mg, Potassium: 99mg, Fiber: 2g, Sugar: 18g, Vitamin A: 439IU, Vitamin C: 1mg, Calcium: 45mg, Iron: 3mg