Empanadas and Sopes Fiesta Video
This post may include affiliate links. As an Amazon Associate I earn from qualifying purchases.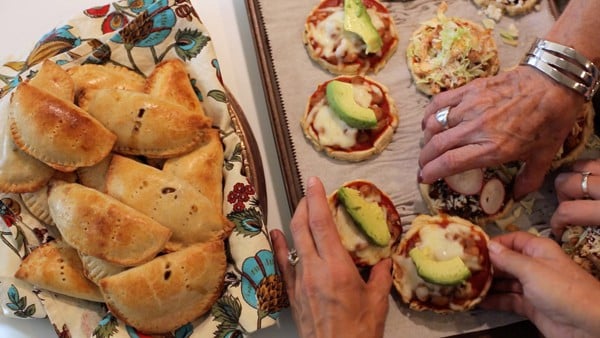 I love hosting parties. My favorite get togethers are when I get to teach others how to cook some of the dishes I grew up enjoying. Do you remember the tamalada I hosted? It was a lot of fun sharing the tradition of tamal-making with others. If you haven't seen the video you can watch it here.
This year I wanted to try something a little different for the holidays and was thrilled when Crisco reached out to Vianney and I, and wanted to be a part of the party. We came up with the idea of hosting a fiesta where we could share how to make some our favorite Mexican dishes.
Luckily for us my mom was in town, which was a huge help. We all had such a lovely time hosting this get together and sharing traditional Mexican dishes with our wonderful guests.
Our friends and family brought over a variety or fillings, toppings, and appetizers to the party.
Vianney started everything off by showing us how to make some delicious pumpkin empanadas.
Next I demonstrated how to make some sopes topped with red chile sauce, frijoles de la olla, and asadero cheese.
During the fiesta our guests made empanadas and sopes. It was a blast!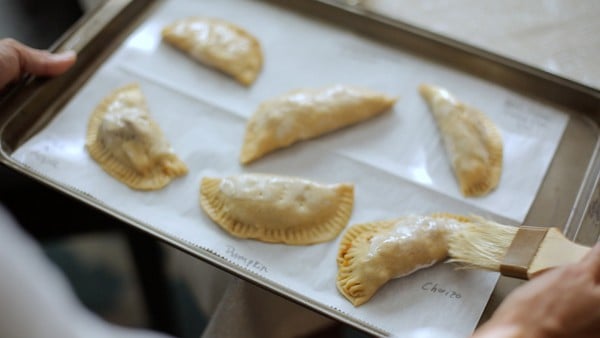 After the party ended everyone took home little gift bags filled with baked empanadas as well as mason jars with dry ingredients to make empanadas and sopes, the recipes, and vegetable shortening graciously supplied by Crisco.
This time of year you can count on cookie swaps, ugly sweater and wrapping parties, but I bet you have never seen an empanadas and sopes fiesta.
If you want to host an empanadas and sopes fiesta all you have to do is make the dough for each and ask your guests to bring fillings and toppings. Here are some of my favorites.
Sweet empanada fillings:
Sopes toppings:
We hope our video inspires you to host your own fiesta and share how to make some of your favorite dishes with the ones you love all while making lasting memories in the kitchen.
Thank you to all of the lovely ladies who came over and spent some time with us in my home. I look forward to many more cooking traditions with all of you.
The fondest memories are made gathered around the table.
Dough for Empanadas and Sopes
If you want to host an empanadas and sopes fiesta all you have to do is make the dough for each and ask your guests to bring fillings and toppings.
Ingredients
Sopes Dough:
2 cups masa harina, corn flour
¼ teaspoon salt
1 tablespoon Crisco vegetable shortening
1¼ cups warm water
Instructions
Make Empanada Dough:
In a stand mixer place the dry ingredients and combine. Add the shortening until well incorporated with the dry ingredients.

In a separate bowl whisk the eggs and milk and add to the dough mixture, and combine until you have a soft dough.

Remove dough from mixer and add flour to the dough if sticky. Split the dough in half, wrap in plastic wrap, and refrigerate for about 20 to 30 minutes.
Assemble and Bake Empanadas:
Preheat the oven to 350 degrees F.

On lightly floured surface, roll chilled dough 1/8 inch thick. Cut out 4-inch circles.

Place a small dollop of filling on one half of each of the dough circles. Wet the bottom edge of the circles with evaporated milk to help seal the two halves. Fold over the dough to cover filling and seal off the edges with a fork by pressing down along the edges. This also makes for a pretty pattern when baked.

Repeat with remaining dough and filling. Brush each empanada with evaporated milk. Puncture two slits on the top of each empanada with a fork to allow steam to escape while baking.

Spray a large cookie sheet with cooking spray; place the empanadas on the cookie sheet and bake for 15 to 20 minutes on middle rack in the oven. If after 15 minutes you notice the bottoms of the empanadas starting to brown, move the cookie sheet and set oven to broil and bake for 1 to 2 minutes, until golden brown.
Make Sopes:
In a mixing bowl combine the masa harina and salt. Add the shortening and rub in with your fingers so that it is evenly distributed. Add warm water and knead until mixture is smooth and slightly sticky. If the dough is dry add more water, 1 tablespoon at a time. Dough should be soft and moist like play-doh and not dry. Divide dough into 10 portions. Cover with a damp cloth to keep the dough soft and moist.

Line a tortilla press with plastic wrap. Place a ball of dough on the press and cover with another piece of plastic wrap and press down to form a little 1/4-inch-thick patty. Peel off the plastic wrap. (If you don't have a tortilla press you can use a heavy skillet or pot to make the dough patties or use your hands to form a patty.) Repeat with remaining balls of dough.

Preheat an ungreased comal (griddle) on medium-high heat. Cook a patty on the comal for about 1 to 2 minutes on each side until dry. While the cooked patty is still warm and as soon as you are able to handle it, pull the dough of the patty up and outward towards the edge, creating a little ridge of dough all the way around the circle to create a little "boat" or sope. Repeat with the remaining patties.

Once sopes are formed place back on the hot comal to cook for approximately 2 minutes on each side, or until browned.

Preheat oven to 350 degrees Fahrenheit. Fill each sope with choice of topping and bake for 10 minutes until warm.
Notes
SWEET EMPANADA FILLINGS:
SOPES TOPPINGS:
Serving: 1empanada without filling, Calories: 106kcal, Carbohydrates: 14g, Protein: 2g, Fat: 5g, Saturated Fat: 1g, Cholesterol: 2mg, Sodium: 55mg, Potassium: 67mg, Fiber: 1g, Sugar: 2g, Vitamin A: 13IU, Vitamin C: 1mg, Calcium: 31mg, Iron: 1mg
Disclosure: A special thanks to Crisco for sponsoring this post.