Garden Squash and Tomato Salad
This post may include affiliate links. As an Amazon Associate I earn from qualifying purchases.
I have been traveling quite a bit these few weeks. One of my trips was to visit my BFF and goddaughter in San Diego. As you can image we had a blast, but the highlight of my trip was going to see Shakira in concert. Wow, what a performer!
We had been anxiously waiting for her concert being that she postponed it, so finally when the concert started we were like crazy school girls watching our girl crush. Sorry, is that TMI? Ok, anyway, Shakira was shaking her hips like they don't lie, and my BFF, goddaughter, and I were holding a large bucket of popcorn and nachos covered in nuclear cheese overflowing with very spicy jalapeños.
Um, yeah, as you can imagine I was feeling guilty, but do you think that stopped me from scarfing everything down? No. And that wasn't our only naughty indulgence. We also ate some carne asada fries earlier that day, because my visit to San Diego isn't the same without them.
On my way home my pants were so tight. I'm guessing it was the copious amounts of cheese. I vowed to stay off of cheese for a few days, and my promise to myself lasted an entire day.
Guys, I'm a cheeseoholic and I just can't stop myself. Luckily, when I arrived home my garden was bursting with ripe and juicy tomatoes and lots of zucchini and squash. All the beautiful veggies were begging for me to slice them and arrange them on a platter.
So here you have a simple salad that looks fancy, but seriously is so easy to make. All I did was slice raw squash or zucchini, tomatoes, avocado, and arranged them on a platter and filled in the gaps with fresh basil leaves. I then drizzled the salad with fresh lime juice, olive oil, and sprinkled it with kosher salt and crushed red pepper flakes, and voila it's a glorious and healthy side dish without any cheese. Aren't you proud of me?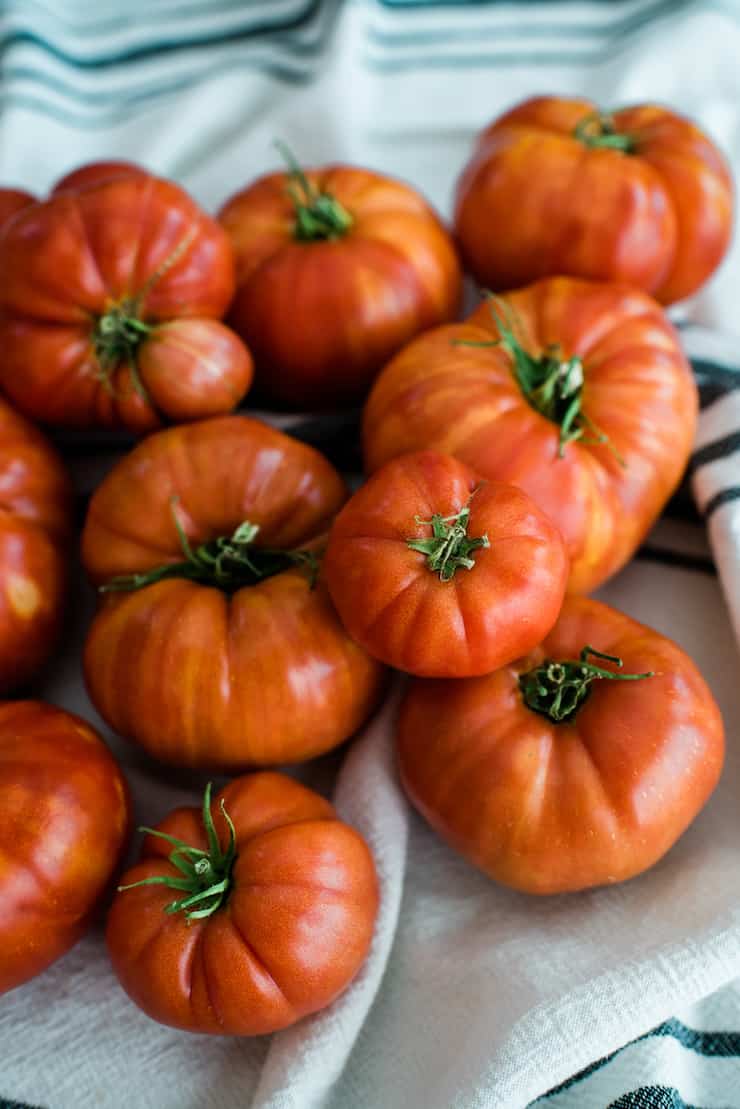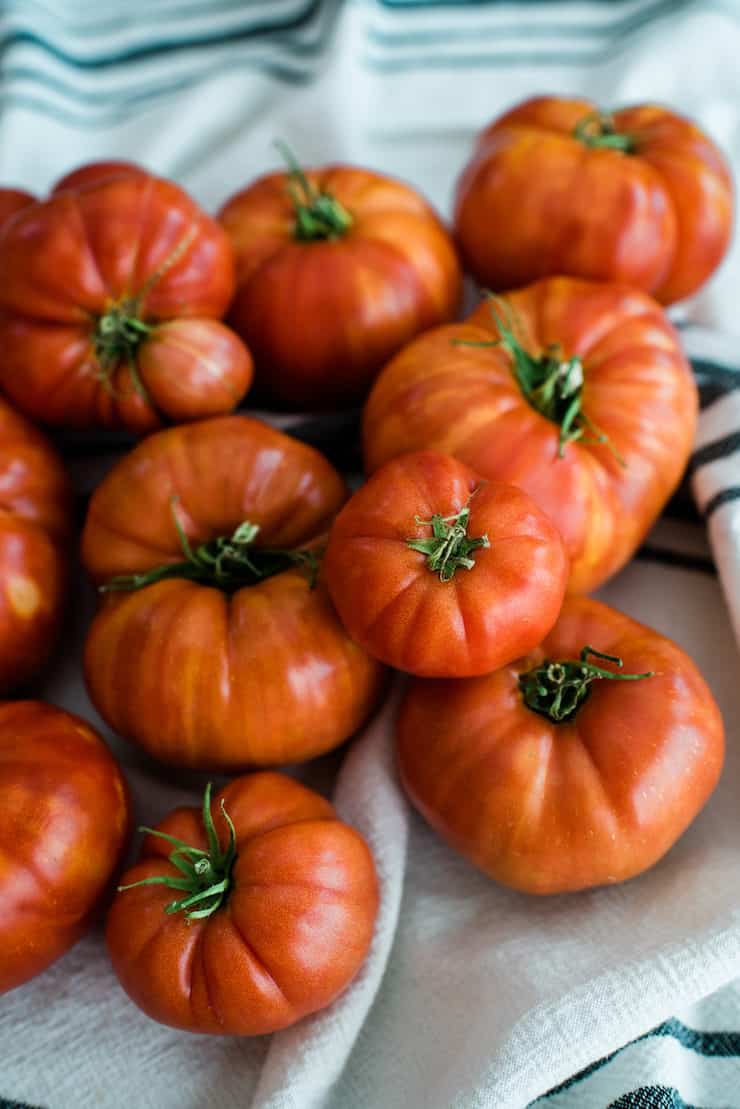 All these vibrant colors are good for you…full of antioxidants, nutrients, fiber, and protein. Fresh and raw is a beautiful way to eat.
This has now become our evening veggie tray/salad. It's a great side dish that requires zero cooking or anything fancy, and the best part is that it is delicious and guilt-free.
Garden Squash and Tomato Salad
Ingredients
1 garden squash or zucchini, sliced
2 beef steak or heirloom tomatoes, sliced
1 avocado, sliced
fresh basil leaves
lime juice
crush red pepper flakes
Instructions
Arrange squash, tomatoes, and avocado on a platter and fill in the gaps with fresh basil leaves.

Drizzle salad with fresh lime juice and olive oil.

Sprinkle with kosher salt and crushed red pepper flakes.
Notes
Lemon juice can be used instead of lime juice. 
Calories: 241kcal, Carbohydrates: 17g, Protein: 4g, Fat: 20g, Saturated Fat: 3g, Sodium: 21mg, Potassium: 1035mg, Fiber: 9g, Sugar: 6g, Vitamin A: 1367IU, Vitamin C: 46mg, Calcium: 40mg, Iron: 1mg
Photography by Jenna Sparks