Green Chile and Bacon Macaroni and Cheese
This post may include affiliate links. As an Amazon Associate I earn from qualifying purchases.
When I was a little girl, one of my favorite dishes was my mom's homemade Mexican macaroni and cheese. That recipe is not on this blog, but it is in our published cookbook. When she would make it, I would inhale it, and get seconds, and thirds.
My daughter is just like me and also loves Mexican macaroni and cheese or anything pasta for that matter. After learning how to make espagueti verde, I was inspired to combine my love of my mom's Mexican macaroni and cheese with spaghetti verde, but with a spicy kick.
This dish is a combination of a creamy poblano sauce combined with chopped Hatch green chile, oh yeah, and smoky bacon, because we all know everything taste better with bacon.
The topping is a combination of breadcrumbs and parmesan cheese giving it a beautiful crusty topping when baked.
This macaroni and cheese is made with three different types of mild cheeses: enchilado cheese, which could be substituted with Muenster cheese, sharp cheddar cheese, and parmesan cheese. My son is not a huge fan of macaroni and cheese (crazy, I know), especially, boxed macaroni and cheese or "fancy" macaroni and cheese made with cheeses like gruyere or fontina.
Guess what? This macaroni and cheese won him over. This baked macaroni and cheese is super creamy, cheesy, but not too cheesy, rich, ooey-gooey, and, the addition of bacon and roasted chile take this dish to a heavenly level.
Being that October is national pasta month, you'll definitely want to add this green chile and bacon macaroni and cheese to your weeknight menu.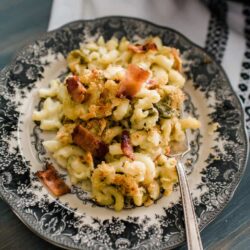 Spicy Green Chile Bacon Mac and Cheese
If you love gooey cheese, tender pasta, smoky meat, and earthy poblano peppers, you're going to flip for my Spicy Green Chile Bacon Mac and Cheese. Al dente macaroni is tossed with three types of melty cheese, crispy bacon, and a creamy poblano and hatch green chile sauce, topped with a crunchy breadcrumb topping, then baked to cheesy perfection. YUM.
Ingredients
8 slices bacon, cooked and chopped
1 poblano pepper
2  chicken bouillon cubes, divided
1 large white onion, quartered and divided
2 garlic cloves, divided
1 cup milk
16 ounces small elbow macaroni
2 tablespoons butter
2 ½ cups enchilado cheese, or Muenster
1 cup shredded sharp cheddar cheese
Topping:
½ cup shredded parmesan cheese
½ cup bread crumbs
Instructions
Turn the broiler to high. Set poblano and Hatch chiles on a baking sheet, and then place the sheet underneath the broiler. Cook, flipping the chiles occasionally with a pair of tongs, until blackened on all sides. Turn off the broiler, and transfer chiles to a plastic bag. Let steam for five to ten minutes. Peel the blackened skins off the chiles, and then remove stems and seeds. Chop the Hatch chiles and set aside.

Preheat oven to 350 degrees F.

Place roasted poblano in a blender along with 1 bouillon cube, 1/4 of the onion, 1 garlic clove, and milk. Puree mixture until smooth.

Bring a large pot of water to a boil. Add 1 bouillon cube, half of the onion, and 1 garlic clove. Cook the pasta according to the box directions. When done, drain pasta in a colander and rinse with cold water and discard onion and garlic.

Meanwhile, add butter to a

large oven-safe skillet

 set over medium heat. When it foams, add remaining onion (finely diced) and sauté until truculent for about 2 minutes and then pour in the creamy sauce mixture. Cook for about 2 minutes, stirring it occasionally.

Add the pasta to the pot and add enchilada cheese, cheddar cheese, chopped Hatch chile, bacon, and gently combine for about 2 minutes until cheese melts.

In a small bowl combine parmesan cheese with bread crumbs.

Sprinkle the breadcrumb mixture on top of the macaroni and cheese.

Transfer skillet to oven and bake until browned and bubbly, about 20 to 25 minutes.
Notes
Expert Tips:
Grate Your Own Cheese. While it's tempting to save time by buying pre-grated cheese, resist the urge. The manufacturers add a weird, starchy substance to the bags to keep the individual shreds from glomming back together into a cheesy blob, which prevents it from melting properly.
Remove The Seeds & Membranes To Make It Less Spicy. Most of the capsaicin (the compound that makes chiles taste spicy) is based in the seeds and membranes. Remove them to make this hatch chile mac and cheese a little less fiery.
Season Your Pasta Water. At the very least, you should always add salt to your pasta water since it's the only opportunity you'll get to season the noodles themselves. Here I swap in bouillon for the salt, plus add garlic and onion to the water for an added hit of flavor.
Don't Overcook The Pasta. Refer to the package directions and err on the side of cooking just the minimum amount, as the heat from the oven and the liquid from the sauce will continue to cook the pasta in the oven.
Make-Ahead For A Weeknight Win. Feel free to assemble the macaroni and cheese casserole up through step 5, then cover and refrigerate for up to 3 days or freeze for up to 3 months. When you're ready to serve, allow it to defrost overnight in the fridge if frozen, then mix up the breadcrumb topping and sprinkle it over the top, and bake as instructed until bubbly and delicious.
Calories: 817kcal, Carbohydrates: 71g, Protein: 36g, Fat: 43g, Saturated Fat: 23g, Cholesterol: 109mg, Sodium: 1253mg, Potassium: 432mg, Fiber: 4g, Sugar: 7g, Vitamin A: 992IU, Vitamin C: 20mg, Calcium: 663mg, Iron: 2mg
Photography by Jenna Sparks