Guava Empanadas
This post may include affiliate links. As an Amazon Associate I earn from qualifying purchases.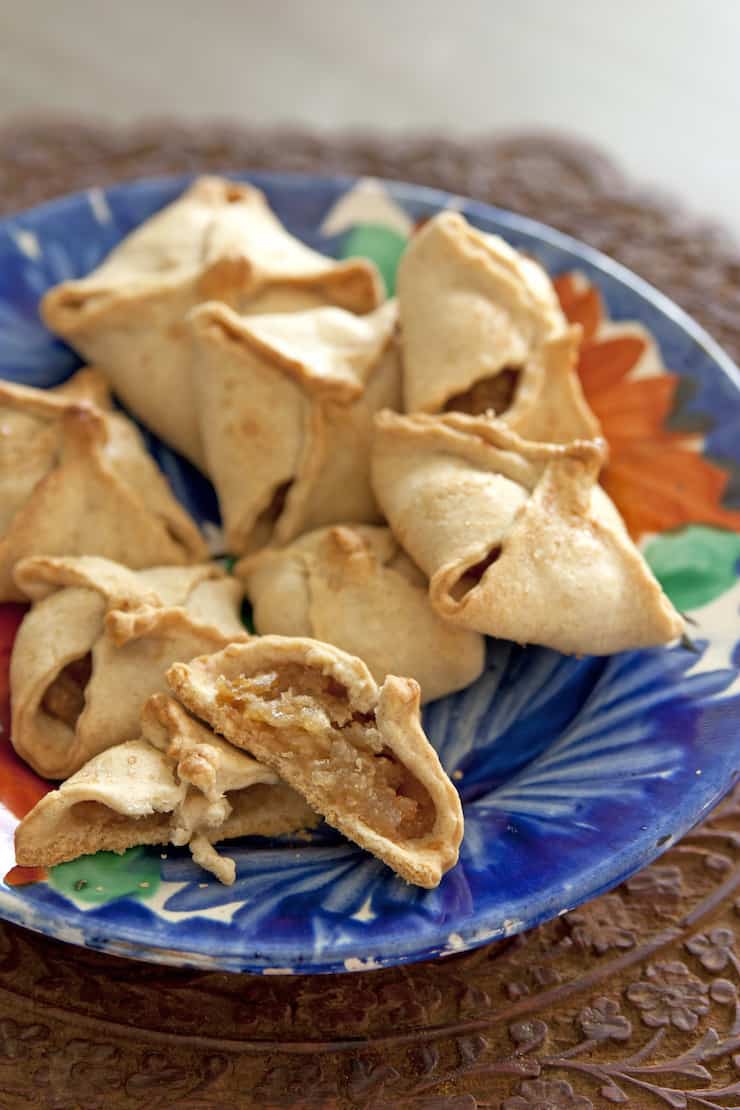 While my mom was in town she not only made dozens and dozens of tamales, but she also baked lots of delicious sweet empanadas. My son loves abuelas empanadas and boy, did she spoil her "papacito".
She made pineapple empanadas for Christmas and after Christmas the baking didn't end. She also made sweet apple empanadas just like my grandma used to make, which are my daughters' favorite. In our cookbook and on the blog, I have a recipe for easy apple empanadas, but after tasting the good ol' fashioned version, I realized, I really need to share that recipe soon.
But today, I'm actually sharing something a bit more exotic…guava empanadas. My friends over at Melissa's Produce sent me guavas and cinnamon for our Friendsgiving Tamalada and since I had some leftover we decided to make empanadas filled with homemade guava preserves.
On the blog, I have Fruit Paste and Cream Cheese Empanadas that are made with ate de guava or membrillo (guava or quince paste). But rather than using guava paste we made guava preserves by simmering peeled and chopped ripe guavas in canela and piloncillo.
Guavas are crisp with a creamy white flesh inside with soft seeds – you can eat the entire fruit, even the skin, but for this recipe I peeled the fruit and discarded the seeds. Guavas are very fragrant – they have a lovely sweet tropical aroma.
The dough for these empanadas are made with butter flavored shortening and buttermilk making the dough light and flaky.
These empanadas are my new favorite. They are sweet, but not too sweet.
My mom even got fancy and shaped these empanadas into little wontons. The small shape is great if you are serving them for a party. Feel free to make traditional shaped empanadas too. Below you will find both options.
I miss my mom and our morning coffee talks and naughty sweet treats. She always said, "If you want to eat something sweet you might as well do it in the morning, so you have the full day to work it off."
Guava Empanadas
Ingredients
Glaze:
1 egg or milk
raw sugar, optional
Instructions
Guava Preserves:
Place guavas, piloncillo, and cinnamon sticks in a stockpot. Add enough water to cover guavas.

Bring to a boil, then simmer over medium heat for about 30 minutes until piloncillo melts.

Stir and remove from heat and cover for an additional hour to steep and cool.

Discard the cinnamon sticks and mash guavas with a potato masher.

Strain the water out of the mixture and reserve the liquid.

Pass guavas through a strainer to remove seeds.

Add cornstarch to ¼ cup of reserved guava liquid and whisk until well combined.

Add cornstarch mixture to guavas and simmer for about 15 minutes. Stir and cook until the consistency of preserves. The mixture will thicken as it cools.
EMPANADA DOUGH:
In a stand mixer whip shortening with sugar. Add in the remaining dry ingredients. In a separate bowl whisk the egg and buttermilk and add in stand mixture and combine until you have a soft dough. If the dough is too wet add more flour.

Preheat oven to 350 degrees F.

Divide empanada dough into 24 pieces. On a floured surface, roll out the dough pieces into small round circles. Place a small dollop of guava filling on one half of each of the rolled out circles. Wet the edges of the circles with milk to help seal the two halves. Fold over the dough and seal off the edges with a fork by pressing down along the edges.
Wonton Shaped Empanadas:
Roll out one round of dough into a small round circle. Take a paring knife or a 

pastry cutter

 and cut off the edges creating a 3-inch square.

Place a tablespoon of guava filling directly in the middle of the square.

Pull up the four corners of the dough and pinch together tightly at the center, making sure that all four corners won't come apart.
Bake:
Brush each empanada with egg wash or milk. Sprinkle with raw sugar, if using.

Puncture the top of each empanada with a fork to allow steam to escape while baking. (For traditional shape only)

Place empanadas on a cookie sheet greased with no-stick cooking spray.

Bake for 15 to 20 minutes on the bottom rack in the oven. If after 15 minutes you notice the bottoms of the empanadas starting to brown, move the cookie sheet to the top rack and continue to bake for the last 5 minutes, until golden brown.
Notes
Piloncillo can be replaced with 1 cup packed dark brown sugar.
The small shape is great if you are serving them for a party. Feel free to make traditional shaped empanadas too. 
Serving: 1empanada, Calories: 125.21kcal, Carbohydrates: 20.22g, Protein: 2.1g, Fat: 4.03g, Saturated Fat: 1.07g, Cholesterol: 6.05mg, Sodium: 46.76mg, Potassium: 120.6mg, Fiber: 1.42g, Sugar: 8.71g, Vitamin A: 123.03IU, Vitamin C: 38.81mg, Calcium: 28.63mg, Iron: 0.75mg
Disclosure: The guavas and cinnamon sticks were provided by Melissa's Produce to sample and enjoy. I was not compensated for this post. All opinions expressed are my own.