Asado de Chile Colorado (Pork in Red Chile Sauce) + Video
This post may include affiliate links. As an Amazon Associate I earn from qualifying purchases.
Chile Colorado is an authentic dish from northern Mexico made with tender pork pieces simmered in a homemade red chile sauce. This pork stew is also a commonly served dish in New Mexico and El Paso.
This mild and earthy Mexican pork stew in a red chile sauce has many names – Chile Colorado con Carne, Asado de Chile Colorado, Asado de Puerco, or Carne Adovada. In English it is simply known as Pork in Red Chile Sauce or Red Chile and Pork Stew.
This dish is traditionally made outside on an open fire pit in a disco (large disc). My mom and grandma used to make this hearty and comforting meal during the winter when green chiles weren't in season.
Did you know that red chiles are just green chiles that have been left to ripen longer or dry? As a result, red chile is used more frequently during the winter and green chiles are used more often during warmer weather.
This Asado de Chile Colorado recipe was originally published in the Muy Bueno cookbook and now I'm sharing it here on the blog. Exciting, right?
This is not a spicy pork stew. The chile pods in this red sauce add flavor but aren't too overpowering. If my 12-year old boy can handle this dish, I bet you can too. If you're really not a fan of heat, you can add some more tomato sauce to make it even more mild.
Like most stews, this meal develops flavor as it sits and will taste even better the second and third day.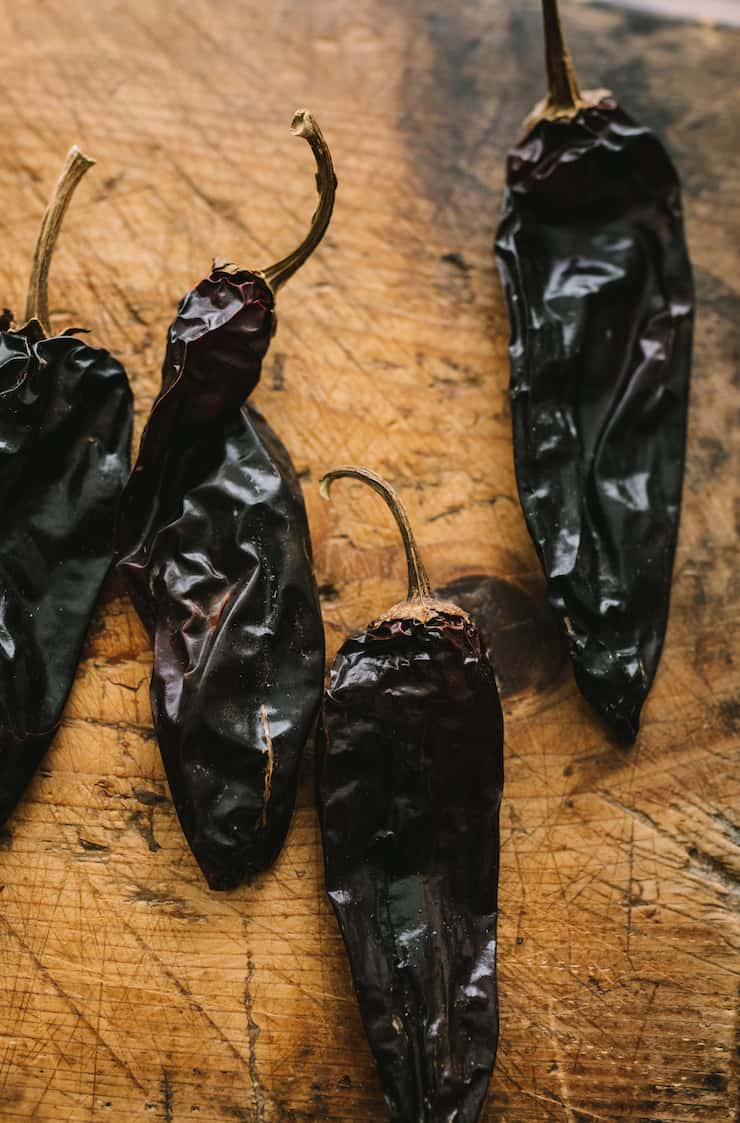 Make ahead
If your red chile sauce is already made, this dish comes together very quickly. It's a great comfort food meal for cold winter days. And it's fast enough for even the busiest of weeknights.
The red chile sauce can be made ahead, up to a week before if you refrigerate it, and up to six months before if you freeze it. I personally like to make double batches of the sauce and freeze it for easy meal prep.
TIP: These plastic freezer-safe containers are great to freeze red chile. They come in a variety of sizes perfect to freeze your red sauce so you can pull out just the amount you need without defrosting a large container.
You can also chop the pork into 1-inch cubes and refrigerate for 1-2 days for an easy throw together meal on a busy weeknight.
How to make red chile sauce:
The key to a delicious Chile Colorado is homemade red chile sauce and fresh Swift pork.
Chile Colorado can be made using dried Anaheim, New Mexico peppers, or Guajillo peppers.
While making your own red sauce is a bit time consuming, my recipe will yield a big enough batch for leftovers. The sauce will keep for up to a week in the fridge or up to six months in the freezer. Once you've eaten Red Enchiladas with homemade red sauce, I can guarantee you won't want to go back to the canned kind.
Either pork or beef can be used, although pork loin lends a fuller flavor. Pork loin is a cut of meat from a pig, created from the tissue along the dorsal side of the rib cage.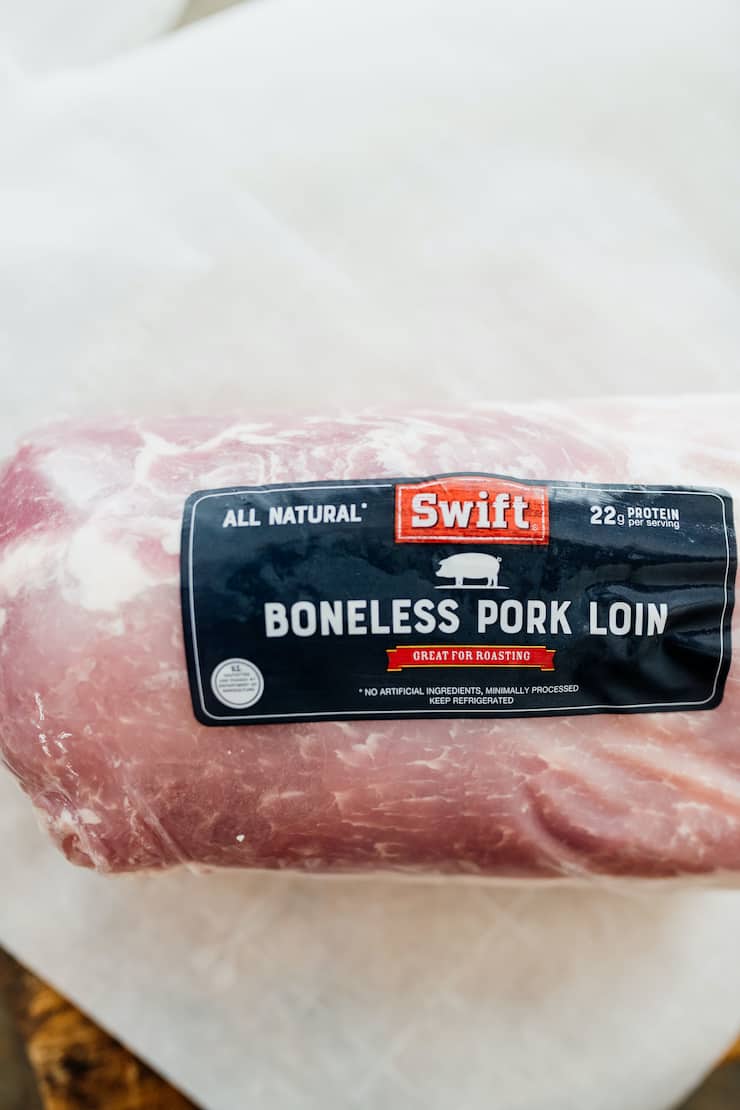 Quality Pork
Swift Meats has been in business since 1855, and for good reason. Their pork is harvested from high quality pigs raised by a select group of independent farmers throughout the Midwestern United States.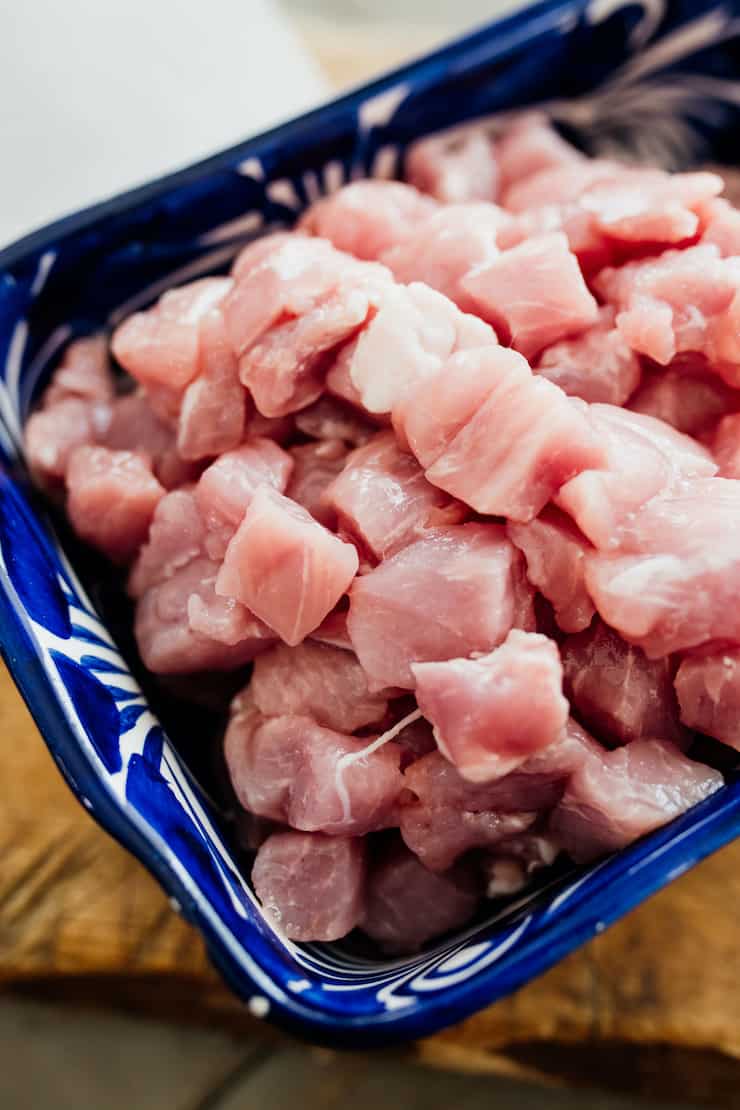 Pork is a nutritional powerhouse, and this Chile Colorado recipe is sure to make it into a dinner the whole family will love. Loaded with protein, Vitamin B6 and a host of other nutrients, pork is an excellent choice for a healthy family meal.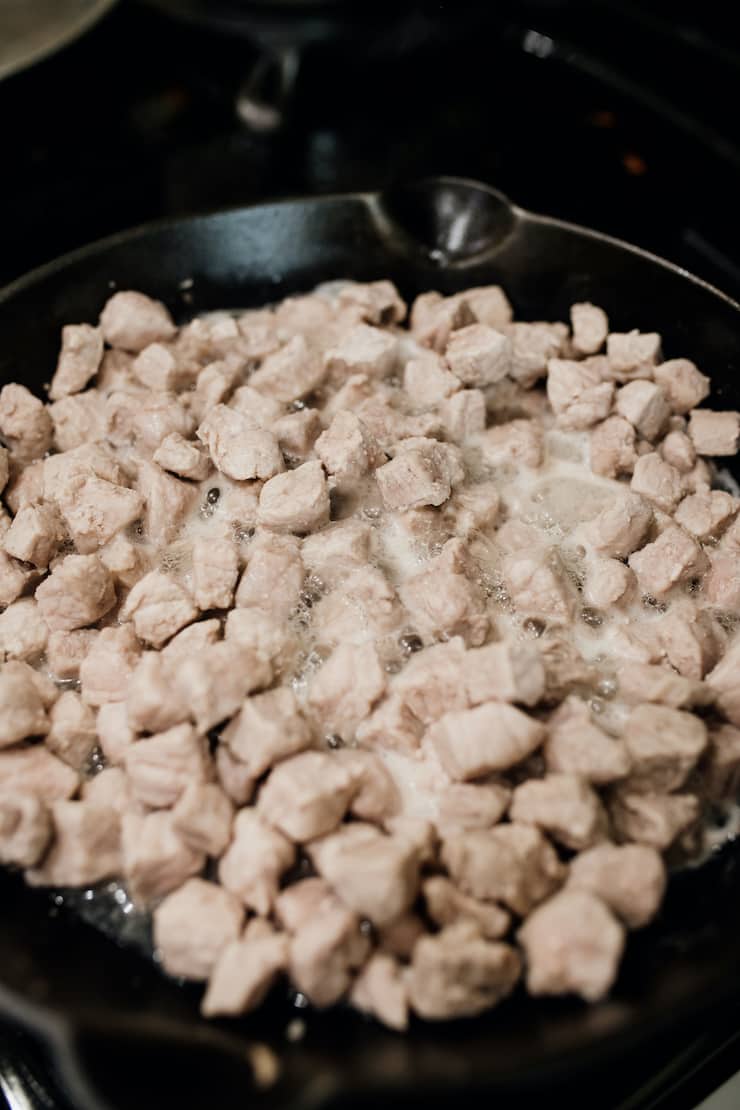 Even better? Pork tenderloin has only 147 calories and 1.6 grams of saturated fat per 3-ounce portion. You can't get much healthier than that!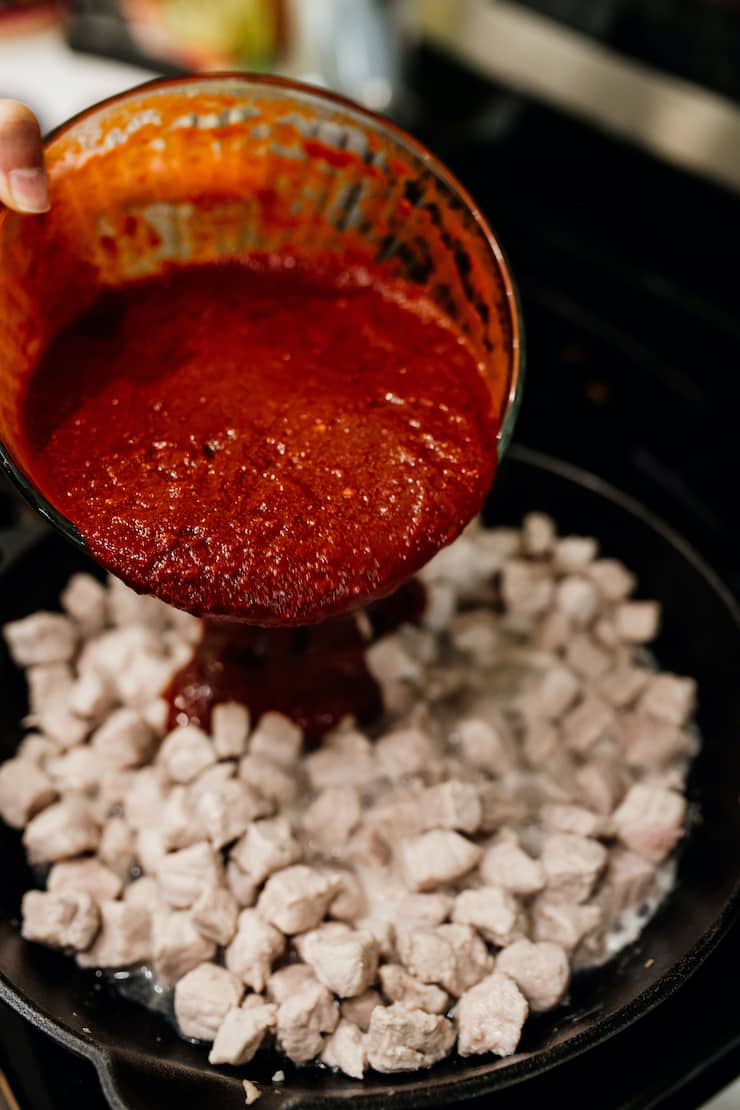 Find Swift Meats at select retailers: Store Locator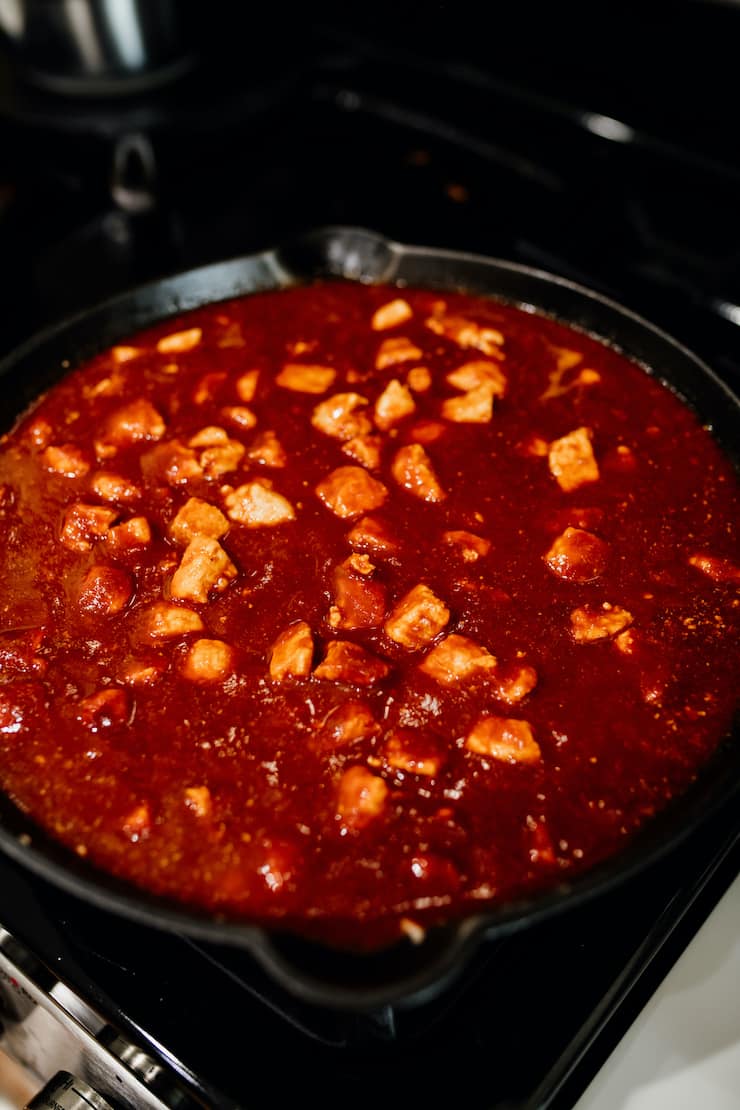 Cooking Pork Loin
Pork tenderloin is fairly lean, so it's important to not overcook it. It can quickly turn from tender and juicy to dry and chewy. It's perfectly normal for the pork to be a little pink inside before adding the red chile sauce to simmer.
How to serve
This pork in red chile sauce goes well with homemade corn tortillas or flour tortillas, frijoles de la olla, and arroz.
Watch this video to see how quickly this Mexican pork stew in a red chile sauce comes together.
Other dishes using red sauce:
Asado de Chile Colorado (Pork in Red Chile Sauce)
Chile Colorado is an authentic dish from northern Mexico made with tender pork pieces simmered in a homemade red chile sauce. It is also a commonly served dish in New Mexico and El Paso.
Instructions
Heat a large skillet over medium-high heat. Add oil to pan; swirl to coat. Add pork to pan; cook 5 minutes. Add salt and garlic and continue cooking until pork is thoroughly cooked, about 10 to 15 minutes.

Add red chile sauce, tomato sauce, oregano, and cumin. Let mixture come to a boil and add water to desired consistency. Simmer for another 10 minutes to let the flavors come together. 
Calories: 293kcal, Carbohydrates: 24g, Protein: 26g, Fat: 7g, Saturated Fat: 2g, Cholesterol: 71mg, Sodium: 5331mg, Potassium: 529mg, Fiber: 4g, Sugar: 18g, Vitamin A: 133IU, Vitamin C: 2mg, Calcium: 11mg, Iron: 1mg
Photography by Jenna Sparks
This post is in partnership with Swift Meats. Find more pork tips/recipes here. As always, thank you for reading and for supporting companies I partner with, which allows me to create more unique content and recipes for you. All opinions are always my own.