Menu for Your Intimate Fiesta
This post may include affiliate links. As an Amazon Associate I earn from qualifying purchases.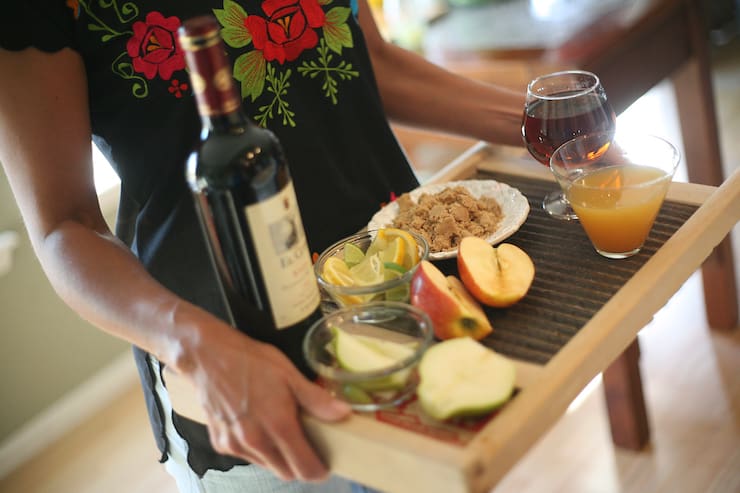 You've decided to host a fiesta to celebrate all things Hispanic — your friends and family will love you for it. If you're not sure what to serve, here are some tips to get your fiesta underway.
Serve Signature Drinks
As soon as guests arrive, place a cold one in their hand – chelada, sangria, or spicy citrus margarita.
Casual Buffet

A traditional fiesta always has a table overflowing with food. Create that same family style gathering on your dinner table.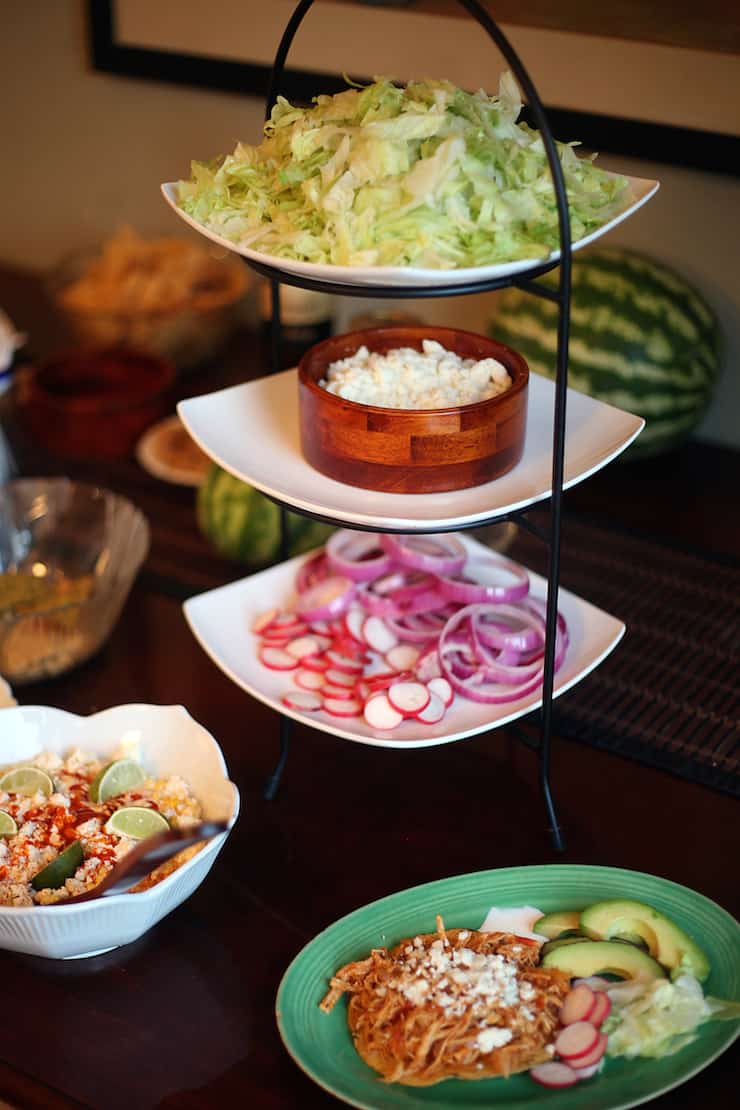 No celebration is complete without some delicious eats. Keep it simple with a chicken tinga bar.
Prepare chicken tinga and put out lettuce, crumbled queso fresco, Mexican crema or sour cream and let your guests make their own tostada piled high and served on a palm leaf.
My ideal menu includes chips and salsa, some divine guacamole, and simple appetizers. Don't worry about a formal sit down elegant meal. Instead create a family atmosphere by strategically placing appetizers around your seating areas.
With this homey atmosphere I guarantee your guests won't mind eating off their lap plates. Remember, less is more.
Dessert
A chocolate fountain filled with this delicious Mexican chocolate recipe is one of the easiest and most popular desserts to have at a fiesta. Try slicing all sorts of seasonal fruit such as mango, pineapple, strawberries, and bananas.
Some other great chocolate dipping ideas are chunks of angel food cake and marshmallows.
Prepare everything the morning of your fiesta, set it on serving platters, keep refrigerated and dessert time will be a breeze. Your guests can serve themselves and clean up is easy.
On the Menu
The buffet menu may look ambitious but with advance planning, the results will be worth it. You'll end up enjoying authentic and festive recipes worthy of a fiesta.
For more Latin inspired dishes click on the links below with delicious recipes from my blog hermanas. These recipes will bring your family and friends together and leave everyone happy.
Cut a Rug
Make room for dancing – pull up that area rug, rearrange some furniture and play some Latin pop tunes. Before you know it everyone will be showing off their Zumba fitness moves and dancing the night away.
Here's a playlist of songs chosen by Muy Bueno Facebook amigos. These songs will have your guests up and dancing. "Ole!" to a rockin' night
Fiesta Playlist
Perhaps Perhaps Perhaps, Lila Downs
On the Floor, Jennifer Lopez (feat. Pitbul)
Photography by Jeanine Thurston