Mexican Paper Flowers
This post may include affiliate links. As an Amazon Associate I earn from qualifying purchases.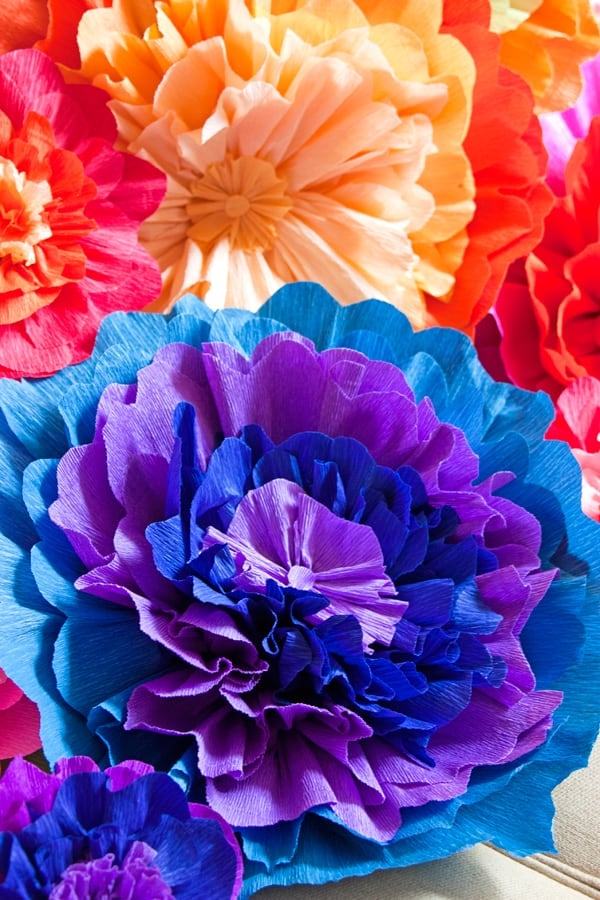 I'm excited to announce that I have partnered with my talented friend Kirsten from Thrifty Rehab to share easy DIY (do it yourself) craft projects that you can make at home. I love crafting and I'm excited to add this new feature to my blog. With Dia de los Muertos around the corner I will share fun DIY projects this month, and the first one are these easy to make, vibrant, and cheerful Mexican paper flowers (tutorial below). Aren't they gorgeous?
These paper flowers are colorful and surprisingly easy to make. The last time I made paper flowers was in elementary school for Mother's Day. I think I was in the third grade, but I had forgotten all about them until I saw paper flowers on the wall at Casa Artelexia while there for a Latin Twist book signing (Instagram photos here and here). Seeing a wall full of bright blooms reminded me of the paper flowers I made in elementary school and inspired me to try and figure out how to make them.
Lucky for me, my friend Kirsten wanted to learn how to make them too, so we were on a mission to make some and teach you how to make them too.
There are many types of paper flowers you can make. These vibrant Mexican paper flowers are made out of crepe paper and are pieces of art. They are not difficult to make, but they can be a bit time consuming, so be prepared to watch a marathon of your favorite TV show while you make these.
All the flowers that Kirsten made looked absolutely stunning as décor around my altar for Dia de los Muertos.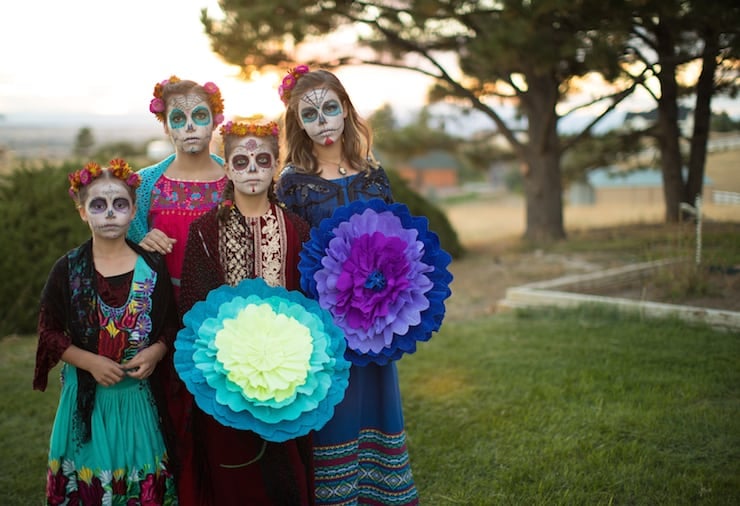 You can make these paper flowers in all shapes, sizes, and colors – they are the perfect touch to any fiesta. Learn how to make these using the steps below.
If you have any Mexican inspired crafts you'd like learn to make I'm all ears and up for the challenge.
Supplies:
Wire (pipe cleaners, floral or electrical – your choice)
Floral wrap
Scissors
Glue gun
Clips
In this example we used 3 colors and cut six pieces of crepe paper.
Fold each piece accordian style approximately 2 inches for each fold. Secure each stack with a clip.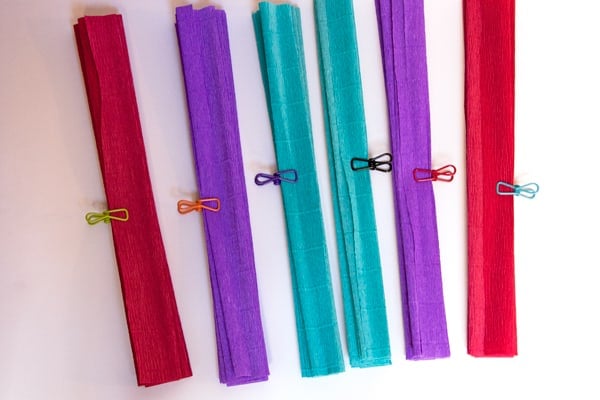 Line up each color in the order you want the flower. Cut each stack except for the first one staggered 1 to 2 inches. Blue will be the inner flower color in this example and red will be the outer pedal color. Keep one of the scrap papers to use for interior flower.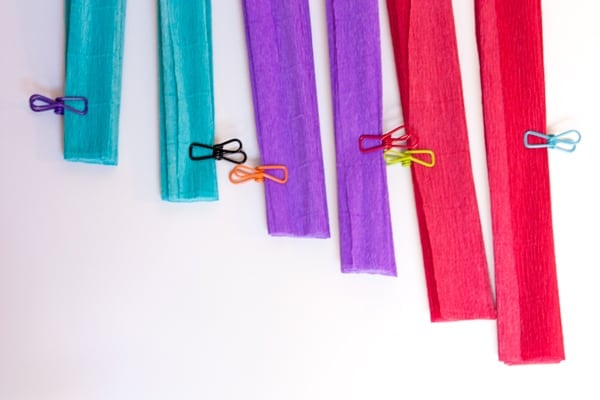 Next, cut the edges so they are rounded.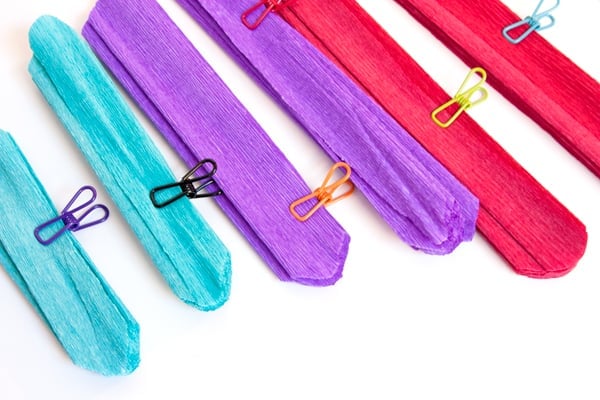 Remove all clips and line up the paper, centering each piece from shortest to longest. Both sides of the stack should look like this.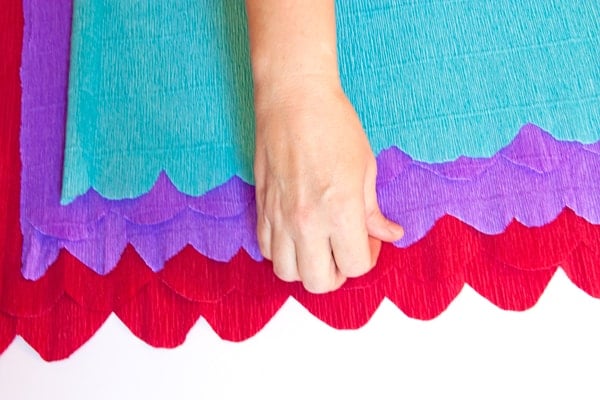 Take all pieces of paper and accordian fold all of them one last time.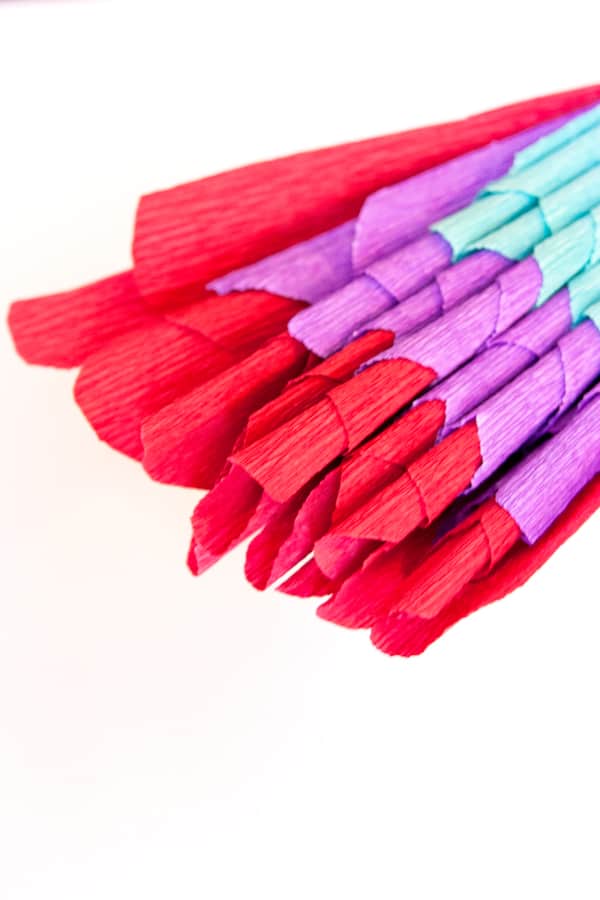 Secure the accordion folded stack in the middle with wire.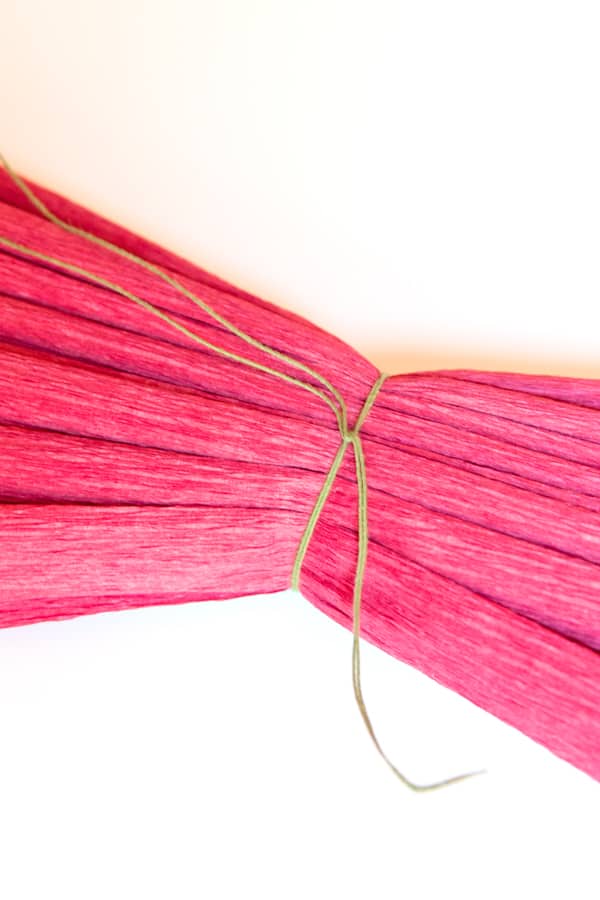 Unfold the paper on both sides.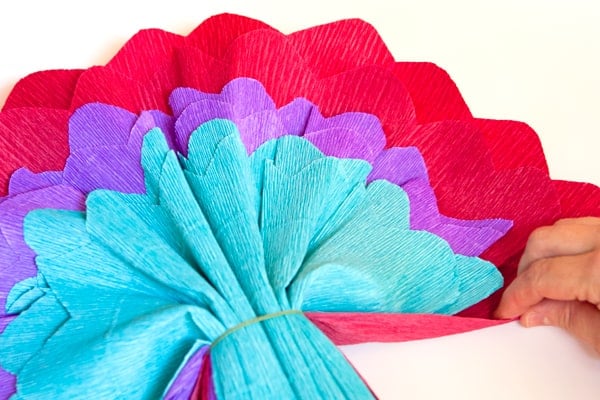 Gently pull up each layer.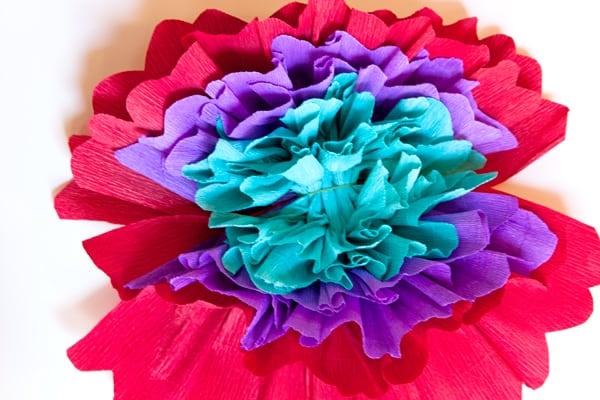 If you want to have a strong stem, include a thick wire at this point, as shown.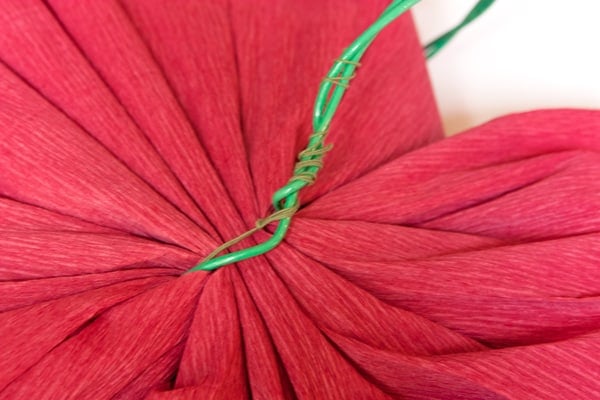 Hot glue the edges of each row of pedals together.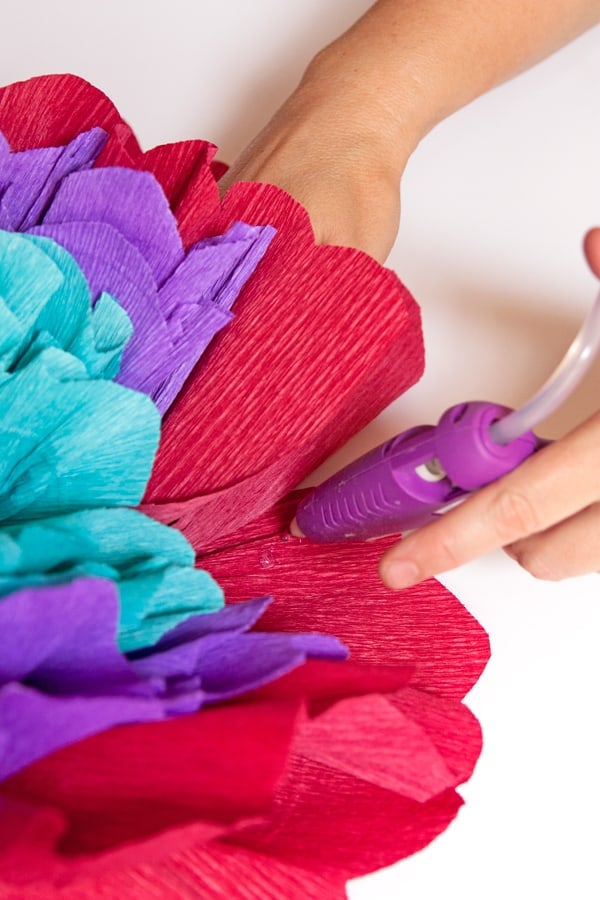 Trim uneven edges if necessary.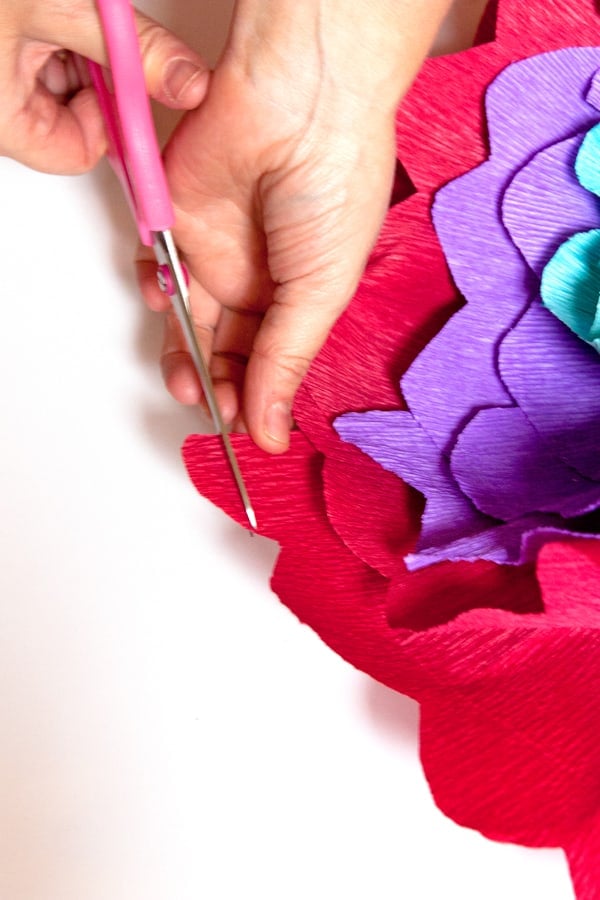 Use a scrap trimming to create the inner flower. Wrap this paper with wire, cut, and expand just like the flower.
Hot glue the inner flower.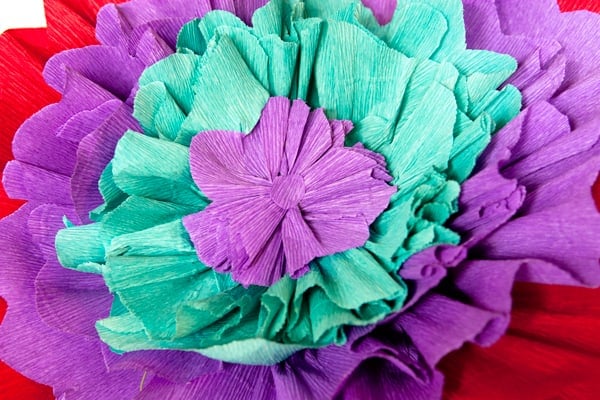 Cut green crepe paper 6" x 12" accordion fold and cut a triangle tip on one end.
Wrap the green crepe paper around the stem as shown. Use the floral wrap to secure the remainder of the stem.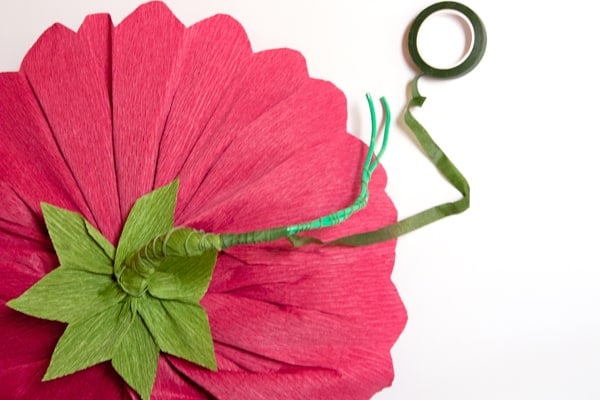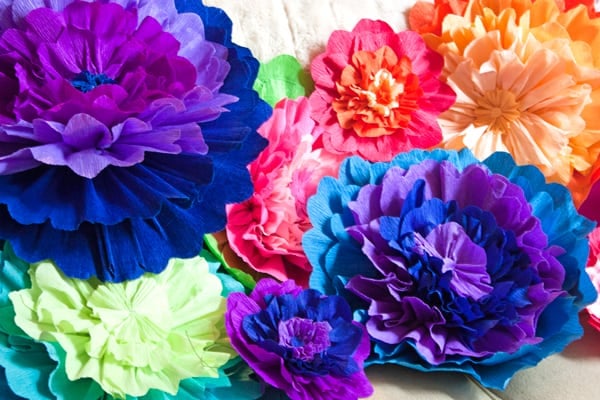 Please keep in touch and subscribe to Muy Bueno and follow me on Twitter, Facebook, Instagram, Pinterest and subscribe to Muy Bueno on YouTube.