Te de Oregano (Oregano Tea)
This post may include affiliate links. As an Amazon Associate I earn from qualifying purchases.
It's officially cold and flu season — if you've fallen ill with a scratchy throat, icky cough, body aches, and fever, there's nothing quite like my grandma's recipe for Te de Oregano (a.k.a. Mexican Oregano Tea) to see you through to healthier days.
Made with just 3 simple ingredients in 5 minutes, this earthy-flavored mug of warm coziness is the best holistic remedy for nearly anything that ails you.
Why I Love This Recipe (and Why You Will, Too)
What is up with this season? I feel like I have been fighting a cold since the New Year. Tripledemic, we're ready for you to go home now, mm-kay? I went to the doctor, but all he said to do was drink plenty of fluids and sent me home.
When I spoke to my mom on the phone she reminded me about all of my Grandma's home remedies. How could I have forgotten?!? I immediately made myself a mug of te de oregano with Mexican dried oregano just like my grandma used to make.
When my kiddos are sick I always make them this oregano tea, but when I'm the sick one instead of the caretaker, it's easy to forget what to do. I finally decided to take care of myself and made myself this cozy and comforting tea several times daily.
And, wouldn't you know it? I was feeling better within 3 days. I am always amazed how good ol' fashioned home remedies work.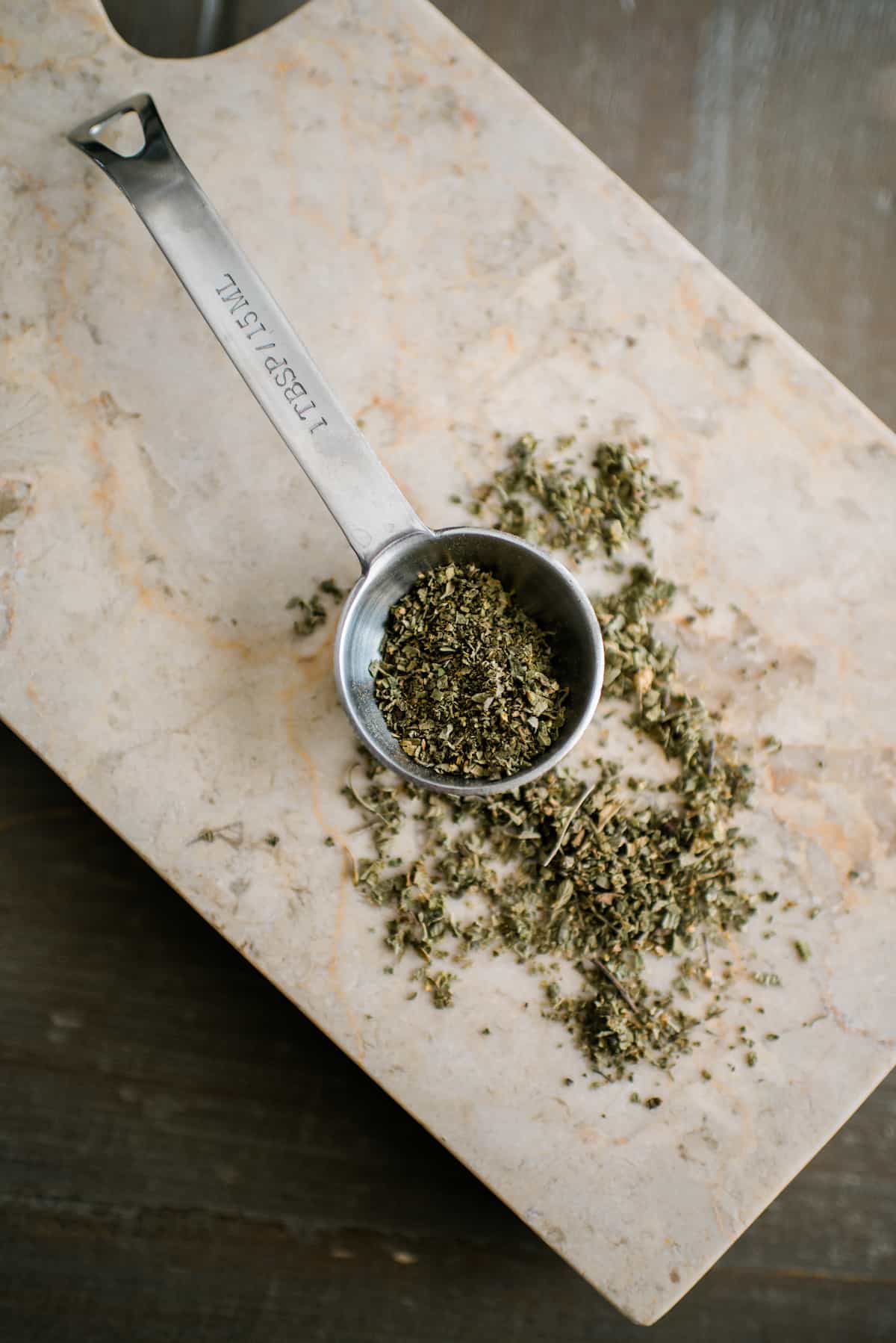 Does Drinking Oregano Tea Have Any Proven Health Benefits?
As it turns out, this holistic remedy is far more than just an old wives' tale — it really does have some healing properties! A 2011 study demonstrated that oregano oil is effective at treating respiratory illnesses, particularly some of the more virulent infections that affect kids.
It doesn't really surprise me that oregano is a healing herb, but there are many immune-boosting qualities this humble plant contains. Aside from being an essential flavoring component, oregano is also filled with: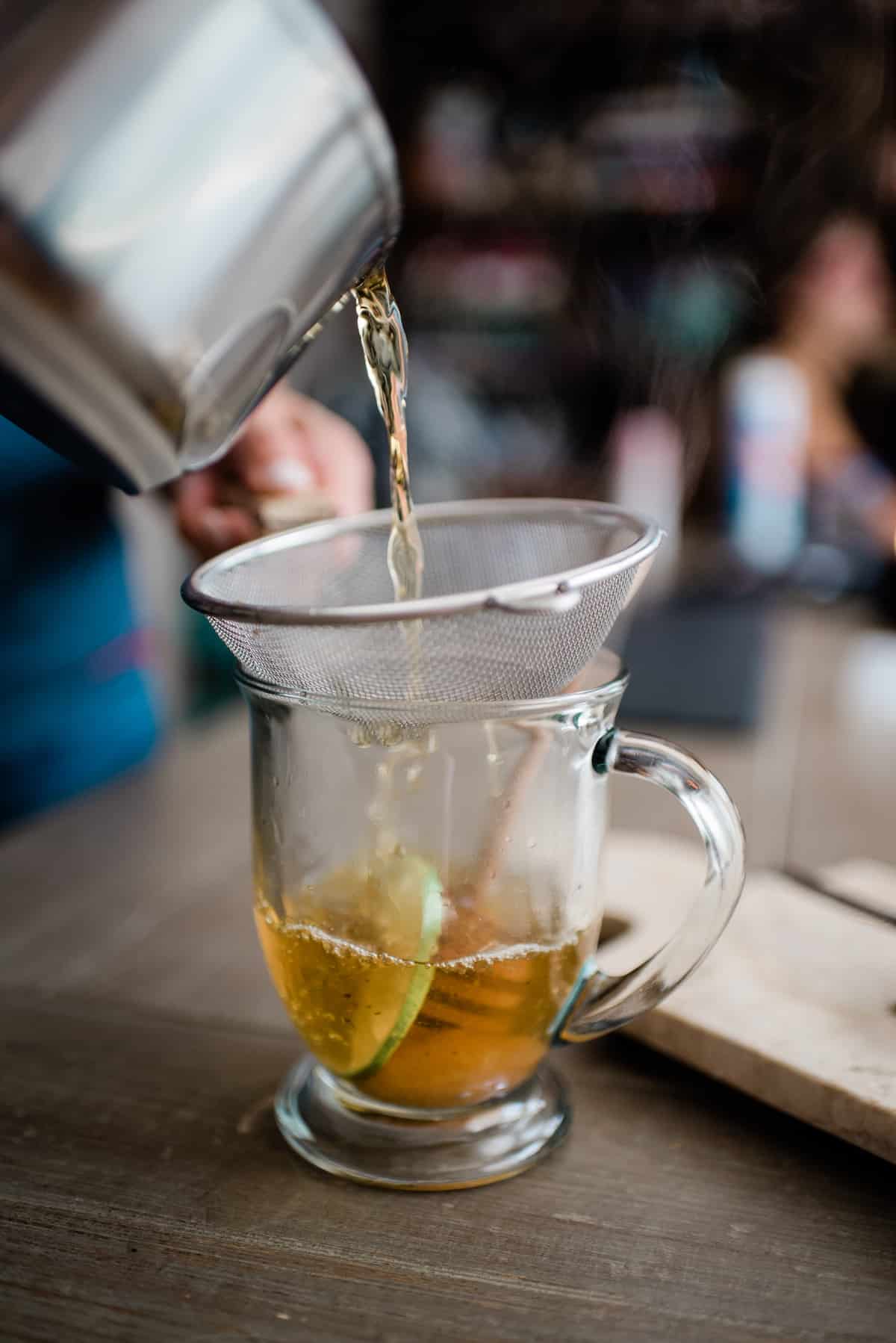 What can oregano cure?
Oregano has expectorant properties, so it is very useful to treat cases of excessive cough and bronchial problems. Hellooooo colds, flus, and COVID! While it isn't a cure (and I'm not a doctor!), I can speak from experience that it did help to get all the junk out of my lungs.
After some research, I've also come to find out that oregano is also great for:
digestion,
insomnia,
poor circulation, and
alleviating menstrual cramps.
What do I need to make oregano tea? Ingredients & Equipment
First, let's talk about ingredients. For this recipe, you only need 3:
Mexican Oregano – I love the citrusy undertones of Mexican oregano, but Italian or Greek oregano will also work.
Water – If possible, use filtered water for the best flavor. But then again, if your nose is stuffy, you might not be able to tell!
Honey – This is optional, but helps to take some of the sharp herbal edge off the tea. Honey is also a lovely holistic healer in its own right — it can soothe a sore throat, help to suppress coughs, and is chock-full of vitamins and nutrients.
In terms of equipment, you don't need much either. I bought myself this tea maker that is pretty darn incredible — you add the oregano leaves to the chamber, pour over boiling water, let it steep, then dispense it directly into your mug.
If you don't have a tea maker, feel free to make your own teabags with cheesecloth, use a metal tea infuser, or simply use a mesh strainer to catch the leaves as you pour the tea into your drinking vessel.
Aside from that, you just need a way to get your water boiling hot, so a saucepan, tea kettle, or electric kettle will do the trick. You're also welcome to boil the water in your microwave.
Expert Tips
While some teas require different water temperatures to evince the best flavor, herbal teas are happy with a full, rolling boil of 212F.
While a minimum steep time of 5-10 minutes is recommended, you can leave oregano to steep for as long as you like. Just note that the flavor will become more pronounced the longer it sits.
Make sure you are using fresh herbs to get the most benefit — dried herbs and spices only have a shelf-life of 6-12 months.
Frequently Asked Questions
Is this tea safe for toddlers and children?
I used to give this tea to my kids when they were feeling under the weather, but I'm not a doctor. I would suggest that after the tea has brewed you add an ice cube to tame the temps for little ones.

ALSO, please note that you should never give honey to a child under the age of 12 months due to a risk of botulism. Many healthcare providers also suggest that, like peanut butter, you give your tots their first taste of honey outside a hospital in the event that they have bee allergies.
What is Mexican oregano?
Funnily enough, Mexican oregano is part of the verbena family and is related more closely to marjoram than other types of oregano, whereas Greek or Italian oregano is part of the mint family. As a result, Mexican oregano has notes of citrus and anise, which I find absolutely intoxicating.
More Home Remedies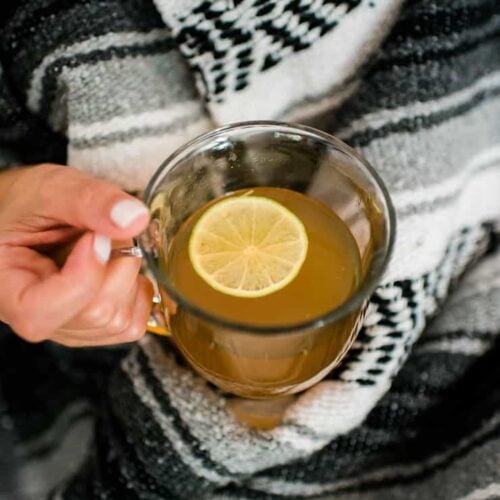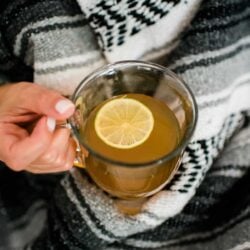 Te de Oregano (Oregano Tea)
Oregano tea is great for excessive cough, digestion, insomnia, circulation, and decreases menstrual cramps.
Instructions
Boil water and add dried oregano leaves.

After the water with the oregano has boiled, remove from heat, cover, and let steep for 10 minutes.

Use a strainer and remove the oregano leaves.

Serve hot. Sweeten with a spoonful of honey if desired.
Notes
I bought myself a tea maker that is pretty darn incredible. If you don't have a tea maker all you have to do is strain the oregano leaves in a strainer before drinking.
Calories: 7kcal, Carbohydrates: 2g, Protein: 1g, Fat: 1g, Saturated Fat: 1g, Sodium: 13mg, Potassium: 32mg, Fiber: 1g, Sugar: 1g, Vitamin A: 43IU, Calcium: 47mg, Iron: 1mg
Photography by Jenna Sparks
Originally published: December 2018