Steak Fajitas with Grilled Onions, Peppers, and Roasted Cherry Tomatoes with Chimichurri Sauce
This post may include affiliate links. As an Amazon Associate I earn from qualifying purchases.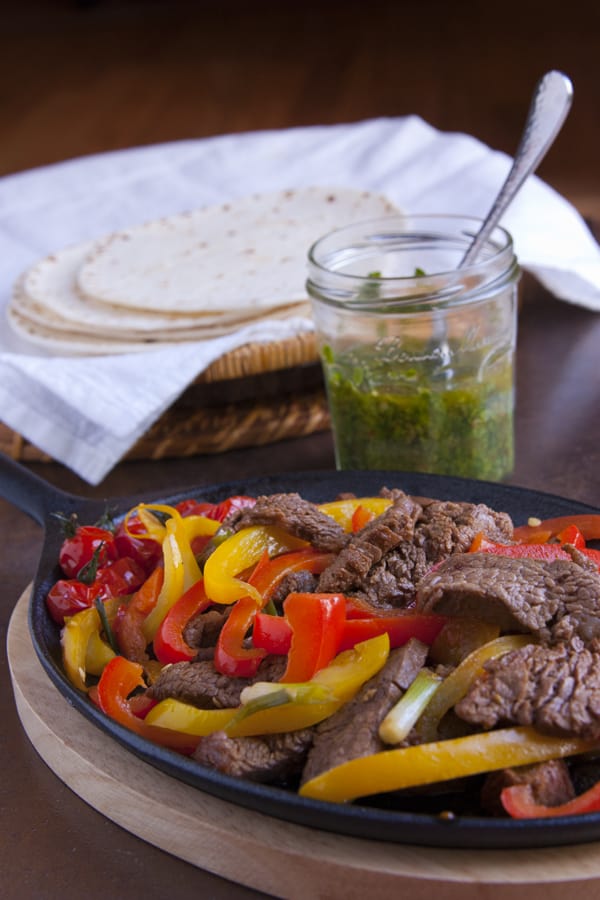 Fajitas remind me of El Paso and a restaurant called Wyngs. It was one of my favorite restaurants that specialized in sizzling tender fajitas, delicious classic guacamole, spicy pico de gallo, and freshly made flour tortillas. It was walking distance from the home I grew up in the Lower Valley and we ate there often.
I have fond memories going there with my mom, family, and friends when I lived in El Paso and when I would visit after I left home. We celebrated many happy occasions there. Unfortunately, Wyngs is no longer in business. Wyngs was part of the Ysleta del Sur Pueblo owned by the Tigua tribe, located in the same building as Speaking Rock Casino. I am not sure of the history of Wyngs and why it closed, but I will always remember their unforgettable fajitas.
My mom is visiting me and we were talking about fajitas and were experimenting with marinades and came up with this marinade that reminded us of the flavorful tender and juicy steak fajitas at Wyngs. My mom made her delicious guacamole and pico de gallo, and I made roasted cherry tomatoes and a chimichurri sauce, which was delicious topped over the fajita tacos. Rather than marinating the steak in the chimichurri sauce we used it as a condiment to top our tacos.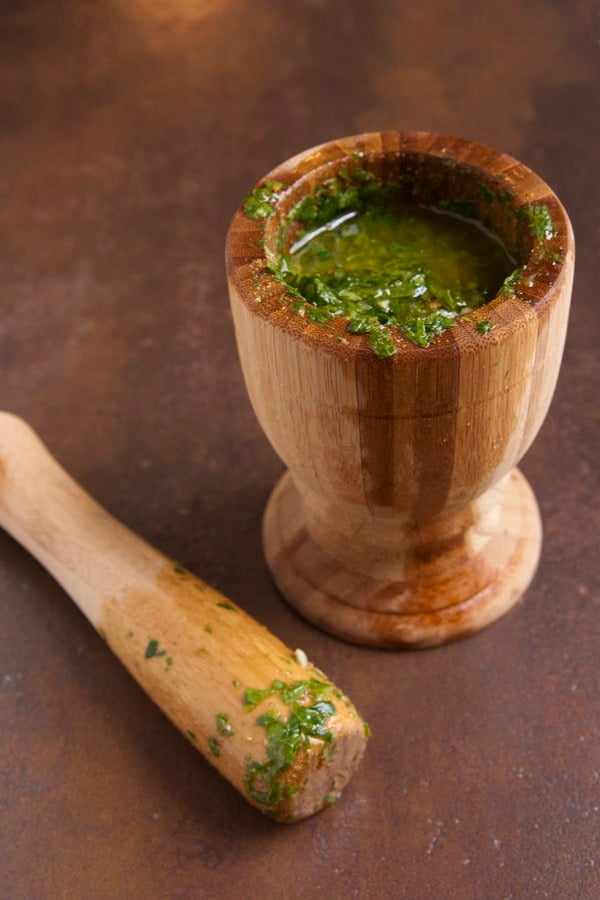 Did you notice the beautiful fajita skillet pan and wood mortar and pestle? IMUSA graciously sent them to me. And speaking of IMUSA, I am honored to share that my mom and I have been selected to share our cooking experiences on the IMUSA site. I invite you to hop on over to the IMUSA blog and read our weekly adventures and the adventures about other real women of IMUSA. We all have a different story to tell and we are excited to share our journeys with you.
Steak Fajitas with Grilled Onions, Peppers, and Roasted Cherry Tomatoes with Chimichurri Sauce
Do me a favor and don't use packaged fajita seasoning blends. You don't need them when making this recipe – this marinade is 100% natural and delicious. For a fast dinner, try this Tex-Mex classic with the addition of this Argentinean condiment for a dinner with tons of flavor.
Ingredients
Chimichurri Sauce:
1 cup packed fresh Italian parsley
1/2 cup olive oil
1/3 cup red wine vinegar
1/4 cup packed fresh cilantro
2 garlic cloves, peeled
3/4 teaspoon dried crushed red pepper
1/2 teaspoon ground cumin
1/2 teaspoon salt
Steak Fajitas with Grilled Onions and Peppers:
2 pounds beef flank steak
4 cloves garlic, minced
¾ teaspoon salt
¾ cup lime juice
¼ cup vegetable oil, divided
2 tablespoons chili powder
1 tablespoon ground cumin
¼ teaspoon ground black pepper
1 large red bell pepper, sliced into strips
1 large yellow bell pepper, sliced into strips
12 large green onions, trimmed and sliced on the diagonal
Flour tortillas
Topping Options:
Roasted cherry tomatoes
Shredded cheese
Crema Mexicana or sour cream
Salsa of choice
Instructions
Chimichurri Sauce:
Puree all ingredients in a processor. Transfer to bowl. (Can be made 2 hours ahead. Cover and let stand at room temperature.)
Steak Fajitas with Grilled Onions and Peppers:
Place steak in a large resealable plastic bag; set aside.

In a small bowl combine garlic, salt, lime juice, 2 tablespoons of the oil, the chili powder, cumin, and black pepper. Pour marinade over steak. Seal bag and turn to coat. Marinate in the refrigerator about 1 hour, turning bag once or twice.

Remove steak from the marinade and thinly slice steak diagonally across the grain, then and add strips back into the marinade while you cook bell peppers and onions.

Heat 1 tablespoon of the oil in large skillet on medium-high heat. Add bell peppers and onion; cook and stir 3 to 5 minutes. Remove from skillet.

In the same skillet add 1 tablespoon of the oil on medium-high heat and add meat; cook and stir 3 minutes or until no longer pink. Remove from skillet.

Fill warm tortillas with steak, peppers, and onion. Top with chimichurri sauce and your favorite toppings.
Notes
Nutrition facts do not include tortilla or any toppings. 
Calories: 743kcal, Carbohydrates: 16g, Protein: 52g, Fat: 53g, Saturated Fat: 20g, Cholesterol: 136mg, Sodium: 942mg, Potassium: 1251mg, Fiber: 5g, Sugar: 5g, Vitamin A: 4892IU, Vitamin C: 118mg, Calcium: 136mg, Iron: 7mg
Disclosure: IMUSA is sending me products and compensating me for my participation on the IMUSA blog. I was not compensated for this post. All opinions shared about IMUSA products are my own.