Tamalada (Tamal-Making Party)
This post may include affiliate links. As an Amazon Associate I earn from qualifying purchases.
Since the New Year I have been trying very hard to eat healthier. I'm eliminating tortilla chips (okay, maybe trying to cut down) and have been drinking a green juice every day. I am human and like everyone I have cravings and indulge once in a while. It's all about balance and my life would be no fun without some of the foods I love most…like red chile and pork tamales.
I only eat tamales a couple times a year. Usually we make them during Christmas, but this year since we were traveling I was unable to make any, so the craving was still there. I had to get the craving out of my system and hosted a tamalada (tamal-making party).
It was a wonderful day and I am thrilled that I was able to share the experience with friends and family.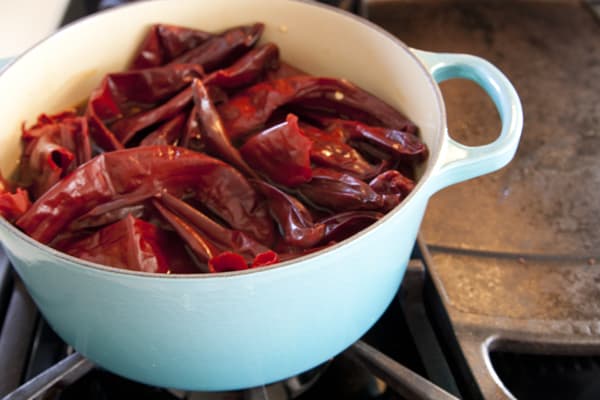 Thank you to Ansh, Heather, and Chris for sharing some of your photos while I was busy en la cocina. Thank you Michelle for jumping in an rinsing corn husks with my daughter. Thank you to my cousin Brenda who stayed behind and drank wine (ahem) I mean helped me wash all the dishes. Thank you to all my friends who came over and spent some time with me in my home.
We even had an apron contest and my cousin Brenda was the winner. I have admired her apron ever since she wore it for this party. Thank you Princess House for donating this lovely bamboo chef's board for the contest.
Most everyone left with tamales in hand to freeze or steam for a quick dinner. I'm exited that I have tamales in the freezer to pull out and celebrate Día de la Candelaria (Candlemas) and Super Bowl on February 2.
And just incase you missed the tamalada video here it is again.
Please be sure to subscribe to the Muy Bueno YouTube page for future videos!
Red Chile and Pork Tamales
Learn how to make the best tamales at home. The perfect recipe for feeding a big crowd.
Ingredients
Instructions
Red Chile Sauce: 
Remove stems, seeds, and veins from the chile pods. Place in a colander and rinse well with cool water.

Add the chiles to a large pot and add enough water so they are just covered. Bring water to a boil. Lower the heat, cover, and simmer for about 20 minutes. After 10 minutes turn the chiles over with tongs to make sure the chiles soften evenly. Drain cooked pods and allow time to cool down before blending. Discard water.

Fill a blender with 3 cups of water, half of the cooled chile pods, 3 tablespoons flour, 2 cloves garlic, and half of the salt. Blend until smooth. Strain sauce through a fine sieve to remove skins and seeds; discard skins and seeds. Repeat blending and straining process with remaining water, pods, flour, garlic, and salt. If necessary, season with more salt.

Tip: This sauce can be made in advance and kept in airtight containers in the refrigerator or freezer. Red chile sauce can be stored in the refrigerator for up to one week or frozen for up to six months.
Shredded Pork:
Place pork, water, and salt in a slow cooker and cook for 6 to 8 hours. After meat is cooked, remove from the slow cooker and let cool to room temperature. Shred pork and remove fat while shredding, reserving fat. (Usually, after pork is cooked and shredded, you will be left with about 3 pounds of meat.)

In a blender combine the cooled broth from the cooked pork and the leftover fat pieces. Blend and reserve for using when making tamale masa and filling. Broth can be kept, tightly covered, for 1 week in the refrigerator. The broth also freezes well and will keep for 4 to 6 months.
Filling:
Heat the 6 tablespoons broth in a large skillet. Add flour and whisk for at least 4 to 5 minutes.

Add red chile sauce and salt, stir, and cook for 10 minutes. The chile sauce will be very thick at this time.

Add the 3 pounds shredded pork and stir so all the pork is well coated with the red chile sauce. Simmer for at least 10 minutes. Let mixture cool before filling tamales.
 Masa:
Place 1 pound of lard in a stand mixer and mix until fluffy, scraping sides so the lard stays in the center of the mixing bowl. (The flat beater is the ideal accessory for mixing.)

Add half the baking powder and half the salt to the lard and mix together.

Add half the masa and mix together. Slowly add half the broth and half the red chile sauce, if using, to the masa and mix until combined. The mixture should be about the consistency of smooth peanut butter. If not, add more broth as necessary. Test the masa by taking a small piece (1/2 teaspoon) and dropping it into a cup of warm water. If it floats it is ready; if it sinks, add a little more lard, beat for another minute and test it again. Repeat this process until the masa floats. Pour the masa mixture into a bigger bowl. Repeat the process with the remaining ingredients.

Cover the masa and set aside while you prepare your filling.
Prepare Hojas (Corn Husks):
Soak corn husks in water for an hour before using, rinse well with running water to take off any dust or corn husk fibers. To keep corn husks pliable and easy to work with, keep in water while filling tamales. Place a handful of wet corn husks in a colander to drain before using.
Spread Masa:
Place the wide end of the husk on the palm of your hand, narrow end is at the top. Starting at the middle of the husk spread 2 tablespoons of the masa with the back of a spoon in a rectangle or oval shape, using a downward motion towards the wide-bottom edge. Do not spread the masa to the ends; leave about a 2-inch border on the left and right sides of the husk.
Fill Corn Husks:
Spoon 1 1/2 tablespoons of your chosen filling down the center of the masa. Fold both sides to the center; finish off by bringing the pointed end of the husk toward the filled end. Make sure it's a snug closure so the tamal will not open during steaming. Secure by tying a thin strip of corn husk around the tamal. This will keep the tamal from unwrapping during the steaming process, especially if the husk is too thick and will not stay folded.
Steam Tamales:
Use a deep pot or tamale steamer to steam tamales. If using a tamale steamer fill with water up to the fill line. Set the tamale rack over the water. Place tamales upright, with fold against the sides of the other tamales to keep them from unfolding. Cover pot with a tightly fitting lid. Set heat on high and bring to a boil, about 15 minutes. Lower heat and simmer for 2 1/2 to 3 hours. Keep lid on tightly. To test if done, put one tamal on a plate and take off the corn husk. If it comes off without sticking to the tamal they are done.
Notes
Make a big batch and freeze or steam for a quick dinner.
Calories: 229kcal, Carbohydrates: 37g, Protein: 10g, Fat: 4g, Saturated Fat: 1g, Cholesterol: 22mg, Sodium: 2006mg, Potassium: 269mg, Fiber: 4g, Sugar: 5g, Vitamin A: 898IU, Vitamin C: 11mg, Calcium: 99mg, Iron: 3mg
Thank you to Princess House for an impressive steamer and KitchenAid for my new lovely blender.
Special thanks to Chris for capturing such a magical video.
Kitchen products I used:
LeCreuset 3 1/2-quart French Oven
Please keep in touch and subscribe to Muy Bueno and follow me on Twitter, Facebook, Instagram, and Pinterest.
Written by Yvette / Video by Pure Cinematography