Smoked Turkey and Cranberry Croissant Sandwich
This post may include affiliate links. As an Amazon Associate I earn from qualifying purchases.
What if I told you I can take the stress out of Thanksgiving? I'll never forget one of the first Thanksgivings I hosted — I woke up very early in the morning and placed a 20-pound turkey in the oven and kept basting it every hour and checking the thermometer. But guess what? That darn turkey would not reach the internal temperature recommended. All the guests arrived, all the sides were ready, everybody was sitting at the table, and still the turkey was not cooked through. I finally decided to pull the turkey out of the oven, slice some of it, and cook the slices in a skillet so at least we would have some turkey ready to eat as the rest of it baked.
My dream of having a beautiful turkey carved at the dinner table was crushed. After a few years hosting I have learned a few tricks, and my go-to turkey recipe is this Fig-Spiced Turkey for a large gathering.

Lately, when we host Thanksgiving my hubby will smoke a couple of turkey breasts outside in the smoker while I concentrate on all the side dishes in the kitchen.
Honeysuckle White Turkey reached out and told me that they have a fully cooked smoked turkey that can be purchased online, and all you have to do is put it in the oven for one hour to reheat.
To be honest, I was a little leery of the flavor thinking it might turn out dry after baked, but it was beyond moist and exceeded my expectations.
The best part is I didn't even need to go to the grocery store to buy the turkey. It was ordered on Amazon and delivered to my front porch. You can order your turkey breast here: Honeysuckle White Fully Cooked Hickory Smoked Bone-In Turkey Breast.
I then placed it in my refrigerator to defrost for a couple of days and then it was ready to heat and serve.
If you are planning to host a small Thanksgiving, and looking to buy a smoked turkey breast that has been expertly cured, smoked, and cooked by professionals; then you have landed in the right place. You can buy this turkey breast online and it will be delivered straight to your door.
If you are hosting a large Thanksgiving dinner look no further than Amazon for other Honeysuckle White Turkey products. Not only can you find this smoked breast, but you can order other Thanksgiving favorites like a Whole Fresh Bird Traceable Turkey, Bacon Wrapped Turkey, and Honest Turkey Whole Turkey products.
To elevate the hickory flavor, I smothered a bit of fig preserves on the turkey breast, placed some fresh poultry herbs, and orange slices and as the turkey baked my home smelled like Thanksgiving.
Whether you choose to serve this for Thanksgiving or any time of year, this smoked turkey breast is a great alternative.
And we can't forget the leftovers – these turkey and cranberry sandwiches made with slices of smoked turkey and cranberry pomegranate sauce served in a flaky, buttery croissant are the bomb.com.
Since November is here, make your Thanksgiving a little bit less stressful and order a turkey on Amazon and enjoy the holiday season without the stress of shopping for a turkey.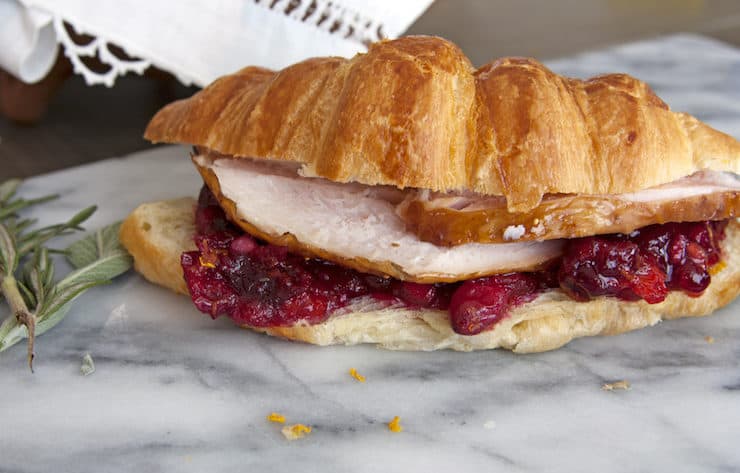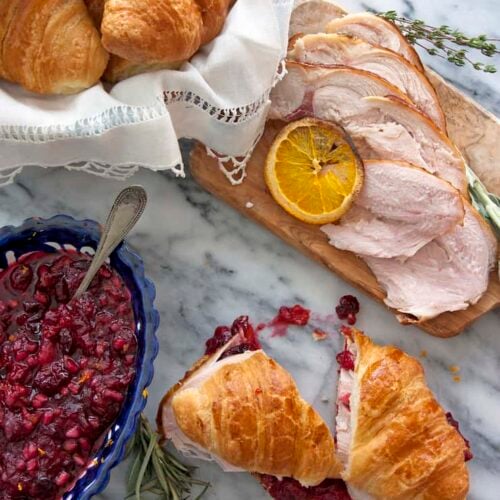 Smoked Turkey and Cranberry Croissant Sandwich
Bring new life to Thanksgiving leftovers with this sliced turkey and cranberry pomegranate sauce in a light and fluffy croissant. It's the flavors of Thanksgiving all in one bite.
Instructions
Rub fig spread over turkey breast and heat according to packaging.

Slice croissants in half and slice turkey.

Spread one side of croissants with cranberry pomegranate sauce, top with sliced turkey, and serve.
Notes
Feel free to use sourdough instead of croissant. 
Calories: 284kcal, Carbohydrates: 39g, Protein: 5g, Fat: 12g, Saturated Fat: 7g, Cholesterol: 39mg, Sodium: 295mg, Potassium: 102mg, Fiber: 2g, Sugar: 15g, Vitamin A: 424IU, Vitamin C: 3mg, Calcium: 21mg, Iron: 1mg
This post is in partnership with Honeysuckle White Turkey. As always, thank you for reading and for supporting companies I partner with, which allows me to create more unique content and recipes for you. All opinions are always my own.