Savory BLT Waffles with Cornmeal Batter
This post may include affiliate links. As an Amazon Associate I earn from qualifying purchases.
Cornmeal waffles are packed with crispy bacon, bright summer tomatoes, cilantro cream and cotija cheese for a unique breakfast spin on a diner favorite. This is the ultimate man-food for Father's Day, and perfect for those lazy summer mornings.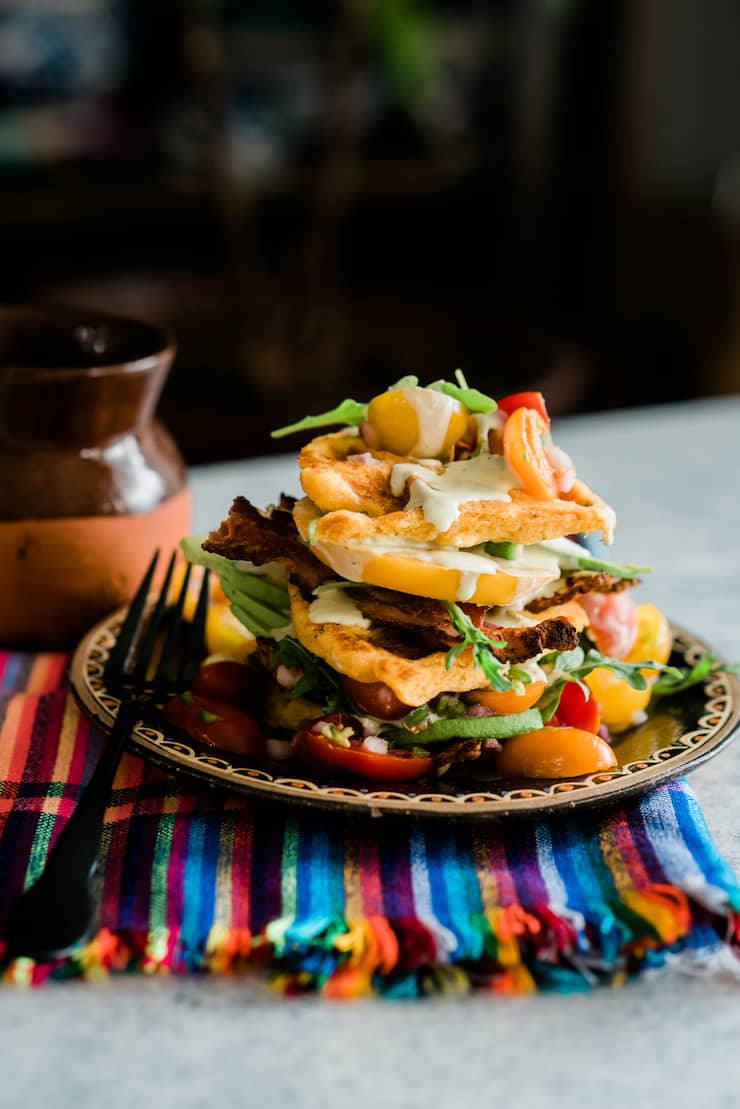 Tomato season may just be my favorite. Nobody can convince me otherwise: there is nothing better than a ripe summer tomato. Well, unless that tomato is paired up with bacon, savory waffles, avocados and cheese, that is.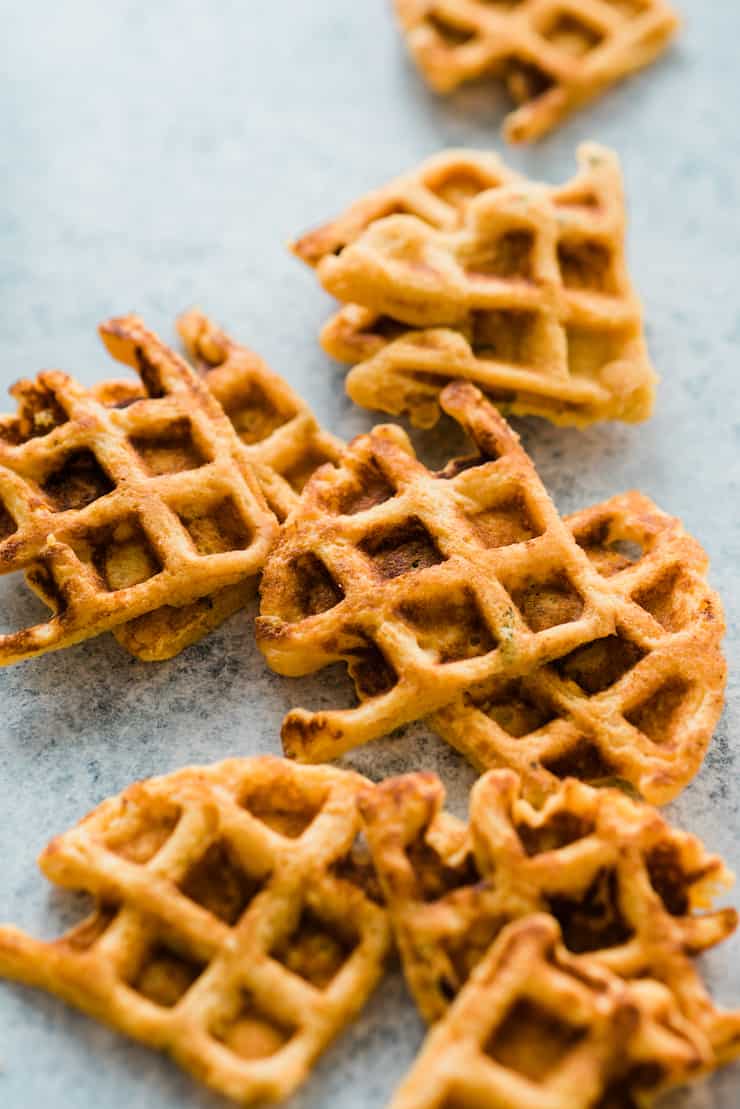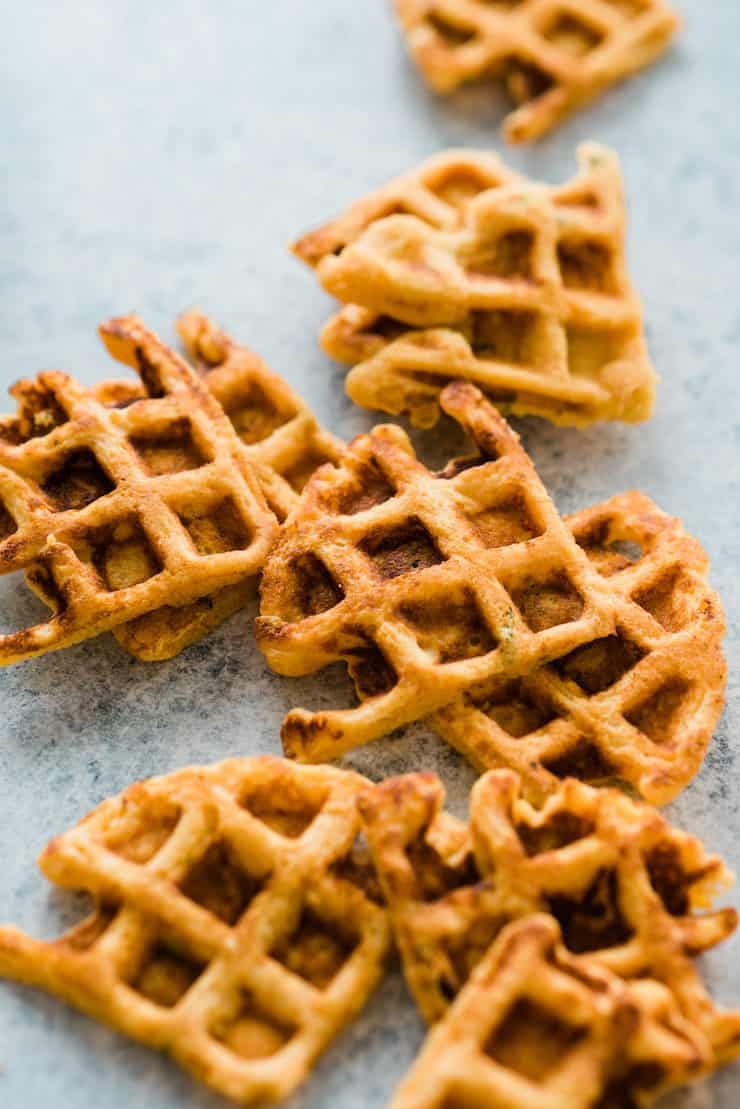 BLT Waffles Are a Savory Treat
Waffles don't always have to be sweet. If you've been looking for a change, try this savory waffle recipe! These BLT Waffles are made with a cornmeal batter. They are perfectly tender, and their little grooves make excellent pockets for my delicious buttermilk dressing speckled with flakes of fresh cilantro leaves and salty cotija.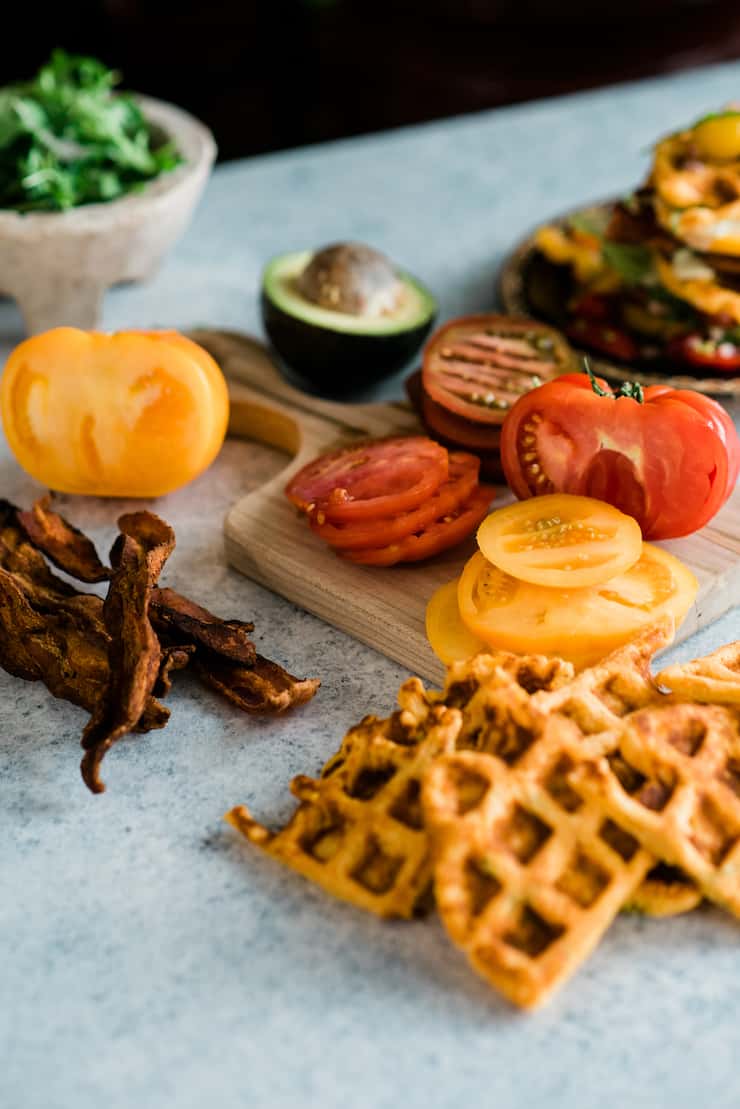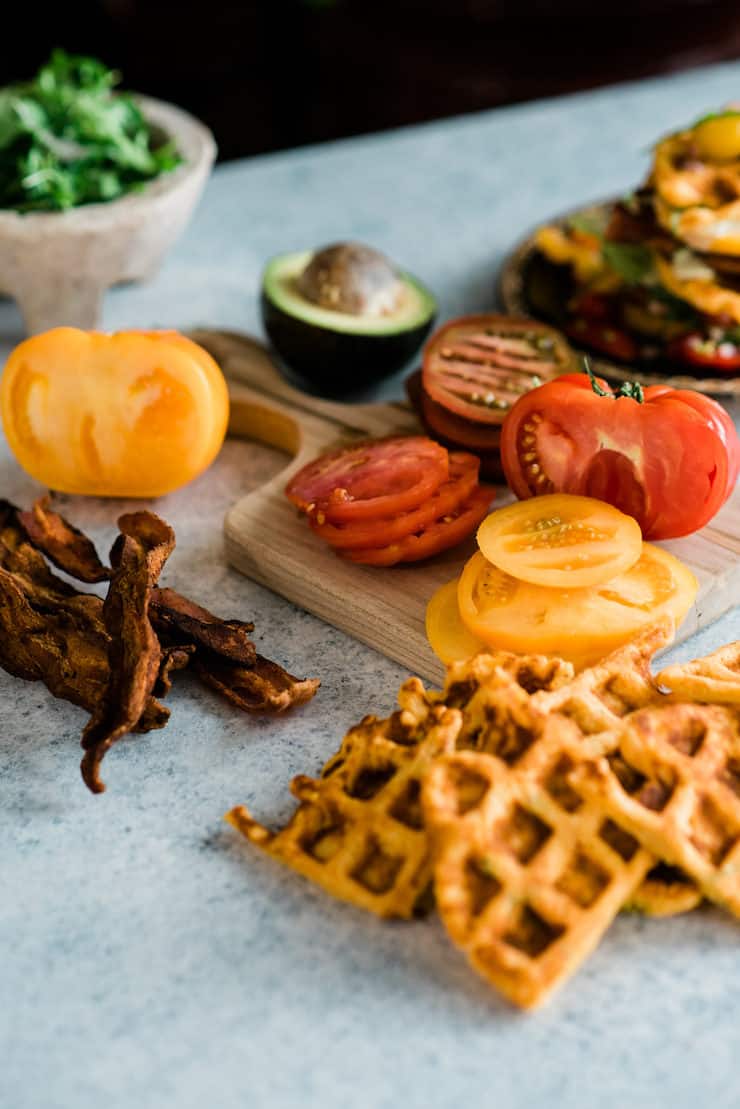 These cornmeal waffles are even better than bread when filled with your favorite sandwich toppings. With fresh tomatoes in season, I topped ours with classic BLT ingredients: crispy bacon, peppery arugula, and colorful heirloom tomatoes. To make them even more decadent, I added creamy slices of avocados and a cilantro buttermilk ranch dressing.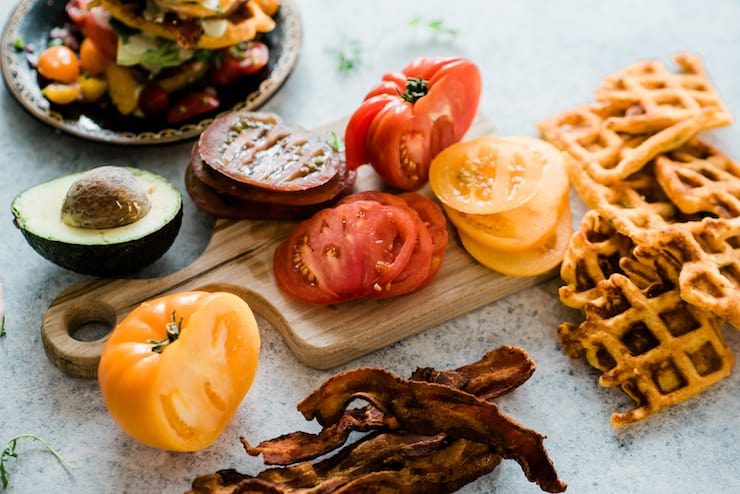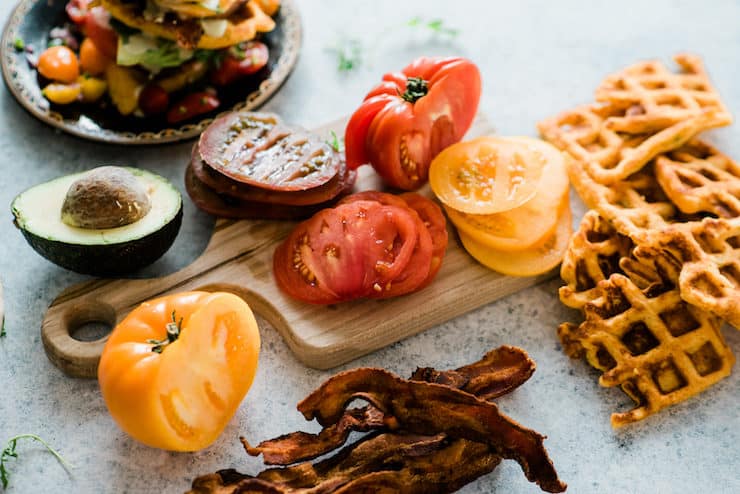 Cornmeal Waffles for Breakfast, Lunch or Dinner!
These savory waffles are so easy to pull off. I highly recommend them for lazy Sunday mornings, especially Father's Day.
First, make your waffle batter and cook in a waffle maker according to manufacturers specifications.
TIP: You can prepare the waffles ahead of time and freeze them. Just reheat in the toaster whenever the craving strikes!
Next, make your bacon and drain it on paper towels.
TIP: If you're making these beautiful BLT inspired savory waffles for a crowd, you can easily cut down your active cooking by baking your bacon in the oven. Simply arrange bacon in a single layer on a parchment or foil lined cookie sheet (leave some overhang for easy cleanup). Bake at 400F for 12-14 minutes, or until desired doneness.
Slice your tomatoes about a half inch thick. I love to use a variety of heirloom tomatoes to really make the colors pop. Pit and slice your avocado, then start layering it all together!
Next, using a blender, make your creamy cilantro-cotija buttermilk ranch. Generously drizzle on each layer of your savory BLT Waffles.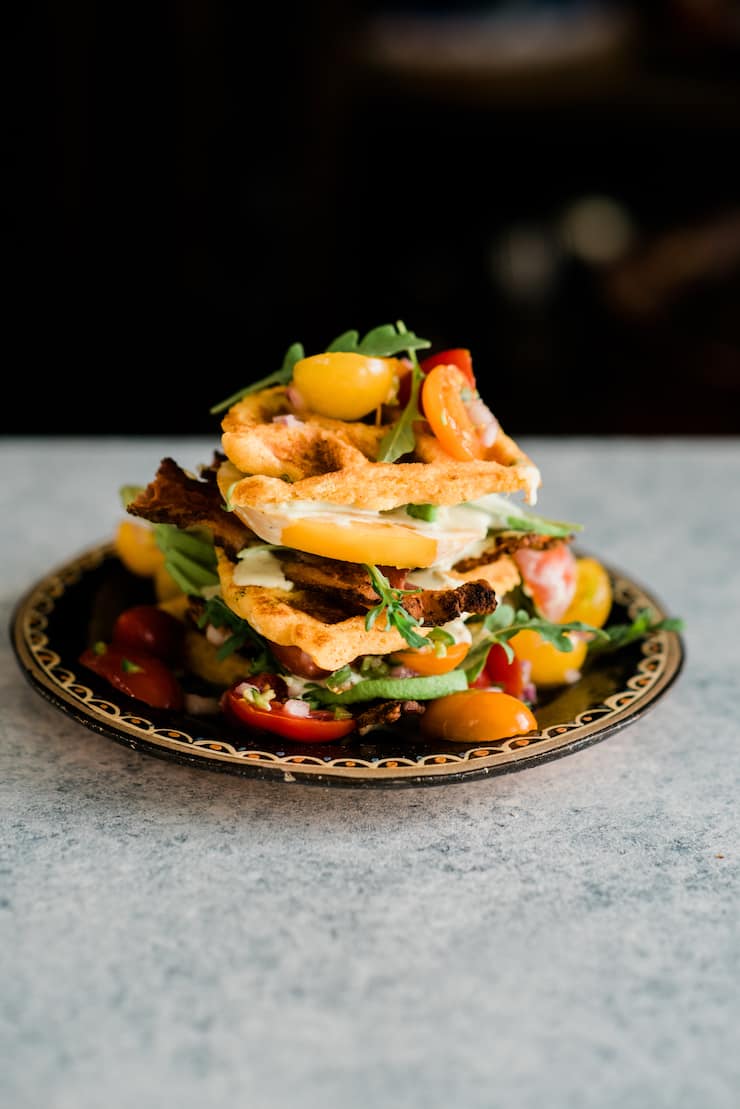 In my house we don't do short stacks… Stack them high to celebrate the weekend in style! Finish with a crack of fresh pepper and dig in.
IF YOU'RE LOOKING FOR MORE BREAKFAST INSPIRATION, CHECK THESE OUT:
If you loved this recipe, please be sure to rate it below!
Savory BLT Waffles
Craving a BLT for breakfast? Try a deliciously different version that features crisp bacon and fresh tomatoes between two golden cornmeal waffles with a cilantro-cotija buttermilk ranch.
Ingredients
Lime Chipotle Spread:
1 cup cotija queso, crumbled
1 cup mayonnaise
¼ cup buttermilk
1 tablespoon lime juice
1 tablespoon cilantro, chopped finely
1 tablespoon chipotle adobo chilies, chopped finely
½ teaspoon sea salt
1 teaspoon garlic powder
1 tablespoon honey or maple syrup
Cornmeal Waffles with Cotija and Cilantro:
Toppings:
2 pounds bacon, thick cut, cooked till crispy
1 cup arugula or red leaf lettuce
3 assorted heirloom tomatoes, sliced
1 avocado, sliced
Cherry tomatoes, halved or pico de gallo (optional)
Instructions
Lime Chipotle Spread:
In a blender combine cotija, mayonnaise, buttermilk, lime juice, cilantro, chipotle, salt, garlic powder, and honey, and blend until smooth.
Cornmeal Waffles with Cotija and Cilantro:
Heat the waffle iron.

Whisk together the cornmeal, flour, sugar, baking powder, baking soda, salt, paprika, onion and garlic powder in a mixing bowl.

Add the cheese and toss to coat and incorporate, breaking up any clumps.

Whisk the eggs in a large liquid measuring cup until blended, then whisk in the buttermilk and gradually whisk in the butter.

Pour the liquid ingredients into the flour mixture, whisking gently until evenly moistened. Use a spatula to fold in the cilantro. The batter should be thick.

Grease the waffle iron with nonstick cooking oil spray.

Pour a generous 1/2 cup of the batter into the center of the heated waffle iron. Spread the batter with a spatula to within 1/2 inch of the edges. Close and bake until deep golden brown. Repeat to use all the batter.
Assemble:
Spread Lime Chipotle Spread evenly over a waffle; top with bacon, tomatoes, lettuce, avocado, and top with another waffle.

Top with cherry tomatoes or pico de gallo, if using.

Serve immediately.
Notes
Prepare the waffles ahead of time and reheat in the toaster for quick assembly.
The sauce can be made up to a week ahead. It's also delicious with french fries and hashbrowns!
If your tomatoes are refrigerated, let them come to room temperature before consuming for optimal flavor.
Calories: 1441kcal, Carbohydrates: 54g, Protein: 37g, Fat: 120g, Saturated Fat: 40g, Cholesterol: 236mg, Sodium: 2115mg, Potassium: 1077mg, Fiber: 7g, Sugar: 12g, Vitamin A: 1977IU, Vitamin C: 13mg, Calcium: 416mg, Iron: 3mg
Photography by Jenna Sparks
Originally published: June 2019.