Bourbon Peach Old-Fashioned
This post may include affiliate links. As an Amazon Associate I earn from qualifying purchases.
This delicious riff on a classic cocktail is made with homemade peach infused bourbon. You'll be immediately transported to the South with this delicious Peach Old Fashioned recipe!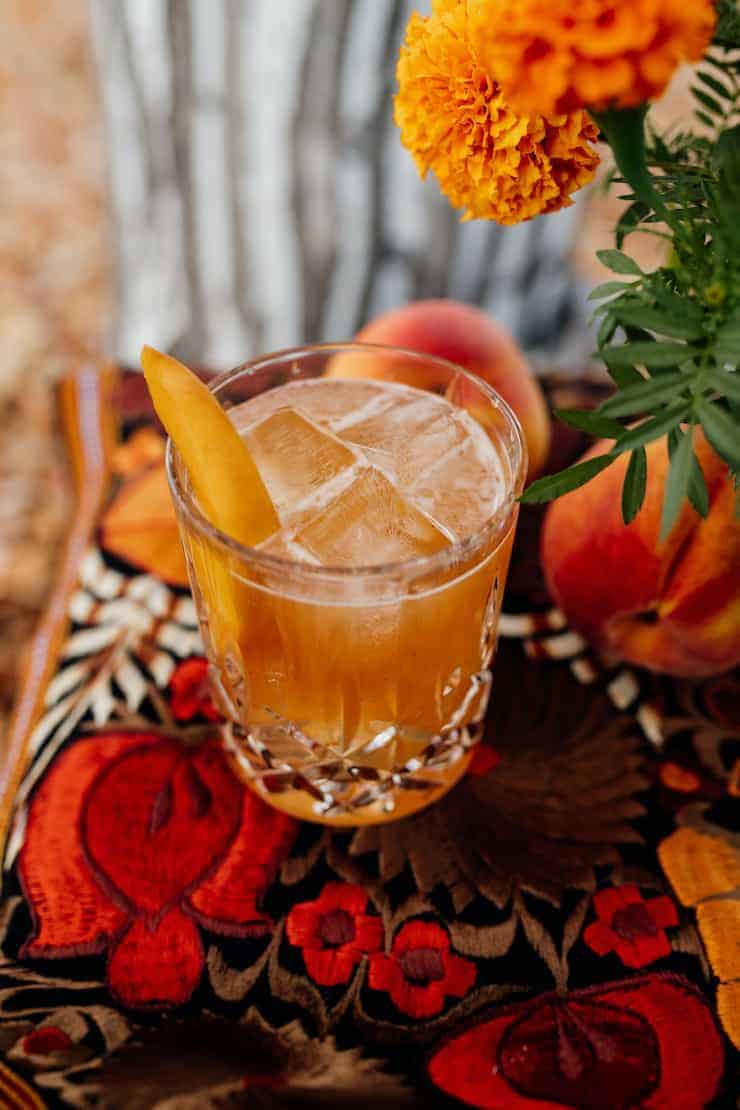 With winter fast approaching, I, for one, am trying to soak up all the best flavors of summer. Use the last of your peach bounty to infuse some bourbon with summer's best flavors and enjoy these stiff cocktails all winter long.
How to infuse whiskey
Infusing your own spirits at home is one of the best ways to whip up an impressive cocktail in no time. Whether you're working with vodka, whiskey, tequila, or rum, the approach is the same. You basically steep whatever flavor infusing ingredient in your spirit in a mason jar for 5 to 7 days, then strain it, and enjoy!
While this recipe calls for peach infused bourbon (doesn't that just sound decadent?), I've made all kinds of tasty beverages using this method. Check out this post on fruit infused tequilas and the ways to use them!
So, to make the peach infused whiskey, you'll need a large mason jar, some fresh sliced peaches and a good quality bourbon. Simply place the peach slices in the mason jar then top off with whiskey, leaving about a half inch of space at the top. The more peaches you use, the more peach flavor you'll get.
Screw on the mason jar lid and place it in the fridge. Now comes the hard part. Leave it alone for at least 3 days before tasting it. I highly recommend giving it a full week to steep, but I also get that sometimes you just need a stiff one.
When the bourbon has enough peachy flavor for your liking, strain out the peaches and discard them. Or eat them over vanilla ice cream. I'm not judging. Store infused spirits tightly covered in the fridge.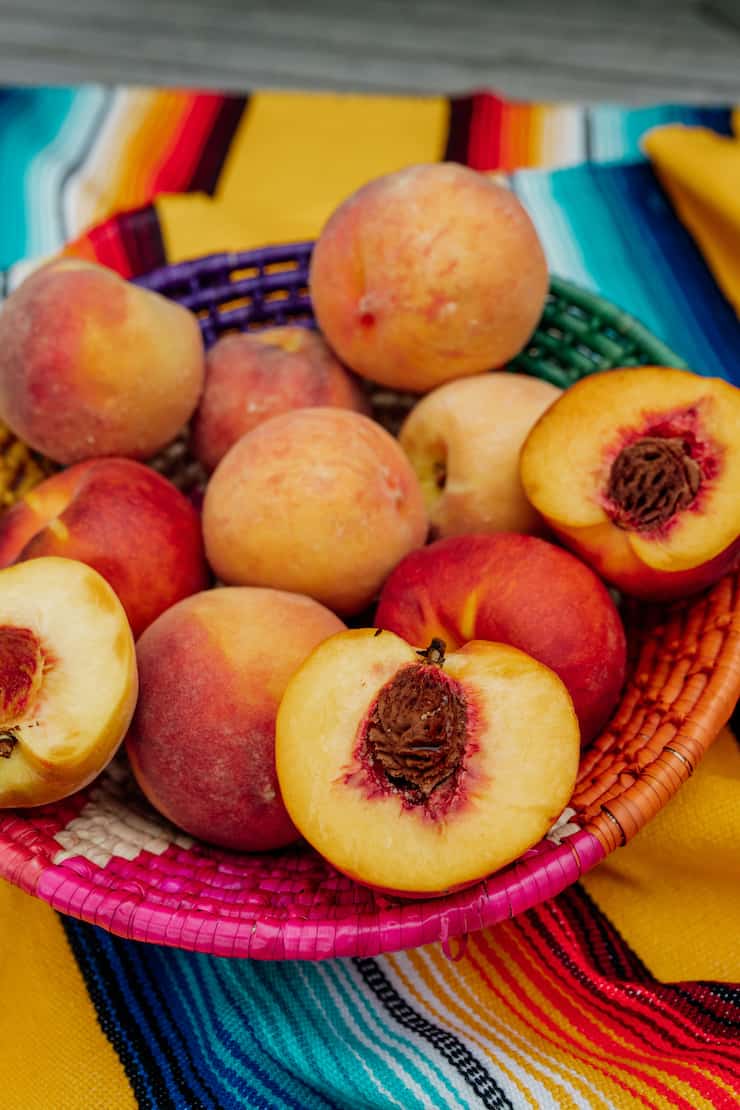 How to make a peach old fashioned
Ok, now comes the fun part. You've done the work of patiently waiting for your homemade peach infused bourbon. Now you get to imbibe the result of your valiant efforts!
Combine 4 ounces of your peach bourbon with one ounce of fresh orange juice and a teaspoon each of brown sugar and fresh lemon juice in a cocktail shaker. Add a hefty scoop of ice, place the lid on it and shake it vigorously for a couple of minutes. It should be frothy and ice cold, and the sugar should be dissolved.
Strain the cocktail into two old fashioned glasses (or just one if it's been one of those weeks) with fresh ice, then garnish with a peach slice and a sprinkle of cinnamon. Salud!
Frequently Asked Questions
What if I don't have access to fresh peaches?
Fresh, ripe peaches are one of nature's finest gifts to humanity, but their season is fleeting. If you don't have any good quality peaches at your disposal, look to the frozen section of the grocery store! Frozen fruits are picked at optimal freshness and flash frozen, preserving all of their delicious flavor for when you're ready to use it.
What other things can I infuse my liquor with?
You know, I've been asking myself the same question. I think the right answer is anything that tastes good! With marigolds in season, try marigold petals to make a Blood Orange Marigold Margarita. Want some spicy bourbon? Maybe try a habanero-mango infusion.
Want something a little more wintry? Try steeping a cinnamon stick in it.
Wondering what to do with your leftover Halloween candy? Gummy candies (think bears, worms, or gum drops), atomic fireballs and licorice ropes would all make fine additions to spirits.
Honestly, your imagination is the limit. So, go on and get (something delicious) in the spirit!
Do I have to use bourbon?
If you want this to be a true old fashioned, I do recommend that you use bourbon. However, if you have a bottle of any other kind of American whiskey on hand, it'll do just fine. I don't recommend using Scotch, however, as the peaty and smoky overtones will not pair as well with the sweet peach flavor.
I'm out of brown sugar, what should I do?
While brown sugar and bourbon are on quite friendly terms, you can also substitute plain white sugar, agave, or honey instead.
I don't have a cocktail shaker. Help!
If you don't have a cocktail shaker, you can substitute with a mason jar if you need to. Just be sure to have a sieve on hand to catch the ice after you shake it.
Need more cocktail inspiration? Check out these other yummy happy hour recipes: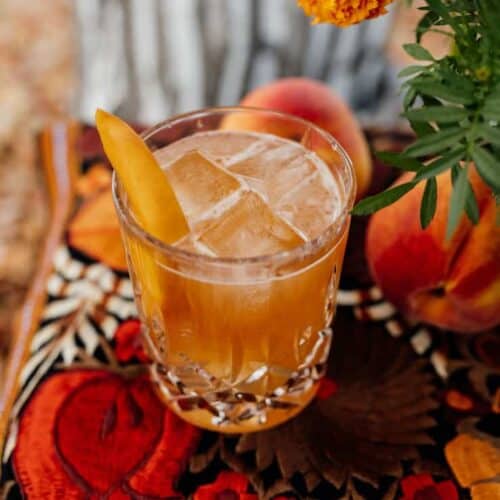 Bourbon Peach Old-Fashioned
This delicious riff on a classic cocktail is made with homemade peach infused bourbon. You'll be immediately transported to the South with this delicious Peach Old Fashioned recipe!
Ingredients
4 ounces peach infused bourbon
1 teaspoon brown sugar
1 ounce orange juice
1 teaspoon lemon juice
Garnish with peach slices
Peach Infused Bourbon
2 peaches, sliced
good quality bourbon 
Instructions
Combine peach infused bourbon, brown sugar, orange and lemon juice in a cocktail shaker with ice. 

Strain into old fashioned glass with ice. Garnish with a peach slice and a sprinkle of ground cinnamon.
Peach Infused Bourbon
Fill a mason jar with sliced peaches.

Pour bourbon into the jar, covering the peaches and filling to leave a half-inch head space at the top.

Screw lids on tightly, and store in the fridge for up to a week. 

When ready, strain the peaches out and use bourbon as desired. Store remaining bourbon in the fridge.
Notes
Fresh peaches aren't in season? Use flash frozen peaches from your grocery frozen aisle instead.
No cocktail shaker? You can use a mason jar to do the shaking part, just be sure to have a strainer to catch the ice when you're done.
The infused bourbon recipe can be followed for any flavor infusion you'd like!
Calories: 204kcal, Carbohydrates: 18g, Protein: 1g, Fat: 1g, Saturated Fat: 1g, Sodium: 1mg, Potassium: 313mg, Fiber: 2g, Sugar: 16g, Vitamin A: 517IU, Vitamin C: 18mg, Calcium: 9mg, Iron: 1mg
Photography by Jenna Sparks