Chiles Rellenos de Camarones y Queso (Cheese and Shrimp Stuffed Poblanos)
This post may include affiliate links. As an Amazon Associate I earn from qualifying purchases.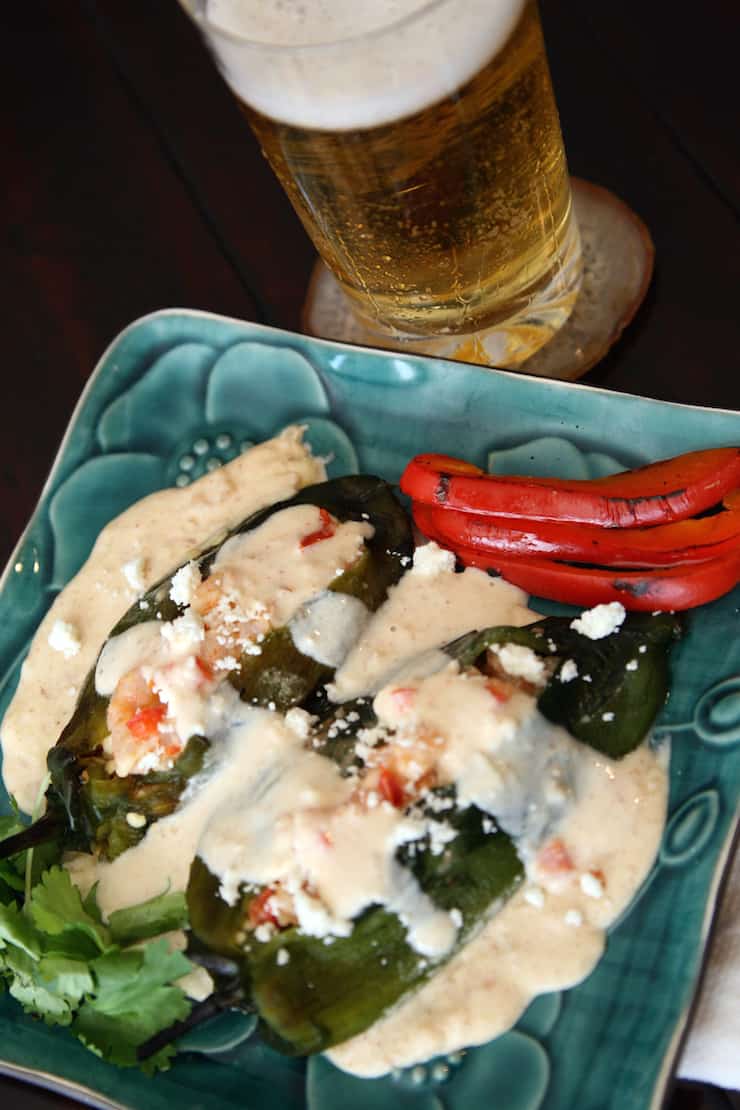 I actually chose this dish as my signature dish for a reality show audition that came to Denver – MasterChef, Season 2 co-hosted and co-produced by Gordon Ramsay. I still can't believe I had the courage to audition.
Anyway, I was in line with hundreds of hopeful chefs. I had my handy dandy cooler on wheels that kept my ingredients warm. Once inside the building a group of us were escorted to a kitchen to assemble our signature dish in three minutes, yes, THREE minutes. Folks from the show walked around asking us questions and judges came around tasting our dishes (without saying a word). Then names were called out to proceed to the next round. Guess what? My name was called – I was so excited. I was very surprised at how comfortable and confident I felt in that kitchen.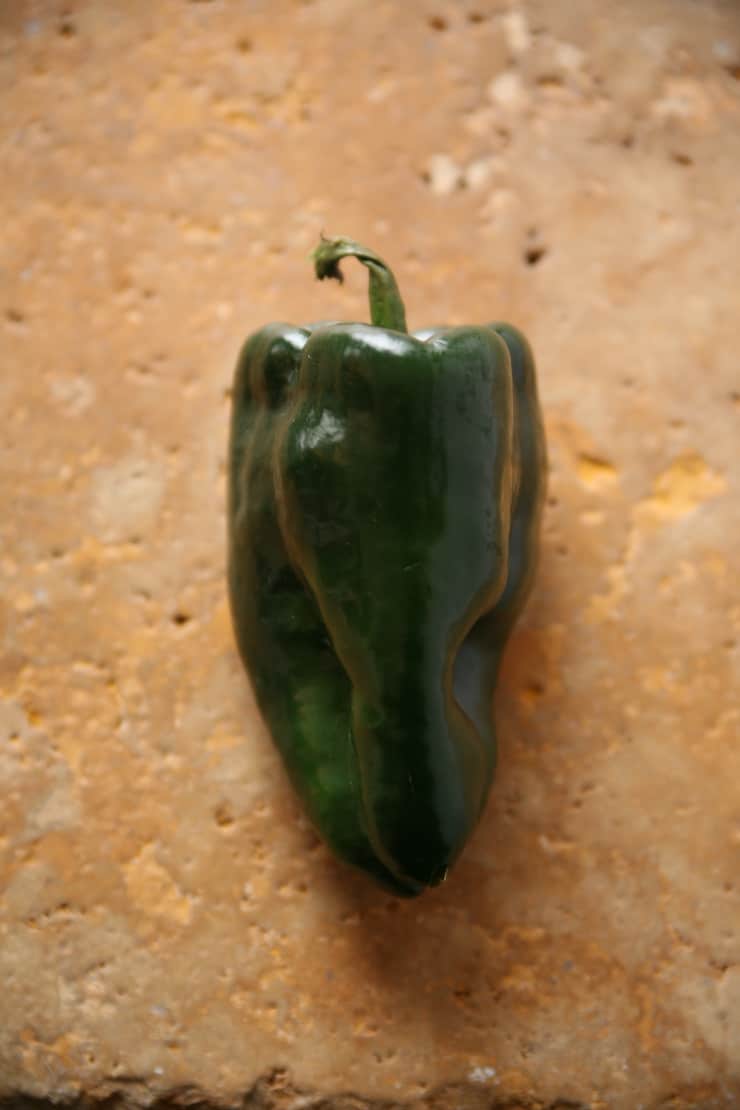 The next round included meeting with three producers from the show, that's when I froze. It was one of the most awkward feelings of my life. I stood in front of three judges (just like American Idol) and they asked me off-the-wall questions, like, "Tell us something we don't know about you just by looking at you." My voice trembled to answer all their offbeat questions. Then they asked me, "What would you prepare for us for dinner?" I confidently described my favorite Mexican meal – My mother's green enchilada recipe with all the fixings. One of the producers, in her thick British accent interrupted me and asked, "Is that all you know how to cook, Mexican food?" I said, "Um, um, no, but I prefer to cook and eat Mexican food." They replied in sync, "Thank you, NEXT!"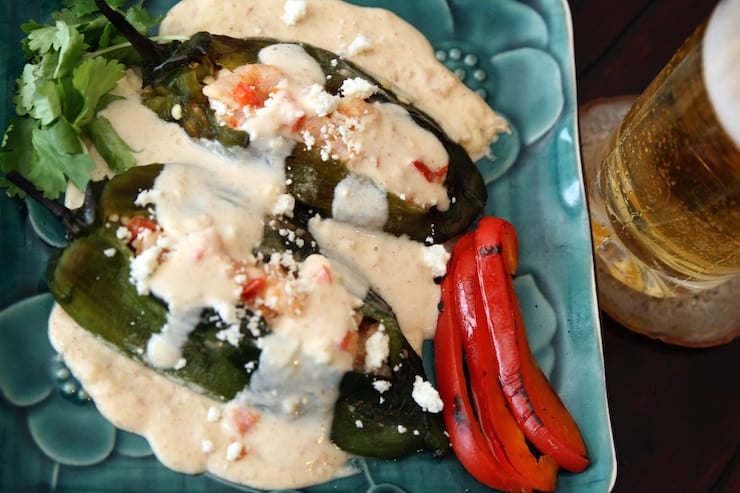 I was disappointed but still very proud of myself. I've always believed that things happen for a reason, and for some reason I was not meant to fly out to L.A. for that reality show. Maybe the reason is to stay home and write on this blog and continue to work on my dream of writing a cookbook. Either way, whatever it is, I know my day of sharing my recipes with the world will come.
If you LOVE chile rellenos like I do, then you'll love this recipe. It's actually a healthier version of a traditional chile relleno, which is wonderful, but it's definitely not light in authentic Mexican flavor. If you want the good ol' traditional egg battered deep fried recipe, please stay tuned – That one is coming soon!
Poblanos are readily available at your local grocery store year-round, which makes this dish a wonderful dinner choice for any time of year and is also the perfect Lent meal.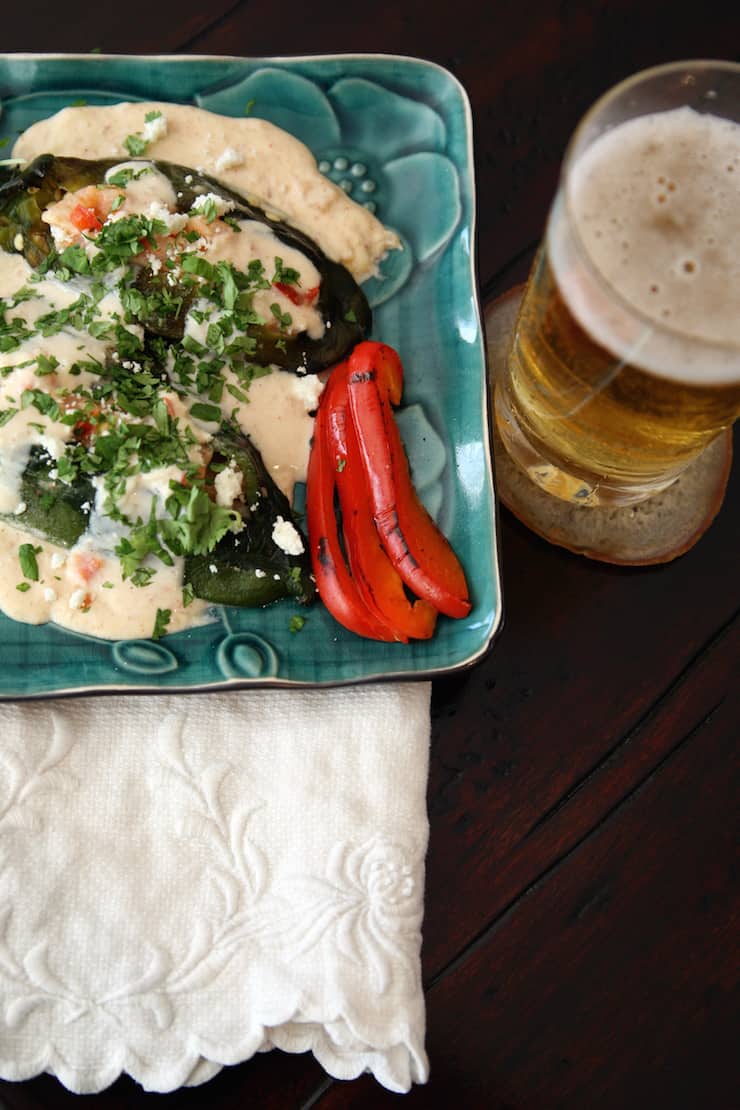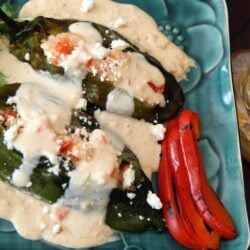 Chiles Rellenos de Camarones y Queso (Cheese and Shrimp Stuffed Poblanos)
If you love chile rellenos like I do, then you'll love this recipe. It's actually a healthier version of a traditional chile relleno that still packs a bold Mexican flavor.
Ingredients
1 red bell pepper, roasted, peeled, and chopped
8 poblano peppers, roasted and peeled
2 tablespoons olive oil
1 pound peeled and deveined medium shrimp, chopped
1/2 teaspoon salt, divided
5 garlic cloves, minced
1 1/2 tablespoons all-purpose flour
¼ teaspoon ground red pepper
1/2 cup crema Mexicana or sour cream
3/4 cup fat-free milk, divided
3/4 cup shredded quesadilla cheese, 3 ounces
½ cup queso fresco, crumbled
2 tablespoons chopped fresh cilantro, and sprigs
2 tablespoons fresh lime juice
Pomegranate seeds, optional
Instructions
Roasting chiles and bell pepper:
Fire up a comal on the stovetop. Rinse the poblano chiles and bell pepper thoroughly and pierce each with a knife. Place them on the comal and let them roast evenly. You will have to keep an eye on them, making sure to turn them over until all sides are roasted. When done, the skins should be evenly blistered and mostly black.

Place roasted chiles and pepper into a plastic bag and close the bag. Cover the plastic bag with a kitchen towel. The steam will help the blackened skin to separate. When cool, rub off the blackened skin, careful to keep the stem intact on the poblano chiles.

Using a small sharp knife, carefully slit chiles open along 1 side. Remove seeds, leaving stems attached. Set aside to fill later.

Chop the bell pepper and discard stem and seeds.
Preparing the filling:
Heat a large skillet over medium-high heat. Add oil to pan; swirl to coat. Sprinkle shrimp with 1/4 teaspoon salt. Add shrimp to pan; cook 3 minutes or until done. Remove from pan.

Add garlic to pan; sauté 30 seconds, stirring constantly. Sprinkle with flour and ground red pepper; cook 1 minute. Slowly add crema Mexicana, stirring with a whisk. Stir in 1/2 cup milk; cook 1 minute, stirring constantly. Remove from heat; let stand 2 minutes. Add quesadilla cheese and 1/4 teaspoon salt, stirring until smooth.

Place 1/3 cup cheese mixture in a large bowl; reserve remaining cheese mixture. Add bell pepper, shrimp, cilantro, and juice to 1/3 cup cheese mixture in bowl; toss to coat. Stir 1/4 cup fat-free milk into reserved cheese mixture.

Spoon 3 tablespoons of cheese sauce on 4 plates.

Stuff each poblano chile with 6 tablespoons shrimp mixture.

Place 2 stuffed poblanos on cheese mixture and garnish with crumbled queso fresco, cilantro, and pomegranate seeds (optional).
Notes
You can use light cheese to lower the calories even more. 
Calories: 509kcal, Carbohydrates: 20g, Protein: 42g, Fat: 30g, Saturated Fat: 14g, Cholesterol: 360mg, Sodium: 1560mg, Potassium: 717mg, Fiber: 5g, Sugar: 11g, Vitamin A: 2273IU, Vitamin C: 238mg, Calcium: 686mg, Iron: 4mg
Photography by Jeanine Thurston